Cover Story | Highlights of ACC.18: Practice Changing and Insightful
For the 67th time, the American College of Cardiology Annual Scientific Session convened to share the latest and greatest news in the field, this time in sunny Orlando, FL. For attendees, the late-breaking clinical trials offered some potentially practice-changing evidence that ranged from simple solutions, like partnering with barbershops to improve blood pressure management, to more complicated ideas like genotyping to determine optimal anticoagulation regimens. One juicy tidbit of news that went under-reported: a pharmaceutical company suggested lowering its drug price. Read on for more on that and a brief review of the trials considered particularly important to your practice.
ODYSSEY Outcomes
ODYSSEY Outcomes was the most awaited trial of ACC.18 and the findings didn't fail to excite. After a median follow-up of 2.8 years, alirocumab treatment reduced the primary composite outcome of major adverse cardiovascular events (MACE) by 15 percent, with event rates falling from 11.1 percent in the placebo arm to 9.5 percent with alirocumab (p=0.003).
While no significant difference was seen for the individual endpoint of coronary heart disease (CHD) death (2.2 percent and 2.3 percent; p=0.38), nonfatal myocardial infarction (MI) was reduced with the PCSK9 inhibitor (6.6 percent vs. 7.6 percent; p=0.006), as were ischemic stroke (1.2 percent vs. 1.6 percent; p=0.01), and unstable angina (0.4 percent vs. 0.6 percent; p=0.02). Read more >>>
All-cause death was also reduced (3.5 percent for alirocumab vs. 4.1 percent for placebo; hazard ratio [HR], 0.84; p=0.026 based on hierarchical testing). The benefit for all-cause death was even greater for patients with a baseline LDL-C ≥100 mg/dL, with a reduction from 5.7 percent with placebo to 4.1 percent with alirocumab (HR, 0.71), according to a post hoc analysis of prespecified LDL-C subgroups.
The trial's principal investigator, Philippe Gabriel Steg, MD, FACC, stressed that the all-cause mortality findings must be interpreted cautiously as it was a secondary outcome.
Commenting on the study, Valentin Fuster, MD, PhD, was concise: "The hypothesis has been fulfilled," he said, adding that "this study is going to change practice." He reiterated a call that the prices for PCSK9 inhibitors be lowered to open the drugs to greater use. Indeed, what physicians really have been waiting for are lower prices and a less obstructed path for prescribing PCSK9 inhibitors. Several analyses based on pre-ACC.18 data have shown a striking lack of cost effectiveness at the current prices of about $14,000 per year for both alirocumab and evolocumab. As well, many clinicians report finding it extremely difficult, complex and time-consuming to get their patients approved for PCSK9 inhibitors.
In an unusual move, on the same day the new findings were released, Sanofi and Regeneron, the manufacturer of alirocumab, announced a plan to reduce the price for alirocumab contingent on insurers and pharmacy benefit managers showing a greater willingness to reduce barriers to access. No specific price has been set, but the company said it would be in line with an updated analysis from the Institute for Clinical and Economic Review (ICER) that was released to coincide with the trial's presentation.1
The preliminary assessment from the independent, U.S.-based ICER, which received the data early "in confidence," set an updated value-based price benchmark net of rebates and discounts for alirocumab between $2300 and $3400 per year if used to treat all recent acute coronary syndrome (ACS) patients who meet the trial's eligibility criteria. Or between $4500 and $8000 per year if reserved for higher-risk patients with LDL-C ≥100 mg/dL despite intensive statin therapy.
ICER plans to publish a final cost-effectiveness update for alirocumab by May 3, 2018, but noted that this newest estimate does not alter their September 2017 assessment of evolocumab. That value-based assessment set a lower price range, from approximately $1,700 to $2,200, based primarily on FOURIER's failure to demonstrate a statistically significant reduction in cardiovascular or all-cause mortality, nor a trend toward improved clinical benefit in patients with higher LDL-C levels.
---
Reference
Institute for Clinical and Economic Review. Alirocumab for Treatment of High Cholesterol: Effectiveness and Value. Preliminary New Evidence Update. Available here. Accessed March 27, 2018.
VEST
The idea of a noninvasive, wearable cardioverter-defibrillator (WCD) to reduce the risk of sudden cardiac death during that immediate post-MI period is appealing. However, the VEST trial, which tested this concept, missed its primary endpoint of sudden cardiac death and death due to ventricular arrhythmias at three months. The risk of all-cause mortality at 90 days was significantly lower with the LifeVest, a harness-like garment worn under the clothing that both monitors and delivers shocks (Table).
In his presentation of the VEST findings, Jeffrey E. Olgin, MD, FACC, suggested that some of the deaths might have been misclassified, which would have reduced the power for the sudden death outcome, but not for total mortality. He also noted a possible benefit for vest wearers from the device picking up non–life-threatening arrhythmias, like bradycardias, that spurred participants to seek care earlier than they otherwise might have. Read more >>>
However, according to one panel discussant, David J. Wilber, MD, FACC, these reasons "didn't seem very plausible." Only two deaths in each arm (representing 0.1 percent and 0.3 percent of the total deaths in each arm, respectively) were classified as indeterminate. Wilber is also editor-in-chief of JACC: Clinical Electrophysiology.
In the WCD arm, the secondary endpoint of stroke deaths was significantly lower than in the placebo arm (0.0 percent vs. 0.5 percent). There was also less shortness of breath with the WCD (38.7 percent vs. 45.4 percent of controls).
VEST, conducted at 108 sites in the U.S., Germany, Poland and Hungary, enrolled 2,302 patients within seven days of an acute MI and with left ventricular ejection fractions ≤35 percent and randomly assigned them 2:1 to either standard medical therapy alone or standard medical therapy plus the WCD. On average, the vest was worn for 14.1 hours per day. Twenty individuals in the control arm (2.6 percent) crossed over to LifeVest use and 19 percent of the study arm did not wear the vest.
Despite missing the primary endpoint, Olgin suggested that "based on the associated lower total mortality, it's reasonable to prescribe the wearable cardioverter-defibrillator in patients who are post-MI and have a reduced ejection fraction until further evaluation for an ICD at 40 to 90 days." The investigators plan to conduct subgroup analyses to determine if there are populations more likely to benefit from the device, along with a cost effectiveness analysis of the LifeVest, which costs about $10,000 for three months of wear.
CANTOS
CANTOS shook the cardiology world in August 2017 when the main findings revealed a significant 15 percent reduction in the risk of nonfatal MI, nonfatal stroke, and cardiovascular death with canakinumab therapy (150 mg dose) compared with placebo in patients with prior MI and elevated high-sensitivity C-reactive protein (hsCRP).
Treatment with the monoclonal antibody targeting interkeukin-1ß, which is approved and sells under the brand name Ilaris (Novartis), was also associated with impressive reductions in fatal malignancy, incident lung cancer and lung cancer fatality.
The CANTOS investigators presented two additional analyses at ACC.18 that were somewhat less earthshattering. The first, presented by Brendan M. Everett, MD, MPH, and published simultaneously in the Journal of the American College of Cardiology, showed that canakinumab treatment did not reduce the risk of new-onset diabetes. Nor did it offer particular benefit for the reduction of cardiovascular events to the subgroup of participants who had diabetes or prediabetes at baseline, as compared with those without diabetes. Read more >>>
Canakinumab treatment did lower HbA1c during the first six to nine months of therapy (significantly so in those with prediabetes and nonsignificantly in those with established diabetes), but this effect was attenuated over time, which Everett called "a bit of a mystery..."
Despite this disappointment for those who had hoped that IL-6 inhibition might also reduce diabetes risk, late-breaking session panelist Kim A. Eagle, MD, MACC, suggested there is still reason for enthusiasm: "You've opened a whole new window to the world with this class of therapies. I know you're disappointed that you were not able to prevent diabetes, but you've got cardiovascular disease and lung cancer already under your belt," he said with a smile.
In another session, Paul M. Ridker, MD, FACC, presented data on the efficacy of canakinumab in individuals with moderate (estimated glomerular filtration rate [eGFR] 30-60 ml/min/1.73m2) chronic kidney disease (CKD).
Not surprisingly, significantly increased rates of MACE, cardiovascular death and all-cause mortality were noted in patients with moderate CKD as compared with those with normal renal function (p<0.0001 for all three endpoints).
Canakinumab reduced adverse events by 18 percent compared with placebo in those with reduced renal function (p=0.05), and by 14 percent in those with normal renal function, with no evidence of heterogeneity. As with the main trial findings, greater benefit was noted in those deemed "responders," with on-treatment hsCRP protein levels <2 mg/L (HR, 0.69 for the MACE+ outcome; p=0.0039).
Canakinumab treatment offered no meaningful benefits nor substantive harms with response to adverse clinical renal events, including eGFR, creatinine levels or the need for dialysis.
SECURE-PCI
In the placebo-controlled, SECURE-PCI trial, periprocedural statin loading failed to significantly reduce the rate of MACE at 30 days for ACS patients being considered for PCI, but did reduce MACE rates when only patients who actually underwent PCI were considered.
The trial included 4,191 ACS patients enrolled at 53 clinical sites in Brazil. All patients received atorvastatin 40 mg for 30 days starting 24 hours after the second dose of study medication. Read more >>>
In the intention-to-treat analysis, MACE (defined as a composite of all-cause mortality, MI, stroke and unplanned coronary revascularization) was seen in 6.2 percent of patients given two loading doses of atorvastatin 80 mg and in 7.1 percent of those given placebo (HR, 0.88; p=0.27).
However, when considering only the 65 percent of patients who ultimately underwent PCI, the MACE rates favored statin loading (HR, 0.71; p=0.02). This difference was driven by a significant reduction in MI, but no difference in death, revascularization, stroke or stent thrombosis.
Periprocedural atorvastatin therapy raised no safety concerns and there were no cases of hepatic failure or rhabdomyolysis reported in the study arm. In the (matching) placebo arm, three cases of rhabdomyolysis were recorded.
In his presentation of the findings, Otavio Berwanger, MD, PhD, suggested periprocedural atorvastatin might be an "attractive treatment strategy for patients with acute coronary syndromes." The general consensus of the panelists commenting on the study was, roughly, why not, it won't hurt.
TREAT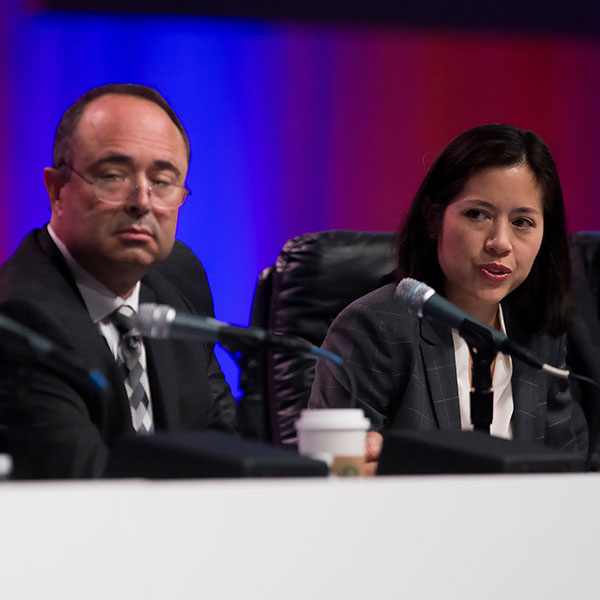 Berwanger also reported on the TREAT trial at ACC.18, which showed that delayed administration of ticagrelor after fibrinolysis was associated with no more major bleeding at 30 days than with clopidogrel in younger STEMI patients. Minor and minimal bleeding was more common with ticagrelor and efficacy outcomes were not improved at the exploratory 30-day time point.
The primary outcome, 30-day TIMI major bleeding, was seen in 0.73 percent of the ticagrelor arm and in 0.69 percent of the clopidogrel arm (p<0.001 for noninferiority). There were also no differences in fatal or intracranial bleeding. Read more >>>
For the composite endpoint of death from vascular causes, MI or stroke, no difference was seen at 30 days (4.0 percent and 4.3 percent, respectively; p=0.57), but Berwanger noted that this finding was only exploratory and the 12-month follow-up will be more telling on efficacy.
Of note, the upper age limit for inclusion was 75 years (mean, 58 years), making the findings not applicable to older adults, an age group at inherently greater bleeding risk.
TREAT enrolled 3,799 STEMI patients (within 24 hours of symptom onset) treated with fibrinolytic therapy at 152 sites in 10 countries. They were randomly assigned to open-label ticagrelor (180 mg loading dose, 90 mg twice daily for 12 months) or clopidogrel (300 mg to 600 mg loading dose, 75 mg daily for 12 months). The majority of patients (90 percent) were pretreated with clopidogrel.
BP Reduction in Black Barbershops
Take an inch off the top and 20 mm Hg off the blood pressure? Seems to work, according to findings of a trial presented by Ronald G. Victor, MD, FACC, and published in the New England Journal of Medicine. In non-Hispanic black patrons who participated in a pharmacist-led intervention in which the barbers encouraged meetings in barbershops with specialty-trained pharmacists who prescribed drug therapy under a collaborative practice agreement with the participants' doctors, mean systolic blood pressure fell by 27 mm Hg over six months, compared with just 9.3 mm Hg for an active control arm in which barbers just encouraged lifestyle modification and regular doctor examinations. Read more >>>
"As black men have many CVD risk factors, marked blood pressure reductions – if sustained and initiated widely – may reduce high hypertension-related disability and death among black men in the United States," said Victor. A cost effectiveness analysis and an additional six months of follow-up will be presented in the near future.
The study included 319 black male patrons with systolic blood pressures of at least 140 mm Hg who frequented 52 black-owned barbershops. The shops were assigned to the intervention or active control intervention using a cluster design. "Taking the treatment to where people live, work and play is going to be essential to chronic disease management," said late breaking session panelist Karol E. Watson, MD, FACC.
ADAPT-PCI
Sony Tuteja, PharmD, MS
Last but not least, Sony Tuteja, PharmD, MS, presented the first prospective, randomized controlled trial testing clinical CYP2C19 genotype-guided dosing of antiplatelet therapy in PCI. Pharmacogenetic findings were found to influence drug prescribing, although prior antiplatelet therapy also significantly predicted the choice of antiplatelet drugs.
And in a post hoc analysis, loss-of-function (LOF) carriers treated with clopidogrel appeared to be at greater risk of adverse events.
ADAPT-PCI was a pragmatic randomized trial that included 504 participants treated by 15 interventional cardiologists across two hospitals. Before PCI, participants were randomly assigned to point-of-care CYP2C19 genotyping via salivary swab (genotype group) or usual care (control group). Antiplatelet recommendations were provided with the genotype results but the therapeutic choice was ultimately left to the treating physician. Read more >>>
According to genotyping, 28 percent of participants in the study arm were LOF carriers. Overall, prasugrel or ticagrelor were used more often in patients who underwent genotyping than in the standard care arm (30 percent vs. 21 percent; p=0.03).
More specifically, of those genotyped, 53 percent of LOF carriers were prescribed prasugrel or ticagrelor, compared with 22 percent of no-LOF participants (p<0.001), which calculated to an agreement rate (with genotyping) of 71 percent. In the control arm, 21 percent were given prasugrel or ticagrelor.
Compared with those without LOF alleles, LOF carriers treated with clopidogrel were at increased risk of a composite endpoint of MACE, major bleeding and death in a post hoc analysis (HR, 1.84; p=0.03).
While it is well known that the presence of LOF alleles impacts clopidogrel response, current ACC/AHA guidelines do not recommend routine CYP2C19 genetic testing. Tuteja suggested genotyping needs to be paired with "a lot of education" to help clinicians understand how to best use the results.
Keywords: ACC Publications, Cardiology Interventions, Acute Coronary Syndrome, Adenosine, Alleles, Angina, Unstable, Antibodies, Monoclonal, Blood Pressure, Blood Pressure Determination, Bradycardia, Brain Ischemia, Cholesterol, Chronic Disease, Coronary Disease, Cost-Benefit Analysis, C-Reactive Protein, Creatinine, Death, Sudden, Cardiac, Defibrillators, Drug Prescriptions, Dyspnea, Electrophysiology, Fibrinolysis, Follow-Up Studies, Genotype, Glomerular Filtration Rate, Glycated Hemoglobin A, Hydroxymethylglutaryl-CoA Reductase Inhibitors, Hypercholesterolemia, Hypertension, Insurance Carriers, Intention to Treat Analysis, Interleukin-6, Life Style, Liver Failure, Lung Neoplasms, Myocardial Infarction, Percutaneous Coronary Intervention, Pharmacists, Pharmacogenetics, Platelet Aggregation Inhibitors, Point-of-Care Systems, Prediabetic State, Prospective Studies, Renal Dialysis, Renal Insufficiency, Chronic, Research Personnel, Rhabdomyolysis, Risk Factors, Stents, Stroke, Stroke Volume, Thrombolytic Therapy, Thrombosis, Ticlopidine
< Back to Listings