Tackling the Global Burden of Cardiovascular Disease
According to the World Health Organization (WHO), an estimated 17.5 million people died from cardiovascular diseases in 2012, representing 31 percent of all global deaths. This number is expected to increase to more than 23 million by 2030.
The College recognizes the consequences associated with inaction and has developed a Strategic Plan that re-envisions specialty care with the goal of positioning the ACC as the professional home for the entire cardiovascular care team. The strategic priorities include purposeful education, data transparency and use, and a focus on improving the health of populations; and are of particular importance internationally.
"The ACC recognizes that in order to maximize its mission to transform cardiovascular care and improve heart health, education needs to reach practitioners where they live and work," said Patrick T. O'Gara, MD, MACC, immediate past president of the ACC earlier this year. "Personalized education, e-learning and specialized live programs focused on training new leaders or bringing the latest cardiovascular research directly to a country, are critical elements of our purposeful education strategy internationally."
Whether it is providing support for global efforts to address non-communicable diseases or partnering with local health systems and/or governments on campaigns addressing major cardiovascular risk factors like hypertension, obesity and smoking, there is a clear mandate that the College continue to work alongside its 34 International Chapters to improve population health.
The College's efforts around non-communicable diseases (NCDs) is a major area where the College is actively working to improve population health. "NCDs impact individuals, communities and countries and are responsible for 60 percent of global deaths," said John Gordon Harold, MD, MACC, past president of the ACC. "The magnitude and rapid spread of NCDs means we are all headed for a difficult future unless we take action now."
To that end, over the last several years, the ACC has actively advised the United Nations (UN) on its efforts to combat the NCD epidemic. As a member of the NCD Alliance, the ACC is working to support the global target of a 25 percent reduction in premature mortality from NCDs by 2025, as well as corresponding NCD targets focused on high blood pressure, smoking cessation, diabetes, obesity, and reliable access to medicines. These goals are embedded in the WHO's global action plan against NCDs.
"With nearly 50,000 members around the globe; a growing network of domestic and international chapters with networks on the ground in countless states, countries, and provinces; and strong partnerships with other medical specialty societies and government agencies, the College can have an effect that few other medical societies can deliver," said Kim Allan Williams, MD, FACC, president of the ACC, in a recent leadership page in the Journal of the American College of Cardiology. "If we can work together to increase international participation in educational activities, encourage global use and exchange of data, and raise public awareness about cardiovascular disease and its risk factors, progress is well within our grasp."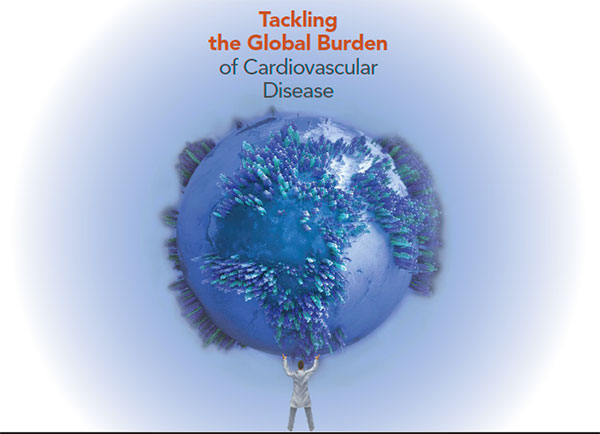 Clinical Topics: Diabetes and Cardiometabolic Disease, Prevention, Hypertension, Smoking
Keywords: Cardiology Magazine, ACC Publications, Cardiovascular Diseases, Diabetes Mellitus, Lipoatrophic, Diabetes Mellitus, Hypertension, Mortality, Premature, Obesity, Risk Factors, Smoking, Smoking Cessation, Societies, Medical
< Back to Listings