ACC Presidential Year in Review: Mary Norine Walsh, MD, FACC
Mary Norine Walsh, MD, FACC
and
C. Michael Valentine, MD, FACC
during the BOT Meeting at the American College of Cardiology Scientific Session and Expo on Friday, March 9, 2018, at the Orange County Convention Center in Orlando.
As her presidential year nears its close, Mary Norine Walsh, MD, FACC, discusses the strengths of the College, accomplishments and advice for future leaders. Tomorrow during Convocation, Walsh will pass the presidential chain to C. Michael Valentine, MD, FACC.
While the ACC is steered by its Strategic Plan and directed by strategic goals, you brought a focus to a few areas of passion that have been a common thread throughout your entire career: the need for team-based care, lack of women in cardiology and importance of advocacy. How have you and the ACC led efforts in these areas this past year?
While these areas of focus have been ones I've been vocal about, each one is also a strategic direction of the College. Team-based care has become a sine qua non of excellence in cardiovascular care, in no small part because of economic and regulatory imperatives. ACC's Cardiovascular (CV) Team Council and Section have continued to lead in putting forth recommendations for team-based care models and making sure that the expertise of all the various team members is integrated into all College efforts. The Membership Committee and the Board of Trustees Task Force on Future CV Teams and Business and Management Practice of the Future have had a focus on this, too.
The College has moved forward dramatically this year in its efforts to analyze the issues surrounding the low numbers of women and other under-represented groups in cardiology. The establishment of the ACC Task Force on Diversity and Inclusion has representatives from a wide number of groups, including some who serve as their institution's diversity officer. The expertise of this group is invaluable and has put forward to the Board several very concrete recommendations and performance metrics that should help move the needle on increasing the numbers from these under-represented groups and help develop their leadership skills and encourage their involvement in the College.
I think the importance of advocacy to the College is clear. The Health Affairs Committee and our outstanding advocacy staff work together all year long keeping an ear to the ground on national and state issues and are nimble in putting out Action Alerts to our members when necessary. I've personally learned a great deal this year about how an organization like the ACC can use its political capital to weigh in on issues that are important to our members and our patients. Reacting prematurely to proposed legislation rather than "keeping our powder dry" until the opportune moment is a learned skill and I appreciate the tutorials I've had this year from our incredibly skilled staff and knowledgeable members.
What is your hope for the future of the ACC?
We have seen a great evolution in our membership throughout the past decade or so, but we are still fragmented into interest groups and fiefdoms. I hope in the future we will sunset the terms such as domestic member, CV Team member, FIT member, international member, etc. When that happens, and all members are simply called members, it will be a signal that we have evolved as an organization that considers the needs and concerns of all its members regardless of their geographic location or practice type.
As you pass on the presidential baton, what parting piece of wisdom would you like to share with ACC members?
I recently came upon an article that gave advice about career resolutions. The author recommended five things and one of them was start a side gig. I was struck by this recommendation and shared it on Twitter, adding in the discussion that ensued that working in nonprofits counts. When I reflect on my involvement in the College, I recognize that my original involvement and activity was as a side gig to my life as a practicing cardiologist, teacher and researcher. For me, my side gig turned into a major part of my professional life. I hope that others will keep investing their time and talents in the College. It is the best side gig imaginable.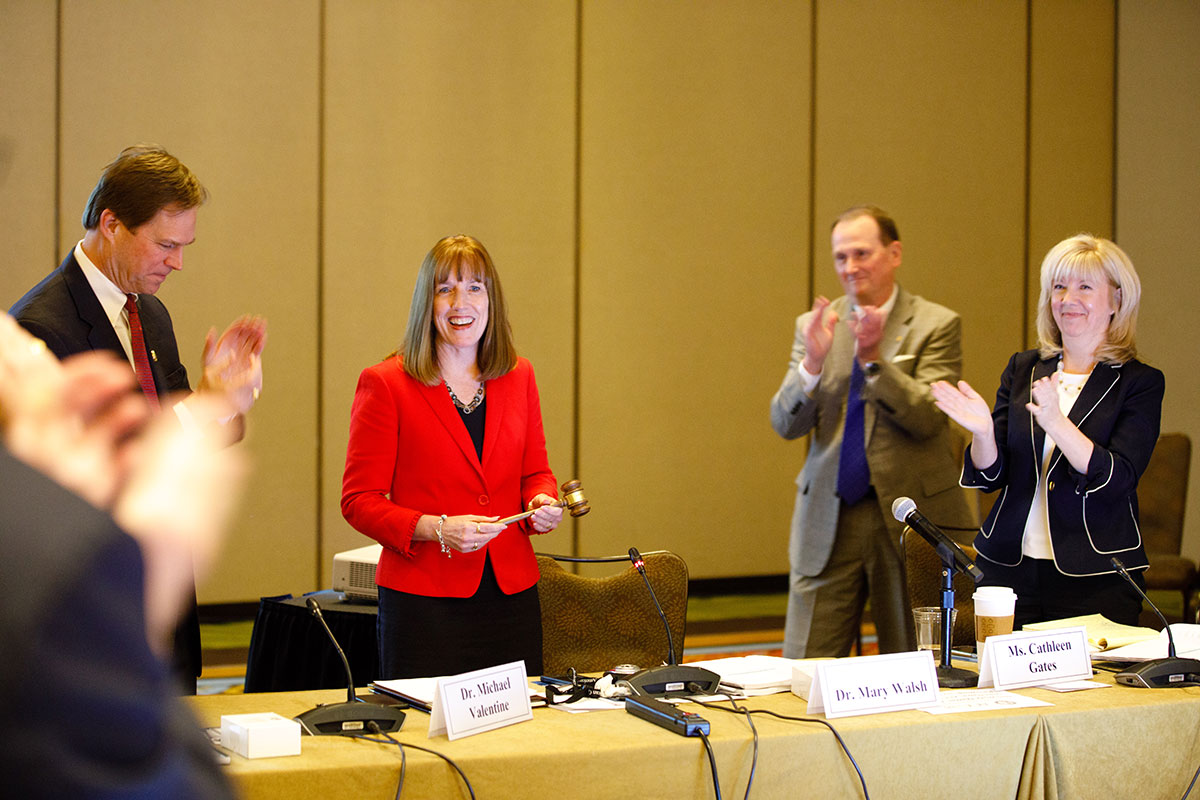 The Gavel Award is presented to ACC President
Mary Norine Walsh, MD, FACC
during the Board of Trustees Meeting at ACC.18, March 9, in Orlando.
Keywords: ACC Publications, ACC Scientific Session Newspaper, ACC Annual Scientific Session
< Back to Listings