A Multidisciplinary Effort For a Complex Patient With NSTEMI
Quick Takes
This clinical case of a complex patient who presented with acute ischemic heart disease showcases the role of the advanced practice provider (APP) for coordination of multiple specialties that facilitated further cardiac diagnostic testing and decision making.
The APP initiated immediate referrals for specialty consultations.
The APP evaluated the need for immediate versus measured response to reduce the risk and stabilize patient even in the setting of electrocardiographic (ECG) changes and elevating troponins.
Coronary artery disease and ischemic heart disease are leading causes of death worldwide. The recent ISCHEMIA-CKD (International Study of Comparative Health Effectiveness With Medical and Invasive Approaches–Chronic Kidney Disease) suggests that immediate cardiac revascularization did not reduce mortality when compared to medical therapy and lifestyle modifications.
In this case, an 80-year-old male patient with a history of non-insulin-dependent diabetes, hypertension, chronic kidney disease (stage 2), remote oral cancer, nonsmoker, and no alcohol use presented to the emergency department (ED) with short of breath, dyspnea, paroxysmal nocturnal dyspnea and orthopnea, and bilateral lower extremity edema worsening over the past 2-3 days. He recently completed 6 weeks of intravenous antibiotics for a diabetic foot wound (Figure 1). He denied any previous history of coronary artery disease or congestive heart failure. He also denied chest pain or angina. Emergency medical services reported room air 02 saturations of 89% that quickly required non-rebreather mask to maintain oxygen saturations above 93%. The acute hypoxic respiratory failure quickly progressed to requiring bilevel positive airway pressure.
Figure 1: Left Foot Diabetic Wound
The initial troponin revealed a non-ST-segment elevation myocardial infarction (NSTEMI) with troponin of 4.0, repeat 8.0, and peak at 12. The presenting ECG revealed ischemic changes; no previous ECG was available for comparison (Figure 2). The initial chest X-ray and B-type natriuretic peptide (>4,000) did confirm volume overload, bilateral infiltrates, and consolidation. The D-dimer was elevated at 1.50. Due to elevated creatinine (Cr) at 2.2, the decision was made for a bilateral lower extremity ultrasound, which was negative for deep vein thrombosis. Aggressive diuresis was initiated, and cardiology was consulted. A bedside echocardiogram revealed normal left ventricular size, left ventricular ejection fraction of 45-48%, and moderate aortic stenosis with aortic valve area of 1.3 cm.
Due to the acuity level of the patient on presentation, the ED physician immediately evaluated the patient. The nurse practitioner was with the ED physician and responsible for immediate admission, urgent consultations, discussions with specialties, and critical care placement. The acute care nurse practitioner placed urgent consults to cardiology, pulmonary, nephrology, and infectious disease physicians for evaluation. Direct urgent communication between the APPs led to immediate responses and therapeutic interventions for pulmonary and hemodynamic stabilization from multiple teams and the attending physicians.
Figure 2: Presenting ECG in the ED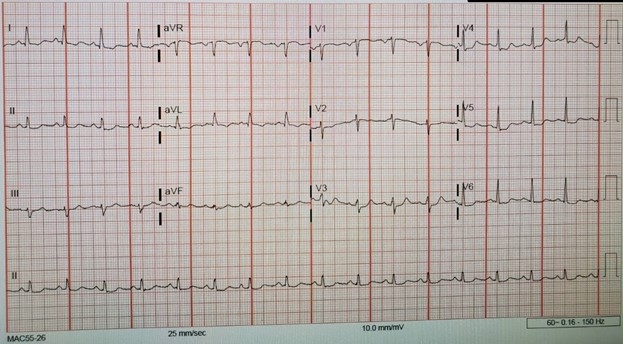 Figure 3: Presenting Chest X-Ray With Heart Failure With Bottom X-Ray Post 3-Liter Diuresis
Overall, his mental status remained normal, and he conversed appropriately with family and ED staff. He remained hemodynamically stable, and no vasopressor support was needed. However, he was unable to lay flat due to short of breath and still requiring bilevel positive airway pressure to maintain oxygen saturations. Cardiology determined that the patient needed to improve his respiratory status before scheduling heart catherization.
The admitting hospitalist acute care nurse practitioner expedites care by directly communicating with the specialists from cardiology, pulmonary, nephrology, and infectious disease, discussing the case and the need for urgent consult. The nurse practitioner continued education with the patient about the current treatment plan and therapies and advocated for the patient to all specialties, influencing the clinical course by ensuring continued collaboration.
The patient's baseline Cr was 1.7, but he presented with Cr of 2.2. Immediate intravenous furosemide and aggressive diuresis was initiated with patient responding well with almost immediate 2 liters of output within 12 hours and over 4 liters output over 48 hours. The patient tolerated bilevel positive airway pressure well and saturations improved. Thereafter, he tolerated de-escalation of oxygen therapy to 4 liters nasal cannula.
Continued aggressive diuresis, targeted intravenous antibiotics, and intermittent use of bilevel positive airway pressure overnight led to an improved chest X-ray and respiratory status. However, an increase of Cr to 2.9 and a fever of 103 degrees delayed cardiac catherization.
The hospitalist nurse practitioner ordered a rapid COVID-19 test, influenza A and B test, and respiratory pathogen panel, which were all negative. Pancultures were obtained. Meanwhile, the patient's diabetic foot wood was dressed by wound care team. The patient was sent for lower extremity imaging, which was negative for osteomyelitis. Antibiotics were continued and managed by the infectious disease team.
The infectious disease nurse practitioner educated the patient about continued intravenous antibiotic use. The APP drove and facilitated communication efforts with all specialty teams for coordinated efforts and coordinating continuous rounding.
The patient was scheduled for left heart and right heart catheterization after being afebrile for 24 hours. Once the patient was on 2 liters nasal cannula, the chest X-ray was improved, Cr stabilized at 2.1, and the patient was euvolemic. Gentle pre-procedure hydration was ordered by cardiology.
Left heart catheterization revealed calcified 99% proximal left circumflex lesion (Figure 4). There was an attempt to balloon angioplasty the lesion without success. The lesion met criteria for requiring atherectomy or intravascular lithotripsy. Due to the complex lesion, inherent risk, as well as the amount of dye the procedure would require, it was decided in consultation with the patient and family to optimize conservative guideline-directed medical therapy and lifestyle modifications for coronary artery disease, valvular heart disease, diabetes, and high blood pressure. The patient was discharged the following day with optimal medical therapy, home health care, and referral to cardiac rehabilitation.
Figure 4: Angiography of Left Circumflex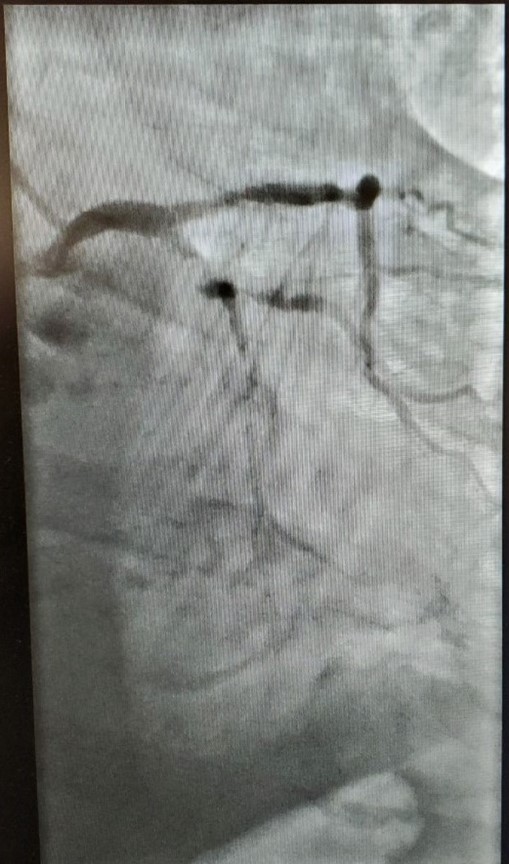 At the patient's 3- and 6-month follow-up with cardiology, discussions focused on possible staged percutaneous coronary intervention. The patient desired to continue with conservative management that included guideline-directed medical therapy. The patient was again referred to home health care and cardiac rehabilitation to monitor patient progress. The patient was motivated continued his medical management and recommended lifestyle modifications. His renal function returned to his baseline. His hemoglobin A1c was 6.1, and his oral hypoglycemic was subsequently reduced. He maintained his weight loss and his euvolemic status with no visible edema, and his lungs remained clear to auscultation. He reported requiring a diuretic only once in the past 6 months for a 5-pound weight gain. His echocardiogram remained stable. At 1-year follow-up, patient was overall doing quite well. He was back to his normal activities of walking, grocery shopping, and spending time with his family.
This case highlights a complex NSTEMI involving multiple organ systems. Once the acute presentation was stabilized and improved with medical therapies and strategies, further diagnostic studies revealed a stable plaque; the decision was made for continued medical management versus high-risk intervention. Timely, effective, communication among specialties was vital for strategic management process to secure multiple diagnosis and prevent possible complications. Working together in a steady, collaborative multidisciplinary team approach resulted in continued education, advocacy and safe, effective interventions that resulted in stabilization and improvement in the patient clinical status and outcome. Critical care APPs provide a valuable role in expediting and coordinating care and helping provide an urgent collaborative approach to treatments. This case affirms how the acute care nurse practitioner facilitates the process for rapid evaluations from specialties, leading to coordination of care and positive outcome.
Clinical Topics: Cardiac Surgery, Cardiovascular Care Team, Heart Failure and Cardiomyopathies, Invasive Cardiovascular Angiography and Intervention, Prevention, Valvular Heart Disease, Vascular Medicine, Atherosclerotic Disease (CAD/PAD), Aortic Surgery, Cardiac Surgery and Heart Failure, Cardiac Surgery and VHD, Statins, Acute Heart Failure, Heart Failure and Cardiac Biomarkers, Interventions and Coronary Artery Disease, Interventions and Imaging, Interventions and Structural Heart Disease, Interventions and Vascular Medicine, Angiography, Nuclear Imaging, Hypertension
Keywords: Furosemide, Stroke Volume, Natriuretic Peptide, Brain, Glycated Hemoglobin A, Creatinine, Cardiac Rehabilitation, Coronary Artery Disease, Diuretics, Diabetic Foot, Troponin, Patient Discharge, Conservative Treatment, Non-ST Elevated Myocardial Infarction, Hospitalists, Nephrology, Weight Loss, X-Rays, Influenza, Human, Anti-Bacterial Agents, Aortic Valve, COVID-19, COVID-19, SARS-CoV-2, Cause of Death, Continuous Positive Airway Pressure, Follow-Up Studies, Follow-Up Studies, Ventricular Function, Left, Heart Failure, Lower Extremity, Dyspnea, Chest Pain, Edema, Cardiac Catheterization, Hypertension, Heart Valve Diseases, Atherectomy, Aortic Valve Stenosis, Home Care Services, Angioplasty, Balloon, Lithotripsy, Critical Care, Renal Insufficiency, Chronic, Emergency Medical Services, Auscultation, Percutaneous Coronary Intervention, Emergency Service, Hospital, Communicable Diseases, Osteomyelitis, Weight Gain, Nurse Practitioners, Life Style, Patient Care Team, Venous Thrombosis, Respiratory Insufficiency, Hypoglycemic Agents, Hypoglycemic Agents, Angiography, Electrocardiography
< Back to Listings