Your Guide to Understanding Common Alternative Payment Models for Cardiology
Understand APM Basics
Medicare, Medicaid and commercial payers are increasingly moving toward Alternative Payment Models (APMs), shifting from fee-for-service payment to payment more closely related to outcomes of care. APMs give added incentive payments to participants providing high-quality and cost-efficient care as determined by quality and cost measures.
APMs can apply to a specific clinical condition, an episode of care or a population. Achieving high quality, patient-centered care, while also controlling costs, is key for success in these models. Cardiovascular professionals must also ensure collaboration among all stakeholders impacted by the APM, including patients, primary care, hospitalists, post-acute care and payers.
Participants
APM arrangements can include clinicians and health systems, as well as payers, employers, and third parties such as conveners. In some cases, arrangements are made to include select post-acute providers.
Benefits of Participation:
Share savings with the payer while providing high quality care. Savings are typically calculated as the difference between the current costs and a previous benchmark.
Patient steerage to your clinical practice within the bounds of applicable rules and laws.
Be paid for services or providers that have high value but are not currently reimbursed (i.e., patient counseling, care coordination, telehealth, non-typical patient interactions, nurse case managers).
Ability to negotiate the reduction of payer administrative requirements, such as prior authorization.
Risks of Participation:
Most APMs do not guarantee financial outcomes for providers. Some APMs place the providers at financial risk for cost overages. If the costs exceed a certain percentage, the provider will be required to pay back the overage.
Most providers are not accustomed to taking on financial risk. These models require education and possibly revamping the way care is delivered to minimize the amount of financial risk undertaken.
Common Types of Models
Accountable Care Organizations (ACOs): A group of doctors, hospitals and other health care providers who voluntarily form partnerships to collaborate and share accountability for the quality and cost of care delivered to their patients.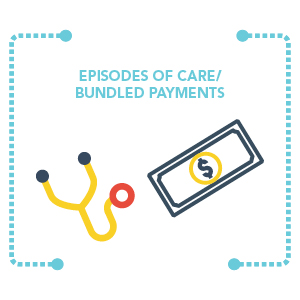 Episodes of Care: Comprise the related services, procedures and costs associated with a triggering clinical event, such as a procedure or condition, for a given period of time (30, 60, 90 or 365 days).
Bundled Payments: Provide a lump sum payment for all services in a defined episode of care versus giving separate payments for each service provided to beneficiaries.
Patient-Centered Medical Home: An innovative delivery model in which primary care physicians use registries, information technology and health information exchange to coordinate and transform patient care.
Medicare APMs:
Merit-Based Incentive Payment System (MIPS) APMs: Include clinicians who are participating in MIPS and hold participants accountable for the cost and quality of care delivered to Medicare patients. Many of these models incorporate little to no financial risk. Learn more about MIPS APMs.
Advanced APMs: Two-sided risk-based APMs identified under the Quality Payment Program tracks that provide a 5 percent payment incentive for reaching certain payment or patient thresholds. If you are a Qualifying APM Participant, you are exempt from MIPS requirements.
Hold participants accountable for the quality, cost and experience of care of an assigned Medicare fee-for-service beneficiary population. ACOs aim to address medical systems where:
Coordinated care is lacking
Health IT use is not maximized
Units of service are incentivized rather than outcomes
Quality or cost of care is lacking
Limited patient engagement.
Quality Measures:
Annually, ACOs are required to completely and accurately report quality data that are used to calculate and assess their quality performance. In order to be eligible to share in any savings generated, an ACO must meet the established Quality performance standard that corresponds to its performance year. Quality measures span four domains:
Patient/Caregiver Experience
Care Coordination/Patient Safety
Preventive Health
At-Risk Population
Review Medicare Quality Measures >
Tips for Successful ACO Participation:
Understand your attributed population
Understand the Quality measures
Understand your claims data
Educate your patients
Engage in future planning
Health Care Payment Learning & Action Network (HCP-LAN) Goals:
The HCP-LAN is a group of public and private health care leaders who provide thought leadership, strategic direction and ongoing support to accelerate the adoption of APMs. The LAN brings together payers, providers, purchasers, patients, policymakers and manufacturers into a shared mission to lower care costs and reduce barriers to APM participation.
The LAN creates goals annually that help to accelerate the percentage of U.S. healthcare payments tied to quality and value through the adoption of two-sided risk APMs. Learn more about the LAN's goals.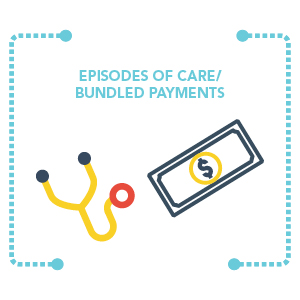 Episodes of Care: Triggered by the submission of a claim with a specific diagnosis code (ICD-10) or for either an acute care hospital stay (Anchor Stay) or an outpatient procedure (Anchor Procedure). Episodes are attributed to the treating clinician or facility and include all associated hospital and office visits, procedures, tests, medications and post-care for the specified range of time.
Examples of Cardiovascular Episodes: Acute myocardial infarction, atrial fibrillation, cardiac arrhythmia, cardiac defibrillator, cardiac valve, congestive heart failure, coronary artery bypass grafting, coronary artery disease, pacemaker, percutaneous coronary intervention (PCI)
Traditionally, separate payments are made for each service provided to beneficiaries which results in fragmented care with minimal coordination across providers. Bundled payments provide a lump sum payment for all services in a defined episode of care spanning the length of a service/procedure plus an agreed upon time period that can include post-acute care. Bundles, which provide retrospective or prospective payment, usually hold participating providers responsible for a certain level of downside risk and are typically paired with pay-for-performance to monitor quality of care. Clinicians may be most familiar with Medicare's voluntary Bundled Payments for Care Improvement (BPCI) Advanced program. Learn more about bundled payments.
In August 2020, CMS released quality measure sets for Model Year 4 of the BPCI Advanced program. Under the program, participants can continue to report the Administrative Quality Measures Set or a new Alternate Quality Measures Set, which consists of claims-calculated measures and clinical registry-calculated measures. The ACC is pleased to announce that CMS has included several NCDR measures as part of the Alternate Quality Measures Set for acute myocardial infarction, cardiac defibrillator (inpatient or outpatient), and PCI (inpatient or outpatient) clinical episodes. The collaboration between CMS and the ACC to link the NCDR measures to the BPCI Advanced program reflects a shared interest in ensuring that new value-based payment models for cardiovascular care use clinically relevant and actionable quality measures. Read more at ACC.org.
Review Medicare Quality Measures >
Tips for Successful Bundled Payment Participation:
Decide if you need the assistance of a third party such as a convener to participate
Ensure appropriate collaboration with hospital partners and high-quality post-acute care providers
Ensure robust practice transformation efforts and focus on care coordination
Ensure accurate attribution for your practice's physicians
Determine whether your practice participate in other alternative payment models that may overlap with episode-based payments
New! Summer 2021: What You Need to Know About Value-Based Payment