Fever and Loss of Consciousness
A 50-year-old male with a history of end-stage renal disease and hypertension complained of high-grade temperature, nausea, abdominal pain, and vomiting. He developed sudden onset of palpitation, chest pain and lightheadedness during routine session of dialysis. His heart rate was 110 bpm and temperature of 102 F. He was in the process of being transported to the hospital when he was noted to have polymorphic ventricular tachycardia associated with a brief loss of consciousness. His rhythm returned to sinus rhythm, and he regained consciousness before any resuscitative efforts could be made. The following electrocardiogram (ECG) (Figure 1) was performed at outside hospital emergency department (ED).
Figure 1
Patient was transferred via emergency squad to our hospital. Intravenous amiodarone drip was initiated in route. He arrived at our hospital ED in stable condition without fever. The following ECG (Figure 2) was performed.
Figure 2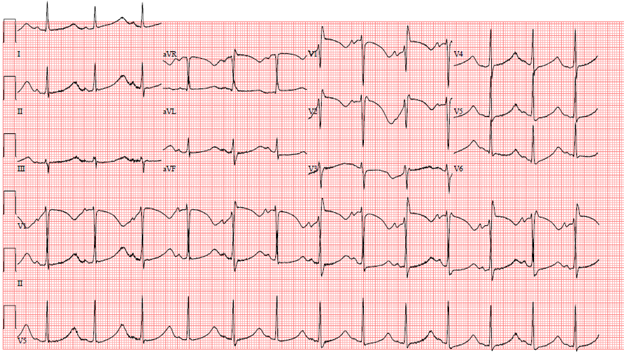 What is the correct diagnosis based on ECG Figures 1 and 2?
Show Answer