ACC Cardio-Oncology Member Section, CEO Take to the Hill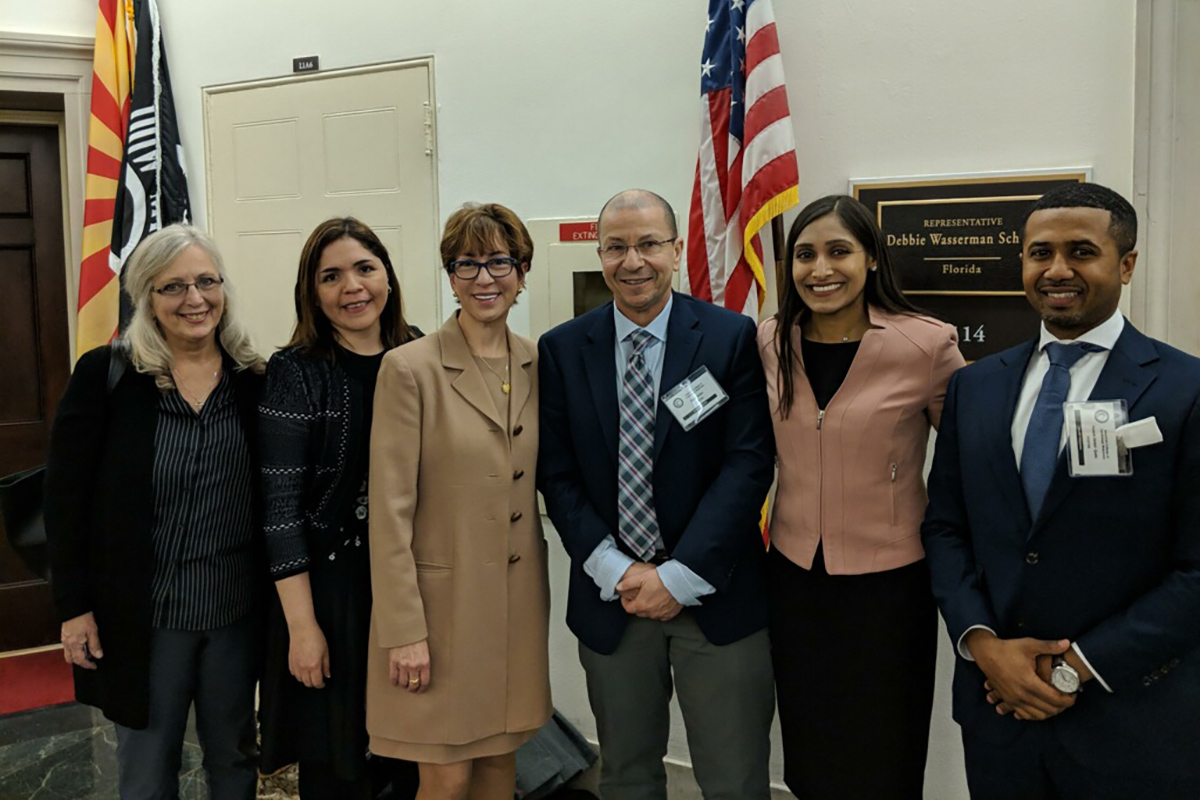 Click the image above for a larger view.
Click the image above for a larger view.
Click the image above for a larger view.
ACC Advocacy continues to kick off 2019 with a strong presence on Capitol Hill. In late January, members of ACC's Cardio-Oncology Advocacy Working Group collaborated with ACC Advocacy staff to educate members of Congress on the origin and importance of their specialty and the policy areas that affect clinicians and patients involved in the practice of cardio-oncology.
In meetings with representatives from the House Energy and Commerce, Ways and Means and Appropriations Committees, Anita M. Arnold, DO, FACC, member of ACC's Cardio-Oncology Member Section Leadership Council, Karla Quevedo, MD, FACC, Diego Sadler, MD, FACC, Husam Abdel-Qadir, MD, Kerry Skurka, RN, BSN, and Rupal O'Quinn, MD, FACC, shed light on patients in need of this specialized care and mapped out strategies to raise awareness of their specialty, including increased funding for dedicated cardio-oncology fellowships and targeted research initiatives.
ACC CEO Tim Attebery continued the advocacy action, visiting Reps. Roger Marshall, MD, (R-KS-01), David Schweikert (R-AZ-06), Sen. John Boozman (R-AR), and staff from the offices of Sens. Catherine Cortez-Masto (D-NV), Debbie Stabenow (D-MI), Marsha Blackburn (R-TN) and the Senate Health, Education, Labor and Pensions Committee. These meetings are the latest example of one of ACC Advocacy's central goals for this year and beyond, to position ACC as the leader in the fight against cardiovascular disease. The College will continue to familiarize key policymakers with ACC's vision to optimize cardiovascular care and outcomes, as reflected in ACC's Health Policy Principles.
Interested in getting involved in ACC Advocacy? Visit ACC.org/AdvocacyAction to learn more, and save the date for the 2019 Legislative Conference, the College's annual gathering covering the hottest topics in health care policy, taking place Nov. 2 – 5 in Washington, DC.
Keywords: ACC Publications, Cardiology Magazine, ACC Advocacy, Health Policy, Health Education, Cardiovascular Diseases, Medical Oncology, Cardiotoxicity
< Back to Listings