JACC in a Flash
Featured topics and Editors' Picks from all of ACC's JACC Journals.
AFib Screening With Continuous Home-Based Mobile Monitoring?
Continuous home monitoring with mobile health devices equipped with photoplethysmography (PPG) technology could be a feasible approach for screening and early detection of atrial fibrillation (AFib) in large populations, according to new data presented at ESC Congress 2019 and published in the Journal of the American College of Cardiology.
The HUAWEI Heart study investigated the use of AFib screening using smart devices with PPG technology, combined with a mobile health approach to managing AFib care. A total of 187,912 individuals (ages 18+) from across China used smart devices, including a wristband or wristwatch, to monitor their pulse rhythm for at least 14 days between Oct. 26, 2018 and May 20, 2019. Patients identified with "possible AF" episodes using the PPG algorithm were further confirmed by health providers within the MAFA (mobile AF App) Telecare center and network hospitals, with clinical evaluation, electrocardiogram (ECG) or 24-hour Holter monitoring.
Overall results found that among those with PPG monitoring (mean age 35 years, 86.7 percent male), 424 (mean age 54 years, 87.0 percent male) received a "suspected" AFib notification. Of those effectively followed up, 227 individuals (87.0 percent) were identified as having AFib, with the positive predictive value (PPV) of PPG signals being 91.6 percent. Of these identified individuals, 216 (95.1 percent) subsequently entered an integrated AFib management program using a mobile AFib application and roughly 80 percent of high-risk patients were successfully anticoagulated.
In other findings, Yutao Guo, MD, PhD, FACC, and colleagues noted that suspected AFib and identified AFib markedly increased with age (p for trend <0.001). They also found that individuals in Northeast China had the highest proportion of detected AFib.
"Low detection and nonadherence are major problems in current management approaches for patients with suspected [AFib]," researchers said. "Mobile health devices may enable earlier AFib detection, and improved AFib management." They also highlight that mobile health devices may be able to help with early interventions and reducing stroke and other AFib-related complications.
---
Guo Y, Wang H, Zhang H, et al. J Am Coll Cardiol 2019;Sept 2:[Epub ahead of print].
Moderate and Severe Aortic Stenosis: Similar High Rates of Mortality
Moderate aortic stenosis (AS) is associated with high mortality rates, similar with rates observed in patients with severe AS, according to study results presented at ESC Congress 2019 and published in the Journal of the American College of Cardiology.
Although studies have demonstrated that severe AS is associated with poor survival, the prognosis for patients with moderate AS has been unclear. This study used a large patient cohort from the National Echocardiographic Database of Australia observational registry to try to definitively determine the prognostic impact of increasing severity of AS.
Severity of AS was characterized by conventional and statistical distribution in 122,809 men and 118,484 women, with measured aortic valve mean gradient, peak velocity or area. Participants were classified as having no evidence of AS (89 percent), mild AS (6.7 percent), moderate AS (1.4 percent) or severe AS (2.6 percent).
The relationship between AS severity and survival was assessed during a median 1,198 days of follow-up. A total of 44,235 (18 percent) participants died during follow-up. Adjusted results showed that participants with severe AS had a 1.9-fold increased risk of all-cause mortality during long-term follow-up.
The adjusted five-year mortality was 19 percent among controls, 43 percent among participants with moderate AS and 53 percent among those with severe AS. The adjusted risk of five-year mortality among participants with moderate AS was increased 2.6-fold, approaching the 3.0-fold increased five-year mortality risk of those with severe AS.
Participants with mild AS had similar mortality risk to those without AS (adjusted hazard ratio [HR], 1.02). Mortality risk was similar among participants with moderate AS (adjusted HR, 1.19) and severe AS (adjusted HR, 1.22) vs. no AS.
"This represents the largest study of AS and long-term survival reported to date. We found high rates of mortality associated with both moderate and severe AS during long-term follow-up. As such, we confirm previous suggestions that moderate AS is not a benign condition.
A re-evaluation of the prognostic impact of moderate AS and the potential value of more timely interventions to reduce a high-risk of mortality in the medium-to-longer term is warranted," concluded the authors.
---
Strange G, Stewart S, Celermajer D, et al. J Am Coll Cardiol 2019;Sept 3:[Epub ahead of print].
EVOPACS: Early Start, Early LCL-C Reduction in ACS With Evolocumab
Initiating evolocumab during the acute phase of acute coronary syndrome (ACS), on top of high-intensity statin therapy, significantly reduced LDL-C in patients presenting to hospital with ACS, with more patients achieving target LDL-C levels by week eight. The findings come from the investigator-led EVOPACS trial presented at ESC Congress 2019 and published in the Journal of the American College of Cardiology.
The first randomized, double-blind trial to assess a PCSK9 inhibitor in a very high-risk setting of ACS, according to the authors, examined the feasibility, safety and LDL-C lowering efficacy of this approach.
Patients hospitalized for ACS (n=308) with elevated LDL-C levels were randomly assigned to receive evolocumab 420 mg (n=155) or placebo (n=153) initiated in hospital and then every four weeks. All patients received atorvastatin 40 mg. Most patients (78.2 percent) had not been on statin treatment previously.
Calculated LDL-C was available at baseline and at eight weeks in 277 patients (90 percent). At week eight, the mean LDL-C levels decreased from 139.59 mg/dL to 30.5 mg/dL with evolocumab and from 132.25 mg/dL to 79.66 mg/dL with placebo.
At eight weeks, the primary endpoint of the percentage change in LDL-C from baseline was –77.1±15.8 percent in the evolocumab group vs. –35.4±26.6 percent in the placebo group, for a least-squares mean difference of –40.7 percent (p<0.001). The LDL-C reductions were observed at four weeks and maintained at eight weeks.
More patients in the evolocumab group than in the placebo group (95.7 percent vs. 37.6 percent) achieved an LDL-C reduction to 69.60 mg/dL.
"Treatment with evolocumab allowed rapid attainment of currently recommended LDL-C target levels by >95 percent of patients compared with one-third of placebo-treated patients," the authors concluded.
---
Koskinas KC, Windecker S, Pedrazzini G, et al. J Am Coll Cardiol 2019;Aug 31:[Epub ahead of print].
DOAC Therapy Inhibits Atherosclerosis Progression in Patients With AFib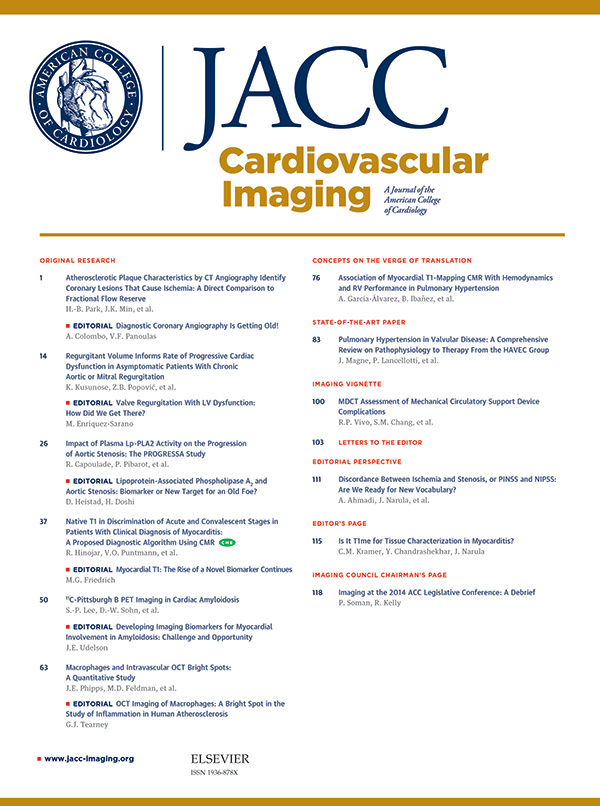 Direct oral anticoagulation (DOAC) was associated with significant inhibition of atherosclerotic plaque burden in patients who underwent repeated computed tomography angiography (CTA) and catheter ablation for atrial fibrillation (AFib), according to study results presented at ESC Congress 2019 and published in JACC: Cardiovascular Imaging.
Experimental and clinical data suggest that DOACs may have an inhibitory effect on atherosclerotic plaque. Based on that evidence, this study evaluated the effect of different oral anticoagulation agents on the progression of atherosclerosis. Consecutive patients who underwent repeated CTA prior to left atrial catheter ablation of AFib between 2006 and 2017 were included.
A total of 161 patients had repeat CTA (mean interval between scans, 3.2 years) and were included in the analysis. The patients were stratified into a DOAC group (n=50), a vitamin K antagonist (VKA) group (n=50) and controls (no anticoagulation or aspirin; n=61). All patients had AFib but no history of coronary artery disease (CAD). For all patients, the AFib rate during CTA was 21.7 percent at baseline and 26.0 percent at follow-up.
Automated lesion analysis demonstrated progression of absolute plaque burden of 66.5 mm3 in the VKA group and 27.2 mm3 in controls, compared with inhibition of absolute plaque burden in the DOAC group (7.1 mm3; p<0.001). The annual progression of atherosclerosis was 23.2 mm3 in the VKA group, 12.3 mm3 in controls and –4.6 mm3 in the DOAC group (p=0.003). Average plaque thickness increased by 0.5 mm with VKA and 0.2 mm in controls, but remained the same at 0.0±0.34 mm with DOAC.
"In vitro data and clinical trials support the findings of our study – that DOAC might reduce or inhibit progression of CAD. Nevertheless, not every plaque translates into clinical significance and large cohorts will be needed to elaborate the effect of direct anticoagulation on atherosclerosis," concluded the authors.
---
Beyer C, Wildauer M, Feuchtner G, et al. JACC Cardiovasc Imaging 2019;Sept 3:[Epub ahead of print].
Similar Outcomes With Delayed vs. Immediate Revascularization in Transient STEMI
The timing of revascularization had no effect on the final infarct size or the occurrence of major adverse cardiac events (MACE) at one year in patients with transient STEMI, according to follow-up results of the TRANSIENT trial presented at ESC Congress 2019 and published in JACC: Cardiovascular Interventions.
The TRANSIENT trial found that patients treated with either delayed (22.7 hours) or immediate (0.4 hours) revascularization had a small infarct size at four days and relatively benign outcomes at 30 days. The follow-up analysis compared four-month and one-year outcomes of a delayed vs. immediate intervention strategy.
Patients with transient STEMI were randomized to delayed or immediate intervention. The endpoints of the follow-up analysis included cardiac magnetic resonance (CMR)-assessed final infarct size and left ventricular ejection fraction (LVEF) at four months, changes from baseline to follow-up, and clinical outcomes, including MACE (comprising death, recurrent infarction, target lesion revascularization) at four and 12 months.
Of the 142 randomized patients, 72 were assigned to delayed intervention and 70 to immediate intervention. The median duration of follow-up was 366 days. A total of 138 patients had 12-month follow-up data. Follow-up CMR was performed in 54 patients in the delayed intervention group and in 56 in the immediate intervention group.
At four months, CMR demonstrated a small median final infarct size of 0.4 percent of the left ventricle in both groups (p=0.79). LVEF was similar in the delayed (59.3 percent) and immediate (59.9 percent) intervention groups. At one year, MACE had occurred in 5.7 percent of the delayed intervention group and 4.4 percent of the immediate invasive group (p=1.00). Three deaths occurred in the delayed intervention group and none in the immediate intervention group (p=0.24).
TRANSIENT, the first randomized, controlled trial to compare a delayed and immediate intervention strategy showed favorable long-term outcomes up to one year in both groups. "This knowledge can facilitate physicians in the treatment of transient STEMI patients in daily practice," write the authors.
---
Janssens GN, van der Hoeven NW, Lemkes JS, et al. JACC Cardiovasc Interv 2019;Sept 2:[Epub ahead of print].
Global Strain and Myocardial Dysfunction: What's the Association?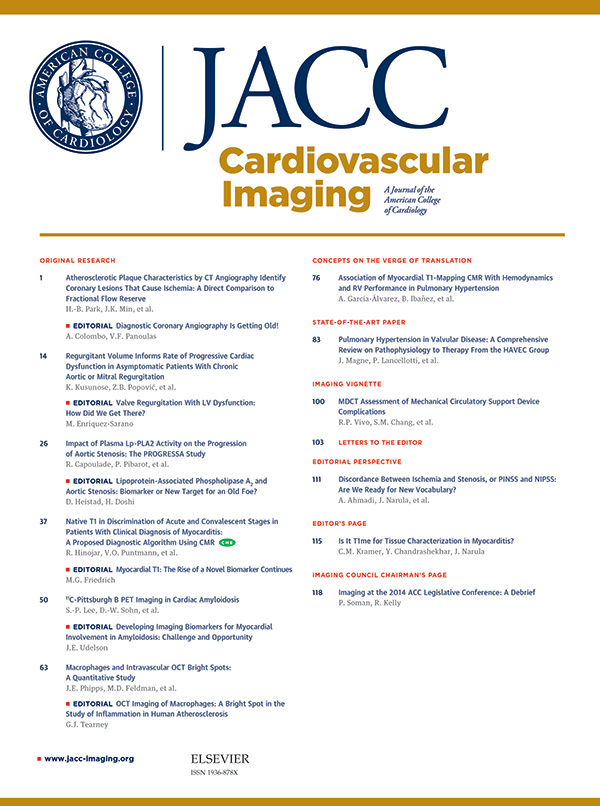 Global longitudinal strain (GLS) <16 percent likely indicates significant myocardial dysfunction, according to results of a meta-analysis presented at ESC Congress 2019 and published in JACC: Cardiovascular Imaging.
While the prognostic and diagnostic value of GLS has been recognized, its inclusion in clinical guidelines has been slowed because, according to the authors, of difficulties in defining the lower limit of normal (LLN). Their patient-level meta-analysis sought to define the distribution of normal GLS values and the LLN.
Results showed the mean GLS was 20.7 percent, with only minor funnel plot asymmetry. Eight of the papers included individual data for 2,396 participants who had a mean age of 42 years.
The normal GLS was 21.0 percent, but varied significantly with age. GLS was significantly lower in participants >60 years (20.0 percent) vs. those <60 years (21.0 percent; p< 0.01). A GLS <16.0 percent was observed in 66 (2.8 percent) participants, with a mean age of 54.3 years.
The normal GLS range varied according to age, weight, systolic blood pressure and a non-General Electric platform. Among platform vendors, the normal GLS range was highest with TomTec, followed by General Electric, Toshiba, Philips and Siemens.
The investigators concluded that regardless of clinical covariate or vendor, a GLS <16 percent likely indicates significant myocardial dysfunction. However, they note the current results may be unreliable in older populations, because of the difficulty in excluding all forms of cardiac disease with the screening investigations used by most of the included studies. "This is the first study to reliably define GLS variance in a normal population and may now support the routine use of GLS as a clinical decision-making tool."
---
D'Elia N, Caselli S, Kosmala W, et al. JACC Cardiovasc Imaging 2019;Aug 31:[Epub ahead of print].
Keywords: ACC Publications, Cardiology Magazine, Acute Coronary Syndrome, Antibodies, Monoclonal, Algorithms, Aortic Valve, Aortic Valve Stenosis, Anticoagulants, Aspirin, Atherosclerosis, Atrial Appendage, Atrial Fibrillation, Blood Pressure, Body Weight, Cardiomyopathies, Catheter Ablation, Coronary Artery Disease, Double-Blind Method, Early Intervention, Educational, Echocardiography, Electrocardiography, Electrocardiography, Ambulatory, Heart Diseases, Heart Ventricles, Follow-Up Studies, Hydroxymethylglutaryl-CoA Reductase Inhibitors, Infarction, Magnetic Resonance Spectroscopy, Odds Ratio, Photoplethysmography, Plaque, Atherosclerotic, Least-Squares Analysis, Registries, Research Personnel, Myocardial Infarction, Statistical Distributions, Stroke, Stroke Volume, Telemedicine, Vitamin K, Risk, Prognosis
< Back to Listings