TV Therapies: Contemporary Opportunities and Challenges
Despite its prevalence and associated morbidity and mortality, tricuspid regurgitation (TR) has been neglected for the most part as a target for therapy or intervention throughout the history of modern medicine. The reasons for this are complex but essentially stem from the fact surgical interventions for isolated TR came with significant risk and the belief that TR can be managed for the most part with diuretics long term. In addition, there is an absence of robust data defining the natural history and clinical impact of significant TR.
The current American College of Cardiology guidelines for the management of heart valve disease classify both medical therapy with diuretics as well as isolated tricuspid valve (TV) surgery as Class IIA interventions (Level of Evidence C).1 The recommendation for surgery on patients with severe TR who are asymptomatic with signs of right ventricular failure or dilation or those with prior left-sided heart surgery who would require a re-operation for isolated TR repair or replacement is even less compelling (Class IIB; Level of Evidence C). With the evolution and efficacy of transcatheter and less-invasive therapeutic options for left-sided heart valve disease, the understandable next target would be TR with transcatheter TV interventions.2 Furthermore, recent data suggest an advantage of transcatheter TV intervention over medical therapy. Specifically, a propensity-matched case-control study showed transcatheter TV intervention is associated with greater survival and reduced heart failure rehospitalization compared with medical therapy alone.3
Since the initial enthusiasm for transcatheter TV intervention, several limitations have become apparent. One of the key practical challenges for these procedures includes the lack of optimal imaging available on the current platforms using various forms of echocardiography, fluoroscopy, and fusion technology with computed tomography or magnetic resonance imaging.4 In addition, the anatomy and physiology of TR and right-sided heart disease pose challenges for transcatheter interventions. Given the juxtaposition of the right coronary artery, the atrioventricular node, and His bundle, as well as the fragility of the tricuspid leaflets and right ventricle, the local anatomy creates an environment with potential for unique complications.
Despite this, several different technologies have been used in the tricuspid space, many of which have been translated from the mitral space. In general, the devices for transcatheter TV include the following approaches:
Direct suture annuloplasty
Direct ring annuloplasty
Coaptation enhancement
Valve replacement (annular or caval)5
Annuloplasty and coaptation enhancement, especially with edge-to-edge repair, seem to have the most traction in current trials and clinical practice. However, innovation in valve replacement is progressing rapidly.
Transcatheter edge-to-edge TV repair with either the TriClip (Abbott; Abbott Park, IL) or the PASCAL System (Edwards Lifesciences; Irvine, CA) is the dominant current approach for treating TR (Figures 1 and 2). Initial off-label and compassionate-use cases for these devices have been favorable and have led to ongoing early feasibility trials as well as pivotal trials. The International Multisite Transcatheter Tricuspid Valve Therapies Registry included 249 patients with severe TR treated with edge-to-edge repair (MitraClip [Abbott; Abbott Park, IL]) in compassionate and/or off-label use.6 At 1-year follow-up, significant and durable improvements in TR severity (TR ≤2+ in 72% of patients) and New York Heart Association (NYHA) functional class (≤II in 69% of patients) were observed. The TRILUMINATE (Evaluation of Treatment With Abbott Transcatheter Clip Repair System in Patients With Moderate or Greater Tricuspid Regurgitation) trial is a prospective, multicenter, single-arm study in 21 sites in Europe and the United States.7 Patients with moderate or greater TR and NYHA Class II or higher who were adequately treated per applicable standards were eligible for enrolment. In the study, 85 patients (mean age 77.8 years [standard deviation 7.9]; 56 [66%] women) were enrolled and underwent successful TriClip implantation. TR severity was reduced at least 1 grade at 30 days in 71 of 83 patients (86%) who had available echocardiogram data and imaging. No periprocedural deaths, conversions to surgery, device embolization, myocardial infarctions, or strokes occurred. At 6 months, all-cause mortality had occurred in 4 of 84 patients (5%). The TriClip system appears to be safe and effective at reducing TR by at least 1 grade. This reduction could translate to significant clinical improvement at 6 months post-procedure. The initial experience with the PASCAL device has been favorable as well. A total of 28 patients with severe TR was treated with the PASCAL system in a compassionate-use experience at 6 sites.8 Procedural success was 86%, with 1.4 ± 0.6 devices implanted per patient. There were no intraprocedural complications. At 30-day follow-up, mortality was 7.1%, and 88% of patients were in NYHA Class I or II, with TR grade ≤2+ in 85%. As a result of these initial experiences, 2 pivotal trials are underway evaluating transcatheter edge-to-edge TV repair for TR with the 2 different platforms (NCT03904147 and NCT04097145).
Figure 1: The TriClip Device and Delivery System for Percutaneous TV Repair (Abbott; Abbott Park, IL).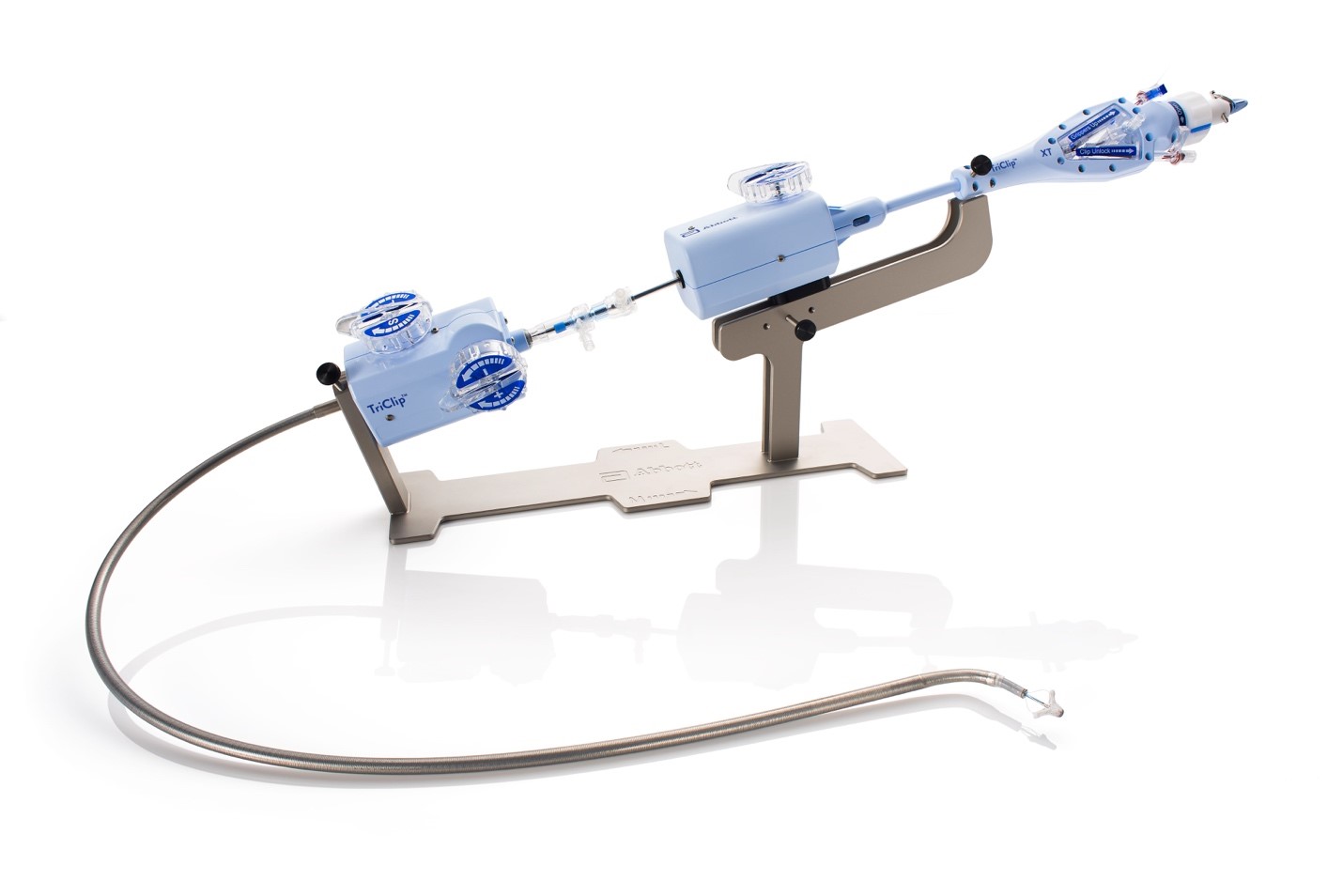 Reprinted with permission from https://www.cardiovascular.abbott/int/en/hcp/products/structural-heart/triclip.html.
Figure 2: Edwards PASCAL Transcatheter Valve Repair System (Edwards Lifesciences; Irvine, CA).
Reprinted with permission from https://www.edwards.com/gb/devices/transcatheter-valve-repair/PASCAL.
As these therapies continue to evolve, the success will be dependent on the continued achievements of the multi-disciplinary heart team. The complexity and delicateness of the right side of the heart must be appreciated and respected. We are currently scratching the surface of the spectrum of possible interventions with a diversity of approaches (direct suture annuloplasty, direct ring annuloplasty, coaptation enhancement, and valve replacement). Outside the United States, CE-marked transcatheter edge-to-edge TV repair systems, including TriClip, PASCAL, and Cardioband (Edwards Lifesciences; Irvine, California) are already available for clinical use.
All of the transcatheter repair devices for TR are limited by some degree of residual TR at the conclusion of the procedure as well as procedural complexity and duration. Recent experience with transcatheter TV implantation has been encouraging. These procedures may more effectively address the residual TR as well as procedural simplicity. This includes recent data from the GATE transcatheter TV intervention system (NaviGate Cardiac Structures, Inc.; Lake Forest, California).9 Direct trans-atrial access was needed in 25 of 30 patients, and a right trans-jugular approach was feasible in the rest. Technical success was achieved in 26 of 30 patients (87%), leading to a reduction of TR of ≥1 grade in all patients and ≥2 grades in 75%. In-hospital mortality was 10%. At 30-days' follow-up, TR was reduced compared with baseline. At least 1 grade TR reduction was observed in 20 of 21 patients (95%), and 17 of 21 (81%) had a ≥2 grade reduction. As the technology evolves and allows for routine trans-venous, percutaneous techniques, outcomes will likely improve. Additional trials evaluating transcatheter devices for transcatheter TV implantation (EVOQUE [Edwards Lifesciences; Irvine, CA] and Intrepid Transfemoral System [Medtronic; Minneapolis, MN]) are underway.
For these therapies to be effective and widely adaptable, one or two procedures will rise to the top. Potential advantages of the various repair systems include synergy and complementary roles (i.e., annuloplasty coupled with edge-to-edge repair). Patient selection for various procedures and devices remains to be defined and will be dependent on all variable including comorbidities, anatomy, device safety and effectiveness, and local expertise. We look forward to defining this trajectory to better serve our patients.
References
Nishimura RA, Otto CM, Bonow RO, et al. 2014 AHA/ACC guideline for the management of patients with valvular heart disease: a report of the American College of Cardiology/American Heart Association Task Force on Practice Guidelines. J Am Coll Cardiol 2014;63:e57-e185.
Kalra A, Uberoi AS, Latib A, et al. Emerging Transcatheter Options for Tricuspid Regurgitation. Methodist Debakey Cardiovasc J 2017;13:120-5.
Taramasso M, Benfari G, van der Bijl P, et al. Transcatheter Versus Medical Treatment of Patients With Symptomatic Severe Tricuspid Regurgitation. J Am Coll Cardiol 2019;74:2998-3008.
Taramasso M, Gavazzoni M, Pozzoli A, et al. Tricuspid Regurgitation: Predicting the Need for Intervention, Procedural Success, and Recurrence of Disease. JACC Cardiovasc Imaging 2019;12:605-21.
Curio J, Demir OM, Pagnesi M, et al. Update on the Current Landscape of Transcatheter Options for Tricuspid Regurgitation Treatment. Interv Cardiol 2019;14:54-61.
Mehr M, Taramasso M, Besler C, et al. 1-Year Outcomes After Edge-to-Edge Valve Repair for Symptomatic Tricuspid Regurgitation: Results From the TriValve Registry. JACC Cardiovasc Interv 2019;12:1451-61.
Nickenig G, Weber M, Lurz P, et al. Transcatheter edge-to-edge repair for reduction of tricuspid regurgitation: 6-month outcomes of the TRILUMINATE single-arm study. Lancet 2019;394:2002-11.
Fam NP, Braun D, von Bardeleben RS, et al. Compassionate Use of the PASCAL Transcatheter Valve Repair System for Severe Tricuspid Regurgitation: A Multicenter, Observational, First-in-Human Experience. JACC Cardiovasc Interv 2019;12:2488-95.
Hahn RT, Kodali S, Fam N, et al. Early Multinational Experience of Transcatheter Tricuspid Valve Replacement for Treating Severe Tricuspid Regurgitation. JACC Cardiovasc Interv 2020;13:2482-93.
Clinical Topics: Arrhythmias and Clinical EP, Implantable Devices, EP Basic Science, Valvular Heart Disease
Keywords: Tricuspid Valve Insufficiency, Tricuspid Valve, Hospital Mortality, Off-Label Use, Atrioventricular Node, Bundle of His, Heart Ventricles, Diuretics, Patient Selection, Prevalence, Compassionate Use Trials, Coronary Vessels, Case-Control Studies, Traction, Dilatation
< Back to Listings