Poll Results: Low-Dose Aspirin Use in Older Adults
Mrs. L is an 81-year-old female who reports for her annual cardiology visit. Her medical history can be found here.
The below poll questions were posed in response to Mrs. L's primary request to discuss a reduction in the number of medications she is presently prescribed.
Most respondents agreed that aspirin (79.44%) should be deprescribed. The patient is taking aspirin for primary prevention despite having no prior history of a coronary event. In the ASPREE trial, 19,114 older adults with median age of 74 years were randomized to aspirin (n = 9,525) and placebo (n = 9,589). The findings from this trial demonstrated that the use of low-dose aspirin as a primary prevention strategy in older adults resulted in a significantly higher risk of major hemorrhage and an equivalent risk of cardiovascular events when compared to placebo.1 Moreover, the risk of hemorrhage in this patient is increased with concurrent anticoagulant use for atrial fibrillation.
Pantoprazole may be deprescribed (since it is on the Beers Criteria2) as a potentially inappropriate medication (PIM). However, in this patient it is reasonable to continue it due to her gastroesophageal reflux disease (GERD) diagnosis and to decrease probability of gastrointestinal bleed. One consideration could be to switch to a H2 antagonist (such as ranitidine, etc.) from the proton pump inhibitor (pantoprazole) after discussion with gastroenterology.
Warfarin should not be deprescribed because of continued atrial fibrillation and risk of stroke with evidence showing greater benefit of using anti-coagulants long term compared to anti-platelets.3
All of the above (time, trust, and risk of serious events) as stated by respondents have been shown to be barriers to deprescribing.5-7 Deprescribing is the act of removing medications or decreasing doses, under healthcare supervision and for a specific outcome. Deprescribing requires three items: a trigger, a framework (that considers a comprehensive clinical status – which includes geriatric specific conditions), and a process (Figure 1).4
Figure 1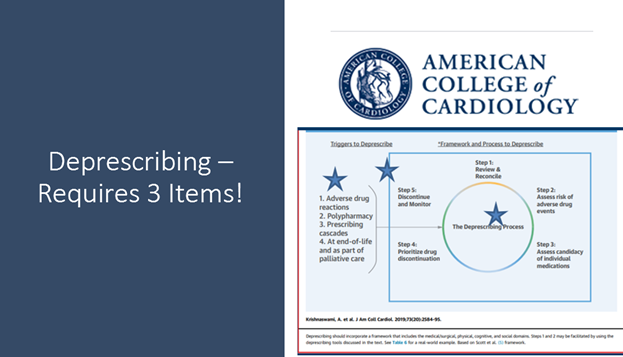 Reprinted with permission from Krishnaswami A, Steinman MA, Goyal P, et al. Deprescribing in older adults with cardiovascular disease. J Am Coll Cardiol 2019;73:2584–95.
References
McNeil JJ, Wolfe R, Woods RL, et al. Effect of aspirin on cardiovascular events and bleeding in the healthy elderly. N Engl J Med 2018;379:1509-18.
2019 American Geriatrics Society Beers Criteria® Update Expert Panel. American Geriatrics Society 2019 Updated AGS Beers Criteria® for potentially inappropriate medication use in older adults. J Am Geriatr Soc 2019;67:674-94.
January TC, Wann SL, Calking H, et al. 2019 AHA/ACC/HRS focused update of the 2014 AHA/ACC/HRS guideline for the management of patients with atrial fibrillation: a report of the American College of Cardiology/American Heart Association Task Force on Clinical Practice Guidelines and the Heart Rhythm Society. J Am Coll Cardiol 2019;74:104-32.
Krishnaswami A, Steinman MA, Goyal P, et al. Deprescribing in older adults with cardiovascular disease. J Am Coll Cardiol 2019;73:2584–95.
Goyal P, Anderson TS, Bernacki GM, et al. Physician perspectives on deprescribing cardiovascular medications for older adults. J Am Geriatr Soc 2020;68:78-86.
Goyal P, Requijo T, Siceloff B, et al. Patient-reported barriers and facilitators to deprescribing cardiovascular medications. Drugs Aging 2020;37:125-35.
Huffmyer MJ, Keck JW, Harrington NG, et al. Primary care clinician and community pharmacist perceptions of deprescribing. J Am Geriatr Soc 2021;69:1686-89.
Clinical Topics: Anticoagulation Management, Arrhythmias and Clinical EP, Geriatric Cardiology, Heart Failure and Cardiomyopathies, Prevention, Anticoagulation Management and Atrial Fibrillation, Atrial Fibrillation/Supraventricular Arrhythmias
Keywords: Geriatrics, Warfarin, Proton Pump Inhibitors, Ranitidine, Atrial Fibrillation, Aspirin, Gastroenterology, Gastrointestinal Hemorrhage, Histamine H2 Antagonists, Stroke, Gastroesophageal Reflux, Primary Prevention, Anticoagulants, Delivery of Health Care
< Back to Listings