ACC Sudden Cardiac Arrest Preparedness Webinar: 10 Key Points
The American College of Cardiology (ACC) Electrophysiology and Sports and Exercise Cardiology Member Sections supported Sudden Cardiac Arrest Awareness Month with an excellent webinar on October 20th, 2021. Moderator Jonathan Kim, MD, MSc, FACC (Sports and Exercise Cardiology Section Leadership Council) was joined by an expert panel that included Eugene Chung, MD, FACC (Sports and Exercise Section Chair), Aaron Baggish, MD, FACC (Sports and Exercise Section), Faisal Merchant, MD, FACC (Electrophysiology Section Leadership Council), Peter Dean, MD, FACC (Sports and Exercise Section Leadership Council), Elizabeth Dineen, DO, FACC (Sports and Exercise Section Leadership Council), and Rachel Lampert, MD, FACC (Electrophysiology Section Leadership Council). The webinar can be viewed here.
Here we summarize 10 key points made by the group during the discussion:
Pre-participation evaluation and electrocardiogram (ECG) screening
How do you approach the pre-participation evaluation (PPE)?


The history and physical (H&P) examination is the fundamental element of the PPE. Key points include exertional symptomatology, a detailed family history, and physical exam. It is also an opportunity to develop a relationship with the patient/athlete and potentially their family. Non-cardiac history, such as diet and mental health, is also important to discuss. Discussing topics in non-medical terms can also help uncover underlying pathologies (not everyone knows what palpitations are, but they may say they feel funny or have odd heart beats sometimes).

Is it time to amend the 14-point H&P to a 15-point H&P with regard to COVID-19 infection?


Yes, at present, it is likely time to add questions regarding previous COVID-19 infection, including symptoms and severity, to pre-participation screening questions. It is not yet known whether this will be a permanent feature, but for now it is reasonable to add. The outcomes data are reassuring at present, but more time is needed to determine the long-term adverse event rate with cardiac involvement in COVID-19.

What is the role/utility of ECG screening and are there any limitations?


ECG screening will improve the sensitivity in detecting occult underlying cardiovascular conditions (e.g., Wolff-Parkinson-White syndrome [WPW]), but whether this ultimately improves clinical outcomes remains uncertain. If included in a screening algorithm, it must be done cautiously and appropriately. The risks of improper screening are dangerous. For example, community-based screening needs to have plans in place for downstream findings. The logistics are key: interpreting ECGs correctly, setting up additional tests (i.e., echocardiography), getting insurance authorization, and establishing follow-up evaluations.

When is it appropriate to consider screening based on age?


Screening for a family history of sudden cardiac death (SCD) in all athletes should happen early and often. Exertional cardiac symptoms in any athlete, regardless of age (i.e., middle and high school), should be taken seriously and may warrant further pediatric cardiology referral and assessment.
Workup and referral strategies for concerning signs and symptoms
What are red flag symptoms?


Syncope during exertion (without warning) and chest pain/dyspnea with exertion and relieved with rest are red flag symptoms. In the age of smartphones, there is often video footage of events. These are worth their weight in gold and can help guide further testing. There is a myriad of complexities to different sports, and symptoms or presentation can vary tremendously between sports.

What are some important considerations surrounding over-testing of athletes and 'diagnostic creep (acknowledge Dr. Paul Thompson)'?


Over-testing can be hard to avoid, even when following guidelines or consensus recommendations closely. As such, determining clinical pre-test probability before testing is critical in the evaluation of the athlete. When high, complete risk stratification is generally indicated. When low, the specter of 'diagnostic creep' increases.

What are the roles of wearables in the field of sports cardiology?


Wearables are more prevalent now than ever, and patients are often coming in with these data. Acknowledging there is a balance with the possibility of artifactual measurements, these data can sometimes help guide management decisions both in training, movement patterns, and physiologically (ECG/ electrophysiology [EP] related) with heart rate, heart rate variability, temperature, sleep, and/or oxygen saturation monitoring. Real-time monitoring is mainly helpful in arrhythmia detection, and single-lead ECG is superior in this case (i.e., using KardiaMobile courtside).

Does the type of sport matter when there is an abnormal finding (e.g., left ventricular hypertrophy [LVH] on echocardiography)?


Yes, a finding like LVH can mean something different in a football offensive lineman than it does in a basketball player. It is important to distinguish physiologic remodeling from underlying pathology. In general, hemodynamic pressure challenges can cause thickening, and volume challenges lead to chamber dilation. It is helpful to view the 3x3 sports classification chart to better understand the expected physiological demands of a specific sport (Figure 1), and discordant imaging findings should raise suspicion for potential pathology.1
Return to play and shared decision-making
Can you summarize return to play counseling?


There is a wide spectrum of ongoing sport participation data for athletes with long QT syndrome and athletes with implantable cardioverter defibrillators (ICD) for primary or secondary prevention. Overall, the data suggest that return to play in these scenarios is not associated with adverse outcomes.2,3 For other conditions lacking more evidence-based data, it is important to further emphasize a patient-centered, shared decision-making approach when deciding about eligibility for return to play. This includes identifying potential high-risk features on imaging and other testing as part of this process. It is the role of the clinician to help the patient understand all the information available to reach a joint decision with the patient and other stake holders (e.g., school or league/professional team officials). Re-evaluation is also critical, as symptoms may change or evolve and disease progression is possible. Shared decision-making relies on the development of rapport with the patient and family as developing trust is key to this process. This takes time and likely several visits, never a short appointment as part of a routine clinic schedule.4
Emergency action plans
What are best practices for developing Emergency Action Plans (EAPs)?


Training of personnel is key. All steps need to be practiced and rehearsed so that they are executed seamlessly when needed to prevent adverse events. For example, the response team at Euro 2020 where Denmark's Christian Eriksen collapsed due to cardiac arrest was an excellent example of how teamwork can save a life. EAPs have come a long way since 1990, when a college basketball player (Hank Gathers) collapsed and was unable to be resuscitated. Webinars can be helpful in developing an EAP.
Figure 1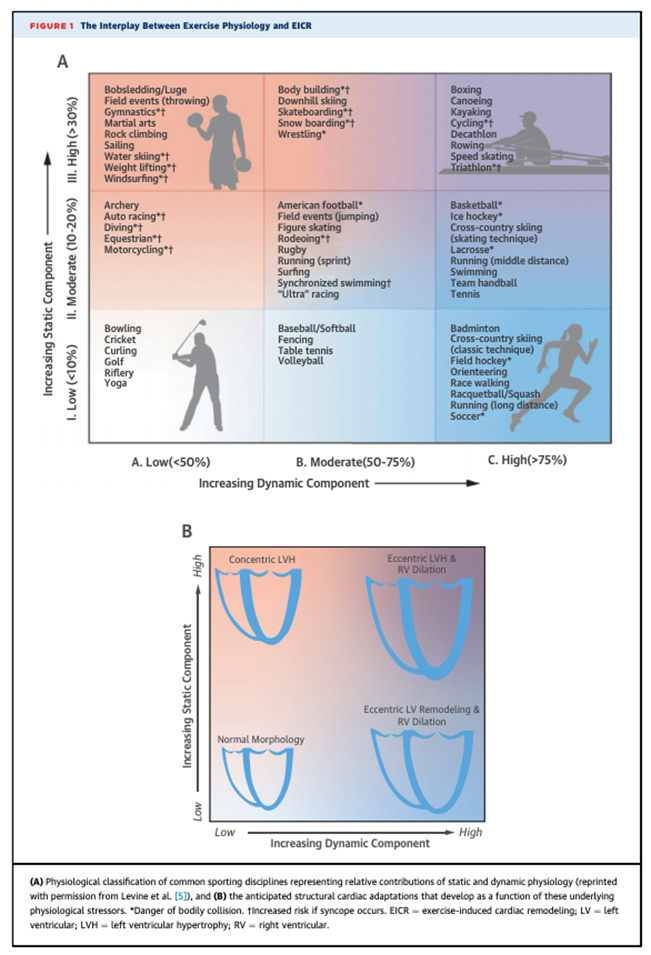 Figure 1: Reprinted with permission from Baggish AL, Battle RW, Beckerman JG, et al. Sports cardiology: core curriculum for providing cardiovascular care to competitive athletes and highly active people. J Am Coll Cardiol 2017;70:1902-18.
References
Baggish AL, Battle RW, Beckerman JG, et al. Sports cardiology: core curriculum for providing cardiovascular care to competitive athletes and highly active people. J Am Coll Cardiol 2017;70:1902-18.
Lampert R. Sport participation in patients with implantable cardioverter-defibrillators. Curr Treat Options Cardiovasc Med 2019;21:66.
Johnson JN, Ackerman MJ. Return to play? Athletes with congenital long QT syndrome. Br J Sports Med 2013;47:28-33.
Baggish AL, Ackerman MJ, Putukian M, Lampert R. Shared decision making for athletes with cardiovascular disease: practical considerations. Curr Sports Med Rep 2019;18:76-81.
Clinical Topics: Arrhythmias and Clinical EP, Congenital Heart Disease and Pediatric Cardiology, Heart Failure and Cardiomyopathies, Noninvasive Imaging, Prevention, Sports and Exercise Cardiology, Implantable Devices, EP Basic Science, Genetic Arrhythmic Conditions, SCD/Ventricular Arrhythmias, Atrial Fibrillation/Supraventricular Arrhythmias, Congenital Heart Disease, CHD and Pediatrics and Arrhythmias, CHD and Pediatrics and Imaging, CHD and Pediatrics and Prevention, CHD and Pediatrics and Quality Improvement, Echocardiography/Ultrasound, Sports and Exercise and Congenital Heart Disease and Pediatric Cardiology, Sports and Exercise and Imaging
Keywords: Wolff-Parkinson-White Syndrome, Heart Rate, Defibrillators, Implantable, Hypertrophy, Left Ventricular, Secondary Prevention, Mental Health, Dilatation, COVID-19, Decision Making, Shared, Follow-Up Studies, Physical Exertion, Return to Sport, Death, Sudden, Cardiac, Electrocardiography, Long QT Syndrome, Athletes, Sports, Echocardiography, Syncope, Chest Pain, Dyspnea, Disease Progression, Risk Assessment, Oxygen, Electrophysiology, Patient-Centered Care, Wearable Electronic Devices
< Back to Listings