Poll: Falls in Older Adults with CVD: Yup, it's a Thing!
Mr. P is a 73-year-old male with history of Parkinson's disease diagnosed within the past 1-2 years. He presents to a hospital after a ground-level fall that resulted in a small subdural hematoma.
The geriatric consult service was contacted the morning after admission for recommendations regarding routine geriatric care post-trauma.
Cardiac comorbidities
Heart failure with reduced ejection fraction (EF 25-30%)
Ischemic cardiomyopathy
History of prior myocardial infarction (MI), and percutaneous coronary intervention (PCI)/stent
s/p implantable cardioverter defibrillator/cardiac resynchronization therapy (CRT)
Mild left ventricular (LV) aneurysm
Moderate aortic stenosis
Hyperlipidemia
Hypertension
Pulmonary hypertension
Apical mural thrombus
Non-cardiac comorbidities
Parkinson's disease
Home medications (prior to hospital admission) - bid=twice a day; qd = daily; tid = three times a day; prn = when necessary
carvedilol 12.5 mg tablet bid
eplerenone 50 mg tablet qd
atorvastatin 20 mg tablet qhs
warfarin 5 mg tablet qd
ascorbic acid qd
carbidopa-levodopa 25-100 mg tablet tid
gabapentin 1200 mg tid
metformin XR 500 mg qd
nortriptyline 25 mg capsule qd prn
Admission Vitals
Supine blood pressure (BP): 130/82 mmHg, Pulse 65 bpm
Standing BP: 105/70 mmHg, Pulse: 80 bpm
Exam day after admission
General: alert, and oriented, no acute distress
CV: s1s2 regular rate and rhythm
Chest: Clear to auscultation
Abdomen: soft, non-tender, no hepatosplenomegaly
Mental Status: Alert, oriented to self, place, but not to date (stated the season was Autumn appropriately), only knew year when offered multiple choices, poor recollection of recent events (does not recall what he ate for breakfast), slow and deliberate speech. Follows basic commands. Asked to spell WORLD backwards > DROW.
Cranial Nerves: Pupils 3 mm bilaterally reactive to light, EOMI but with restricted up gaze, visual fields intact to finger wiggle, masked facies, decreased blink rate on L>R and L facial droop (unclear chronicity, patient does not note asymmetry), tongue midline.
Motor: Increased tone L>R with facilitation on contralateral limb activation. Left rest tremor. Dysrhythmic and slow finger taps/ fast alternating movements in L>R UE and LE.
Left Upper Extremity: Antigravity no drift > 10 seconds
Left Lower Extremity: Antigravity no drift > 5 seconds
Right Upper Extremity: Antigravity no drift > 10 seconds
Right Lower Extremity: Antigravity no drift >5 seconds
Cerebellar: No ataxia on finger to nose
Gait: Not tested due to bedrest
Imaging
Computed tomography (CT) head: Radiologically small left parietal convexity subdural hematoma without significant mass effect, midline shift, or other herniation pattern. He was also noted to have a new wedge-shaped hypodensity in the right anterior paramedian pons, which could be due to artifact or represent an interval age-indeterminate infarct.
Figure 1: Electrocardiogram (ECG) on Admission: Biventricular Paced Rhythm.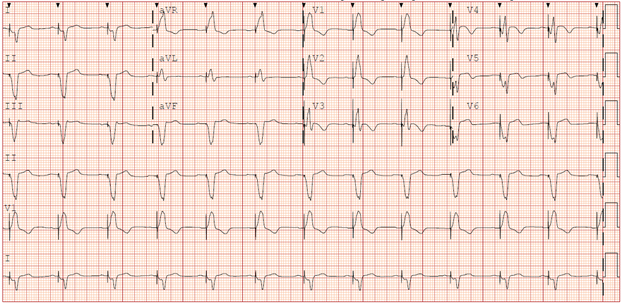 Hospital ECG monitoring and defibrillator interrogation demonstrated no abnormalities.
Echocardiogram
1. Moderately dilated LV with aneurysmal apex and markedly reduced systolic function. Wall motion abnormalities were noted as below. Estimated LVEF 26%. Normal RV size and systolic function.
2. Moderate aortic stenosis (AS) with mean gradient of 21 mmHg (AVA 0.77cm2). Mild aortic regurgitation (AR). Trace tricuspid regurgitation (TR). Inadequate TR doppler signal precludes estimation of right ventricular systolic pressure (RVSP). Right atrial pressure (RAP) 7 mmHg.
3. Compared to prior study, aortic valve (AV) gradient has increased, and calculated AVA has decreased.
The patient lives alone but is <10-minutes walking distance from family. Fall was not witnessed. Patient was going from chair to kitchen and fell halfway into kitchen. Patient walks around home leaning against walls and goes from one room to another. Also uses furniture for aid and does not use walkers. Son stated specifically that his father falls frequently – almost daily. There was no loss of consciousness (as best ascertained), no bladder or bowel incontinence. The cardiology service was consulted for any recommendations they may have.
Clinical Topics: Geriatric Cardiology
Keywords: Geriatrics, Accidental Falls, Blood Pressure, Stroke Volume, Tricuspid Valve Insufficiency, Hypertension, Pulmonary, Percutaneous Coronary Intervention, Aortic Valve, Aortic Valve Insufficiency, Atrial Pressure, Cardiac Resynchronization Therapy, Defibrillators, Implantable, Hyperlipidemias, Parkinson Disease, Myocardial Infarction, Myocardial Infarction, Electrocardiography, Aortic Valve Stenosis, Hematoma, Subdural, Cardiomyopathies, Cranial Nerves, Heart Failure, Tomography, Aneurysm, Thrombosis, Tomography, X-Ray Computed
< Back to Listings