#ChooseCardiology: Kristen N. Brown, MD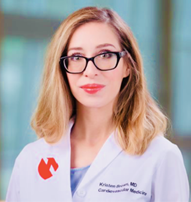 Why did you #ChooseCardiology?
I have wanted to be a doctor since I was a kid. I fell in love with cardiology almost instantly after sitting through my first lecture in medical school on the pathophysiology of the heart. The mechanics of the heart fascinated me in every way. After this, I just could not picture myself pursuing any other career path.  Cardiology had simply stolen my own heart.
What do you like best about cardiology?
Cardiology offers a multitude of challenges that requires constant application of one's knowledge, skills and abilities. The fast pace, dynamic workflow and decisive nature directly correlates to my personality, which is why I feel so attuned to this specialty. This multifaceted field offers one the opportunity to tackle challenging medical puzzles, decipher and master complex cardiac imaging techniques, and perform high-stakes, lifesaving procedures through the development and proficiency of fine motor dexterity. As tremendously complex and dynamic as the field may be, it does provide an extremely rewarding sense of fulfillment and meaning to my life. At the end of each day, I find myself extremely satisfied, knowing I have had the opportunity to directly contribute to so many successful patient outcomes by utilizing the tools that the field of cardiology has bestowed upon me.
Who has been a role model or mentor for you?
I have been so blessed to have been surrounded by so many wonderful people throughout the years. First and foremost, my mother who has always been a strong female role model in my life and who has always encouraged me to work hard at everything I do while remaining grounded and humble. Second, the many physicians who have had a huge impact on my career: Pascha Schafer, MD, FACC; Gyanendra Sharma, MD, FACC; Deepak Kapoor, MD; Sean Javaheri, DO, FACC; Mahendra Mandawat, MD, FACC; Kimberly Atianzar, MD; Andrew Goldsweig, MD, MS, FACC; Poonam Velagapudi, MD, MS, FACC; Gregory Pavlides, MD, PhD, FACC; Edward O'Leary, MD, FACC; Shahbaz Malik, MD; and Yiannis Chatzizisis, MD, PhD, FACC just to name a few. Last but not least, the thousands of  patients whom I have had the privilege of taking care of over the years  all of whom in their own way have helped mold me into the physician I am today.
What area are you considering specializing in?
Not long after cardiology stole my heart, interventional cardiology swooped in and stole my heart all over again. I specifically remember the moment it happened. It was shortly after I scrubbed into my first case. A serendipitous feeling overcame me as I took in all the stimuli of the cath lab: the tactile feeling of the catheters and wires between my fingertips; the thought-provoking angiograms flashing before my eyes; and the first time I was a part of a lifesaving procedure. I knew then and there that I wanted to be an interventional cardiologist. To this day, there is no other part of the hospital that I enjoy being in more than the cardiac cath lab.
What advice would you give women considering Cardiology?
Cardiology is a beautifully bountiful field with so many wonderful potential career paths. Discover what you love about cardiology and focus on it. Find others that are passionate about the same things and build friendships. Do not be put off by the gender disparity because the field is changing. Embrace that you have the unique opportunity to be a part of the change. Every year more and more women #ChoooseCardiology and we are thrilled that you are considering joining this field too!
Would you choose cardiology again?
Absolutely, I would #ChooseCardiology again in a heartbeat.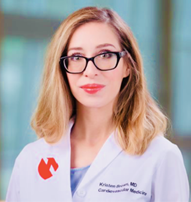 This article was authored by Kristen N. Brown, MD, , a fellow in training at the University of Nebraska Medical Center. Twitter: @Kristen_Brown