#ChooseCardiology: Sanjana Nagraj, MBBS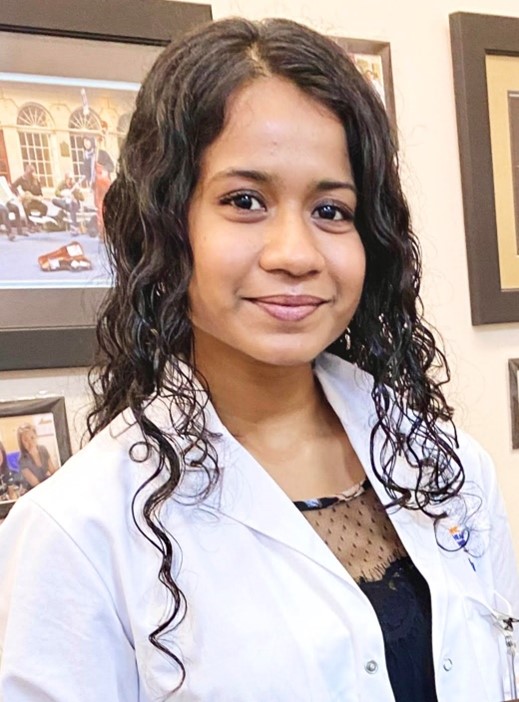 Why did you choose Cardiology?
Slumped in the back of the car at night, around the age of seven and half-asleep waiting for my mother who was called to attend an emergent case, I experienced early on what it meant to be a woman in medicine and a mother. I spent my Sundays at her clinic desk, auscultating with a stethoscope, talking to my imaginary patients, and writing illegible scripts. As I embarked on my journey to medical school and Internal Medicine residency, I was content that I was on a path of service with the ability to make a difference. However, it is through cardiology that I experienced a sense of gratification as a life-long learner and physician, critical thinker, and clinical investigator. Its ever-evolving nature reinforces my constant pursuit to learn, witness advances, and be a part of the movement by providing the current and best-available care for my patients. Interacting with cardiologists early and late in their careers made the decision to become one clear. As I see it, this is a field that has more than something for everyone and it empowers me to make an impact in more than one way.
What do you like best about cardiology?
My favorite aspect about cardiology is its ability to offer versatile treatment options that are tailored not only to the complexity of the disease processes but to patient attributes and preferences. These treatment options are meticulously engineered and powered to address all subsects of the patient population so that no gender, race, ethnicity, or age group is overlooked. The evidence-based and yet sensitive approach to management truly aims to provide optimal care and strengthen physicians' relationships with patients and their families. Witnessing a sense of relief experienced by patients and their families after a successful PCI or the improvement in quality of life after starting guideline-directed medical therapy for heart failure are truly satisfying as a provider.
Who has been a role model or mentor for you?
My mother, Sumathy Nagraj Iyengar, MD, who has carefully molded me into the person I am today has been my greatest role model, support and teacher. She was the first doctor I was exposed to and her perseverance to strive serves as a constant motivation to go the extra mile even when the odds are unfavorable.
I am grateful to Leonidas Palaiodimos, MD, for being a phenomenal research mentor and investing in my career progress and research endeavors despite his numerous clinical and academic obligations. I am indebted to Rosy Thachil, MD, FACC, for introducing me to ACC's Women in Cardiology Section. As an excellent advocate of leadership and professional development of women, she has helped me build upon my clinical skills at the bedside and fostered my research interests.
I have learned how clinical, teaching and administrative responsibilities can be gracefully managed from Robert T. Faillace, MD, FACC, who is a brilliant cardiologist, an excellent teacher and mentor, and an epitome of leadership. He has shown me that our highest privilege as cardiologists is to serve the underserved.
What area of cardiology are you considering to specialize in?
One of my favorite aspects about cardiology is the wide range of areas available to specialize in such as advanced heart failure, interventional cardiology and electrophysiology. I am fascinated by the complex pathophysiological mechanisms that drive heart failure and its management. However, at this point in time, I keenly look forward to assimilating everything that the cardiology fellowship has to offer.
What advice would you give women considering cardiology?
Don't turn away! You have come this far for a reason, and you have everything that is required to be an exceptional woman in cardiology. Seek mentors who genuinely invest in your growth and encourage you to strive harder to meet the goals you have set for yourself. As a woman in the medical field, support your fellow women and empower them to reach their full potentials. Ask questions early on to get the answers you need so that no nook and cranny remains unexplored, and you make career decisions that best fit your requirements. Lastly, remember, no dream is too big if you commit yourself to it.
This article was authored by Sanjana Nagraj, MBBS, resident, internal medicine, Jacobi Medical Center/Albert Einstein College of Medicine, NY.
This content was developed independently from the content developed for ACC.org. This content was not reviewed by the American College of Cardiology (ACC) for medical accuracy and the content is provided on an "as is" basis. Inclusion on ACC.org does not constitute a guarantee or endorsement by the ACC and ACC makes no warranty that the content is accurate, complete or error-free. The content is not a substitute for personalized medical advice and is not intended to be used as the sole basis for making individualized medical or health-related decisions. Statements or opinions expressed in this content reflect the views of the authors and do not reflect the official policy of ACC.