2015 Legislative Conference: A Fresh Dialogue on Capitol Hill
Heart of Health Policy | During the 2015 Legislative Conference, more than 400 cardiovascular professionals were in Washington, DC, advocating for cardiovascular professionals and their patients on Capitol Hill and learning about legislative and regulatory changes that will impact their practices. For the first time in many years, cardiology had a fresh message to take to lawmakers now that the Sustainable Growth Rate is history. ACC members urged Congress to take the following action:
Cosponsor H.R. 3355/S. 488, a bill that would expand access to cardiac rehabilitation by allowing physician assistants, nurse practitioners and clinical nurse specialists to supervise cardiac, intensive cardiac and pulmonary rehabilitation programs.
Leverage the expertise and experience of medical specialty societies to promote the usability of electronic health records by care team members.
Support new funding for the National Institutes of Health and the U.S. Food and Drug Administration at the levels provided in the House-passed 21st Century Cures Act.
As the Medicare Access and CHIP Reauthorization Act is implemented, work with medical specialty societies and federal agencies to develop alternative payment models that allow clinicians to provide the most effective and efficient care to their patients.
Before meeting with legislators in their offices, hundreds of ACC members gathered in the Cannon House Office Building for a special Congressional Breakfast during which Rep. Larry Bucshon, MD (R-IN), Sen. Dan Sullivan (R-AK) and Rep. Tom Price, MD (R-GA) gave remarks. Minority Whip Steny Hoyer (D-MD) also stopped by to greet the crowd. During the breakfast, Wendell Primus, senior advisor to House Minority Leader Nancy Pelosi, (D-CA) accepted ACC's 2015 President's Award for Distinguished Public Service on her behalf. Earlier this month, outgoing Speaker of the House John Boehner (R-OH) also accepted the President's Award. Pelosi and Boehner were honored with the awards for their roles in crafting and passing the Medicare Access and CHIP Reauthorization Act of 2015.
For full coverage of the conference, visit Blog.ACC.org.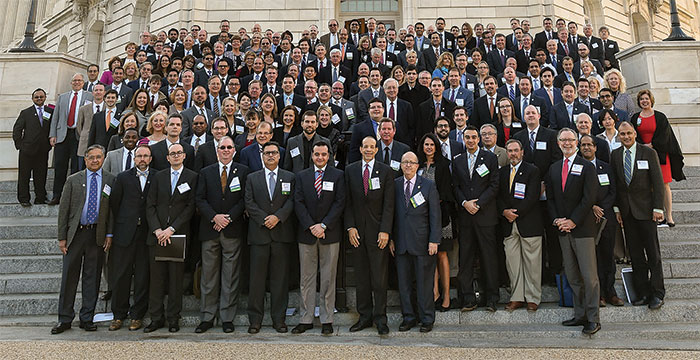 Attendees on the 2015 Legislative Conference on Capitol Hill.
Keywords: ACC Publications, Cardiology Magazine
< Back to Listings