Feature Story | Get To Know... Dr. Valentine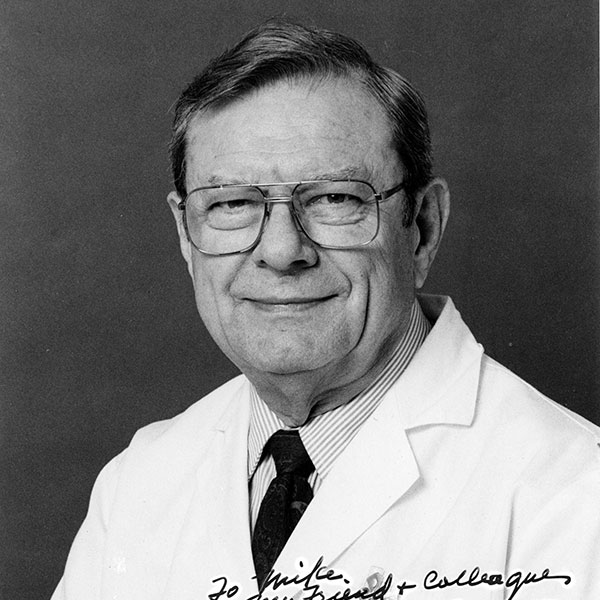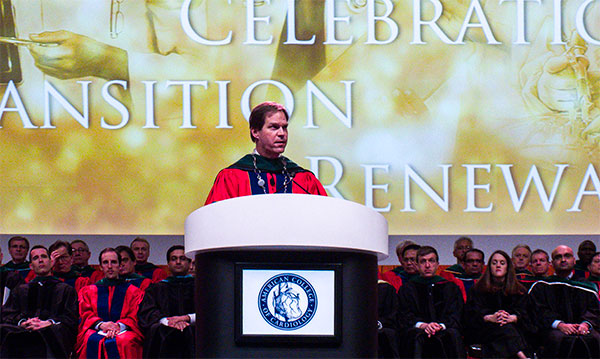 Photos above (top to bottom):
B. Lewis Barnett Jr., MD, (left) and James T. Dove, MD, MACC, (right) mentors of Valentine.
Pamela S. Douglas, MD, MACC, Valentine and Ralph G. Brindis MD, MPH, MACC, at the 2007 ACC Convocation Ceremony.
ACC Board of Governors Past Chairs, 2016, (from left to right): Michael Mansour, MD, FACC; Hadley Wilson, MD, FACC; A. Allen Seals, MD, FACC; James Fasules, MD, FACC; Dipti Itchhaporia, MD, FACC; Richard J. Kovacs, MD, FACC; C. Michael Valentine, MD, FACC; Thad Waites, MD, MACC; George P. Rodgers, MD, FACC; and John G. Harold, MD, MACC.
Valentine addressing Convocation at ACC.18 after becoming ACC President.
ACC's new president doesn't send holiday cards each December. He and his family wait until February and send Valentines. Aptly so, as C. Michael Valentine, MD, FACC, descends from the family for which the small community of Valentines, VA, was named. His father was born there and grew up to be a physician, while Valentine's mother ran the family cattle farm. As the children grew up and pursued other careers and passions outside of ranching and medicine, the pressure was on their youngest who, at age 12, decided that becoming a physician was the right course. Ultimately, Valentine's path led him right into the heart of cardiovascular medicine where he leads now as president of the ACC.
Valentine received his undergraduate degree from the University of Georgia and went on to earn his medical degree from the University of Virginia (UVA) School of Medicine. It was there that, beyond the influence of his physician father, Valentine began to really understand the pivotal importance of mentors in one's life. Valentine credits B. Lewis Barnett Jr., MD, from UVA, for teaching him "the art of medicine," and "the value of effective listening." Valentine completed his medical residency and fellowship in cardiovascular disease at Emory University in Atlanta, where he met and married his wife, Shannon.
Valentine returned to Virginia to join a small private practice in 1990. The group ultimately developed into an advanced system, participating in over 90 clinical trials and leading quality and advocacy efforts in the Commonwealth. It became one of the early integrated practice models in the U.S., joining Centra Health in 2005. Valentine now serves as a senior cardiologist at the Stroobants Cardiovascular Center of Centra Health in Lynchburg, VA, where he specializes in cardiac catheterization and intervention, device placement and arrhythmia therapy, clinical quality, leadership and practice development.
Valentine's involvement in the ACC happened quite by accident. In 1993, he was asked to attend the ACC Virginia Chapter meeting by his practice founder, Thomas W. Nygaard, MD, FACC, who was on call that weekend. "The simple act of saying yes would change my life, as the Virginia leaders placed me on a council and gave me advocacy responsibilities immediately," he says. His ACC involvement increased further when George A. Beller, MD, MACC, became ACC president and appointed Valentine to the National Advocacy Committee, now known as the Health Affairs Committee. "My training as an early career leader at the local level helped prepare me for more important roles, as I was later appointed to co-chair the Advocacy Committee and joined another superb group of mentors." He soon became governor of the Virginia Chapter, sharing his passion for the vision of the College and the needs of patients and members.
Valentine helped to develop several early quality, pay for performance and leadership programs at the College, with colleagues including John E. Brush Jr., MD, FACC; Ralph G. Brindis, MD, MPH, MACC; and Pamela S. Douglas, MD, MACC. He then became Board of Governors (BOG) Chair in 2006, helping drive the national Door-to-Balloon Alliance for Quality, and served on the Board of Trustees (BOT). He credits his continued involvement to mentors like ACC's own James T. Dove, MD, MACC, who Valentine says was a "gentle giant, and had a dramatic impact on the ACC and the careers of so many future leaders," as well as Richard A. Chazal, MD, MACC, who Valentine describes as "a wise and savvy mentor, teacher and friend."
On becoming the president of the ACC, Valentine says "it is a tremendous honor and privilege, not only for me, but for our group practice and health system at Centra. This recognizes the importance and responsibility of community systems to lead with the highest quality care and clinical research. It also encourages grassroots members who work at the local chapter level to further advance the mission of the College."
During his year as president, Valentine believes it is his responsibility to meet a few critical goals. The first is to lead the BOT to success with its 2018 Strategic Priorities — including creating a truly effective health systems strategy — and assisting members with the Quadruple Aim to improve the well-being of members of the entire cardiovascular care team. Next is to guide the Board to deliver a superb five-year Strategic Plan to committees and staff for execution. Valentine is also passionate about advancing member and staff leadership development, partnerships with sister society members as well as ACC's international teams around the globe. He will also participate with the Chief Executive Officer (CEO) Selection Committee in selecting the next great staff leader for the College.
"The ACC has an immensely talented Board and the most dedicated staff of any medical association in the country, now led by interim CEO Cathy Gates. We've jointly developed new Core Values that will help us focus on driving strategy and innovation to meet challenges and achieve our new Vision," he says. Valentine also shares that he's very excited for the opportunities that come with ACC's new diversity initiative in shaping how the College will look in the very near future.
Looking ahead, Valentine believes there are many threats facing the field of cardiology. "Rapid growth in technology has outstripped our ability to pay for care," he says. "One task we face is determining where true value lies in cardiovascular care. This will force us to make difficult choices." He's also concerned with the administrative burden that ACC members carry. "The College will need to deliver tools and best practices that provide relief and allow members to concentrate more on providing high quality care and research." Finally, Valentine is concerned that "as we divide into smaller and more specialized groups, we may lose the power to advocate effectively for patients and our members. It is crucial that we all work closely together and remain the professional home for all cardiovascular professionals."
To meet these challenges, Valentine sees great opportunity from the current work of the BOT. "Our new 2019 - 2023 Strategic Plan aligns perfectly with the Quadruple Aim, advancing medical professional wellbeing to prevent burnout and allow members to focus more on delivering superb care and less on administrative tasks," says Valentine. "Almost three-quarters of ACC members are now employed by academic or integrated health systems and feel less control over their careers and the care they give than at any other time. They are inundated with data and information that is often poorly organized, and can rarely be utilized at the point of care. Delivering actionable knowledge that advances the value, quality and equity of that care is ACC's primary goal."
One of Valentine's focus areas throughout his career has been leadership development. He shares these words of wisdom for future leaders of the ACC: Say yes and be open to the possibilities before you. Learn the value of time management, because meeting the needs of patients and your family must balance with new administrative responsibilities. The rewards will far outweigh the effort and your impact one day may be profound.
Clinical Topics: Arrhythmias and Clinical EP, Prevention, Implantable Devices, SCD/Ventricular Arrhythmias, Atrial Fibrillation/Supraventricular Arrhythmias, Stress
Keywords: ACC Publications, Cardiology Magazine, Mentors, Fellowships and Scholarships, Goals, Internship and Residency, Leadership, Point-of-Care Systems, Burnout, Professional, Private Practice, Group Practice, Arrhythmias, Cardiac, Cardiac Catheterization, Cardiovascular Diseases, Research
< Back to Listings