Journal Wrap
Barbershop-Based Intervention Leads to Blood Pressure Reductions in African-American Men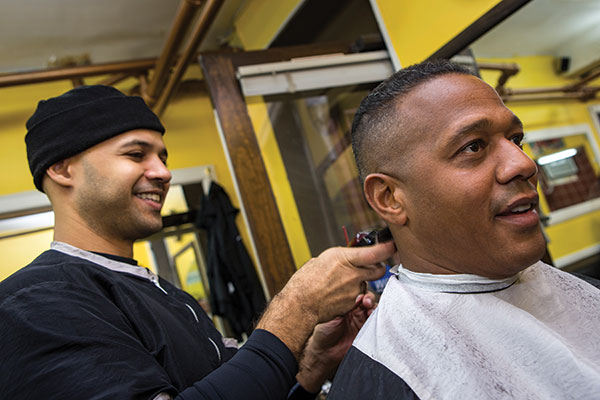 A unique study that combined barbershop-based health outreach with the delivery of care onsite by a specialty-trained pharmacist resulted in significantly lower blood pressure in African-American men after just six months. The study was presented by Ronald G. Victor, MD, FACC, at ACC.18 and published simultaneously in the New England Journal of Medicine.
Researchers recruited 319 African-American men ages 35 to 71 years whose baseline systolic blood pressure was >140 mm Hg from 52 Los Angeles County barbershops. Of the 309 men who completed the study, 132 were randomly assigned to receive monitoring and medication management from a pharmacist (intervention group) and 171 to receive encouragement from their barber on lifestyle recommendations and making doctor appointments (control group). Pharmacists measured blood pressure and monitored plasma electrolyte levels for men in the intervention group. The primary outcome was reduction in systolic blood pressure at six months; the secondary outcome was reduction in diastolic blood pressure. Read More >>>
After six months, 64 percent of men in the intervention group had blood pressure in the normal range, compared with just 12 percent of the control group. In the intervention group, systolic blood pressure decreased from 153 mm Hg at baseline to 126 mm Hg, and diastolic blood pressure decreased by 18 mm Hg. In contrast, in the control group, systolic blood pressure decreased from 155 mm Hg to 145 mm Hg, and diastolic blood pressure dropped by 4 mm Hg.
At baseline, about one-half of participants in both groups were taking at least one blood pressure medication. After six months, 100 percent of those in the intervention group and 63 percent in the control group were taking blood pressure medications. Researchers are now studying whether the effects are sustained for an additional six months. They hope to expand the program to other parts of the country. "By bringing state-of-the-art medicine directly to the people who need it on their home turf, in this case in a barbershop, and making it both convenient and rigorous, blood pressure can be controlled just as well in African-American men as in other groups," Victor said. "If this model was scaled up and sustained, millions of lives could be saved, and many heart attacks and strokes could be prevented."
---
Victor RG, Lynch K, Li N, et al. N Engl J Med 2018;March 12:[Epub ahead of print].
CANVAS Suggests Canagliflozin Reduces CV Death, HF Hospitalization Risk
The sodium glucose cotransporter-2 (SGLT-2) inhibitor canagliflozin is associated with a reduced risk of cardiovascular death or hospitalization from heart failure (HF) for patients with type 2 diabetes who have an elevated risk of cardiovascular disease, according to results of the CANVAS trial presented by Gemma Figtree, MBBS, DPhil, at ACC.18 and simultaneously published in Circulation.
CANVAS enrolled 10,142 participants with type 2 diabetes and high cardiovascular risk. They were randomly assigned to canagliflozin or placebo and followed for a mean of 188 weeks. The primary endpoint – adjudicated cardiovascular death or HF hospitalization – was reduced in those treated with canagliflozin compared with placebo (16.3 vs. 20.8 per 1000 patient-years), for a 22 percent reduction. No difference was seen for the primary outcome in relation to the dose, with an 18 percent reduction for both the 100 mg and 300 mg dose. Read More >>>
The results suggest that the benefit for the primary outcome may be greater in patients with a history of heart failure at baseline, a group that experienced a 39 percent reduction compared with the 13 percent reduction in those without HF (p for interaction = 0.021). In the patients who had a history of HF and use of loop diuretic, there was a 46 percent reduction in the primary outcome.
Likewise, there was a 30 percent reduction in fatal or hospitalized HF and a 33 percent reduction in hospitalization for HF. A broad range of participant subgroups all benefited from an SGLT-2 inhibitor, including those using established treatments for the prevention of HF.
According to researchers, the results provide evidence of the protective effect of canagliflozin in HF and suggest a role for SGLT-2 inhibitors in the prevention of HF for type 2 diabetes patients. Additional data from ongoing diabetes trials will further clarify this role.
---
Rådholm K, Figtree G, Perkovic V, et al. Circulation 2018:March 11:[Epub ahead of print].
SECURE-PCI: Statin Loading Dose May Benefit Patients With ACS Undergoing PCI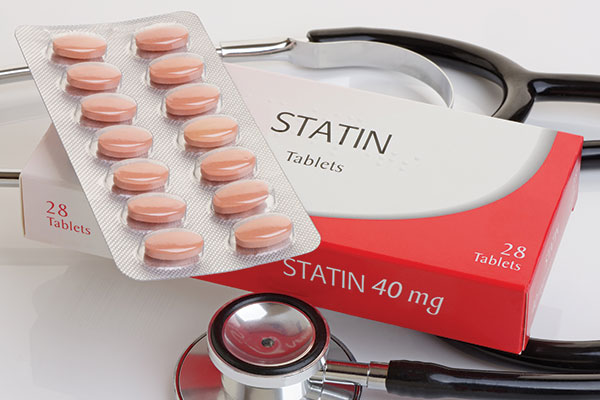 A large loading dose of a statin did not reduce the primary outcome of major adverse cardiovascular events (MACE) among patients with acute coronary syndrome (ACS) and planned PCI, according to results of the SECURE-PCI trial. However, MACE events were reduced in the prespecified subset of patients who actually underwent PCI. The trial was presented by Otavio Berwanger, MD, PhD, at ACC.18 and simultaneously published in the Journal of the American Medical Association.
The investigators randomized 4,197 patients with ACS in 58 centers in Brazil scheduled for PCI to receive a loading dose of atorvastatin 80 mg followed by an additional 80 mg atorvastatin or matching placebo within seven days of the planned intervention. Subsequently, both groups of patients received atorvastatin 40 mg for the next 30 days. The primary endpoint was the rate of MACE at 30 days, defined as a composite of all-cause mortality, nonfatal acute myocardial infarction (MI), nonfatal stroke and unplanned coronary revascularization. Read More >>>
The mean age of the patients was 62 years and 25.9 percent were women. At study entry, 24.8 percent of patients had STEMI; 60.7 percent had NSTEMI; and 14.5 percent had unstable angina. Only 64.5 percent of patients underwent PCI within a median 20 hours after hospital admission.
The primary endpoint occurred in 6.2 percent of patients in the overall group receiving the atorvastatin loading dose compared with 7.1 percent of patients receiving placebo. The difference was not statistically significant. Among patients who received PCI, there was a significant difference in the primary endpoint, which occurred in 6 percent of those who received the loading dose vs. 8.2 percent of patients who received placebo. The patients will be followed for a total of 12 months.
"This study adds another piece to the puzzle," said Berwanger. "I think it also opens the stage for testing other lipid-lowering agents that may have effects beyond lowering lipids." The investigators are planning another trial focusing on the potential benefits of statins and other drugs in patients undergoing PCI.
---
Berwanger O, Santucci EV, de Barros e Silva PGM, et al. JAMA 2018;March 11:[Epub ahead of print].
CARES: Increased Risk of Death With Febuxostat in Patients With Gout and CV Disease
The gout drug febuxostat was shown to be noninferior to allopurinol for the primary outcome of the combined rate of fatal and nonfatal adverse events in patients with gout and established cardiovascular disease, according to results of the CARES trial. However, for the secondary endpoint of death from cardiovascular or any cause, there was a significantly increased risk. The trial was mandated by the U.S. Food and Drug Administration when the drug was approved because of a signal of an elevated risk of adverse cardiovascular events in early clinical trials. It was presented by William B. White, MD, at ACC.18 and published in the New England Journal of Medicine.
The median follow-up was 32 months (and as long as 6.5 years) in the 6,190 patients (84 percent men). The rate of the composite primary outcome (consisting of cardiovascular death, nonfatal myocardial infarction, nonfatal stroke or urgent revascularization due to angina) from study drug randomization to first occurrence was similar in both treatment groups, meeting the study's threshold for noninferiority of febuxostat to allopurinol. Read More >>>
However, there was a potential signal for increased mortality with febuxostat compared with allopurinol in the analysis of the individual endpoint components, with a 34 percent higher rate of death from cardiovascular causes and a 22 percent higher rate of death from any cause. Mortality rates with febuxostat and allopurinol were similar among the 50 percent of patients with a history of chronic kidney disease.
Approximately 45 percent of patients discontinued febuxostat before the study ended. Although the elevated risk of death was diminished in these patients, overall more patients died after stopping their assigned study drug than while taking it.
The increased risk of death was consistent across subgroups. Among patients receiving febuxostat, there was a higher risk of death in patients who did not regularly take aspirin and those who regularly took nonsteroidal anti-inflammatory drugs (NSAIDs), compared with those taking aspirin or not taking NSAIDs. Yet, researchers caution that CARES was not designed to assess potential medication interactions.
"It is important to be careful when interpreting these findings; it doesn't necessarily indicate there's an interaction between these drugs and febuxostat," White said. "It might have been that these patients had more active gout with more flares, for example."
The investigators were not able to determine the reason for the surprising results and plan to further examine the data for insights into the optimal treatment for gout in patients with both cardiovascular disease and kidney disease. Ongoing studies in Europe are evaluating the risks and benefits of febuxostat in patients who have cardiovascular risk factors without established cardiovascular disease.
---
White WB, Saag KG, Becker MA, et al. N Engl J Med 2018;March 12:[Epub ahead of print].
Diabetes and Long-Term Outcomes After Ischemic Stroke
In patients who had an ischemic stroke, diabetes may be associated with an increased risk of death, cardiovascular and noncardiovascular hospitalization, heart failure (HF) and recurrence of ischemic and transient ischemic attack (TIA), according to a study published in the European Heart Journal.
Justin B. Echouffo-Tcheugui, MD, et al., followed 409,060 patients ≥65 years old at 1,690 sites in the U.S. who were participating in the Get With The Guidelines-Stroke registry for three years post discharge. Diabetes was defined by prior medical history or new clinical diagnosis during the index hospitalization. Read More >>>
Patients with diabetes (29.6 percent) were younger, from an ethnic minority (Hispanic or black) and had a higher body mass index, as well as comorbidities including hypertension, dyslipidemia, chronic kidney disease, prior ischemic stroke/TIA, atherosclerotic cardiovascular disease and HF.
Results showed that diabetes was associated with significantly higher risks of adverse outcomes. In patients with vs. without diabetes, the cumulative incidence of all-cause mortality was 46.0 vs. 44.2 percent; all-cause readmission was 71.3 vs. 63.7 percent; composite of mortality and cardiovascular readmission was 69.5 vs. 64.3 percent; readmission for ischemic stroke/TIA was 15.9 vs. 13.3 percent; readmission for HF was 10.3 vs. 6.4 percent; readmission for noncardiovascular causes was 58.3 vs. 50.3 percent; and readmission for causes unrelated to ischemic stroke/TIA was 67.6 vs. 59.7 percent.
Accounting for the initial severity of stroke using the National Institutes of Health Stroke Scale, as well as using propensity score matching method as a sensitivity analysis, did not modify the results.
---
Echouffo-Tcheugui JB, Xu H, Matsouaka RA, et al. Eur Heart J 2018;Feb 9:[Epub ahead of print].
Research Shows Home-Based Cardiac Rehab Increases Participation
Home-based cardiac rehab programs may be an effective tool for increasing cardiac rehab participation among patients hospitalized with ischemic heart disease (IHD), according to a research letter published in JAMA Internal Medicine.
David W. Schopfer, MD, MAS, et al., conducted a six-year study to compare cardiac rehab participation in 99,097 patients hospitalized for IHD across three groups of facilities: off-site facility-based cardiac rehab programs reimbursed by the Veterans Health Administration (VHA); either off-site cardiac rehab or VHA on-site cardiac rehab programs; or off-site cardiac rehab, VHA on-site cardiac rehab or home-based cardiac rehab programs. Participation was defined as partaking in at least one outpatient cardiac rehab session within 12 months after the patient's discharge date. Read More >>>
Results showed that participation increased from 6.0 percent to 24.6 percent at the 12 facilities that implemented home-based cardiac rehab programs. And from 10.9 percent to 17.6 percent at the 23 facilities that offered referral to off-site cardiac rehab or VHA on-site cardiac rehab. There was no obvious change in cardiac rehab participation at the 52 facilities that offered referral to off-site cardiac rehab only (from 6.4 to 6.6 percent).
Furthermore, in a sensitivity analysis that required three or more cardiac rehab sessions, participation increased from 5.1 to 16.6 percent at facilities that offered home-based cardiac rehab; from 8.3 to 9.6 percent at facilities that offered off-site or VHA on-site cardiac rehab; and from 5.2 to 6.0 percent at facilities that offered off-site cardiac rehab only. The authors also found that patients offered home-based cardiac rehab were less likely to drop out after the first session than those for whom home-based cardiac rehab was not available (16.8 vs. 20.2 percent).
"We recognize that results may be biased because facilities that developed home-based cardiac rehab programs were likely to be stronger proponents of cardiac rehab, and overall cardiac rehab participation remained low," the authors concluded. "Nonetheless, these findings demonstrate that home-based cardiac rehab may be an effective tool for increasing cardiac rehab participation among patients who would otherwise decline to participate."
---
Schopfer DW, Krishnamurthi N, Shen H, et al. JAMA Intern Med 2018. Jan 22:[Epub ahead of print].
Clinical Topics: Acute Coronary Syndromes, Diabetes and Cardiometabolic Disease, Dyslipidemia, Heart Failure and Cardiomyopathies, Invasive Cardiovascular Angiography and Intervention, Prevention, Lipid Metabolism, Nonstatins, Novel Agents, Statins, Acute Heart Failure, Interventions and ACS, Hypertension
Keywords: ACC Publications, Cardiology Magazine, Acute Coronary Syndrome, Allopurinol, American Medical Association, Angina Pectoris, Angina, Unstable, Anti-Inflammatory Agents, Non-Steroidal, Aspirin, Blood Pressure, Blood Pressure Determination, Body Mass Index, Brain Ischemia, Cardiovascular Diseases, Comorbidity, Control Groups, Diabetes Mellitus, Diabetes Mellitus, Type 2, Dyslipidemias, Electrolytes, Follow-Up Studies, Gout, Gout Suppressants, Heart Failure, Hospitalization, Hydroxymethylglutaryl-CoA Reductase Inhibitors, Hypertension, Incidence, Ischemic Attack, Transient, Life Style, Lipids, Middle Aged, Myocardial Infarction, Myocardial Ischemia, Outpatients, Patient Discharge, Patient Readmission, Percutaneous Coronary Intervention, Pharmaceutical Preparations, Pharmacists, Propensity Score, Random Allocation, Reference Values, Registries, Renal Insufficiency, Chronic, Research Personnel, Risk Assessment, Risk Factors, Sodium Potassium Chloride Symporter Inhibitors, Sodium-Glucose Transport Proteins, Stroke, Veterans Health, United States Food and Drug Administration
< Back to Listings