Innovation at ACC | ACC.18 Innovation Challenge Supports Groundbreaking Advances
Two startup companies — one looking to revolutionize treatment of pediatric patients with congenital heart disease and another to improve overall outcomes by rewarding patients for taking their medications — were the winners of the ACC.18 Innovation Challenge. Winning the competition is expected to help both companies advance their groundbreaking approaches to improving care.
PolyVascular Corp. won in the Innovation Challenge's medical device category for developing a transcatheter valve for pediatric patients that can be implanted through a minimally invasive procedure. The valve can then be enlarged percutaneously to keep pace with the growth of patients.
Wellth won in the competition's digital health category for a program that offers financial rewards to patients when they demonstrate adherence to their chronic disease treatment regimens.
Each winning company received a prize package that includes a $5,000 credit toward investment syndication services through AngelMD. They also will be invited to ACC.19 in New Orleans, where they will be provided with booth space in the Expo Hall.
The debut Innovation Challenge, part of the ACC.18 Future Hub, featured eight finalists selected from an initial field of 64 applicants. A panel of experts helped the ACC to narrow the field to the top sixteen. The team at AngelMD then put each of the sixteen companies through its rigorous evaluation process which judges a company's likelihood of success based on qualities such as the novelty of the product, the past successes of the team and the business acumen of the startup.
Finalists in the digital health category were Corrie Health, HealthPals, Wellflix and Wellth. In the medical device category they were Blumio, Genetesis, PolyVascular and ThermoMorph.
A Valve To Grow as Children Grow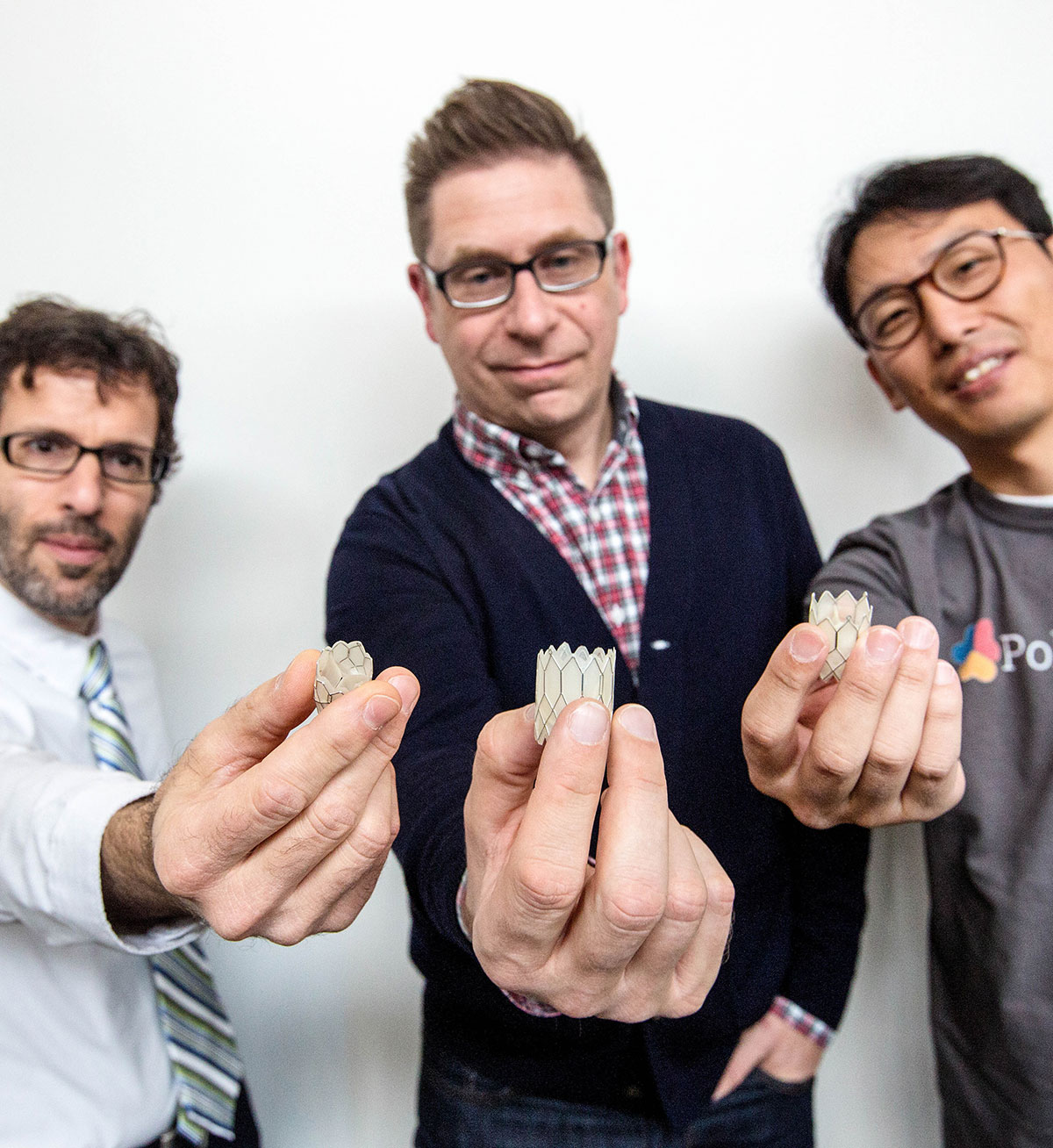 Click image for a larger view
Congenital heart disease is the most common birth defect and the leading cause of infant mortality in the developed world. Currently, infants requiring a pulmonary valve replacement require open-heart surgery to replace the defective valve, most commonly with a homograft valve. PolyVascular has developed a transcatheter valve similar with replacement valves used to treat older children and adults.
PolyVascular was launched in 2014 by a pediatric cardiologist and two engineers with backgrounds in biomaterials and tissue engineering and mechanical engineering. The company was aided in its development through a startup accelerator at Texas Medical Center in Houston, TX.
The valve has passed the U.S. Food and Drug Administration (FDA)'s rigorous durability standards of operating for 200 million cycles without tearing. It also has been tested in several sheep, some of which have had the valve for more than 10 months. PolyVascular expects to begin trials in humans in two to three years, says Henri Justino, MD, CM, FACC. Justino is chief medical officer of PolyVascular, medical director of the CE Mullins Cardiac Catheterization Laboratories at Texas Children's Hospital and an associate professor of pediatrics at Baylor College of Medicine.

"It is not uncommon for children with a valve problem to have three, four or five open heart surgeries by the time they reach adulthood," he says. "This is what motivated us to bring the percutaneous valve revolution to young children. Our valve is going to be expandable over time." He explains it can be implanted at the diameter needed and thereafter they can use a minimally invasive procedure with a balloon catheter to stretch it open by a few more millimeters. "We can take children through their biggest growth spurts with a single valve. No other valve has been specifically designed to deal with that," he says.
"The polymer used to make the valve has been designed to withstand attacks by the patient's immune system so the valve will not be degraded," says Daniel Harrington, PhD, one of PolyVascular's three founders. He is an assistant professor in materials science and engineering at the University of Texas Health Science Center.
"We designed the device so it has all the other functional capabilities that you'd want for this specific cardiac application. Not only is it mechanically and biologically stable, it also functions appropriately in a valve application," Harrington says.
Click image for a larger view
Avoidance of repeat open-heart surgeries is important for another reason. With each exposure to a new homograft valve, the immune system is ramped up to attack the new tissues implanted during the multiple open-heart surgeries now required as they outgrow their homograft valves.
"By the second or third time you receive a new homograft valve, you've been exposed to almost every human antigen out there," Justino says. "Some kids have actually been turned down for a heart transplant solely because of prior exposure to tissue implants or valve replacements."
With the exposure from winning the ACC.18 Innovation Challenge, PolyVascular will now look for additional funding for its next rounds of testing and data collection, says Justino. "The recognition at ACC.18 is a real honor for us. It gives us a lot of visibility to talk with device manufacturers who are interested in partnering with us," Justino says. "This type of device innovation has the longest road to FDA approval. These valves have huge regulatory hurdles. This requires a strong partnership for such novel devices to become a reality for these children."
Financial Incentives For Medication Adherence
Click image for a larger view
How long does it take to establish a habit, like taking your medicine as prescribed? Historically, many behavioral experts have said 30 days. But Wellth says that 90 days may be even more effective for helping to establish a habit. Just as important as the time frame is the method used to establish a habit. Wellth is finding success by rewarding patients to take their medications.
"As humans, our psychology is not meant to think about the long-term intangible benefits of doing the 'right thing,' like taking medications," says Wellth CEO and co-founder Matt Loper. "You know rationally you should be taking that drug and it's going to help you down the road," he adds. But each time you take the drug, no immediate difference is felt. This is a concept of behavioral economics called present bias, which is the tendency to give more weight to near-term rather than farther term benefits.
"We overcome that present bias by giving a tangible and immediate motivation through a financial incentive to reward the behavior right now," says Loper.

Wellth's program is introduced to patients during their hospital discharge. Users download a mobile app on their smartphone that allows them to take photos of their pills in their hand and send them to Wellth daily. Artificial intelligence is used to verify that patients are taking the correct pills at the correct times. Every day a patient successfully participates, he or she receives a payment, such as $1, which goes into the patient's account. Funds from the account are given to patients as gift cards from major retailers.
What happens if a patient does not send in a photo to verify the prescription regimen is being followed? The patient loses twice the daily reward — $2 — from the account.
Click image for a larger view
"Behavioral economic research has shown that people are twice as motivated by potential loss of money versus potential gain. This is the concept of loss aversion, where we are more motivated by losses than gains," Loper says. "We're able to get high levels of adherence by using this loss-aversion lever on a daily basis to help patients make sure they don't miss that check-in. You can lose the money faster than you can earn it, so it creates even higher levels of adherence."
The behavior-change program provides 89 percent daily adherence to prescriptions and devices in populations with chronic conditions, such as congestive heart failure, chronic obstructive pulmonary disease, type 2 diabetes and asthma. Medical institutions seeking to reduce 30-day readmission rates have patients use the program for 30 days. The program produces 20-40 percent reductions in readmissions, Loper says. Third-party payers, such as insurance companies, have patients follow the program for 12 months to help improve their overall health.
"We train the habit over the first 90 days and then patients graduate to maintaining it," says Loper. Once the habit is established, the motivation required to maintain the behavior is drastically reduced.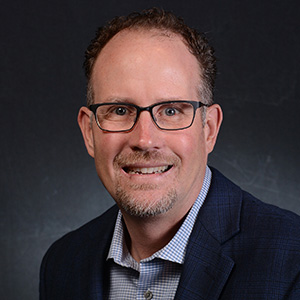 John Rumsfeld, MD, PhD, FACC
The interventions developed by Wellth are based on research into how to best motivate the desired behavior. All the interventions reinforce the concept of achieving an immediate reward for taking the pill to establish a positive feedback loop to create a habit.
"Using innovation to optimize cardiovascular care and outcomes is the vision of the American College of Cardiology," says ACC Chief Innovation Officer John Rumsfeld, MD, PhD, FACC. "These companies are at the forefront of innovation in medicine, and we're honored to showcase their ideas and provide a foundation for them to further develop their products."
Retinal Scans, Machine Learning and Risk Prediction
Could a retinal scan be a noninvasive way to predict cardiac events? Machine learning may open the door to move from using retinal scans to assess glaucoma risk to assessing vascular health for cardiac risk prediction.
A group of researchers led by Ryan Poplin at Google used deep-learning models trained by data from the retinal fundus images from 284,335 patients and validated in two independent datasets of 12,026 and 999 patients. Then, using the trained models, they used the retinal scans to predict age, sex, smoking status and systolic blood pressure.
And 70 percent of the time the trained model correctly predicted the individuals who'd had a myocardial infarction or stroke within five years after their retinal scan.
The results demonstrate "not only that these [heart attack risk] signals are present in the retina, but that they are also quantifiable to a degree of precision not reported before," write the researchers in Nature Biomedical Engineering.
Keywords: ACC Publications, Cardiology Magazine, ACC18, ACC Annual Scientific Session, Allografts, Artificial Intelligence, Asthma, Awards and Prizes, Biocompatible Materials, Biomedical Engineering, Blood Pressure, Cardiac Catheterization, Cardiac Surgical Procedures, Chronic Disease, Diabetes Mellitus, Type 2, Economics, Behavioral, Financial Management, Glaucoma, Heart Defects, Congenital, Heart Failure, Heart Transplantation, Immune System, Infant, Infant Mortality, Insurance, Health, Reimbursement, Medication Adherence, Mobile Applications, Motivation, Myocardial Infarction, Patient Readmission, Physician Executives, Polymers, Pulmonary Disease, Chronic Obstructive, Pulmonary Valve, Reinforcement, Psychology, Retina, Risk, Smoking, Stroke, Tissue Engineering, United States Food and Drug Administration
< Back to Listings