CardioSmart | A Day Without Tobacco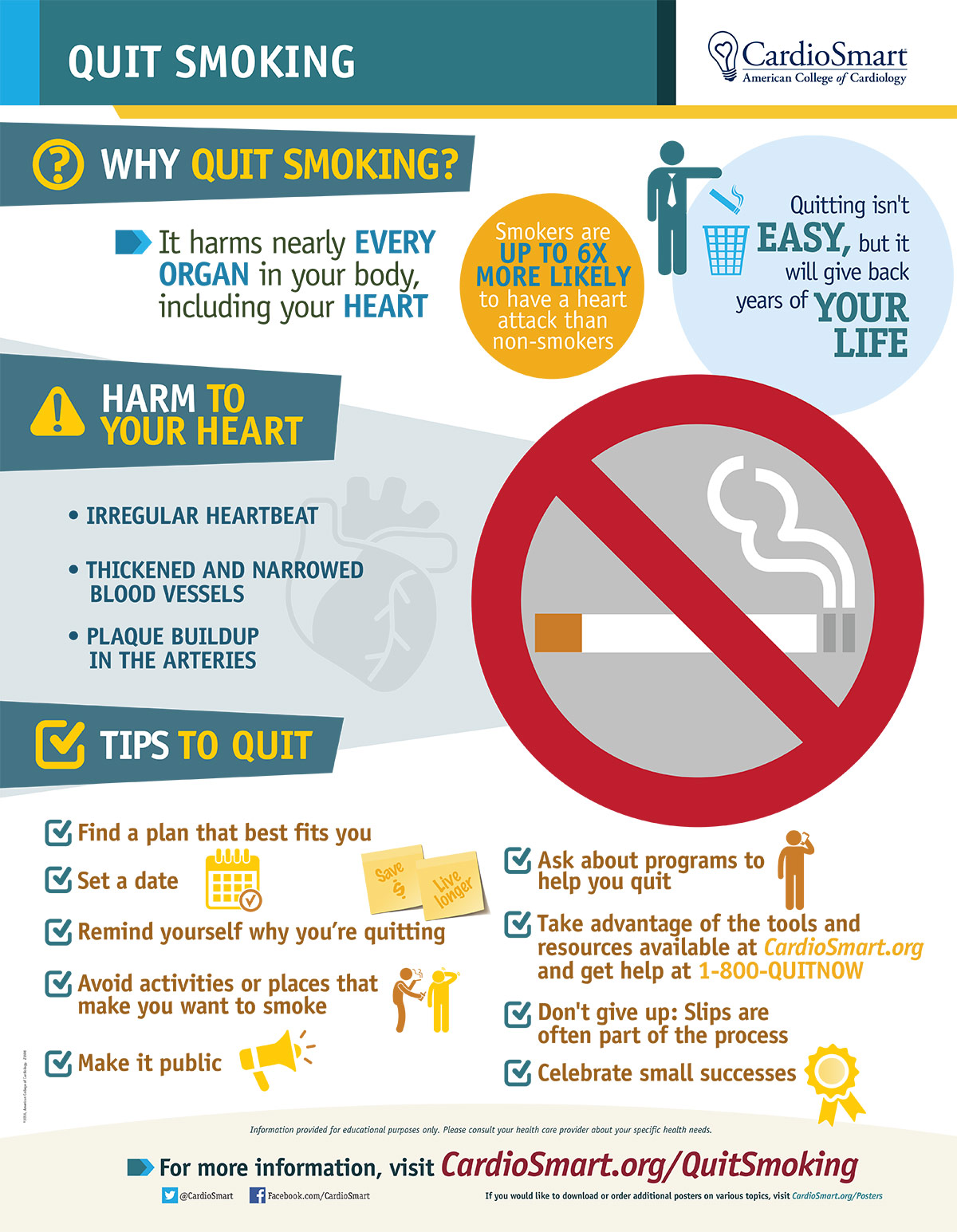 Click image for a larger view.
Each year, the World Health Organization (WHO) and its partners recognize May 31 as World No Tobacco Day. In 2018, World No Tobacco Day will focus on raising awareness about the links between tobacco use and cardiovascular diseases, including stroke and peripheral vascular disease. In addition, the day will encourage adoption of actions and measures that governments around the world, as well as the public, can take to reduce the risks to heart health.
To date, tobacco use and second-hand smoke exposure contribute to approximately 12 percent of all global deaths from heart disease. This translate to more than seven million deaths each year, of which nearly 900,000 are nonsmokers dying from breathing second-hand smoke. Of the more than one billion smokers worldwide, nearly 80 percent live in low- and middle-income countries where the burden of tobacco-related illness and death is heaviest.
The WHO has developed so-called "MPOWER measures," which are in line with the WHO Framework Convention on Tobacco Control, and are intended to help countries to effectively reduce tobacco use and save lives. These measures include:
Monitor tobacco use and prevention policies
Protect people from exposure to tobacco smoke by creating completely smoke-free indoor public places, workplaces and public transport
Offer help to quit tobacco (cost-covered, population-wide support, including brief advice by health care providers and national toll-free quit lines)
Warn about the dangers of tobacco by implementing plain/standardized packaging, and/or large graphic health warnings on all tobacco packages, and implementing effective anti-tobacco mass media campaigns that inform the public about the harms of tobacco use and second-hand smoke exposure
Enforce comprehensive bans on tobacco advertising, promotion and sponsorship
Raise taxes on tobacco products and make them less affordable.
Raising broader public awareness of the impact tobacco use and second-hand smoke exposure have on cardiovascular health has been and continues to be a priority for the College, both nationally and internationally, working with the WHO and the NCD Alliance. This year, the ACC is privileged to help continue to carry this message, not only on May 31, but beyond. In addition to advocating at the national and international level for effective tobacco policies, CardioSmart also has a number of patient-focused resources and tools. Among them, information on the benefits of quitting smoking, support resources, tips on how to quit and more. (For more on the WHO, check out this month's Harold on History column).
Did You Know?
Within 20 minutes of smoking, heart rates will decrease.
Within 12 hours of quitting, carbon monoxide levels in blood will decrease to normal.
Within three months of quitting, risk of a heart attack decreases and lungs will begin to work better.
After one year, added risk of coronary artery disease is half that of someone who smokes.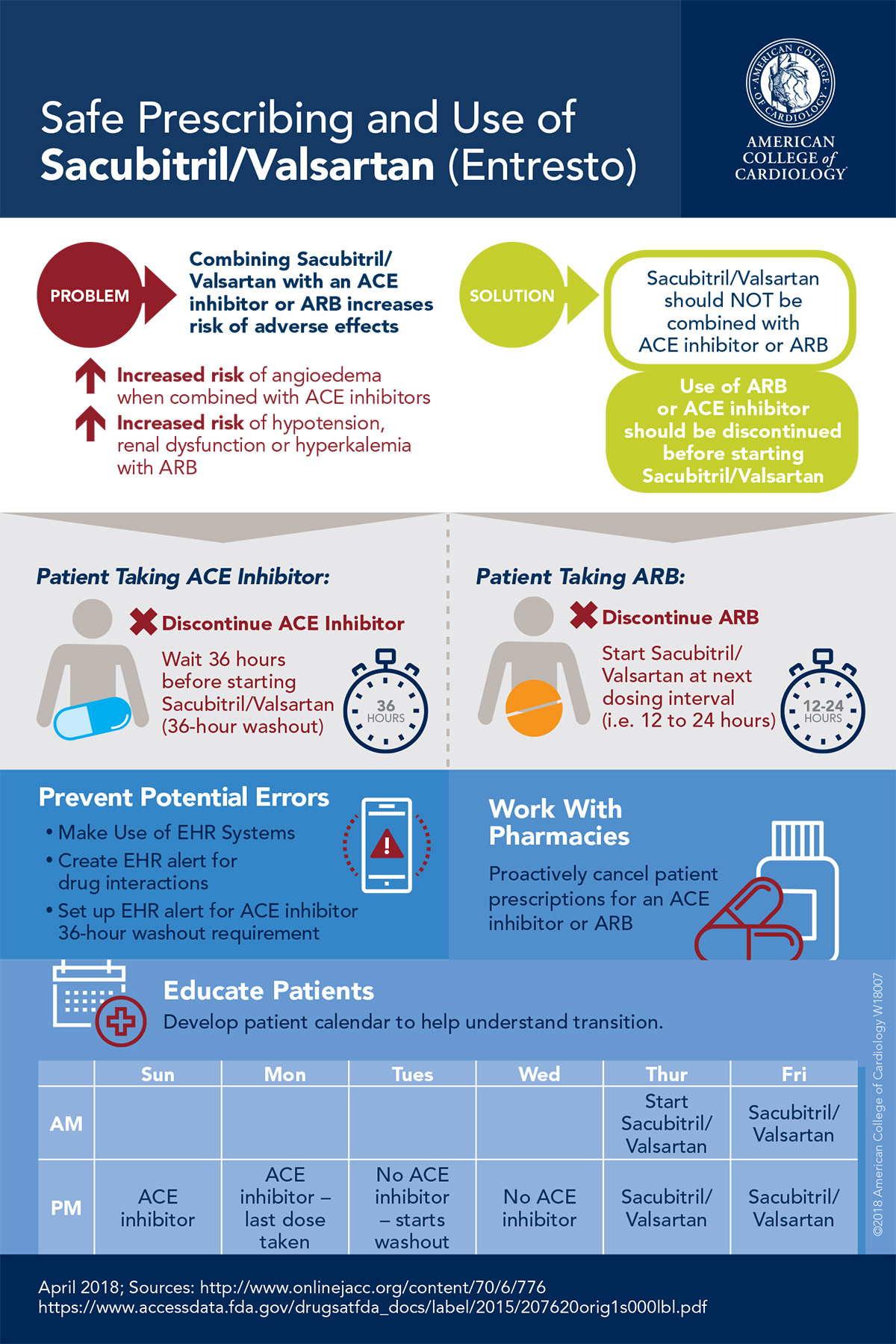 Click image above for a larger view.
Safe Prescribing and Use of Sacubitril/Valsartan Infographic Now Available
When prescribing medication, there are many considerations to balance. Vicki L. Groo, PharmD, along with the CV Team Writing Group, created this infographic to provide information for safe prescribing and use of sacubitril/valsartan (Entresto). Along with advice on not combining sacubitril/valsartan with an ACE inhibitor or ARB and to discontinue their use before starting sacubitril/valsartan, it provides tips on how to prevent potential errors, work with pharmacies and educate patients. To download this and other infographics, go to ACC.org/infographics.
Clinical Topics: Prevention, Vascular Medicine, Atherosclerotic Disease (CAD/PAD), Smoking
Keywords: ACC Publications, Cardiology Magazine, Tobacco Smoke Pollution, Tobacco, Tobacco Use, Tobacco Use Cessation, Smoke, Smoking, Smoking Cessation, Coronary Artery Disease, Carbon Monoxide, World Health Organization, Workplace, Heart Rate, Pharmacies, Aminobutyrates, Tetrazoles, Myocardial Infarction, Stroke, Angiotensin-Converting Enzyme Inhibitors, Peripheral Vascular Diseases
< Back to Listings