Harold on History | WHO: 70 Years Strong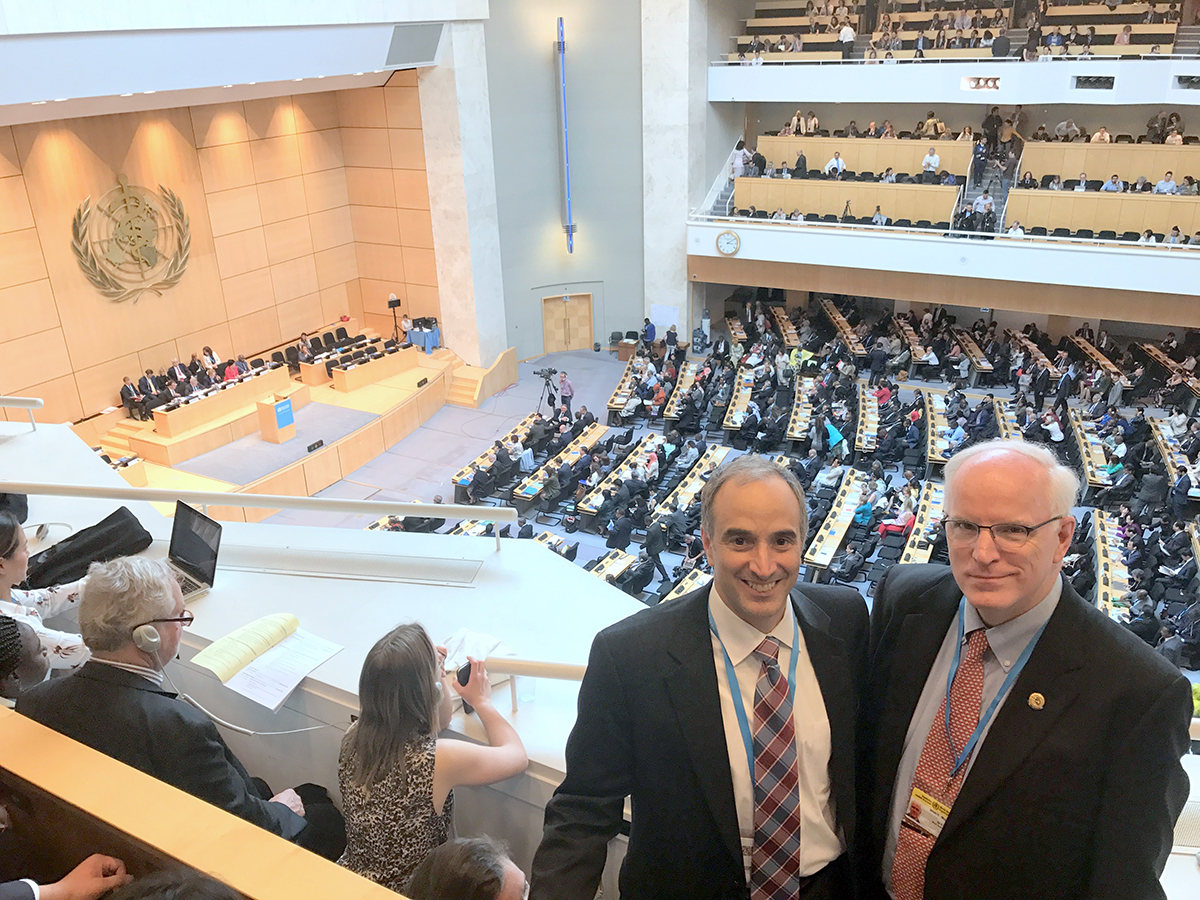 Harold and Thomas Gaziano at the 2017 World Health Assembly respresenting the ACC.
Delegations from the 194 member states of the World Health Organization (WHO) will gather May 21-26 at the Palace of Nations in Geneva for the 71st World Health Assembly. The primary focus of this year's assembly will be on how best to achieve the substantial mission of securing universal health coverage for one billion more people; protecting one billion more people from health emergencies; and enabling one billion more people to enjoy better health and well-being by 2023 — the halfway point to the 2030 United Nations (UN) Sustainable Development Agenda deadline.
The ACC has sent delegations to the World Health Assembly for the past several years. I had the honor of attending last year with Thomas Gaziano, MD, FACC. As global advocates of cardiovascular health, these meetings are important reminders of the need for global collaboration in ongoing efforts to transform cardiovascular care and improve heart health. They also provide a place to gain perspective and renewed energy to solve a problem that can at times feel insurmountable.
This year's meeting also marks a historical landmark — the 70th anniversary of the WHO. The WHO's roots reach back to the U.S., where its formation was approved by the UN member states in 1945 in San Francisco and its constitution signed on April 7, 1948 in New York City (a date now celebrated every year as World Health Day).
"A world that is greatly out of balance in matters of health is neither stable nor secure." — Margaret Chan, MD, former WHO Director-General
Since its inception, the WHO has made substantial achievements in the areas of communicable diseases, maternal and child health, nutrition and environmental hygiene. Globally, life expectancy has increased by 25 years since it was established. A key founding principle — also the theme for this year's anniversary celebration — underscores that: "The enjoyment of the highest attainable standard of health is one of the fundamental rights of every human being without distinction of race, religion, political belief, economic or social condition."
The WHO's Global Health Observatory has also become an open resource of accurate annual statistics on the spread and global burden of disease over the years. The WHO produces international reference materials, including the International Classification of Diseases that's currently used in 100 countries as a common standard for reporting diseases and identifying health trends. The WHO Essential Medicines List is a guide for countries on key medicines required by national health systems.
In the last decade, tackling noncommunicable diseases (NCDs) has been an increased focus by the WHO. NCDs, such as cancer, diabetes and heart disease, account for 70 percent of all deaths worldwide. Every year approximately 40 million people die from NCDs, of which two-thirds are related to modifiable risk factors. By 2025, there will be 7.8 million premature deaths annually from cardiovascular disease if trends for hypertension, tobacco smoking, diabetes and obesity continue.
Among the global health efforts spearheaded by the WHO are campaigns on prevention of diabetes, high blood pressure, and the Framework Convention on Tobacco Control. The WHO Global Hearts Initiative aims to improve the prevention, control and treatment of heart disease and stroke through primary health care.
As we celebrate the 70th anniversary of the WHO and its many achievements, it's a good time to remember that global health is about social justice and human rights in the context of health. It aspires to health equity for all. Health, illness and disability are socially patterned and are not bounded by borders and best addressed by cooperative action and collaborative innovation among nations and relevant stakeholders.
The ACC is committed to working with its global partners to encourage heart healthy choices; promote affordable quality care; and advocate for cardiovascular health in the U.S. and across the world. The College and its more than 52,000 members are uniquely positioned to help change the global cardiovascular landscape. Progress is well within our grasp.
The ACC and NCDs
Over the last decade, the ACC has joined the fight against cardiovascular disease in collaboration with the World Heart Federation and is a member of its WHF Global Coalition for Circulatory Health. Additionally, ACC supports achievement of the global target of a 25 percent reduction by 2025 in premature mortality from heart disease and stroke, a key milestone to achieve the UN Sustainable Development Goal of a one-third reduction in premature NCD deaths by 2030.
In September, the UN General Assembly will convene the third high-level meeting on the prevention of NCDs, where it will initiate a comprehensive review of the global and national progress. The meeting will bring together heads of state and government, civil society, people living with NCDs, academia and the private sector to address this global epidemic. Stay tuned to ACC.org/International in September for updates from the meeting.
Clinical Topics: Prevention, Hypertension, Smoking
Keywords: ACC Publications, Cardiology Magazine, Mortality, Premature, World Health Organization, Global Health, Tobacco, Risk Factors, Life Expectancy, Social Justice, Child Health Services, Social Conditions, Anniversaries and Special Events, Private Sector, International Classification of Diseases, Cost of Illness, United Nations, Diabetes Mellitus, Cardiovascular Diseases, Child Nutritional Physiological Phenomena, Stroke, Obesity, Heart Diseases, Hypertension, Primary Health Care, Neoplasms, Conservation of Natural Resources, Smoking, Government
< Back to Listings