ACC Working to Accelerate Global Pace of Change in Addressing NCDs, Transforming Heart Health
Noncommunicable diseases (NCDs) like cardiovascular disease account for more than 70 percent of deaths and place an immense financial and social burden on countries worldwide. The burden of NCDs is particularly high in low- and middle-income countries where screening and prevention methods are less prevalent.
While the global health community is currently consumed by the coronavirus outbreak, long term NCDs represent one of the most significant threats to economic prosperity and societal well-being. In fact, COVID-19 has only made this more apparent given that patients with underlying chronic conditions comprise a significant portion of those requiring hospitalization and are at much greater risk for death.
Since the first United Nations High-Level Meetings on NCDs in 2011, the ACC has been working with its International Chapters and partners like the NCD Alliance, the World Heart Federation (WHF) and other international cardiovascular societies to facilitate real change on the ground in countries around the world.
From train-the-trainer programs, to international regional conferences in Asia, the Middle East and Latin America, to translated issues of JACC Journals, the College has made it a strategic priority to ensure cardiovascular clinicians around the globe have access to the latest cardiovascular research, education and tools.
ACC's Global Prevention Program is another example of a successful on-the-ground effort. Launched in 2016 through a Pfizer partnership, the program has reached an estimated 70,000 clinicians in China, Russia, Argentina, Mexico, Saudi Arabia, Egypt, United Arab Emirates, Malaysia, Indonesia and Vietnam.
"The ACC is not sitting back as the global health community strives for a comprehensive solution to managing the rise of NCDs," said Salim S. Virani, MD, PhD, FACC. "We are all members of the global health community and will be impacted by future NCD trends. Only together can we realize long-term gains on this complex and urgent issue for a healthier and more prosperous tomorrow."
Building on the success of the Global Prevention Program, Virani is chairing ACC's new NCD Academy, which will provide primary care providers with a suite of online certificate programs to enhance, refresh and showcase their knowledge of techniques and therapies for NCD prevention and screening. The NCD Academy is in partnership with the NCD Alliance, WHF and with continued support from Pfizer Upjohn.
"As the global health community collectively mobilizes to combat the COVID-19 pandemic, the intersection of acute illnesses and chronic diseases presents new challenges to public health," said Amrit Ray, MD, MBA, global president of research, development and medical at Pfizer Upjohn.
"We are reminded that vulnerable patients – including those with existing NCDs – can face heightened risks as a result of infection with the COVID-19 virus. Pfizer Upjohn is honored to support the efforts of the ACC to consistently protect patients by encouraging the responsible management of chronic diseases."
The NCD Academy app is slated to premiere later this spring with an initial course on cardiovascular disease and stroke, with plans to follow with courses in cancer, chronic respiratory diseases, diabetes and mental disorders. The program will be free and open-access to reach providers in low- and middle-income countries where the NCD burden has accelerated the fastest and countermeasures are most needed.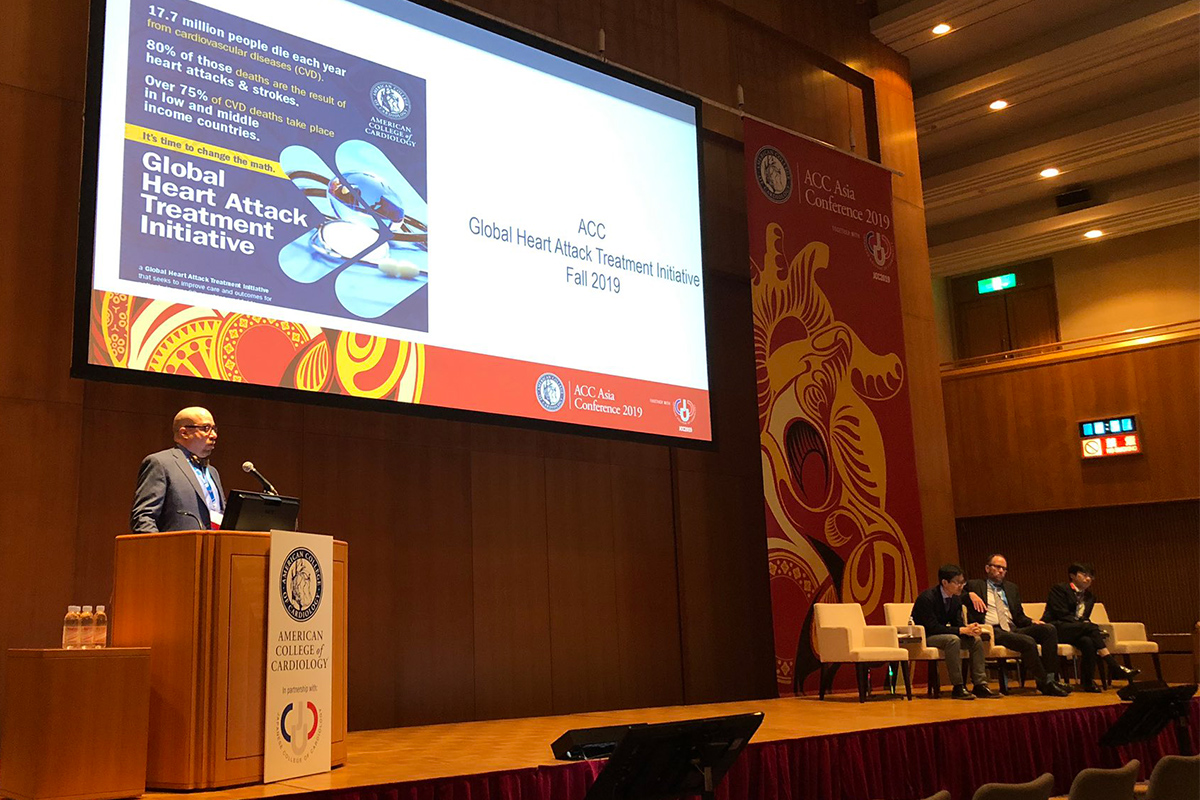 "Primary care providers are on the front line of the NCD response, so it is crucial for them to have the knowledge they need to help their patients live long, healthy lives," said WHF CEO Jean-Luc Eiselé. "This is exactly what the NCD Academy aims to achieve, and we are thrilled to be partnering with the ACC on this important initiative."
The Global Heart Attack Treatment Initiative (GHATI) is another new ACC program putting the College out in front on global health. GHATI is designed to help hospitals and institutions in low- and middle-income countries improve STEMI care for patients with AMI by tracking and reporting evidence-based metrics and providing aggregated benchmarks.
According to GHATI Work Group Chair Benny J. Levenson, MD, PhD, FACC, the primary goals of the program are: 1) to get a real-world understanding of how and if guidelines developed by the ACC, American Heart Association and European Society of Cardiology are effective and feasible in these countries; and 2) to identify what timelines and goals are most effective when it comes to changing culture and improving care.
"We would also like to make sure scopes of practice are installed, and paramedics, physicians and staff become aware about possible improvements under the given local circumstances," Levenson adds.
Already, hospitals and institutions in more than 20 countries have expressed interest in the program. The initial cohort of 10 participating GHATI sites has begun data collection in seven different countries.
"Ultimately, this project will provide grounds for the systematization of STEMI care, taking the 'local factor' into consideration," says César J. Herrera, MD, FACC, GHATI chair-elect.
Visit ACC.org/International for more information on these programs.
Keywords: ACC Publications, ACC Scientific Session Newspaper, ACC Scientific Session Newspaper 2020, ACC Annual Scientific Session, acc20, ACC International, COVID-19, Global Health, Latin America, Malaysia, Saudi Arabia, Myocardial Infarction, United Arab Emirates, Vietnam, Indonesia, Cardiovascular Diseases, Mexico, Egypt, Developing Countries, Coronavirus, Coronavirus Infections
< Back to Listings