Lessons from Wuhan: Insights From Our Colleague in China
In late March, a series of live video webinars held through a collaboration of the ACC and the China Cardiovascular Association brought early insights on managing COVID-19 from the front lines in Wuhan, China.
Inspired by the sharing of our colleagues in China, Derek Weyhrauch, MD, a member of ACC's Fellow in Training section, reached out to learn more and interviewed Jingyi Ren, MD, a cardiovascular professional who spent two months in Wuhan. Cardiology is pleased to share their interview.
Dr. Ren, thank you for the opportunity to learn from your experience. Prior to the COVID-19 pandemic, you served as an attending cardiologist at a large academic center with clinical, research and administrative duties. How did your work change during the COVID-19 situation in Wuhan?
In the fight against the COVID-19 pandemic, I led the National Emergency Medical Rescue Team of the China-Japan Friendship Hospital in Beijing. We started providing medical support in Wuhan on February 5 at the Dongxihu Fangcang and Guanggu Fangcang shelter hospitals.
The Fangcang shelter hospitals were created by converting exhibition centers, which was a novel public health concept for China and implemented for the first time here to tackle the COVID-19 outbreak.
The first step was to determine the workflow and system of this new type of hospital. Then, with this framework in place, we started accepting patients. Our team provided medical care and disease monitoring for patients with mild to moderate COVID-19.
Treatment included antiviral, antipyretic and antibiotic medication; oxygen supplementation and intravenous fluid; and mental health counseling. We also monitored the progression of disease; if a patient deteriorated from mild or moderate to severe illness, they were quickly transferred to designated higher-level hospitals.
After the medical work of the Fangcang shelter hospitals was completed, we participated in the medical work of the intensive care unit of Wuhan Tongji Hospital. Together with the Pulmonary – Critical Care Medicine (PCCM) physicians, we provided medical care for critically ill patients.
In the early stages, there were not enough PCCM physicians to take care of the patients with COVID-19. Therefore, physicians with other subspecialties were called on to help provide care for these patients.
Please share your insights as a cardiologist on treating COVID-19. How did this evolve as you and your colleagues learned outcomes were worse in patients with heart disease?
In general, there are two clinical conditions. The first condition is a patient with confirmed COVID-19 combined with chronic cardiovascular diseases, such as hypertension, dyslipidemia, coronary heart disease or stroke. This occurred in about one-third of hospitalized patients, and was more common in elderly patients.
Patients with underlying conditions are at higher risk for complications or mortality from COVID-19. Therefore, one should continue all guideline-directed therapy for underlying chronic cardiovascular conditions based on the treatment of COVID-19.
The second condition occurred in patients with acute cardiac injury, varying in clinical presentation, from mild cardiac injury without symptoms to new or worsening heart failure, new-onset ventricular arrhythmia or even cardiac arrest. Early monitoring of dynamic changes in high-sensitivity cardiac troponin, BNP/NT-proBNP, and electrocardiography is essential for early detection and prevention of severe events.
Furthermore, the effects of cardiac injury on systemic stability should not be ignored. More attention should be paid to patients with extremely increased hs-cTn levels and new-onset malignant arrhythmias.
The application of mechanical respirators and circulatory support systems, including intra-aortic balloon pump, Impella and extracorporeal membrane oxygenation, have beneficial effects in these patients.
What were some of the early barriers you had to overcome in treating COVID-19 patients?
One of the most common early barriers we faced was stress and coping. Fear and anxiety about a disease can be overwhelming and cause strong emotions in patients with COVID-19, as well as difficulty sleeping or concentrating, worsening of chronic health problems and mental health conditions.
We try to help make people feel less stressed by sharing accurate information about COVID-19, connecting patients with their family, and having a procedure and referrals ready for anyone who shows severe mental conditions.
Other early barriers included the inadequacy of medical resources and facilities, especially the shortage of personal protective equipment (PPE), but the situation has gradually improved.
What was your approach for personal protective equipment and did this change over time?
The most important safety issue is adherence to infection control procedures. The level of protection varies depending on the clinical circumstances. Generally, we changed PPE every six hours. Our brief protocols are outlined in Table 1 and Table 2.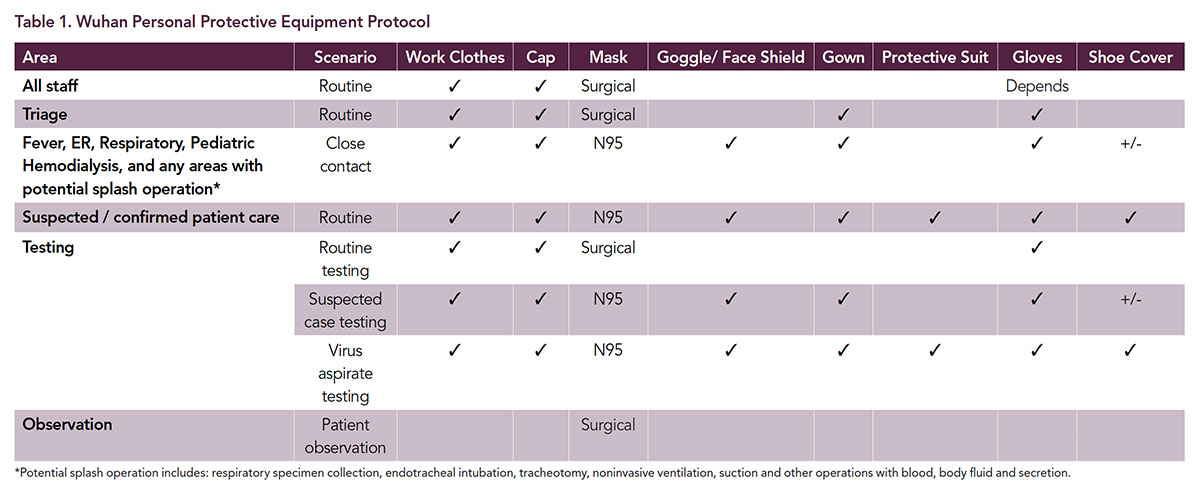 Do you have any lessons learned about safety measures regarding risk of transmission to family at home?
At the beginning of February 2020, Wuhan had no additional beds available for COVID-19 patients in the hospitals designated for treating the virus. Thousands of patients with mild to moderate COVID-19 had to be sent home for isolation and observation.
Although home isolation is an alternative to hospital isolation, it led to clustered infections and high rates of intrafamily transmission.
The Fangcang shelter hospitals isolated thousands of patients, provided high-quality medical treatment and care, and fulfilled an important triage function. So, the early descriptive evidence suggests that the Fangcang shelter hospitals were a major reason for the successful COVID-19 control of intrafamily transmission in China.
As a fellow-in-training, I'm very interested to know how you incorporated cardiology fellows in the care of COVID-19 patients.
The exigent circumstances of the COVID-19 pandemic require cardiology fellows to be redeployed to meet the needs of patients suspected or confirmed to have COVID-19. The fellows are expected be both aware of and able to appropriately respond to this viral disease, mainly according to guidelines from the National Health Commission of China.
In addition, the fellows should be fully trained in infection control protocols and procedures. After that, cardiology fellows could take care of patients in the Fangcang shelter hospitals more independently, take care of patients in ICU under the appropriate supervision by PCCM physicians, and perform consultations as needed.
What's your philosophy and approach to training fellows and guiding junior colleagues?
The training of cardiology fellows should help them to develop deep medical knowledge, patient care skills and expertise applicable to their focused area of practice. The fellow's care of patients is undertaken with appropriate attending physician supervision and conditional independence. The attending physicians need to serve as role models of excellence, compassion, professionalism and scholarship.
I prefer to encourage the fellows to return to the bedside and allow them to engage on a deeper level with what is at the heart of medicine: their patients.
In addition, it's also very important to advance fellows' skills as physician-scientists. At the current time, there are very few physicians who have had experience treating patients with COVID-19.
Therefore, the fellows are expected to expand their abilities to pursue hypothesis-driven scientific inquiry that results in contributions to patient care and medical literature.
What advice do you have for our readers on well-being and staying safe during this challenging time?
We must first be sure of self-protection before providing medical care to patients. Try to avoid continuous and long-time high-load medical work whenever possible, although many front-line colleagues might not have this luxury, unfortunately. Pay attention to protecting our beloved family members.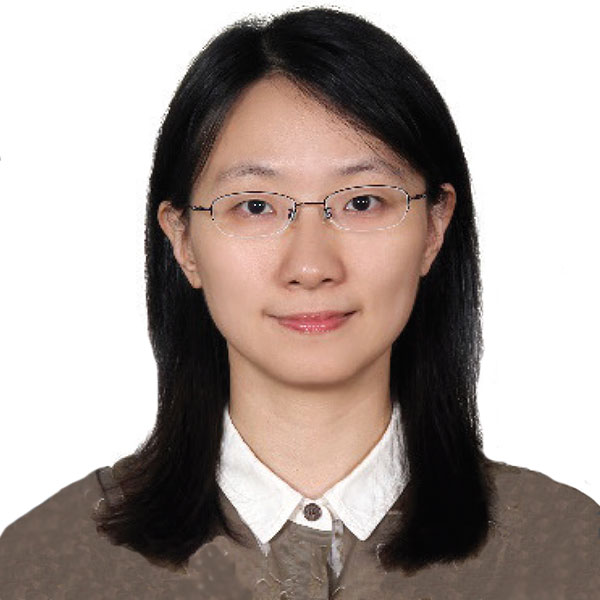 Jingyi Ren, MD, is the vice director of the departments of cardiology and geriatrics at the China-Japan Friendship Hospital in Beijing, China, where's she's also director of the Heart Failure Center, which has an international reputation for providing expert health care and physician education. Ren has published extensively on clinical trials and outcomes research, with a concentration in heart failure management, and she serves as a reviewer and on editorial boards of a number of cardiovascular journals. Among her awards are the Outstanding Faculty Teaching Award of Peking University Health Science Center (2012-2014), and the Beijing Nova Program award designation in 2014.
Derek Weyhrauch, MD, is a pediatric cardiology fellow at the University of Utah and Heart Center at the Primary Children's Hospital, in Salt Lake City, UT. A member of ACC's Fellow in Training section, he was inspired to reach out for this interview by a series of video webinars with health care professionals on the front line in Wuhan, China, held in a collaboration between the ACC and the Chinese Cardiology Society.
Clinical Topics: Cardiovascular Care Team, COVID-19 Hub
Keywords: ACC Publications, Cardiology Magazine, COVID-19, Coronavirus, Coronavirus Infections, severe acute respiratory syndrome coronavirus 2, Pandemics, Antipyretics, Triage, Critical Illness, Fellowships and Scholarships, Cardiovascular Diseases, Extracorporeal Membrane Oxygenation, Empathy, Personal Protective Equipment, Workflow, Public Health, Mental Health, Friends, China
< Back to Listings