Feature | Transcatheter Heart Valve Technology: An Update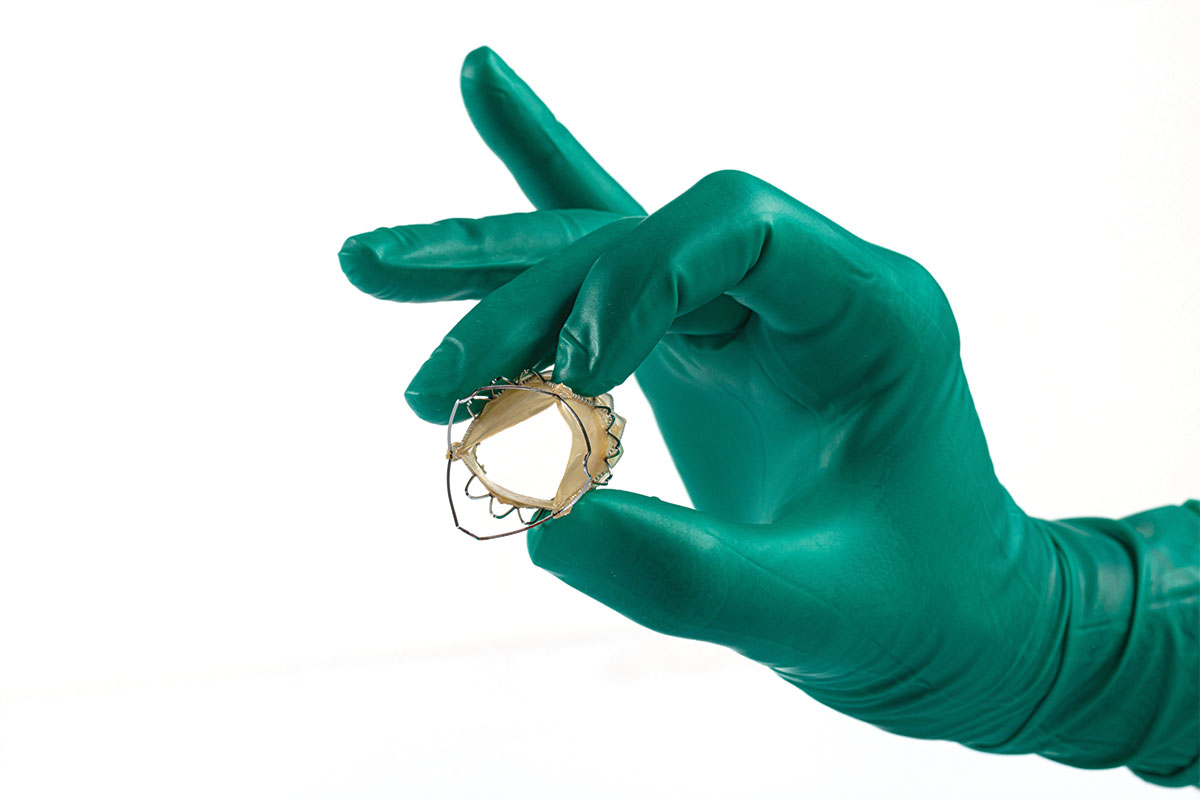 Over the last 20 years, TAVR has undergone remarkable growth and evolution. Technological advancements, coupled with expanding clinical evidence, have led to the widespread adoption of TAVR as a mainstream treatment for aortic valve disease.
New generation transcatheter heart valves (THV) have significantly improved procedural safety, efficacy and patient outcomes, making TAVR an attractive option across different patient risk groups. But valve developers aren't resting on their laurels. Research and development continue and the future of TAVR promises even more exciting possibilities, further solidifying its position as a transformative therapy in cardiovascular medicine.
At present, only the Edwards SAPIEN 3 Ultra, Medtronic EVOLUT FX and Abbott Navitor valves have approval from the U.S. Food and Drug Administration (FDA). The Abbott Navitor valves are approved only for patients with high and extreme surgical risk (Table 1 and Figure 1).
A fourth THV, the Boston Scientific Acurate-neo2 valve, was approved in Europe in 2020 and in the U.S. has completed its randomized clinical trial with 1,500 patients across all levels of risk.
A fifth valve, the JenaValve (JenaValve Technology), is also approved in the EU and has breakthrough-device designation and an investigational device exemption from the FDA, but this valve is being developed primarily for patients with pure aortic regurgitation.
While most of the clinical experience with TAVR is related to the Edwards and Medtronic valve systems, the potential THV lineup extends far beyond these frontrunners, with as many as five to 10 novel TAVR valves in development, says Gilbert H. L. Tang, MD, MSc, MBA, FACC, from Mount Sinai Health System in New York.
"Besides the iterations to the valves we already have available in the U.S., there are new valves in development by companies around the world that we expect will help us improve deliverability, durability and clinical outcomes in the years to come even beyond what we've already accomplished," says Tang, who is the surgical director of the Structural Heart Program at Mount Sinai.
Humble Beginnings
"The first generation Cribier-Edwards valve had a 50% mortality rate – but it wasn't 50% at 30 days, it was 50% at 30 minutes," Michael J. Reardon, MD, FACC, tells Cardiology. "They were technically difficult enough such that if we got it implanted, it worked and the patient lived. If we didn't, the patient died."
This excessively high mortality was directly related to inadequate technology and valve sizing. The early TAVR valves were 24-French bulky, difficult to position, and used materials that today are considered antiquated.
"For contrast, I did three Evolut FX valve replacements today. They took about 45 minutes each, with no complications, and all three patients went to the recovery room and will be discharged home tomorrow," adds Reardon, chief of Cardiac Surgery at Houston Methodist Hospital in Texas. The Evolut FX is the fourth-generation iteration of the original CoreValve THV.
TAVR was originally considered only for patients with severe aortic stenosis who were deemed inoperable or very high risk. But due in large part to continuous technological evolution in valve technology and the results of randomized trials, its use has expanded to younger and lower-risk patients such that it is now a mainstream treatment for aortic valve disease.
Along the way, several of the issues seen early in the TAVR experience have been markedly improved. Paravalvular leak (PVL), as an example, was a common complication in the early TAVR years, but has been addressed with better valve design, sizing and implantation technique, such that it's no longer considered a major hinderance.
As Tang tells Cardiology, "Paravalvular leak was a big problem with the early-generation valves because with calcium on the valve and the rigid stent structures needed to support the valve, it was like trying to put a circle into a square – you were inevitably going to have some gaps and creases that allowed leakage. All the current generation valves have sealing skirts designed to fill those gaps so it's just not as significant an issue anymore."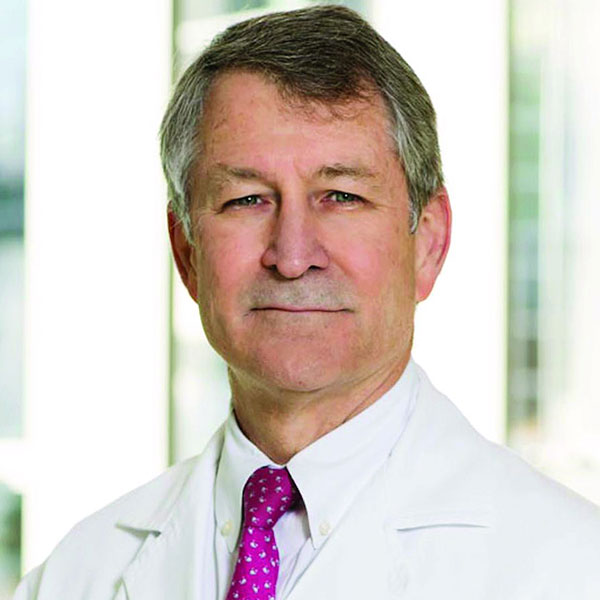 Because we're putting these valves in lower-risk patients who are likely to live another 15 or 20 years, these days we think a lot more about the idea of lifetime management, planning for the future.
– Michael J. Reardon, MD, FACC
"With better sizing, better implantation and adding skirts to the valves, any PVL beyond mild is really unusual. In most trials we might see mild PVL in 15% or 20%, but everything else is none to trace, which is getting closer to what surgical valves offer," adds Reardon, who has served as a principal investigator, study director or on the national steering committee for several landmark TAVR trials.
The field has also worked out access site issues (the vast majority of procedures are done transfemorally, which has served to mitigate vascular complications) and streamlined delivery systems that increase operator confidence, shorten the procedure and make it more reproducible.
"Implanting a TAVR valve has become so easy that I could teach someone to do it in a very short period, as compared with surgical aortic valve replacement (SAVR) which takes years to master," says Reardon. Tang concurs, suggesting that it takes only about 10 TAVRs with each valve type to achieve proficiency. Both surgeons note, however, that patient and valve selection is trickier and requires deep experience.
Unfortunately, pacemaker implantation remains an issue with TAVR, albeit with some valves seeming to perform better than other valves, says Tang. "Overall pacemaker rates have come down and that's likely related to implantation technique," he says.
"We consider 10% to be kind of the average for pacemaker implantation for the Medtronic and Abbott devices, but with the Boston Scientific Acurate-neo2, we've seen a rate of around 6% to 8%. With the SAPIEN valve, I think we've seen the lowest pacemaker rate in our experience to date. In the public literature it's around 5% or less with the SAPIEN valve. This year at our center, it's only about 1.1%," he adds.
Better technology and greater operator experience has also led to a reduced risk of complications and improved hard clinical outcomes. Since 2011, 30-day mortality after TAVR has decreased from 7.2% to 2.5% and stroke has started to fall (2.75% to 2.3%).1

Balloon-Expandable or Self-Expanding THV
The two predominant types of commercially available TAVR valves are balloon-expandable valves and self-expanding valves. Self-expanding valves provide a larger effective orifice area and lower gradient, particularly those valves with a supra-annular design, but they tend to be associated with a greater need for new pacemaker implantation, as compared with balloon-expandable valves. Balloon-expandable valves, on the other hand, allow for more precise positioning and deployment, allowing a faster procedure and minimizing complications.
Both have their pros and cons, says Reardon, noting that the balloon-expandable valves would benefit from better hemodynamics while the self-expanding valves would benefit from lower pacemaker rates and better coronary access.
"Because we're putting these valves in lower-risk patients who are likely to live another 15 or 20 years, these days we think a lot more about the idea of lifetime management, planning for the future," says Reardon.
The proper positioning and alignment of the replacement valve with the native aortic valve leaflets, called commissural alignment, is an important consideration for TAVR, particularly when implanting devices in younger patients who may need other coronary interventions down the line.
"For advocates of balloon-expandable valves, this means using it because it's shorter and allows for better coronary access if it is needed down the line. My response to that is that the self-expanding valves have better proven hemodynamics and durability, which affects your patient every single day of their life vs. some future theoretical issue with coronary access," says Reardon.
The Acurate-neo2 valve, he suggests, may offer the best of both worlds. "Self-expanding valves can be hard to deploy if they're too short, but the neo2 valve deploys top down, using three stabilizing arches for axial alignment and upper and lower anchoring crowns for accurate positioning during deployment. It's very stable like a balloon-expandable, but also short so it offers good access to the coronaries. And it has the low pacemaker rate of a balloon-expandable and the hemodynamics of a self-expanding valve."
The neo2 is reportedly performing well in Europe but is still under investigation in the U.S. The recently completed ACURATE IDE trial completed enrollment this April and will compare the neo2 against the two FDA-approved THVs across all risk categories.
Ongoing Trials to Provide Long(er)-Term Data
While the future certainly looks bright for TAVR, with indications expanding, procedural volumes exploding, and more and more clinical sites offering the procedure, long-term durability remains a key concern.
The bioprosthetic tissues used in THVs are susceptible to structural valve deterioration over time, which can start as calcium build-up and leaflet deterioration and progress to hemodynamic deterioration with stenosis, regurgitation, or both.
"So far, in the low-risk patients, we have two-year data on the Edwards valve and three-year on the Medtronic valve. What's interesting is that at two years, the Edwards data are starting to come together showing less difference between TAVR and SAVR, while at three years, the Medtronic data are widening in favor of TAVR," says Reardon.
"We really need the five-year data from the PARTNER and Evolut low-risk trials, which should be released later this year and next year, because the field is already moving more heavily to the low-risk patients. We need to find out if the longer-term data support this move in terms of durability," he adds.
Says Tang, "We are pretty confident certain valves are good out to 10 years based on European data, but we can't say at this point if they'll last 20 years. But even surgical valves don't last 20 years, and they've been around for decades. At this point we just need to wait and see."
All the currently available valves have leaflets made from porcine or bovine pericardial tissue. Newer valve platforms incorporating innovative leaflet materials and other design innovations are in development to improve long-term durability.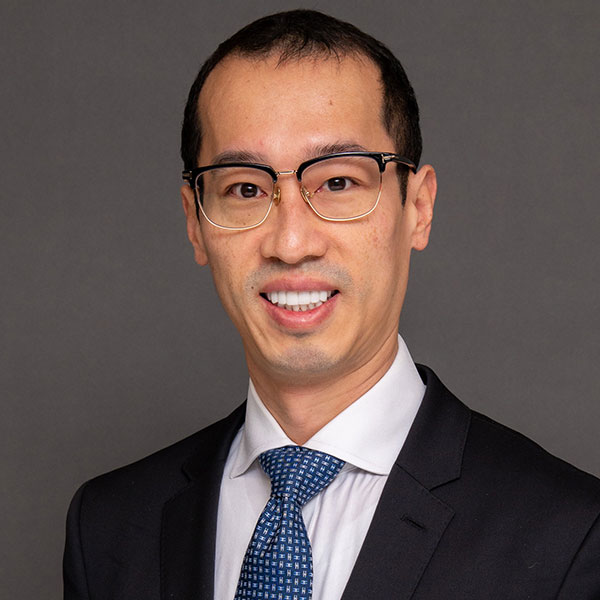 While we're coming to a better understanding of the longevity of these valves, it's important for patients to receive yearly follow-up with echocardiograms to assess the functioning of their valves and detect any signs of deterioration early. They should also receive antibiotic prophylaxis before dental procedures.
– Gilbert H. L. Tang, MD, MSc, MBA, FACC
One example is RESILIA tissue, a bovine pericardial tissue developed by Edwards Lifesciences that uses novel preservation and anti-calcification technology to prevent calcium binding and protect valve tissue. RESILIA tissue now has been incorporated into the Edwards THV platforms with the SAPIEN 3 Ultra RESILIA launched in the U.S. in late 2022. RESILIA tissue also allows the valve to be stored under dry packaging conditions, facilitating ease of use in the operating room.
"While we're coming to a better understanding of the longevity of these valves, it's important for patients to receive yearly follow-up with echocardiograms to assess the functioning of their valves and detect any signs of deterioration early," says Tang. "They should also receive antibiotic prophylaxis before dental procedures."
While all the currently available THVs are performing better than earlier versions, there are still some important differences between them that make valve selection tricky. Some new trials promise to provide importance guidance for TAVR operators hoping to provide long-term solutions.
ACC Meeting Coverage:
TCT 2023
Don't miss the live coverage of late-breaking clinical trials and more from the ACC.org Editorial Team during TCT 2023, held Oct. 23-27 in San Francisco.
Follow it all at @ACCinTouch and bookmark ACC.org/TCT2023 for video updates, news stories, trial updates and more.
The SMART (SMall Annuli Randomized To Evolut or SAPIEN) trial is the first industry-sponsored (Medtronic) head-to-head comparison of the two most widely available commercial TAVR devices: Evolut and SAPIEN 3 in small anatomies.2 The trial will be conducted at 90 sites in the U.S., Canada, Europe, the Middle East and Africa.
The trial has completed enrollment of 716 participants with a small aortic annulus (aortic annulus area of ≤430 mm2 based on multi-detector computed tomography) and symptomatic severe native aortic stenosis and results are expected within a year.
Patients with small aortic valve annuli are typically women and are often underrepresented in clinical trials, so the trial also will be the largest to date to enroll predominantly women.
Co-primary endpoints at 12 months include a clinical outcome composite of mortality, disabling stroke or heart failure rehospitalization and a valve function composite of hemodynamic structural valve dysfunction, nonstructural valve dysfunction, thrombosis, endocarditis and aortic valve reintervention.
"We've gone from a procedure that was usually either a spectacular success or failure right away and only considered reasonable in patients with no other options, to a procedure now that's readily reproducible and offers good clinical outcomes. We'll see soon from all these ongoing trials whether TAVR itself offers an early advantage that is sustained with time, and more specifically which of the current and upcoming transcatheter heart valves offer the best outcomes," says Reardon. "It's an exciting time for the field."
TAVR in Asymptomatic and Moderate AS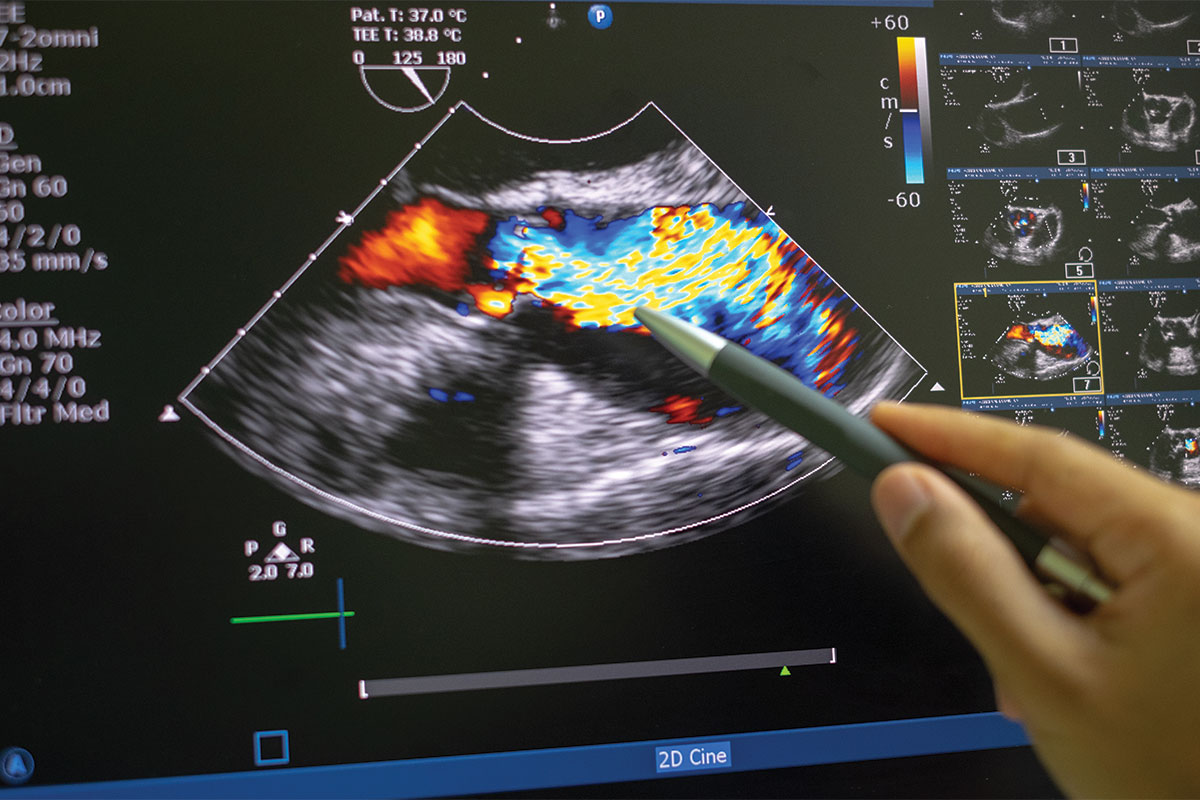 Severe aortic stenosis (AS) is associated with a poor prognosis without timely intervention. Surgical or transcatheter aortic valve replacement (AVR) is, at present, the only treatment. But is AS that is neither symptomatic nor severe bad for you? This was the question posed by Michael J. Reardon, MD, FACC, in a recent talk. And if so, what is the risk to correct it?
In a 2019 study that sought to determine the prognostic impact of all levels of native valvular AS, investigators found that, compared with no AS (five-year mortality, 19%), there was a significant increase in five-year mortality in patients with AS ranging from mild to severe (adjusted HR, 1.44-2.09; p<0.001 for all comparisons).1
The five-year mortality was 56% in moderate AS (mean gradient 20.0-39.0 mm Hg, peak velocity 3.0-3.9 m/s) and 67% with severe AS (≥40.0 mm Hg, ≥4.0 m/s, or AV area <1.0 cm2 in low-flow, low-gradient severe AS).
Said Reardon, chief of Cardiac Surgery at Houston Methodist Hospital, once a mean gradient of about 15 mm Hg is exceeded, the risk of death is increased. "Mild is worse than none, moderate is worse than mild, and severe is a little worse…aortic stenosis is not good at any level." A meta-analysis that included 25 studies and 12,143 patients confirms that moderate AS is associated with a mortality risk that is higher than no or mild AS but lower than severe AS.2
"There is a progression of cardiac damage…starting with no cardiac damage, then damage in the left ventricle starts and then that moves on to the mitral valve, it moves backwards to the pulmonary vasculature, and finally to the right heart," said Reardon, at which point, prognosis is very poor.
What is the impact of AVR on extravalvular cardiac damage? The prognosis is better for patients who do better after AVR, said Reardon, and the longer the wait to do AVR, the less likely the patient is to improve.
Among 1,974 patients undergoing transcatheter or surgical AVR in the PARTNER 2 and 3 trials, cardiac damage improved from baseline in about 15%, remained unchanged in about 60%, and worsened in about 25% of patients at one year.3 Two-year mortality after TAVR was associated with the extent of cardiac damage at baseline and one year.
Is asymptomatic severe AS bad for you? Yes. All trials that have looked at treatment of asymptomatic AS have come out in favor of early treatment, stated Reardon.
In a multicenter trial, the composite of 30-day operative mortality or cardiovascular death during follow-up was lower in asymptomatic patients with very severe AS randomized to early surgery compared with "watchful waiting," driven entirely by cardiovascular death (1% vs. 15%; HR, 0.09; p=0.003).4 As well, with watchful waiting, the cumulative incidence of sudden death was 4% at four years and 14% at eight years.
"In conclusion, moderate and asymptomatic AS are detrimental. Any amount of AS is detrimental [and] the physiology supports early intervention…" said Reardon. Several ongoing trials (EXPAND TAVR II, PROGRESS, EARLY TAVR, and EVOLVED) will provide more information to inform practice.
This article was authored by Debra L. Beck, MSc.
References
Carroll JD, Mack MJ, Vemulapalli S, et al. STS-ACC TVT registry of transcatheter aortic valve replacement. J Am Coll Cardiol 2020;76:2492-2516.
Herrmann HC, Abdel-Wahab M, Attizzani GF, et al. Rationale and design of the SMall Annuli Randomized To Evolut or SAPIEN Trial (SMART Trial). Am Heart J 2022;243:92-102.
Clinical Topics: Cardiac Surgery, Invasive Cardiovascular Angiography and Intervention, Valvular Heart Disease, Aortic Surgery, Cardiac Surgery and VHD, Interventions and Structural Heart Disease
Keywords: ACC Publications, Cardiology Magazine, Transcatheter Aortic Valve Replacement, Aortic Valve Insufficiency, Aortic Valve Disease
< Back to Listings