ACC Latin America 2021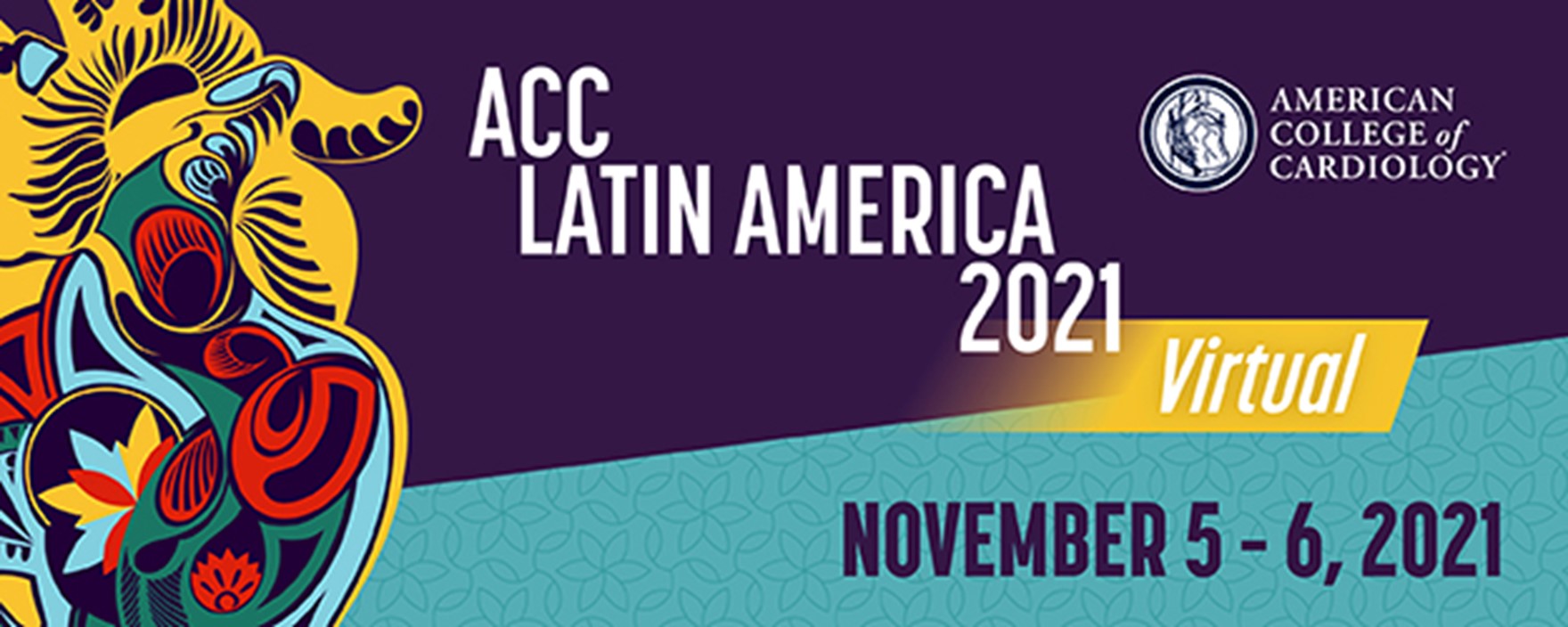 CONFERENCE OVERVIEW
MOVE INTO AN ERA OF GLOBAL COLLABORATION
The American College of Cardiology (ACC) invites you to join us for an innovative educational experience that will strengthen your everyday practice. ACC Latin America 2021 is designed to deliver an engaging forum to critically examine evidence-based strategies as well as contemporary best practices and clinical decision-making to reach our common objective of improving heart health of patients with cardiovascular disease.
Attend this conference and you will:
Challenge the norm: Discuss, share and critique the latest in cardiovascular prevention and care with GLOBAL EXPERTS and return to your practice ready to improve the care of your patients.
Lead the way: LOCAL LEARNING designed to empower you to transform your community through topics such as Top Clinical Trials to Change Your Practice, as well as the latest in acute coronary syndrome, heart failure, valvular disease, arrhythmia and prevention.
Power your mind: Find PRACTICAL SOLUTIONS for everyday problems by using real-world approaches to guideline-driven care. Challenge your knowledge in participant driven sessions such as Rapid Fire ECG and Imaging Interpretation.
Ignite conversation: Network with faculty from leading cardiovascular societies around the world in an intimate setting and CREATE CONNECTIONS with colleagues through shared discussion and bi-directional learning.
PLUS: Enjoy the benefit of ACC International Associate membership for 1 year included with registration.
Strive to be your best and join us in our vision of a world where innovation and knowledge optimize cardiovascular care and outcomes.
Learning Objectives
Demonstrate appropriate interpretation of cardiovascular guidelines and diagnostic strategies neede d in daily practice.
Identify the latest strategies in multi-modality imaging such as echo and CMRI.
Describe the best practices in the treatment of patients with heart failure.
Identify prevention strategies for treating cardiovascular disease including managing diabetes, resistant hypertension, and hypercholesterolemia.
Apply the latest evidence to the evaluation, medical management and surgical treatment of patients with valvular heart disease.
Evaluate current treatment strategies in the investigation and management of coronary artery disease.
Identify best practices for the management of patients with atrial and ventricular arrhythmias.
Target Audience
This conference is intended for practicing cardiologists, fellows-in-training, nurses, pharmacists and other members of the cardiac care team in the Latin America region.
Conference Overall Goal
The overall goal of this conference is to examine emerging trends and evidence-based strategies as well as contemporary best practices resulting in guideline-driven, practical cardiovascular prevention and management for patients with cardiovascular disease.
CONFERENCE CHAIRS
B. Hadley Wilson, MD, FACC
Executive Vice-Chair
The Sanger Heart & Vascular Institute
Atrium Health
Clinical Professor of Medicine
UNC School of Medicine
Chair-elect, Governance Committee
Immediate Past Chair,
Membership Committee &
Board of Trustees
American College of Cardiology
Charlotte, NC, USA

Cesar J. Herrera, MD, FACC
Americas Representative, ACC Assembly of International Governors
Chair, ACC Global Heart Attack Initiative (GHATI)
Director, CEDIMAT Cardiovascular Center
Santo Domingo, Dominican Republic
Clinical Associate Professor,
Montefiore-Einstein Center for Heart and Vascular Care
Bronx, NY, USA
PLANNING COMMITTEE
Juan Aranda, Jr., MD, FACC
Professor and Chief, Division of Cardiovascular Medicine
Vice Chair of Clinical Affairs, Department of Medicine
AHA Sun Coast Endowed Chair
University of Florida
Gainesville, FL, USA

Alison L. Bailey MD, FACC
Chief, Centennial Heart at Parkridge
Physician Director, HCA Healthcare
Chattanooga, TN, USA

Marcus Vinicius Bolivar Malachias, MD, PhD, FACC
Associate Professor, Medical Sciences School of Minas Gerais/FELUMA
Governor, ACC Brazilian Chapter
Clinical Director, Hypertension Institute of Minas Gerais
Past President, Brazilian Society of Cardiology
Belo Horizonte, Brazil

Victor Dayan, MD, PhD, FACC
Adjunct Professor of Cardiac Surgery, Universidad de la República
President, Latin American Association of Cardiac and Endovascular Surgery (LACES)
Montevideo, Uruguay

Karina Gonzalez Carta, MD, MS
Mayo Clinic
Rochester, MN, USA
Ascardio
Barquisimeto, Venezuela

Joseph E. Marine, MD, FACC
Professor of Medicine
Vice-Director for Operations
Division of Cardiology
Johns Hopkins University School of Medicine
Baltimore, MD, USA

Daniel Quesada Chaves, MD, FACC
Past President, Costa Rican Association of Cardiology
President, Heart Failure Chapter, Costa Rican Association of Cardiology
Head, Cardiology Department, Hospital San Vicente de Paúl
Heredia, Costa Rica

Ana Salvati, MD, FACC
Past President, Argentine Society of Cardiology
Staff Intensive Care Clinical Hospital, Buenos Aires University
Chief of Cardiology, Moron Model Clinic
Member, Women's Chapter, SIAC and SAC Societies
Buenos Aires, Argentina

Molly Szerlip, MD, FACC
Interventional and Structural Cardiologist
Medical Director, Percutaneous Valve Program
Program Director, Cardiology Fellowship and Structural Fellowship
Baylor Scott & White The Heart Hospital
Plano, TX, USA
Registration includes full access to the conference with live streaming sessions, abstracts, challenging clinical case discussions, a virtual learning lab, expo and more, as well as on-demand access until January 31, 2022.
Our innovative digital platform has been built for learning, collaboration, and networking with more opportunities to engage and interact with attendees from around the world.
Plus, with simultaneous audio translation, attendees can choose between English, Portuguese, and Spanish when viewing each session!
Registration Rates
| | |
| --- | --- |
| ACC Member | $39 USD |
| Nonmember | $59 USD |
Learn at your leisure and sharpen your core cardiology skills with ACC's ACCSAP, Heart Songs, or ECG Drill & Practice. These products provide a uniquely dynamic learning opportunity you won't want to miss!
ACCSAP (Adult Clinical Cardiology Self-Assessment Program)
ACCSAP is ACC's flagship self-assessment program – covering the entire field of adult clinical cardiology – and is designed to help you perfect your knowledge of CV medicine. Use ACCSAP to identify your knowledge gaps, reinforce your existing knowledge, and learn new information. ACCSAP teaches learners through both lectures and text and includes hundreds of ABIM-style questions with rationale, references, and links to related text to help plan additional study.
Heart Songs 5
Research reveals that cardiologists fail to identify more than half of basic murmurs and about 35 percent of advanced murmurs when challenged at a major medical meeting, but skills improved after a 90-minute Heart Songs training session. Heart Songs 5 provides you with everything you need to effortlessly improve your cardiac auscultation skills! Heart Songs 5 will help you:
Prepare for the cardiac exam of the future by learning the complementary role of handheld echo in the bedside detection of heart sounds. Heart Songs 5 includes basic, intermediate, expert, and adult congenital murmurs, plus images of phonocardiograms, CT scans and videos of color Doppler echocardiograms. These visual enhancements will facilitate your understanding and mastery of many heart murmurs/sounds.
Master cardiac auscultation by reviewing the auditory characteristics and handheld echo findings of each heart sound.
First, pick a track and assess your baseline skills by taking a confidential pretest. Then simply view videos featuring classic heart murmurs accompanied by phonocardiograms and color Doppler echoes. Each video includes hundreds of repetitions of its murmur, and studies show that simple repetition is all you need to master a new sound. Watch the videos as many times as necessary to see a significant improvement on your posttest scores (most people need to watch 2 to 4 times). Each Heart Songs track takes approximately 30 minutes to complete and sessions are self-paced.
Heart Songs makes sure you know what your stethoscope is telling you!
ECG Drill & Practice
Improve your ECG interpretation skills with ECG Drill & Practice. This program reviews key findings in clinical electrocardiography and also contains a self-assessment ECG test, featuring the format and answer options similar to those of the ABIM's certifying examination in cardiovascular disease. It's a great resource for anyone preparing for initial Board certification in CV disease and for anyone looking to hone their ECG interpretation skills.
Three convenient modes let you use this product in whatever way best meets your needs.
Learn Mode: Teaches you how to recognize & differentiate ECGs across the topics above.
Drill & Practice Mode: Shows you ECGs "flash cards" that you can practice interpreting. Turn each card over to see the answer and explanation.
Perform Mode: Practice interpreting ECGs using the ABIM's interpretation list. Receive detailed commentary on how your answer compares to the experts'.
Brush up on a core cardiology skill with ECG Drill & Practice's 100+ ECGs and expert insight!
Join ACC Latin America chapter teams – each made up of three Fellows in Training (FITs) – as they test their clinical knowledge during the FIT Jeopardy sessions at ACC Latin America 2021!
FIT Jeopardy is a friendly competition that promotes a healthy rivalry between ACC international chapters, fosters FIT engagement within the chapters, and provides educational value to the contestants and audience. Participants will be quizzed on a variety of topics ranging from imaging, prevention, and intervention in an unconventional manner. There will be a panel of judges and chairs to moderate the competition.
Three ACC Latin America chapter teams will compete at ACC Latin America 2021 and the winning team will compete at the ACC.22 competition in Washington, DC in March 2022!
Join us at the FIT Mix & Mingle on Friday, November 5 from 8:30 p.m. – 9:15 p.m. ET, a networking session designed to connect you with the ACC's most influential member leaders! Have questions about pursuing a particular career path? You'll have the opportunity to join "tables" that match your specialty or interest area in a social, interactive environment to ask your questions and build your network.
We are leveraging the latest technology to connect you with expert faculty and other trainees over video chat in small groups. Register today to make meaningful, face-to-face connections and take part in this exciting new virtual experience! Plus, FITs who register for this networking event will receive 50% off conference registration.
To register, click here.
TABLE TOPICS AND FACULTY
CAD/Interventional
Xavier Escudero, MD, FACC
B. Hadley Wilson, MD, FACC
Early Career Council
Poonam Velagapudi, MD, MS, FACC
Sanah Christopher, MBBS, FACC
Education
David P. Brasil, MD, MSc, FIACS, FACC
Gaby Weissman, MD, FACC
Electrophysiology
Luigi Di Biase, MD, PhD, FACC
Leandro I. Zimerman, MD, FACC
FIT Council
Nosheen Reza, MD, FACC
Prashanth Thakker, MD, FACC
Heart Failure
Juan M. Aranda, Jr., MD, FACC
Daniel Quesada Chaves, MD, FACC
Imaging
Erick Alexanderson, MD, FACC
Cesar J. Herrera, MD, FACC
Mentorship
Daniel J. Piñeiro, MD, FACC
Viviany Rodrigues Taqueti, MD, MPH
Prevention
Marcus Vinicius Bolivar Malachias MD, PhD, FACC
Pamela Bowe Morris, MD, FACC
Research and Publishing
Fernando Lanas, MD, PhD, FACC
David J. Maron, MD, FACC
Women in Cardiology
Pura Henríquez, MD, FACC
Toniya Singh, MBBS, FACC
The abstract submission site is now closed. Abstract acceptance notifications will be sent out on by Friday, August 27, 2021. For any questions regarding your submission, please contact Robin Young at ryoung@acc.org.
The case submission site is now closed. Case acceptance notifications will be sent out on by Friday, August 27, 2021. For any questions regarding your submission, please contact Robin Young at ryoung@acc.org.
The American College of Cardiology is pleased to invite you to support a groundbreaking and innovative educational initiative – ACC Latin America 2021, taking place November 5 – 6, 2021 virtually. We consider supporters like you to be an important part of this conference, providing our attendees the opportunity to gather useful information about your products and services and further enhancing their knowledge and overall conference experience!
Multiple opportunities exist to support ACC Latin America 2021 through sponsorships and exhibitor presence. Click here to see the full conference prospectus, which contains details on all sponsorship opportunities. If you have any questions regarding sponsorship, please contact Hector Emmanuelli at hemmanuelli@acc.org.