A Child with Neurologic Symptoms: Lessons Learned
Quick Takes
Ischemic strokes warrant rapid diagnostic evaluation and urgent consideration for therapeutic intervention to mitigate the potential for further insult.
With specific echocardiographic characteristics, myxomas can be identified pre-operatively, facilitating surgical planning.
By utilizing the "no touch" technique, these tumors can be safely and completely resected without significant risk of dislodgement.
Introduction
A 14-year-old female presented with right sided facial and arm weakness. She had been experiencing transient migrating weakness and numbness in both arms for the past 4 months, but this time, symptoms were persistent. She was otherwise healthy with only migraines and a remote history of Kawasaki disease without coronary involvement. A brain, head and neck computed tomography (CT) scan did not reveal an etiology for her symptoms, but a brain magnetic resonance imaging (MRI) demonstrated multiple foci of acute and chronic ischemic infarcts. An echocardiogram clip is shown in Video 1. Based on its echocardiographic characteristics, the mass was suspected to be an atrial myxoma, which was confirmed by the operative findings.
Video 1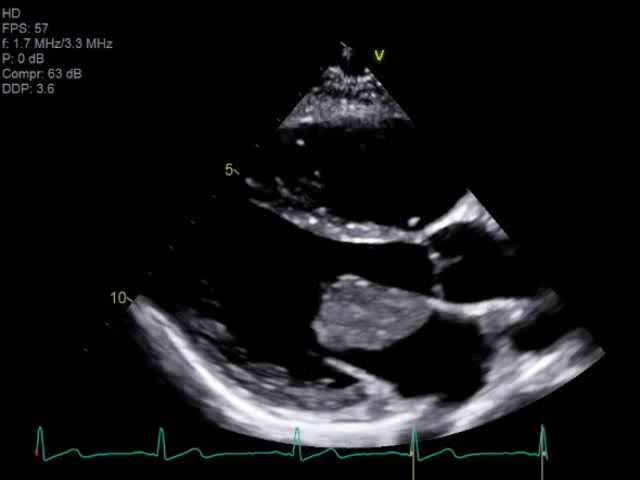 Ischemic stroke (IS) is rare in the pediatric population, with an incidence of 1-2 per 100,000 children, and patients with cardiac disease making up almost one third of those cases.1 Primary cardiac tumors are also uncommon in children, with an incidence of 27-80 per 100,000.2 Because of the rare nature of both entities, there is a paucity of literature on the treatment of cardioembolic stroke in children. We present this case to share the lessons we learned as a guide to the evaluation of cardioembolic stroke and management of atrial masses in children.
Clinical Evaluation
Following the diagnosis of an IS, rapid evaluation and urgent consideration for therapeutic intervention is essential to mitigate the potential for additional insult. While this review focuses on cardioembolic strokes and atrial myxomas, additional diagnoses such as vasculitis, meningitis, hypercoagulable states and other pathophysiologic conditions are important to consider. Multiple foci of cerebral ischemia separated by both space (multiple vascular territories) and time (acute vs. chronic) should raise suspicion for embolic phenomenon.3 Initial evaluation should consist of a detailed personal and family history, physical exam, as well as an electrocardiogram (ECG). In contrast to adults, atrial fibrillation as a cause of IS is rare in children,3 but should still be considered and is easy to rule out.
A complete transthoracic echocardiogram (TTE) to evaluate cardiac structure and function should be performed in all patients with suspected embolism to identify a potential cardiogenic source.4 Children with congenital heart disease have a 19-fold increased risk of stroke compared to other children and as many as 132 per 100,000 children with congenital heart disease will experience a stroke annually.5 Agitated saline may be necessary to identify intracardiac or intrapulmonary shunting.4
Echocardiographic Characteristics of Atrial Myxomas
Cardiac disease with high embolic potential in children include myxoma, thrombus, and endocarditis.4 Unique characteristics of intracardiac masses can help narrow the diagnosis and guide medical or surgical management. Myxomas represent approximately 20% of primary cardiac tumors in children.2 They are often localized to the left atrium with septal pedunculation, allowing for trans-mitral mobility. This pedunculated mass has a heterogenous echotexture and irregular borders [Image 1].6 Embolization can occur in up to approximately 30% of cases.4 Complete resection is important as myxoma recurrence has been described at approximately 4.9%.2 Papillary fibroelastomas are extremely rare in childhood.
Image 1
Image 1: Apical 4-chamber still image highlighting the large atrial myxoma attached to the atrial septum. It prolapses across the mitral valve into the left ventricle. Note the heterogenous echotexture and irregular borders.
Surgical Management
The diagnosis of atrial myxoma alone is an indication for surgical resection and while it may not be performed emergently, given the risk of embolization, this lesion is most often resected during the same hospitalization. This patient's clinical presentation with neurological impairment in conjunction with radiographic evidence of cerebral emboli prompted urgent surgical resection the same day as the diagnosis. We perform this procedure through a standard median sternotomy. With this lesion, it is paramount that the "no-touch" technique is utilized, minimizing any unnecessary manipulation of the atria or ventricles to obviate the potential for embolization. Aorto-bicaval cannulation with mild hypothermia (32-34 degrees celsius) is used for cardiopulmonary bypass. The aortic cross-clamp is applied and cold blood cardioplegia is administered to arrest the heart. Venting of the left ventricle through the right superior pulmonary vein is not usually performed to avoid dislodging tumor material.7,8 A left atrial incision, the biatrial approach popularized by Cooley in 1973 or trans-septal incisions, can be used to expose the tumor, facilitating safe and efficacious dissection and removal.9 Smaller tumors can be delivered completely through the left atriotomy without manipulation, while larger masses may necessitate the aforementioned biatrial or trans-septal approach and removal. A 0.5 to 1.0 cm margin of tissue is removed with the mass taking great care not to injure the conduction tissue, mitral valve or annulus and the tricuspid annulus. If a defect in the septum is greater than 1 cm, it is typically closed with a patch. It is imperative to use copious saline irrigation and suction within the atrial and ventricular chambers prior to closing to prevent any potential microemboli prior to removing the aortic cross-clamp.
The trans-septal incision and approach first described by Dubost et al. in 1966 was used for this tumor.10 The stalk was found to arise from the left atrial side of the septum and was removed by shaving it whole but not with full thickness tissue of the septum to avoid injury to the conduction system [Image 2 and Video 2]. After inspecting the left atrium and ventricle, the aortic root was opened and inspected to completely ensure no fragments of the fragile mass existed within the left ventricular outflow tract or aortic root.
Image 2
Image 2: Large atrial myxoma (3.5 x 3.5 x 2cm) in the surgical field following resection. It was removed in its entirety to avoid fragmentation. Note the gelatinous and friable appearance.
Video 2
Conclusion
Despite the rarity of both cardioembolic strokes and atrial myxomas in children, rapid identification and surgical resection is important to limit continuing insult. With specific echocardiographic characteristics, myxomas can be identified pre-operatively, facilitating surgical planning. By utilizing the "no touch" technique, these tumors can be safely and completely resected without significant risk of dislodgement. The patient was discharged home on post-op day 4 and is doing well at follow-up. She has had no further neurologic symptoms and no recurrence of the myxoma.
References
Mittal SO, Thatiganganna S, Kuhns B, Strbian D, Sundararajan S. Acute ischemic stroke in pediatric patients. Stroke 2015;46:e32-e34.
Tzani A, Doulamis IP, Mylonas KS, Avgerinos D V, Nasioudis D. Cardiac tumors in pediatric patients: a systematic review. World J Pediatr Congenit Heart Surg 2017;8:624-32.
Stack CA, Cole JW. A diagnostic approach to stroke in young adults. Curr Treat Options Cardiovasc Med 2017;19:84.
Saric M, Armour AC, Arnaout MS, et al. Guidelines for the use of echocardiography in the evaluation of a cardiac source of embolism. J Am Soc Echocardiogr 2016;29:1-42.
Ferriero DM, Fullerton HJ, Bernard TJ, et al. Management of stroke in neonates and children: a scientific statement from the American Heart Association/American Stroke Association. Stroke 2019;50:e51-e96.
Fournier E, Séguéla PE, Sauvestre F, et al. Imaging aspects of pediatric cardiac tumors. JACC Cardiovasc Imaging 2020;13:2245-53.
Yang B, Patel H, Pagani F. "Cardiac Tumors". In: Kaiser LR, Kron IL, Spray TL, eds. Mastery of Cardiothoracic Surgery, 3rd ed. New York: Lippincott-Raven; 2014:664.
Garratti A, Nano G, Canziani A, et al. Surgical excision of cardiac myxomas: twenty years experience at a single institution. Ann Thorac Surg 2012;93:825-31.
Kabbani SS, Cooley DA. Atrial myxoma. Surgical considerations. J Thorac Cardiovasc Surg 1973;65:731–37.
Dubost C, Guilmet D, de Parades B, Pedeferri G. New technic of opening of the left auricle in open-heart surgery: the transseptal bi-auricular approach. Presse Med 1966:74:1607–08.
Clinical Topics: Arrhythmias and Clinical EP, Cardiac Surgery, Congenital Heart Disease and Pediatric Cardiology, Invasive Cardiovascular Angiography and Intervention, Noninvasive Imaging, Atrial Fibrillation/Supraventricular Arrhythmias, Cardiac Surgery and Arrhythmias, Cardiac Surgery and CHD and Pediatrics, Congenital Heart Disease, CHD and Pediatrics and Arrhythmias, CHD and Pediatrics and Imaging, CHD and Pediatrics and Interventions, Interventions and Imaging, Interventions and Structural Heart Disease, Interventions and Vascular Medicine, Computed Tomography, Echocardiography/Ultrasound, Magnetic Resonance Imaging, Nuclear Imaging
Keywords: Pediatrics, Adolescent, Heart Ventricles, Atrial Septum, Atrial Fibrillation, Pulmonary Veins, Mitral Valve, Intracranial Embolism, Brain Ischemia, Mucocutaneous Lymph Node Syndrome, Cardiopulmonary Bypass, Sternotomy, Hypesthesia, Hypothermia, Stroke, Heart Atria, Myxoma, Heart Neoplasms, Magnetic Resonance Imaging, Echocardiography, Heart Defects, Congenital, Thrombosis, Embolism, Electrocardiography, Endocarditis, Physical Examination, Heart Arrest, Induced, Catheterization, Surgical Instruments, Infarction, Dissection, Tomography, X-Ray Computed, Migraine Disorders, Meningitis, Hospitalization, Prolapse, Tomography, Reference Standards
< Back to Listings