Poll Results: Sodium Restriction in Patients With Heart Failure With Reduced Ejection Fraction
The poll results are based on the clinical vignette of a 65-year-old woman with heart failure with reduced ejection fraction (HFrEF) (EF 35%) with a recent hospitalization for decompensated HF on losartan 50 mg, metoprolol succinate 100 mg and spironolactone 25 mg. As stated in the 2022 American Heart Association (AHA)/American College of Cardiology (ACC)/Heart Failure Society of America (HFSA) guideline for HF management, restricting dietary sodium is a common nonpharmacological treatment for patients with HF symptomatic with congestion, but specific recommendations have been based on low-quality evidence without randomized clinical trial data. The SODIUM-HF trial sought to address this gap in knowledge by randomizing patients with chronic HF to usual care or a low sodium diet of less than 1500 mg/day. The study found no significant difference in clinical events of cardiovascular hospitalization, cardiovascular emergency department visit or all-cause mortality at 12 months.
As the novel SODIUM-HF trial data may lead to actionable changes in clinical practice, we created a survey for HF providers to gauge their current practices regarding sodium restrictions, their interpretation of the SODIUM-HF trial, how the trial might impact their clinical practice, and their perception regarding barriers to implementation of changes to dietary reduction of sodium.
The majority of respondents reported that the SODIUM-HF supported a moderate (less than 2g/day) sodium restriction (38 votes, 45.78%) or lenient reduction (less than 3g/day) (37 votes, 44.58%).
Most respondents reported they would recommend moderate restriction of sodium intake (less than 2 g/day) with a total of 75 of 127 votes (59.06%) or lenient reduction of sodium intake (less than 3g/day) at 33 votes (25.98%). A small percentage would recommend strict restriction, less than 1.5g/day (11 votes, 8.66%) and fewer still recommend no reduction in sodium intake (8 votes, 6.3%).
Over 62% of respondents reported SODIUM-HF would not change their practice with one-third reporting they will use patient specific tailored recommendations (34 votes, 36.17%). Of those who reported SODIUM-HF would change their practice, most felt they would be more lenient with sodium restriction (29 votes, 30.85%) versus a few who suggested they would be stricter (6 votes, 6.38%).
Survey results are largely consistent with the prior AHA recommendation for sodium restriction to less than 2300 mg/d for general cardiovascular health promotion.1 HF specific recommendations regarding sodium restriction are not proscriptive. The current recommendation from the 2022 AHA/ACC/HFSA HF guideline states that for patients with stage C HF avoiding excessive sodium intake is reasonable to reduce congestive symptoms.2 This ACC survey suggests that the findings of SODIUM-HF have not changed practice and that most practitioners will continue to recommend lenient to moderate sodium restriction, consistent with current guidelines.3 It will be interesting to reassess whether practices remain consistent after there is more widespread knowledge of the results from SODIUM-HF as sodium restriction may be challenging for many patients.
Figure 1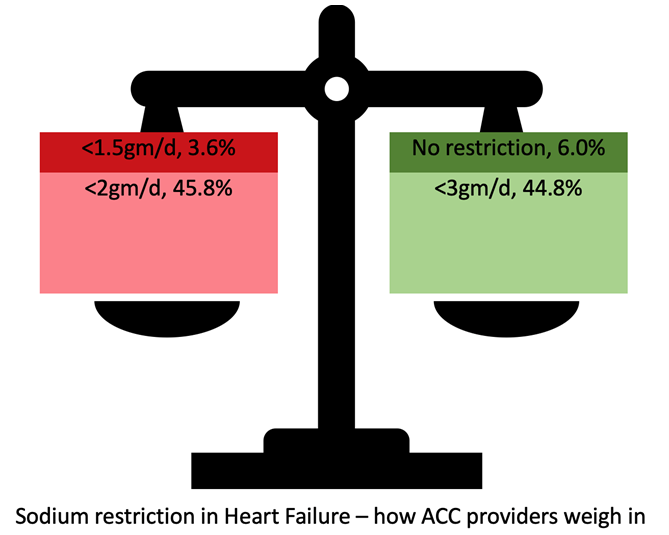 Figure 1:
Courtesy of Joshi AA, Mooney DM, Cheng RK.
References
Heidenreich P, Bozkurt B, Aguilar D, et al. 2022 AHA/ACC/HFSA guideline for the management of heart failure: a report of the American College of Cardiology/American Heart Association Joint Committee on Clinical Practice Guidelines. J Am Coll Cardiol 2022;79:e263-e421.
Van Horn L, Carson JAS, Appel LJ, et al. Recommended dietary pattern to achieve adherence to the American Heart Association/American College of Cardiology (AHA/ACC) guidelines: a scientific statement from the American Heart Association. Circulation 2016;134:e505-e529.
Ezekowitz JA, Colin-Ramirez E, Ross H, et al. Reduction of dietary sodium to less than 100 mmol in heart failure (SODIUM-HF): an international, open-label, randomised, controlled trial. Lancet 2022;399:1391-1400.
Clinical Topics: Diabetes and Cardiometabolic Disease, Heart Failure and Cardiomyopathies, Prevention, Acute Heart Failure, Diet
Keywords: Diet, Sodium-Restricted, Stroke Volume, Losartan, Metoprolol, Spironolactone, American Heart Association, Sodium, Dietary, Heart Failure, Hospitalization, Surveys and Questionnaires, Emergency Service, Hospital, Perception, Health Promotion, Sodium
< Back to Listings