COVID-19: A Cardiology Fellowship Program's Drive For Stability
Over the last few months, hospitals across the country made valiant efforts to prepare their institutions for a surge of potential cases of COVID-19. An "all hands-on deck" philosophy has been implemented at hospitals to stay ahead of anticipated high volumes.
However, there was no standardized protocol for hospitals to follow and an even less structured approach to ensuring safety, stability and value in education amongst cardiology fellows.
I would like to share with you the steps and insights from our program's experience on ensuring continued high-quality fellow education during the epidemic, in the hopes it will be useful for other programs looking to create an adaptable educational model.
Current State of Cardiovascular Training
Currently, the Core Cardiology Training Statement is one component of standardized cardiology training. It can be best understood as recommendations from the ACC regarding fellowship training.
A standard three-year cardiovascular fellowship program can conceptually be divided into various acute hospital settings (critical care cardiology, heart failure and electrophysiology) with exposure to noninvasive testing (echocardiography, nuclear cardiology and cardiac MR) and invasive procedures, along with outpatient longitudinal experiences for a well-rounded education (Figure 1).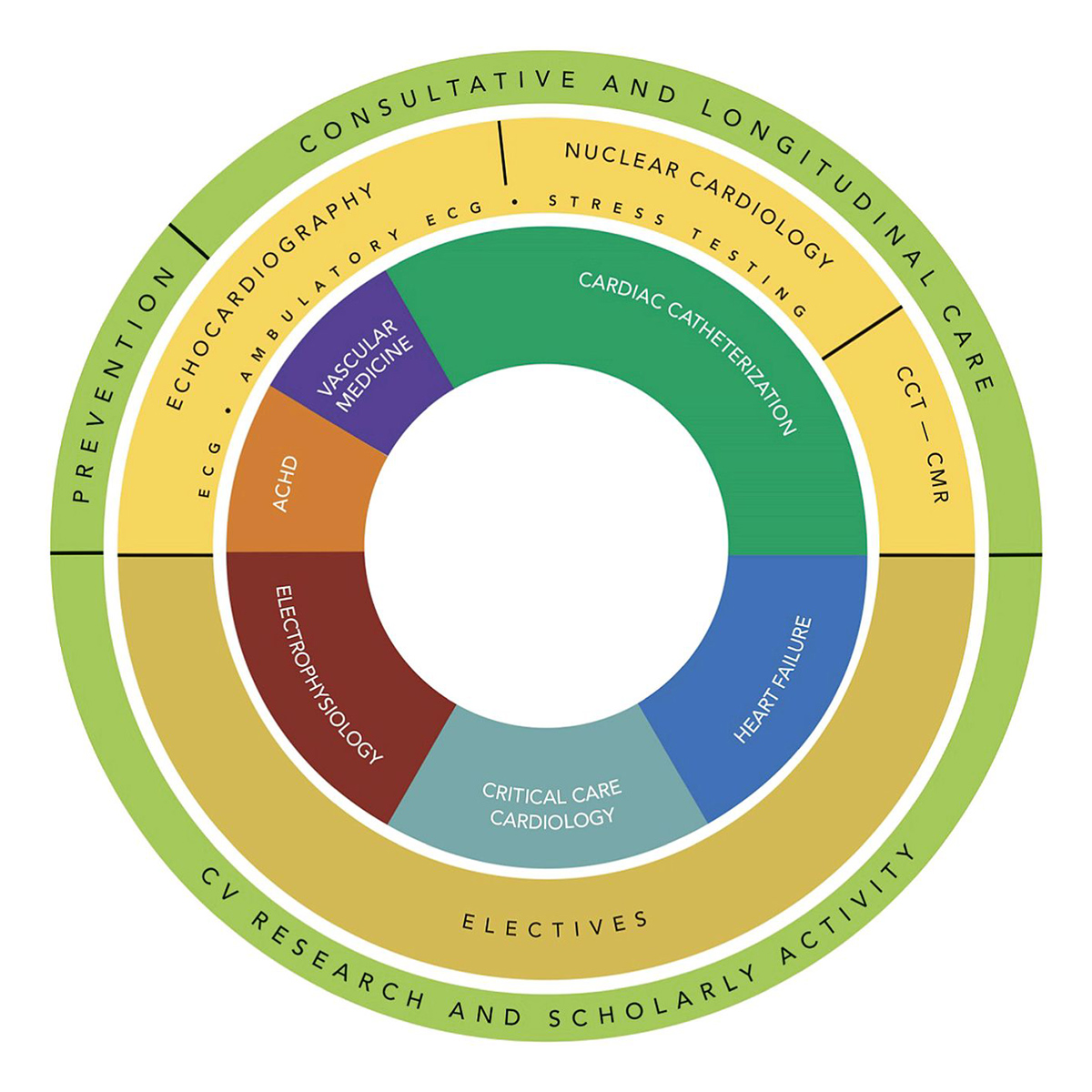 Figure 1: COCATS Curriculum for Level 1 training in cardiovascular medicine. Schematic summarizing components of training during the standard 3-year cardiovascular fellowship. COCATS 4 Introduction, JACC 2015
However, there is no standardized guidance on cardiovascular training in times of pandemics where education may not be as high of a priority and fellowship programs are forced to figure it out as they go along. Many institutions across the country have suspended or significantly decreased academic education to prepare for "peak surge" of COVID-related cases.
Swift Action and Flexibility to Ensure Stability
The cardiovascular medicine fellowship program at the University of Massachusetts Medical School took swift action to help support its fellows. By working closely with the program director and division leadership we were able to strategically focus on education, wellness and safety.
Education: In compliance with recommendations for "social distancing," the program leadership decided to cancel all in-person cardiovascular educational conferences, which has been the traditional model of education in training programs. We worked on creating the infrastructure to transition lectures to be presented via online platforms, including Zoom and GoToMeeting.
The presenters can invite cardiology fellows and faculty to continue the division's educational mission. Furthermore, the presenters can share their screen with all attendees and have a live discussion to promote audience participation (Figure 2, Table 1).
Figure 2: Panel A showing calendar invite for lecture. Panel B showing various leture topics planned for continued educational curriculum.
In addition, all fellows on elective rotations are transitioned to home "study elective." Each fellow is to submit an educational plan outlining goals, aims and proof of progression. Fellows are assigned daily electrocardiograms to read and are provided feedback by cardiology attendings.
Over the past several weeks, we had a number of lectures back on the academic calendar. All of the faculty embraced going virtual along with the fellows. Some gave lectures from their office and some from the comfort of their home.
It is my observation that having weekly academics brought back a certain level of normalcy that we may not have appreciated in the pre-COVID-19 era. From a mental health perspective, it was very refreshing for fellows and faculty to learn about something other than COVID-19.
We recorded these lectures and placed them on a shared drive, allowing fellows who could not join to watch when they had free time.
Wellness and Safety: With the growing evidence of increased transmission of COVID-19, identification of trainees on nonessential services was conducted. These fellows were not required to come to the hospital unless there was a clinical need, such as clinic or coverage for a colleague.
In fact, fellows spoke to all scheduled patients to assess if they were stable to postpone a standard clinic visit vs. escalating symptoms requiring prompt evaluation. With the help of the administrative staff, patients were rescheduled for a later date to help prevent transmission and adhere to "social distancing."
In recognition that isolation may be challenging, virtual get togethers were organized for fellows and faculty. This served as a platform for discussing anxiety, stressor, updates on personal matters, and questions regarding the ever-changing clinical climate.
Conclusion
It seems as if overnight our lives have changed. What was previously rumblings of a disease in distant China quickly spread to Europe and the western world, and in its wake devastated health care, businesses and economics. Trying to balance stability in an educational program in the best of times is challenging, let alone with a pandemic at our front door.
Fortunately, we feel the steps the cardiology fellowship at University of Massachusetts Medical Center implemented is adaptable and flexible for programs across the country. The support, encouragement and adaptability of our program has helped us to continue to learn and be safe, and ultimately to help take care of patients.
This article was authored by Barinder "Ricky" Hansra, MD, Fellow in Training (FIT) at the University of Massachusetts in Amherst, MA. Special thanks to Naomi F. Botkin, MD, FACC, program director for the University of Massachusetts Medical Center Fellowship in Cardiovascular Medicine, and Amartya Kundu, MD, cardiology fellow, for their help and support during this time to ensure high-quality education for our division.