Conversations With Cardiologists: Jason Wasfy, MD, MPhil
Jason Wasfy, MD, MPhil, is an associate professor at Harvard Medical School, Director of Quality and Outcomes Research at the Massachusetts General Hospital Heart Center, and Medical Director of the Massachusetts General Physicians Organization (MGPO). In this interview, he shares his perspective with FITs on his career at the intersection of clinical cardiology, academic research and hospital leadership.
How did you first become interested in a career in hospital administration?
I am biased, but I really think academic medical centers are special institutions. They are tremendous engines for innovation and science. And they are often the institutions that have to step up to take on not only the toughest individual cases, but also the toughest challenges in health care. Holding a leadership role at an academic medical center is an opportunity to serve my colleagues as they pursue our mission. Our mission centrally involves the patients and communities we care for directly. But through innovation, science and teaching, our mission also aims to help patients all over the world who we will never see.
I think that is an important distinction for me. I am a physician scientist and a cardiologist, and I probably would not enjoy a managerial role in another industry. For me, it is all about the opportunity to help my colleagues in a very special organizational mission.
Could you provide a bit of background on your administrative role as Medical Director of MGPO?
Part of my role is overseeing our physician quality improvement and population health programs. We are trying to innovate care delivery in ways that improve clinical outcomes and value in health care. Integrating my background as a clinical cardiologist and physician scientist, we have applied methods that one would typically use in research to make sure new/innovative programs are helping patients and improving value. By applying more rigorous program evaluation, we can feel more confident that we are helping patients. We also write academic papers about our programs so we can share what we learn.
I think the underlying challenge we are trying to solve with all these programs – trying to improve the quality of care while reducing the rise in preventable health care expenditures – is a fundamental challenge for our generation of doctors. Health care costs in America are so high; at this point they are approaching one-fifth of the entire U.S. economy. Despite these massive expenditures, health care quality outcomes are not as good as they need to be, and they are very uneven. These trends are fundamental threats to the welfare of Americans, and they drag down our economy. It is so important that physicians and other clinicians lead the way in findings solutions to these problems.
How does your clinical practice and research help inform your administrative role and decision making? How are you able to balance your various responsibilities?
It can be hard to maintain a grant supported research program and practice clinical cardiology, while also serving in a management role. Not a lot of hospital administrators are also writing R01s or working in the CCU. These roles are all important to me – and I am acutely aware that other people are depending on me to do a good job. So, I am very self-conscious, and I am constantly scrutinizing myself to ensure I am giving enough attention to my different responsibilities.
I also have two young children. They mean the world to me. It is so important for me to be able to spend the evenings with them, go to their school activities, and be there for them when they need me. When there's a conflict between something that is important to my career advancement and something that is important for my kids, I choose the kids. I'm totally at peace with that choice. The moment I feel one of my professional activities interferes with being a father is the moment I'm going to stop doing it. I hope my career is long, so I can catch up on work when they are older.
What advice would you give FITs interested in a career in hospital administration and leadership?
At this moment in health care, we have only just begun to recover from the COVID pandemic. So much of delivering care during the pandemic depends on trust between clinicians and leaders. So, I think it is critically important to walk the walk if you are interested in leadership in health care. Really focusing on taking care of patients and establishing credibility first are so important. At an academic institution like mine, it is also important for leaders to have a track record of contributing to scholarship and science. So, I think a really strong foundation in medicine and cardiology is essential for any FIT aiming for a career in medical leadership.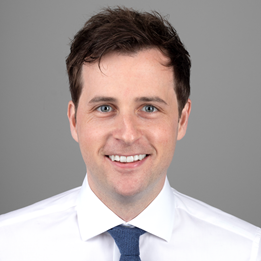 This article was authored by Andrew Oseran, MD, MBA, a fellow at Massachusetts General Hospital. Twitter: @AndrewOseran.
This content was developed independently from the content developed for ACC.org. This content was not reviewed by the American College of Cardiology (ACC) for medical accuracy and the content is provided on an "as is" basis. Inclusion on ACC.org does not constitute a guarantee or endorsement by the ACC and ACC makes no warranty that the content is accurate, complete or error-free. The content is not a substitute for personalized medical advice and is not intended to be used as the sole basis for making individualized medical or health-related decisions. Statements or opinions expressed in this content reflect the views of the authors and do not reflect the official policy of ACC.