Prioritizing Balance in Cardiology
It was my weekend off and I planned to do it all: Prepare a presentation for a morning conference, and then drive to Washington, DC to visit my sister, her kids, my brother-in-law, whom I had not seen in months. The weekend included a fancy hotel, museums, restaurants, and a visit with my dad. He was going to meet my 7-month-old daughter for the first time.
I began working on the presentation Friday evening, but progress was slow. I switched topics twice before my two-year-old son woke up crying. He was sick and required my attention for most of the night. By Saturday morning, I landed on a presentation topic, "RV Failure." I also took my son to urgent care.
By late afternoon, we were back from urgent care with a diagnosis of an ear infection and an antibiotic. "RV Failure" had morphed into "RV Potpourri," including cardio-dynamics, echo evaluation, and ECG. By late Saturday night, the epic DC trip was a pipedream. I worked on the presentation for the rest of the weekend. Quieting feelings of regret and disappointment, I told myself these are the consequences of being a mom in cardiology training.
For working individuals, balance can be defined by how well our personal and professional lives are integrated. For women, this integration can resemble an advanced juggling act of delegating and setting boundaries.
(Four women in cardiology share their stories and provide practical advice here.)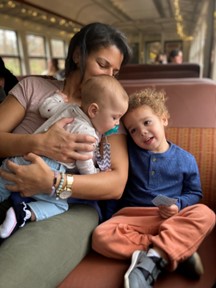 Cardiology trainees spend 10-12 hours per weekday in the hospital or clinic, take home call, work weekend shifts, study for board certifications, write publications, and complete tasks for other leadership projects or positions. Whatever time is left is spent attending to home responsibilities, caring for ourselves, possibly caring for children, parents, or other loved ones – and sleeping. Even the most responsible fellows may experience a dizzying effect being pulled in these many directions. The impact can be subtle and go unnoticed until there is a complete loss of balance.
Defining what loss of balance looks like for you is subjective and personal. It's also the first and most important step in achieving balance. In its extreme form, loss of balance may manifest as burnout, depression, strained relationships, or even addiction. In a more functional form, it may manifest as lack of energy, compassion, conflicts at work, compulsive behaviors, anxiety, or reactivity. Once defined, the next step is asking yourself if you have balance. If the answer is no, the third step is to prioritize achieving it.
While cardiology and most professions refer to balance as work-life integration, metaphysically, it is more of an internal process. For me, balance comes from within. It is a quality in my system, cultivated by a disciplined process involving grounding activities such as spending time alone, in nature, and practicing yoga. When I have balance, my thoughts, energies, emotions, and actions are congruent. Without balance, I wrestle with internal conflict and lack clarity in decision-making. It is not uncommon to silence this low frequency hum of discordance, put balance on the back burner, and tell myself, "There is no time—Cardiology. . . exercise, the kids, organizing my closet, etc., is more important." The truth is balance is the foundation for everything else. What if instead of silencing signals of imbalance, we listened more closely?
The ACC Health Policy Statement on Career Flexibility in Cardiology published in JACC November 2022 gives members of the field permission to make this shift. Cardiology has a reputation for lacking balance and in this statement, and the ACC is calling for change. It offers concrete strategies to improve work-life balance by allowing more individualization in cardiology careers. The authors highlight "allow[ing] both men and women to reconcile training requirements and the demands of practice with parenthood and family life" as a primary goal. The first time I read the statement, adrenaline coursed through my system. I felt validated, inspired, and excited to be part of this evolution of cardiology. I forwarded it to colleagues and faculty to encourage active participation in implementing the strategies and changing the culture of cardiology.
Integrating more balance in cardiology begins with individual members of the work force. It starts with members taking time for self-reflection:
Identify what balance means for you.
Determine if you have balance.
If not, prioritize achieving it.
Be vocal about what you discover is necessary to achieve balance. Ask for what you need from your department and help others shape individualized careers in cardiology.  Together, we can make balance the new standard in cardiology.
This article was authored by Lauren Hunter, MD, an FIT at Einstein Health Network, Philadelphia PA.
This content was developed independently from the content developed for ACC.org. This content was not reviewed by the American College of Cardiology (ACC) for medical accuracy and the content is provided on an "as is" basis. Inclusion on ACC.org does not constitute a guarantee or endorsement by the ACC and ACC makes no warranty that the content is accurate, complete or error-free. The content is not a substitute for personalized medical advice and is not intended to be used as the sole basis for making individualized medical or health-related decisions. Statements or opinions expressed in this content reflect the views of the authors and do not reflect the official policy of ACC.