Mentoring For a Reason, a Season and a Lifetime
The hardest battle I've had to face is the one I fight with myself every day. Being in medical school is a substantial feat, and it is one that comes with its own unique challenges. I know that I'm not alone in feeling this way, as I've heard countless of my classmates express these very same feelings of inadequacy. The nagging feeling in the back of our heads that we don't belong here. The persistent thought that we aren't good enough, no matter how hard we push ourselves. Before you know it, amidst the whirlwind of medical school, the notion of imposter syndrome begins to settle in. Since I began medical school, there have been many times when I've felt as if I've lost my purpose and questioned whether this was the right profession for me. As I entered my clinical years, I continued to question myself and my career choice and discovered that the passion I once had for medicine had begun to wither away. While I hoped to outgrow these feelings, after completing a year of clinicals, I still felt no different. The turning point in my medical school experience was the beginning of my fourth year, when I was able to play a larger role in selecting my rotations and decided to complete one in cardiology. A few months prior, I had seen Amanda Lyon, MD, for episodes of syncope. As I left the appointment, I remember being struck by the experience and thinking, "That is the kind of physician I want to be." Recalling that feeling, I reached out to Lyon, and knowing I am a medical student, she immediately offered to have me join her for a rotation. Though I didn't know it at the time, this was the beginning of a major change in my career path.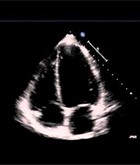 I've often heard about the difference a good mentor can make in one's life, but as someone who's never experienced such a relationship before, I never gave much thought to how a mentor would affect my own life. Within the first week I spent on rotation with Lyon, she both reignited my previously withering passion for medicine and ignited a new one for cardiology. I spent the next few weeks in awe of her interactions with her patients and how she takes care of them, from a 25-year-old woman with syncope (much like myself) to an 85-year-old man with heart failure, and everyone else in between. In addition to fulfilling all of these responsibilities, she also took the time to share her knowledge and teach me along the way, going over a multitude of EKG findings including their significance and treatment options. At every new learning opportunity, Lyon coordinated with staff and arranged for me to join as well. Due to her efforts, I had the opportunity to meet and work with interventional cardiologists in the catheterization laboratory, electrophysiologists, and cardiac technicians performing echocardiograms and stress tests. She constantly found something new to teach me, whether it was learning to read echos and nuclear scans or helping prepare tools and patients undergoing TEE and cardioversions. She always created space on the care team for me, the learner, which is a crucial trait of a good mentor. I was always included and welcomed to learn. She encouraged me at every step and never hesitated to repeat a concept that was difficult for me to grasp. During patient encounters, she would often introduce me as a future cardiologist and always saw potential in me that I never saw in myself. It was during my rotation with Lyon that I truly understood the impact a good mentor can make. Her enthusiasm for the field of cardiology never ceased to amaze me and my time spent on this rotation made me realize my true interest in this vast and beautiful realm encompassing the heart.
Throughout our conversations, one of the themes we regularly discussed was being women in medicine. She shared with me the challenges that come with being a woman in medicine and balancing her roles as a physician, wife and mother to two kids. She not only told me it was possible but also exemplified it in her actions on a daily basis. Her candor, wit and keen sense of self are just some of the qualities that make her a hallmark of a good mentor. I learned from her not only what a good physician is, but also an exceptional cardiologist. As I began to delve more into the path of becoming a cardiologist, I was initially overwhelmed in this new territory, but Lyon continued to provide encouragement and acted as a constant source for inspiration. She guided me to many resources and encouraged me to join the ACC. I have now come to realize that a truly great mentor is hard to find, difficult to part with, and impossible to forget. The battle within me continues, but the fight is much easier knowing that there are people in your corner rooting for your success. Many people say that the sky is the limit but, Lyon was one of the first to make me truly believe it.
Acknowledgements: I would like to thank Amanda Lyon, MD, for her continuous encouragement and support. You are worthy of emulation and I am privileged to have you as a mentor.
This content was developed independently from the content developed for ACC.org. This content was not reviewed by the American College of Cardiology (ACC) for medical accuracy and the content is provided on an "as is" basis. Inclusion on ACC.org does not constitute a guarantee or endorsement by the ACC and ACC makes no warranty that the content is accurate, complete or error-free. The content is not a substitute for personalized medical advice and is not intended to be used as the sole basis for making individualized medical or health-related decisions. Statements or opinions expressed in this content reflect the views of the authors and do not reflect the official policy of ACC.
The article was authored by Ahila Alexandria, BS, Marian University College of Osteopathic Medicine, Class of 2021.