A Certain Cardiologist
My last week as Dr. Cantwell's medical assistant. Pictured left to right: Dr. Cantwell, Carolyn, his longtime RN, and me.
Many physicians have influenced my journey in medicine thus far. But amid completing my residency applications, I feel a great sense of gratitude for a certain cardiologist: John Cantwell, MD, FACC. From being his medical assistant to rotating with him as a medical student, my experiences with Dr. Cantwell have inspired me to choose a field that will satisfy my thirst for knowledge and my desire to form strong patient relationships – just as cardiology has done for him.
Dr. Cantwell recently celebrated his eightieth birthday in his office at Piedmont Heart Institute. Some may describe him as "old school." Personally, I am continually amazed by his commitment to his work and, more uniquely, to both the science and humanism of medicine. He taught me how to write in-depth patient histories and perform a physical exam. I often (silently) thanked him during clinical skills assessments. He frequently shares articles with patients, from topics like palpitations to those he had written about traveling – patients enjoy seeing what "homework" the doc had assigned to them that day. I also accumulated my share of homework – parting with a four-inch binder at the end of the year as his medical assistant. He takes his notes on paper, sitting across from the patient and never at a computer. He listens well and always remembers – not just their rare heart condition but family events as simple as when they became a grandparent. His "old school" tendencies are what patients love the most.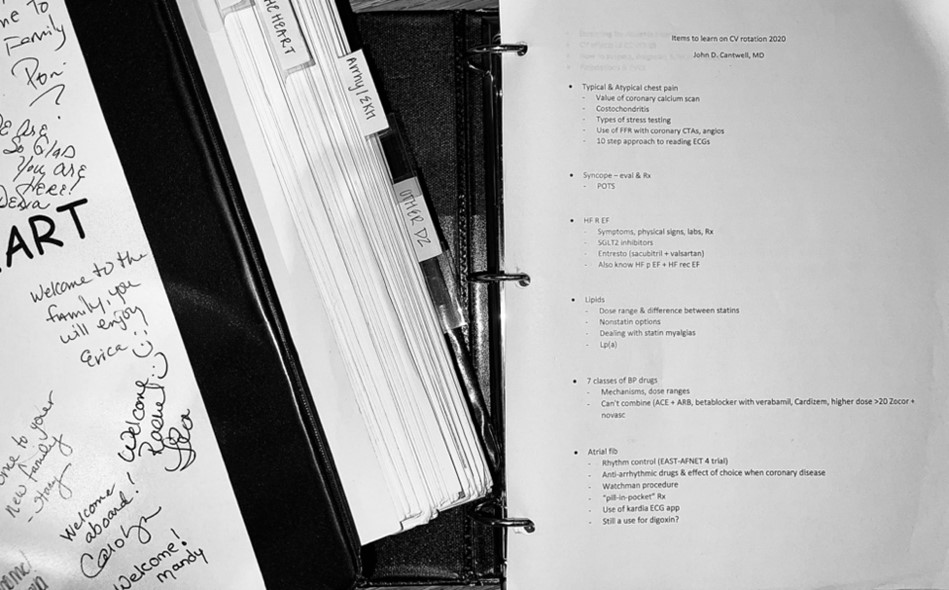 Left: A peek into my "homework;" Right: guide for a third-year cardiology rotation.
In my first week on the wards as a third-year student, I saw patients with diabetic ketoacidosis (DKA), sepsis, sigmoid volvulus, GI bleeds and cardiac arrhythmias. I was exposed to the problem-solving process involved in treating patients with multiple comorbidities, as well as the energy and compassion needed to care for patients as a whole. I also loved the educational and team-centered atmosphere – learning from residents, rounding with attendings, and presenting at journal club lunches. Thinking back to my first patient with DKA, we spent hours discussing the complexities of treatment while in the ICU, calculating total daily insulin, and tailoring our treatment to the patients' specific electrolyte derangements and other needs. But we also spent time educating him on insulin use and the importance of managing his diagnosis. I have found that, like my cardiology mentor, my interest in medicine is rooted in ever-evolving science and consistent humanity.
Virtual Good Samaritan Clinic during Cardiology Rotation with Dr. Cantwell as a third-year medical student.
After the passing of one of Dr. Cantwell's own mentors, whose photo sits above his examining table, he was quoted in an Atlanta Journal-Constitution article remarking, "It's to remind me of all the things he considered to be 'musts': to do thorough examinations, to keep accurate records, to be an educator myself and pass knowledge on to nurses and patients, to be more than a cardiologist." Just as he took time to educate me about his own mentors, such as the aforementioned great J. Willis Hurst, MD, and their accomplishments in the field of medicine and beyond – I look forward to doing the same. I will always remember Dr. Cantwell's "musts" and will strive to echo his passion for medicine and a humanistic approach.
It has been my privilege to work with this certain cardiologist.
This article was authored by Rachel D. Check, BS, DO Candidate, Class of 2022, Philadelphia College of Osteopathic Medicine, Georgia Campus.
This content was developed independently from the content developed for ACC.org. This content was not reviewed by the American College of Cardiology (ACC) for medical accuracy and the content is provided on an "as is" basis. Inclusion on ACC.org does not constitute a guarantee or endorsement by the ACC and ACC makes no warranty that the content is accurate, complete or error-free. The content is not a substitute for personalized medical advice and is not intended to be used as the sole basis for making individualized medical or health-related decisions. Statements or opinions expressed in this content reflect the views of the authors and do not reflect the official policy of ACC.