January 2022 Florida Chapter WIC Meeting: How to Be Valued and Represent You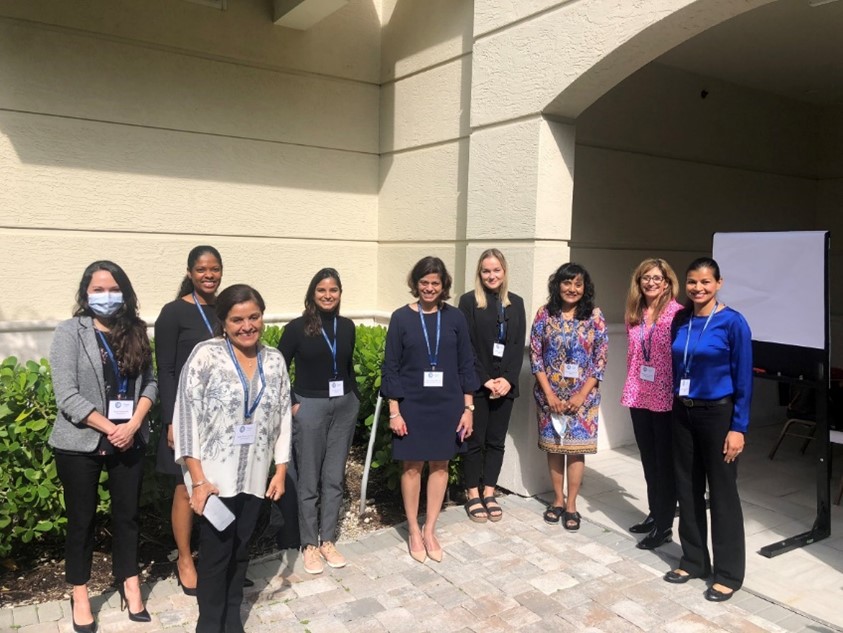 The January 2022 ACC Florida Chapter WIC conference took place in Aventura, Florida, where many strong and hard-working women at various stages on their cardiology paths gathered to discuss issues and solutions on "how to be valued and represent you."
As an incoming internal medicine resident, this was one of the first ACC conferences I have attended. I am very thankful to have been invited by Shona Velamakanni, MD, FACC, the Florida WIC Chair.
I was excited to see so many women ahead of me on this path of cardiology, one that I hope to join. These fantastic mentors are great examples of the impact female physicians can make within healthcare and, specifically, cardiology.
It was an inspiring and educational experience to be surrounded by physicians dedicated to optimizing work conditions and uniting as a team to create a positive change, which will further inspire young female medical professionals like me to pursue cardiology.
We had the honor of welcoming Garima Sharma, MD, FACC, the Maryland ACC Governor, to deliver a keynote address reviewing the data on the state of women in cardiology.
I was empowered by the focus of her presentation, as it acknowledged the current gender disparities and discussed concrete ideas to level the playing field and prescribe goals for the future.
We discussed many topics ranging from compensation to work-life balance, mentoring and representation. We discussed actual solutions. I was heartened to see these issues being tackled by my peers and predecessors, knowing that my path forward may be an easier one because of these actions.
One of the aspects of the presentation that stood out to me was the low percentage of women cardiology fellows and underrepresented minorities. This lack of diversity led to a discussion on establishing mentorship programs at an earlier stage for underrepresented minority groups.
It is clear the WIC Section is dedicated to diversity and inclusion and is determined to create an educational and informative space to further open opportunities for young professionals like me and to provide us the guidance and support we need to be successful.
I most enjoyed participating in the "real life" discussions panel. Being surrounded by empowering women who shared their stories about their personal and professional struggles they encountered and overcame – all the while becoming stronger – was truly inspiring. We also discussed contract clauses and details needed to negotiate a work contract. I found this very educational and hope this information will allow me to optimize my schedule and balance my work responsibilities going forward and flourish as a future female cardiologist.
As an incoming resident, I realized I was unaware of many of the matters discussed before attending this meeting. Being in a space where female physicians come together and bring many ideas to the table further motivates my interest to pursue a career in cardiology. I believe that meetings like these that invite students and residents, as well, will further encourage young women to start on the path toward cardiology and stay. The female physicians I met make fantastic mentors that set a strong foundation for success and growth. I'm so thankful for the opportunity to have attended this conference, and I look forward to the future meetings and plans WIC has on the horizon.
This article was authored by Gabriela Noronawicz, MD.
This content was developed independently from the content developed for ACC.org. This content was not reviewed by the American College of Cardiology (ACC) for medical accuracy and the content is provided on an "as is" basis. Inclusion on ACC.org does not constitute a guarantee or endorsement by the ACC and ACC makes no warranty that the content is accurate, complete or error-free. The content is not a substitute for personalized medical advice and is not intended to be used as the sole basis for making individualized medical or health-related decisions. Statements or opinions expressed in this content reflect the views of the authors and do not reflect the official policy of ACC.