C. Michael Valentine, MD, FACC: Incoming President Convocation Address at ACC.18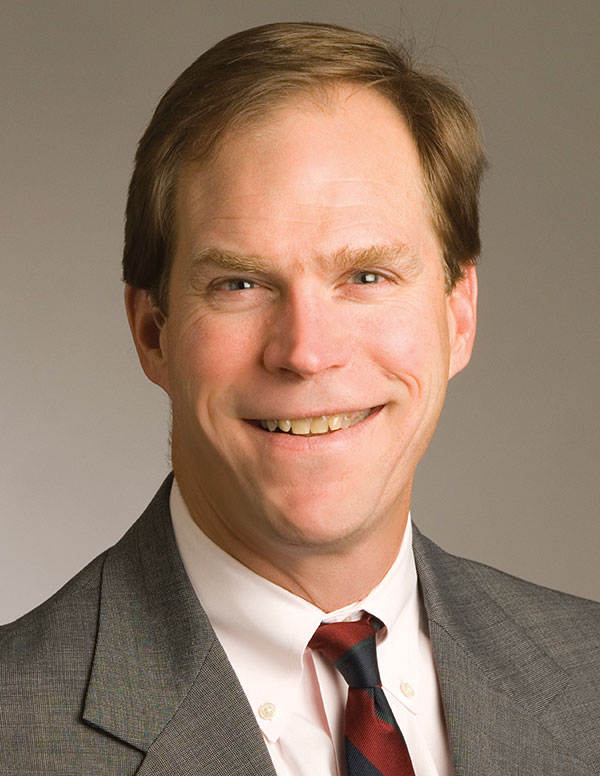 Distinguished dais, newly-elected Fellows and Associates of the College, Past Presidents, Board of Trustees (BOT), Board of Governors (BOG), Assembly of International Governors and leaders, members of the College, ACC staff, family, guests and friends. Thank you for the tremendous honor and privilege of serving, and of addressing you here tonight.
You also honor my partners and co-workers at Centra in Lynchburg, VA, many of whom are with us. I am but a small part of that tremendous health system team.
So what is a Convocation? The word derives from the Latin convocare, which means "to come together." Given that we live in a world, country, and even specialty, that is often divided, times like this are vital to remind us of all the reasons that we should – and must – come together.
The four themes of tonight's Convocation are tradition, celebration, transition, and renewal. Many of the traditions of the College are on display this weekend.
This meeting in and of itself is a tradition. Our first scientific session was held in New York in 1951 with the goal of bringing academic and practicing cardiologists together in an ideal learning environment. The future of the College was completely unknown.
Today, we honor the vision of our then leaders and first Annual Scientific Session participants. Tonight's gowns, seal, placing of the mace, and even the passing of the Presidential Chain first worn 55 years ago and created by one of our founders, Dr. Philip Reichert, all honor the past.
In 1961, the world's most iconic clinical cardiologist, Paul Dudley White, MD, stated that "the ACC was at the beginning a miserable organization, but I can see that perhaps it is headed for better days." Indeed, it was!
We are now an organization of more than 52,000 members from around the world, with an outstanding staff of more than 500 led by our new Interim CEO Cathy Gates.
Building on tradition, we come together tonight to celebrate. We celebrate the many award winners and International leaders seated before you on the dais. Our sincere gratitude goes to each of you for your outstanding contributions in research, publications, teaching, and mentorship. We are all better because of you.
We also celebrate those seated in our front and center rows, who represent the College's newest Associates and Fellows. It has taken many difficult years to reach this milestone, and we are honored that you have chosen to become an even more important part of the College. Tonight, is not only a celebration with you, but for you!
I would ask that you take a moment to look to your left and behind you. You will see the family and friends that have supported you on this journey and who lift you up every day.
I see Shannon Valentine, my soulmate, who endured hundreds of nights on call, my absence from events and family dinners, and many weekends away at ACC functions. She has taught me so much in life, including how to speak politely on the phone when paged to the ER at 3 a.m.
Next to her are Catherine, Jack, and Brooke, who once asked where the Annual ACC Retreat would be held, knowing that it would be the location of their summer vacation. Fortunately, they have retained many more of their mother's qualities than mine. Thank you all for guiding me every day.
In addition to spouses, partners and children, many of you are joined here tonight by your parents and possibly even siblings. Your parents' hard work, sacrifice and discipline made it possible for you to be with us.
My father was a quiet, solo internist who served in the Second World War, and never once complained about his long hours in practice. My mother was a cattle rancher who tolerated only the best efforts at all times from all four of her boys. They would be smiling from the front row if they were with us.
I am fortunate to have my brother Dick, and his wife Cherry with me tonight. Their decision to return to our small Georgia hometown to take care of our parents allowed me to pursue this dream. Dick, you became my George Bailey from "It's a Wonderful Life." Thank you!
We are also better because of our friends and colleagues. I am thankful to have some of my closest friends and partners here.
Thomas Nygaard, MD, and Carl Moore, MD, not only offered gainful employment in 1989, but lessons and skills that would serve me for the next 30 years in practice. They, along with others like Chad Hoyt, MD, FACC, and Daniel Carey, MD, FACC, have not only doubled many of my greatest joys, but also carried me through some of the most difficult times. Anyone spending many years in the cath lab understands the pain that I describe. They taught me often how important it is to love and respect my partners, as I would be with them far more than my own family.
I would like for you now to look over to your right and straight ahead to the leaders on this dais. These men and women are our teachers, researchers, and some of the greatest scientists of our generation.
Like Lewis Barnett, MD — a kind, country doctor, who became chair of family medicine at the University of Virginia. He not only taught me science, but also the subtle art of active listening and reasoning with suffering patients. He even wrote me letters throughout my residency to let me know that he was still with me. Having that one true confidante in medical school often determines our direction and future success.
The leaders in this room and others before them have advanced cardiovascular care with tremendous innovations and breakthrough technology. Because of them, patients now have access to advances and treatments, including thrombolytic therapy, statins and ACE Inhibitors, PTCA, stents, ICDs, and LVADS. The list goes on.
As an intern, I was a witness to the first streptokinase for acute MI at Grady Hospital in Atlanta, and the charismatic Andreas Gruentzig, MD, FACC, teaching angioplasty at Emory.
These and other innovations have led to a 50 percent decrease in mortality from heart attack and stroke in the last 30 years, including a 35 percent decrease in the last 15 years alone.
In their books that chronicle the history of cardiology and the ACC, Bruce Fye, MD, MACC, and John Harold, MD, MACC, both past presidents, called this period the "Golden Age of Cardiology" with arguably, "no parallel in the history of medicine."
More recently, innovation has also extended into the quality and equity of care.
There is Ralph Brindis, MD, MACC, who along with many other leaders, developed the National Cardiovascular Data Registry® and CathPCI Registry. They refused to give up when many gave the registry little chance to survive. The ACC Board even crafted an exit strategy. What vision and what drive!
Pamela Douglas, MD, MACC, is another example of an innovative leader whose passion for clinical research, workforce diversity and inclusion, and leadership development not only leads the way for us now, but for our next generation as well. Look at the Leadership Academy that she and Bo Walpole envisioned 10 years ago.
Near them is John Brush, Jr., MD, FACC, who along with Harlan Krumholz, MD, SM, FACC, led the ACC's Door-to-Balloon Alliance in 2006. The D2B Alliance, reaching 1,100 hospitals worldwide. Simple, easy to use quality tools not only saved time, but thousands of patient lives. He also authored our first pay-for-performance papers leading the way for the conversion of volume to value 10 years ago.
And then there are David Holmes, MD, PhD, MACC, and Michael Mack, MD, FACC, These men had the insight to join the ACC and the Society for Thoracic Surgeons in partnership to SET the quality standards for TAVR. And look at the efforts in prevention and population health management, under the leadership of doctors like Pamela Morris, MD, FACC, Valentin Fuster, MD, PhD, MACC, Kim Allan Williams, Sr., MD, MACC, and Janet Wright, MD, FACC, a former Trustee. Their work is driving change. Can the ABCs of aspirin, blood pressure, cholesterol and smoking save a Million Lives here … and in developing countries?
But, there is even more to celebrate. These innovators, scientists and teachers are also our mentors.
James T. Dove, MD, MACC, was a 'Father Figure' to so many, including myself. And he was the essence of the quote from Thomas Jefferson: "One man with courage becomes a majority."
Jim had the vision and courage to drive change in the College, not only as the champion for cardiovascular team membership, but also for International growth and expansion of our chapter system.
Jim reminded us that what we say matters, and that you do not have to be loud to lead. It is because of mentors like Dove, Brindis, Douglas, and especially Rick Chazal, MD, MACC, that I am standing before you tonight in gratitude.
Unfortunately, all that we leave you is not golden. The transition that the cardiovascular professions — and therefore you — will face in the coming years will not be easy.
The growth of non-communicable diseases in developing countries is staggering. While we have made headway in raising awareness about the impacts of risk factors like smoking and diet on cardiovascular health, we still have so much to overcome.
We continue to export our western habits, and the epidemic of diabetes and obesity soars. In addition, the cost of our technology and medications has out-paced our ability to pay, worldwide. Our own health care in the U.S. closes in on 20 percent of the nation's GDP, with a steadily declining rank in outcomes.
And, the search for the Holy Grail of quality and value has burdened every member with endless computer and administrative tasks, with little proof that we have improved the care delivered to our patients.
The physician burnout rate is approaching 50 percent, with cardiology ranking among the highest. There are questions about a workforce gap, and our ability to fill this need.
Hospital-physician integration has led to the employment of almost three-fourths of our members, with many experiencing the loss of control over their schedules, patients and lives.
Many look to the College for help — and rightfully so. Transition should also bring hope.
Fortunately, the College's BOT and BOG is composed of members that experience the same daily burdens. Our current priorities include a plan to develop a realistic health system strategy that interfaces more directly with employers, so that the College has an even bigger role in how care is delivered, and transformed. We will also strive to deliver the simple tools and best practices necessary to improve the lives of the entire cardiovascular care team.
Helping members navigate difficult transitions is also at the core of our next Strategic Plan, which is very close to completion. This plan will guide the College from 2019-2023, and centers around the Quadruple Aim — meaning we must improve the well-being of our clinicians first, so that administrative tasks and burnout no longer prevent the delivery of the highest quality care, which is Goal #1 of the new strategic plan.
We must also drive actionable knowledge to the point of care, so that every member is equipped to follow current guidelines and appropriate use criteria. This will improve the quality and equity of our care, which are goals #2 and #3 of our next Strategic Plan. Our teams and committees are building the potential solutions over the next 3 months.
Thomas Jefferson also said: "I like the dreams of the future better than the history of the past."
So, I ask you to dream with me now. Dream about successful transitions. What is possible?
An innovation strategy from John Rumsfeld, MD, FACC's team that brings the technology winners of our own version of Shark Tank to partner with us to overcome interoperability issues and document seamlessly from your phone. We witnessed an app both here and at the CV Summit 2018 that dramatically drops readmission rates.
A completely personalized web site that provides you with the CV data and information you desire and need — wherever you are. We are so close.
Mobile apps that put ACC and AHA clinical guidelines at your fingertips. Others like the new ACC Connect app that can help you easily find other ACC members in an expanded data base.
Imagine personal relationships with health systems that bring together our many Quality Initiatives in simple 'how to' toolkits for dyad leaders, who then join our rapidly expanding administrative and executive section.
International partnerships that truly look at global health and that build databases for Train the Trainer programs like the one I've had the privilege to work with in Tanzania. These programs have the potential to involve every segment of our membership-from Fellows in Training to those nearing the end of their careers. Giving back decreases burnout and enhances millennial buy-in.
Our Health Affairs group working closely with Centers for Medicare and Medicaid Services and the Center for Medicare and Medicaid Innovation on transitioning from volume to value. Continuous efforts to identify and implement electronic health record solutions.
And finally, a continuous learning solution that may help solve the Maintenance of Certification dilemma for members on both sides of the debate — an effort that has been all encompassing and is so close to reality.
Let's all work together towards these dreams. Let's be the professional home for the next generation. Let's make our new ACC vision — a world where innovation and knowledge optimize cardiovascular care and outcomes — a reality!
As I was preparing the closing words of this address last week, a letter arrived to me from Pascha Schafer, MD, FACC, an early career member who recently completed the ACC Leadership Academy and is here with us tonight. I would like to read you an excerpt from her letter. She stated what I wanted to say so much more eloquently than could I:
"I have reflected a great deal over my leadership journey these past two years. I am certain the ACC Leadership Academy has been a pivotal experience in my career and my life. The knowledge and skills we developed have equipped us for key leadership roles in our current health care revolution…as we enter a time of widespread innovation during the transformation to a high reliability health system of true value for all people. I am awe-inspired by the talent of this group of young ACC Leaders. The future of health care is so much brighter because of them, and I am confident that I speak for the entire group when I say… we are just getting started!"
This is the renewal we are all seeking and the final goal of our next Strategic Plan.
So, innovators, scientists, teachers, teammates, leaders, and especially our mentors, let us go forth tonight and celebrate together what may truly be just the beginning of the Golden Age of Cardiology.
Congratulations to all, and thank you.
Keywords: ACC Publications, ACC Scientific Session Newspaper, ACC Annual Scientific Session
< Back to Listings