2020 Convocation Remarks: Incoming ACC President Athena Poppas, MD, FACC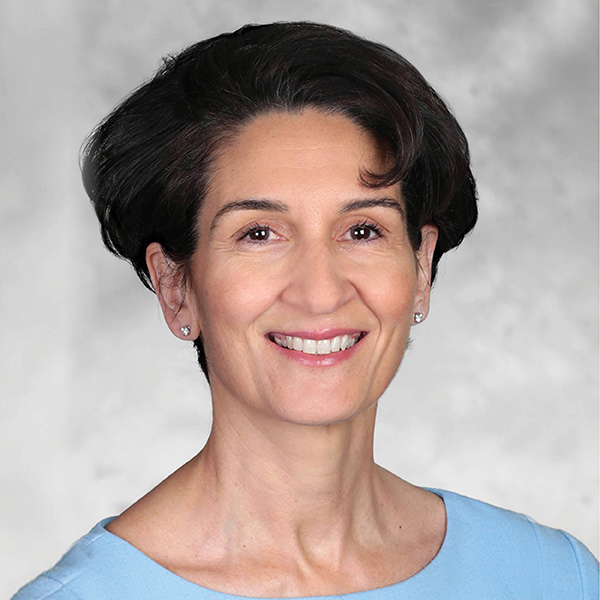 Greetings from Providence, Rhode Island!
When I was planning for this speech to take place in Chicago, I wanted to focus on the concept of change and the ways in which our world, our lives and our professions are not static. I wanted to talk about how what we've learned to date may be outmoded tomorrow or even next year. I wanted to talk about the importance of leading through change and driving our profession forward in the best interests of our patients.
However, as I was pulling these thoughts together only a few short weeks ago, I had no idea just how much and how quickly change would be upon us. The global COVID-19 pandemic has changed our conversation and continues to change society.
What I am so proud of is the way the ACC community around the world has come together at every level to help navigate emerging science to provide clinical guidance based on what we are learning every day about this disease, to advocate for health policy measures that protect patients, as well as clinicians on the front lines; and so much more.
I am awed – but not surprised – by the professionalism, collaboration and team work so prevalent everywhere I turn locally, nationally and internationally. A recent webinar with our partners in China – some of whom were presenting from the hospital floor – drew almost 20,000 viewers in over 60 countries and provided an opportunity to virtually share information and ask critical questions about COVID-19 and our patients. This is unprecedented. Similarly, the ACC.20/WCC virtual experience you just had is another example of the ACC and the global community rapidly coming together in a time of change and uncertainty to continue to deliver science and education so critical to our profession and our patients, especially now.
For those of you who are new fellows and associates of the College, I am so sorry we are not here in person. We will celebrate next year. This is your ACC at its finest. During this time of change – and sometimes seemingly daunting challenges – we are here for you, your patients and your communities. Our commitment to advocacy, education and science will not wane.
You are joining the College at a time when we need you the most. We need your individual talents, your diverse perspectives and ideas. We need your research, your leadership and your passion to help patients. Bring your whole self to our profession to help us navigate this "new normal."
For those who don't know me, I am the daughter of an immigrant from Greece, and my mother was an investigative journalist who fought for equal pay and equal work in the 1950s. My parents and my supportive mentors helped make me who I am: a cardiologist, an educator and an advocate for change. I am also a mother of three amazing children and a wife of a wonderful husband.
This is who I am, and I bring my whole self to my new role as president. None of us know what the next few months or even the next year will look like. However, we do know that together we will get through this. This is your College. We are stronger because of our respective pasts and our shared commitment to creating a world where innovation and knowledge optimize cardiovascular care and outcomes. We are living this vision in ways we would never have imagined, even a month ago.
Thank you for what you are doing each and every day to protect and care for your patients and your communities, and, most importantly, take care of yourselves. The year ahead will require sustained courage and compassion. I look forward to working with all of you.
Clinical Topics: Acute Coronary Syndromes, Anticoagulation Management, Arrhythmias and Clinical EP, Cardiac Surgery, Congenital Heart Disease and Pediatric Cardiology, Diabetes and Cardiometabolic Disease, Dyslipidemia, Geriatric Cardiology, Heart Failure and Cardiomyopathies, Invasive Cardiovascular Angiography and Intervention, Noninvasive Imaging, Pericardial Disease, Prevention, Pulmonary Hypertension and Venous Thromboembolism, Sports and Exercise Cardiology, Stable Ischemic Heart Disease, Valvular Heart Disease, Vascular Medicine, Anticoagulation Management and ACS, Implantable Devices, SCD/Ventricular Arrhythmias, Atrial Fibrillation/Supraventricular Arrhythmias, Cardiac Surgery and Arrhythmias, Cardiac Surgery and CHD and Pediatrics, Cardiac Surgery and Heart Failure, Cardiac Surgery and SIHD, Cardiac Surgery and VHD, Congenital Heart Disease, CHD and Pediatrics and Arrhythmias, CHD and Pediatrics and Imaging, CHD and Pediatrics and Interventions, CHD and Pediatrics and Prevention, Acute Heart Failure, Pulmonary Hypertension, Interventions and ACS, Interventions and Imaging, Interventions and Structural Heart Disease, Interventions and Vascular Medicine, Angiography, Nuclear Imaging, Sleep Apnea, Sports and Exercise and Congenital Heart Disease and Pediatric Cardiology, Sports and Exercise and ECG and Stress Testing, Sports and Exercise and Imaging, Chronic Angina
Keywords: ACC Publications, ACC Scientific Session Newspaper, ACC Scientific Session Newspaper 2020, ACC Annual Scientific Session, acc20, Acute Coronary Syndrome, Anticoagulants, Arrhythmias, Cardiac, Cardiac Surgical Procedures, Metabolic Syndrome X, Angina, Stable, Heart Defects, Congenital, Dyslipidemias, Geriatrics, Heart Failure, Angiography, Diagnostic Imaging, Pericarditis, Secondary Prevention, Hypertension, Pulmonary, Hypertension, Pulmonary, Sleep Apnea Syndromes, Sports, Angina, Stable, Exercise Test, Heart Valve Diseases, Aneurysm, Fellows in Training, ACC International, COVID-19, Coronavirus, Coronavirus Infections
< Back to Listings