As the College's more than 500 employees work to support the ACC Mission to transform cardiovascular care and improve heart health, they are led by an executive staff leadership team. Learn more about ACC's staff leaders:
Quick Links: Cathleen C. Gates • Lisa M. Hix, JD • Brendan Mullen • Janice B. Sibley • Ravee Kurian • Ami B. Bhatt, MD, FACC • Melvin R. Echols, MD, FACC • Nicola F. Kennedy, MA, PHR, SHRM-CP • Richard Kovacs, MD, MACC • Jerry Blackwell, MD, MBA, FACC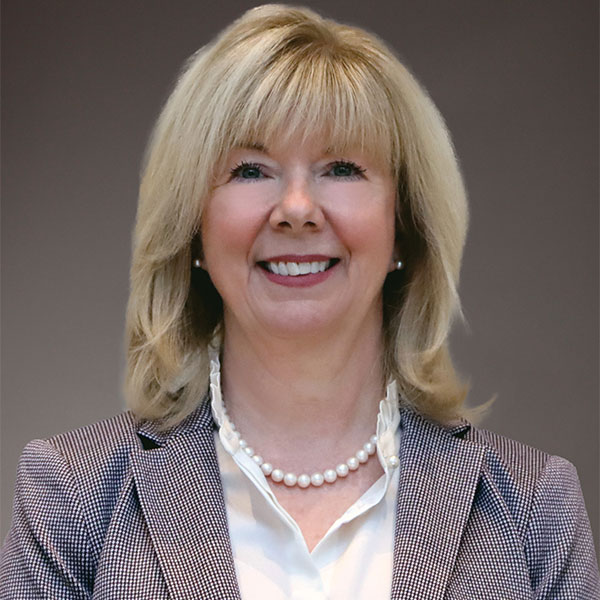 Cathleen C. Gates
CEO
Cathleen C. Gates serves as Chief Executive Officer of the American College of Cardiology. During her more than 30-year tenure at the ACC, Gates has served in a variety of roles, including interim CEO, Chief Operating Officer, chief financial officer and chief people officer. As CEO, Gates works closely with ACC's leaders and more than 500 staff to deliver on the College's strategic goals and meet the needs of the College's more than 54,000 members worldwide.
Among her biggest accomplishments, Gates spearheaded ACC's move from its Heart House headquarters in Bethesda, MD, to Washington, DC; served as executive sponsor for the College's first diversity and inclusion program; was instrumental in ACC being named a Modern Healthcare Top 100 Best Places to Work; and has played a critical leadership role in the College's response to the COVID-19 pandemic.
Prior to joining ACC, Gates supervised financial and Securities and Exchange Commission reporting for three publicly held real estate investment trusts. She also served as a certified public accountant at Ernst and Young, where her client focus was health care and real estate. She is a member of the American College of Healthcare Executives, the Society for Human Resource Management, the American Institute of Certified Public Accountants and the Maryland Association of Certified Public Accountants.
Lisa M. Hix, JD
General Counsel
Lisa M. Hix, JD, is the General Counsel of the American College of Cardiology. Hix has more than 15 years of experience as a nonprofit and corporate attorney, specializing in a broad range of legal issues affecting charities and health care institutions. Before joining the ACC, she was a partner with Venable, LLP in its Nonprofit and Trade Associations Practice, where she represented numerous health care organizations.
She earned her bachelor's degree from Smith College and a law degree from Duke University School of Law, where she was an editor of the Duke Journal of International and Comparative Law. Hix is a member of the D.C. Bar.
Brendan Mullen
Senior Executive Vice President
Brendan Mullen is Senior Executive Vice President of the American College of Cardiology, overseeing marketing and communications, business development, digital and enterprise strategy, and international affairs and science and quality.
Mullen originally joined the ACC in 2008 as director of strategic planning and later was the senior director for the PINNACLE Registry. During his time at the ACC, Mullen has been involved in the conception and development of the College's positions and programs relating to health care reform, payment reform and quality improvement. Mullen has written on a broad range of topics in health care but is most proud of the editorials and articles in the Annals of Internal Medicine and the Journal of the American College of Cardiology that he co-authored with ACC members. Before joining the ACC, Mullen worked for nearly 10 years as a consultant for the Advisory Board Company, a health care research and consulting firm largely focused on hospital and health system strategy and operations. He also served as vice president of Programs and Strategy at the National Quality Forum.
Janice B. Sibley
Executive Vice President
Janice B. Sibley is Executive Vice President at the American College of Cardiology. Her areas of responsibility are education, publishing, and enterprise content and digital strategy.
In her role for education, Sibley oversees a global array of ACC educational programs, products and learning support systems. These include in-person educational programs, online and mobile systems-based education, self-assessment and skills-based practice products and professional conferences such as the ACC Annual Scientific Session and the ACC Annual International Conferences hosted in the Latin America, Middle East and Asia Pacific regions of the world. For publishing, Sibley oversees ACC's Journal of the American College of Cardiology (JACC) collection of peer-reviewed journals, including all editorial operations and publication management as well as advertising and content commercialization efforts associated with the collection. For enterprise content and digital strategy, Sibley oversees the organization, management, and dissemination of the College's knowledge-based digital content assets.
Sibley has been with the ACC for 11 years and has worked in scientific and continuing medical education for more than 30 years. She has published and spoken professionally on a variety of topics including systematic instructional design, competency-based learning and continuing professional development in the healthcare sector. She holds a Master of Science degree in the Biological Sciences as well as a Master of Arts degree in Educational Technology and Instructional Design from San Diego State University, where she pioneered some of the first educational software programs for desktop computer-based learning systems.
Ravee Kurian
Executive Vice President, COO and CFO
Ravee Kurian is Executive Vice President at the American College of Cardiology with responsibility for strategic planning, finance, and technology. In his role as COO and CFO, Ravee will also be working closely with the ACC's leadership team to advance the College's digital transformation initiatives.
Ravee comes to ACC following a 20-year stint at Publicis Sapient, a leading technology and communications consultancy. While there, he led critical and sensitive digital transformation initiatives for a broad range of Fortune 500 and U.S. Federal clients. His most recent experience has been at the National Institutes of Health (NIH) where he worked with researchers, physicians, and content strategists to develop a digital-first mindset that helped align their technology investments with how their audiences were interacting with their content. Over the course of his career, Ravee has worked in numerous industries ranging from aerospace to trucking to insurance to defense and most recently medical research. This broad exposure helps him see helpful parallels and draw insights from a wide variety of situations. Ravee has been a featured speaker on the topic of digital strategy and recently published a piece about delivering authoritative health content to patients, caregivers, and health professionals bypassing the chaotic, cluttered, and crowded public internet.
While at Publicis Sapient, Ravee also rose to the leadership of the Public Sector business unit and was responsible for the development of approximately 400 professionals; overseeing a diverse client portfolio; and delivering on annual financial targets.
Ravee's previous experience includes stints at Ernst & Young and at Landauer Associates, a real estate valuation and research firm. Ravee holds an MBA from the Kellogg School of Management at Northwestern University, and a BS from the University of Massachusetts at Amherst.
Ami B. Bhatt, MD, FACC
Chief Innovation Officer
Ami B. Bhatt, MD, FACC, is Chief Innovation Officer of the American College of Cardiology, effective January 2022. In her role, Bhatt provides leadership and expertise in health care innovation and continues to grow the College's comprehensive Innovation Program in support of the ACC's Mission to transform cardiovascular care and improve heart health.
Bhatt has been a member of the ACC for nearly 20 years and a member of the ACC's Health Care Innovation Section, as well as the College's Lifelong Learning Oversight Committee. As an active clinical cardiologist, investigator and educator Bhatt brings nearly 10 years of experience in telemedicine and digital health to her new role. She founded her first program in virtual care in 2013 and continues to work on creating culturally relevant personalized virtual cardiovascular care delivery models. Her research has centered on identifying and implementing solutions to overcoming access barriers to cardiovascular and telemedicine care.
A graduate from Harvard College and the Yale School of Medicine, Bhatt completed her medicine and pediatrics residency at Harvard, her adult cardiology fellowship at Brigham and Women's Hospital and her adult congenital heart disease and pulmonary hypertension fellowship at the Boston Children's Hospital. She most recently served as the director of Outpatient and Telecardiology at the Massachusetts General Hospital (MGH) Corrigan-Minehan Heart Center. While ACC CIO, Bhatt will continue clinical practice at MGH in adult congenital heart disease and teaching as an associate professor at Harvard Medical School.
Melvin R. Echols, MD, FACC
Chief Diversity, Equity and Inclusion Officer
Melvin R. Echols, MD, FACC, is the Chief Diversity, Equity and Inclusion Officer of the American College of Cardiology and leads the College's diversity, equity and inclusion strategy and programs. In his role, Echols works with ACC members, staff, external partners and other stakeholders to identify and implement programmatic goals and develop actionable and sustainable solutions to achieve a more diverse, equitable and inclusive College and cardiovascular profession.
Echols maintains a portion of his clinical and research responsibilities at Morehouse School of Medicine in Atlanta and is an associate professor of cardiovascular disease at Morehouse School of Medicine and serves as program director for the Cardiovascular Disease Fellowship. He is also a practicing cardiologist specializing in heart failure and brings more than a decade of experience as a clinical trial investigator focusing on heart failure, quality improvement, social determinants of health, and health care disparities.
Echols graduated from Morehouse School of Medicine in 2002 and completed Internal Medicine at Duke University in 2005. He completed his cardiovascular fellowship training at Duke University Medical Center. He is a member of the ACC, Association of Black Cardiologists, the Heart Failure Society of America, the American Society of Preventive Cardiology, and the American Heart Association.
Nicola F. Kennedy, MA, PHR, SHRM-CP
Chief People Officer
Nicola F. Kennedy, MA, PHR, SHRM-CP, is Chief People Officer of the American College of Cardiology. In her role, she manages the strategic oversight of the People Operations Division, including responsibility for People Resources and Engagement, People Development and Culture, and People Safety and Operations.
Kennedy has served at the College for more than 17 years, and brings to her role more than 25 years of experience in accounting and human resources. Her prior roles include serving in the accounting branch of Highmark Blue Cross Blue Shield in Camp Hill, PA, as well as human resources work for Mortgage Bankers Association in Washington, DC. Kennedy holds a Bachelor's Degree in Accounting from Delaware State University, and a Master's Degree in Human Resources Development from Bowie State University. Additionally, she holds a Society of Human Resources Management-Certified Professional (SHRM-CP) certification, a Professional in Human Resources® (PHR®) certification from the Human Resources Certification Institute (HRCI®), and a Diversity, Equity, and Inclusion Certificate from eCornell. Kennedy is a member of Society of Human Resources Management.
Richard Kovacs, MD, MACC
Chief Medical Officer
Richard Kovacs, MD, MACC, is the Chief Medical Officer of the American College of Cardiology. He serves as an advisor to the CEO and executive team, and is responsible for relationships with multiple specialty societies that collaborate with the ACC. He works closely with the senior staff on projects important to the advancement of the College's mission. Dr. Kovacs is a Past President of the American College of Cardiology (2019-2020). He also served as chair of the ACC Board of Governors and held leadership roles on the ACC's Science and Quality Committee, the Joint ACC/AHA Clinical Guidelines Taskforce and NCDR Management Board.
He is the Q.E. and Sally Russell Professor of Cardiology at Indiana University (IU) School of Medicine. He joined the Indiana University School of Medicine in 1986 as assistant professor, subsequently serving as the medical director and CEO of Methodist Research Institute. He also served as senior clinical research physician at the Lilly Research Laboratories of Eli Lilly and Company. He returned to the full time IU School of Medicine faculty in 2003. He continues to practice cardiology at the IU Academic Health Center in Indianapolis.
A graduate of the University of Chicago and the University of Cincinnati, School of Medicine, Kovacs completed medicine residency at IU Medical Center. His fellowship training also was at IU, where he served as chief fellow and chief medical resident.
As faculty at the IU School of Medicine, Kovacs has served as the associate dean for Clinical Research and associate director of the Indiana Clinical and Translational Sciences Institute. He has also served as chair of Institutional Review Board for the Biomedical Sciences and the chair of the IRB Executive Committee.
Kovacs's research interests include measuring and improving quality, drug safety and sports cardiology. He also oversees the cardiovascular evaluations of players at the Annual National Football League Scouting Combine.
Jerry Blackwell, MD, MBA, FACC
President and Chief Executive Officer, MedAxiom
Jerry Blackwell, MD, MBA, FACC, is President and Chief Executive Officer of MedAxiom, an ACC Company. Blackwell graduated from Marshall University's Joan C. Edwards School of Medicine and completed residency/chief residency/fellowship at the Ohio State University and the University of Alabama - Birmingham.
He earned his executive MBA from the University of Tennessee. He has more than 30 years of experience in cardiovascular medicine including academic cardiology, private practice and large integrated cardiovascular group leadership. Most recently, he served as executive vice president and chief clinical officer of the Ballad Health System.
Blackwell has a passion for physician leadership, teaching and care transformation – particularly team-based care and organizational performance improvement. He maintains a clinical practice with special interests in advanced imaging, including cardiovascular magnetic resonance imaging, cardiovascular CT angiography, and cardiac positron emission tomography.
Blackwell has been involved with both MedAxiom and the ACC for many years. He has served on the ACC's Board of Governors, the Board of Directors for the Cardiology Advocacy Alliance, and the ACC's Health Affairs Committee.