Quick Reads Feature | The Pulse of ACC
Global Model For QI Excellence, Global Heart Attack Initiative and More!
Collaborative Maintenance Pathway Enrollment Underway
Enrollment for the Collaborative Maintenance Pathway (CMP), the new assessment option for cardiologists wishing to maintain their American Board of Internal Medicine (ABIM) certification, is now open.
The CMP, announced by ACC and ABIM earlier this year, is designed to integrate lifelong learning with assessment and is delivered through ACCSAP.
Those considering the CMP for their assessment option in 2019, should purchase ACCSAP soon in order to have plenty of time to:
Enroll in the CMP. Enrollment opened Oct. 1. Spend 7 hours engaging in the topic of focus for this year (Arrhythmias). Take an online Performance Assessment during the weeks of Nov. 6-12 or Dec. 4-10.
ACCSAP features an abundance of education, including 600+ case-based practice questions, 130 modules of text and 50 video presentations from the ACC Cardiovascular Overview and Board Review Course for Certification and Recertification Course. Plus, it offers 160 CME/MOC credits!
Please note that clinicians with access to ACCSAP via an institutional subscription through
CardioSource Plus
must purchase an individual subscription to ACCSAP in order to participate in the CMP.
A New Face at Million Hearts
Laurence S. Sperling, MD, FACC, takes the helm of Million Hearts as the program's new executive director this month. A practicing cardiologist for more than 20 years, Sperling has published more than 300 articles and book chapters, and has served on numerous regional, national and international committees charged with addressing cardiovascular disease.
He is a past recipient of the ACC's Harry B. Graf Career Development Award for Heart Disease Prevention. While serving as the Million Hearts executive director, Sperling will continue to see patients and remain an active member of the Emory faculty as the Katz Professor in Preventive Cardiology and professor at the Rollins School of Public Health.
Calling All Early Birds
Early bird registration and housing for ACC.20 Together With World Congress of Cardiology ends on Nov. 6. Save money and get the best selection of hotels by booking early. The meeting will take place from Saturday, March 28 through Monday, March 30, 2020 in Chicago, IL.
Each year, the ACC's Annual Scientific Session brings together leading cardiovascular professionals from around the world to discuss and debate the latest science and research. ACC.20/WCC will be no different. Abstract and case submissions will close Oct. 28 at 1 p.m. (ET), while Late-Breaking Clinical Trial submissions will be accepted starting Nov. 5 through Dec. 17.
Leading By Example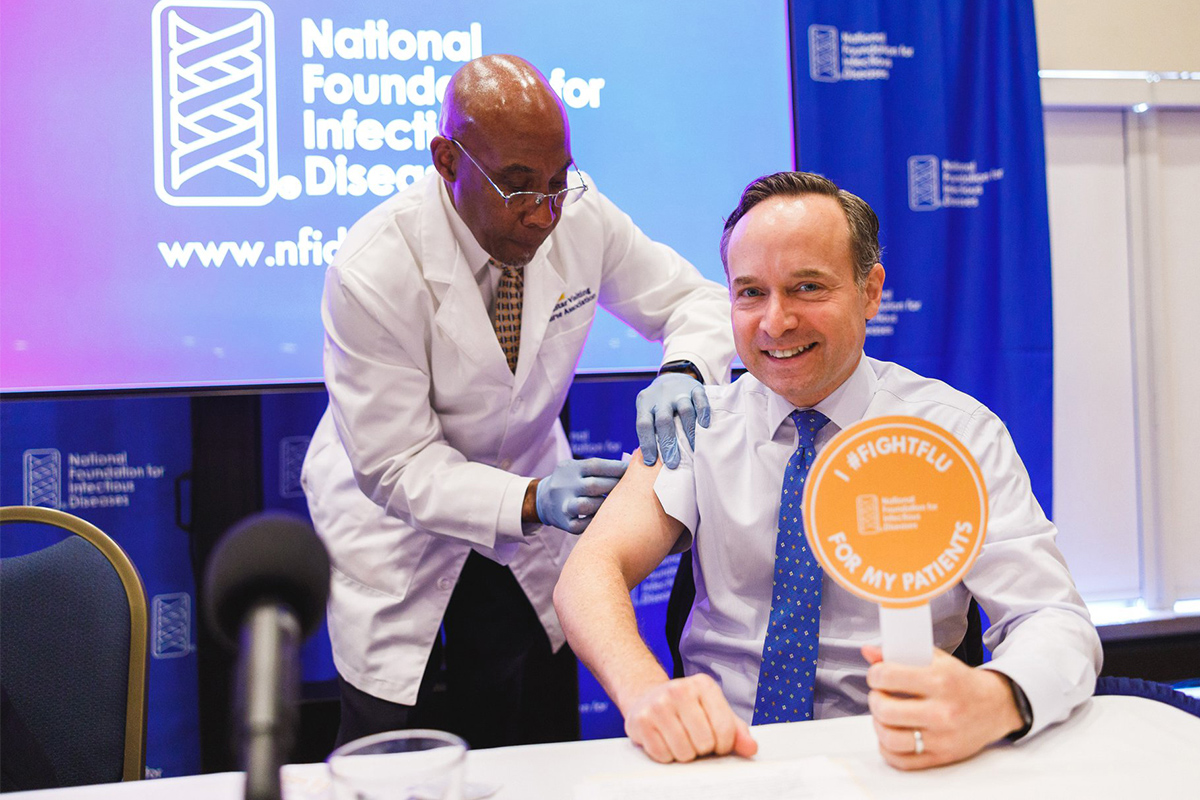 William B. Borden, MD, FACC, associate professor of medicine and health policy at George Washington University, and chief quality and population health officer at GW Medical Faculty Associates, represented the ACC at the National Foundation for Infectious Diseases 2019 Influenza/Pneumococcal Disease News Conference last month.
He joined experts from the government and other leading public health and medical organizations in discussing the importance of an annual vaccination to prevent flu and pneumococcal disease. He also led by example and was vaccinated during the press conference.
New NFID data say only 52 percent of U.S. adults plan to get the flu vaccination this season. Show your commitment to annual influenza prevention by sharing your "leading by example" photo on Twitter using the #FightFlu hashtag.
In Memoriam: Neil Buchbinder, MD, FACC
Neil Buchbinder, MD, FACC, arguably best known for conducting pioneering research on coronary thrombolysis with William Ganz, MD, FACC, passed away on Sept. 22.
After completing his medical and internal medicine training at the University of Miami School of Medicine, Buchbinder began his academic career as a fellow in cardiac pathology at the National Institutes of Health.
He subsequently went to Cedars-Sinai Medical Center as a cardiology fellow and was recruited to join the full-time staff as co-director of the cardiac catheterization laboratory with Harold Marcus, MD, FACC, in the mid-1970s.
In addition to his work on coronary thrombolysis, Buchbinder was an early adopter of balloon angioplasty and helped introduce angioplasty and coronary stenting to the Cedars-Sinai Cardiac Catheterization Lab. His legacy will continue on with the countless cardiology interventional fellows he helped to teach and mentor.
Keywords: ACC Publications, Cardiology Magazine, Faculty, Medical, Influenza, Human, Universities, Public Health, Mentors, Angioplasty, Balloon, Angioplasty, National Institutes of Health (U.S.), Vaccination, Pneumococcal Infections, Awards and Prizes, Health Policy, Certification, Arrhythmias, Cardiac, Cardiovascular Diseases, Cardiac Catheterization, Heart Diseases, Cytidine Monophosphate
< Back to Listings