Prioritizing Health | Improving Heart Health For LGBTQ+ Patients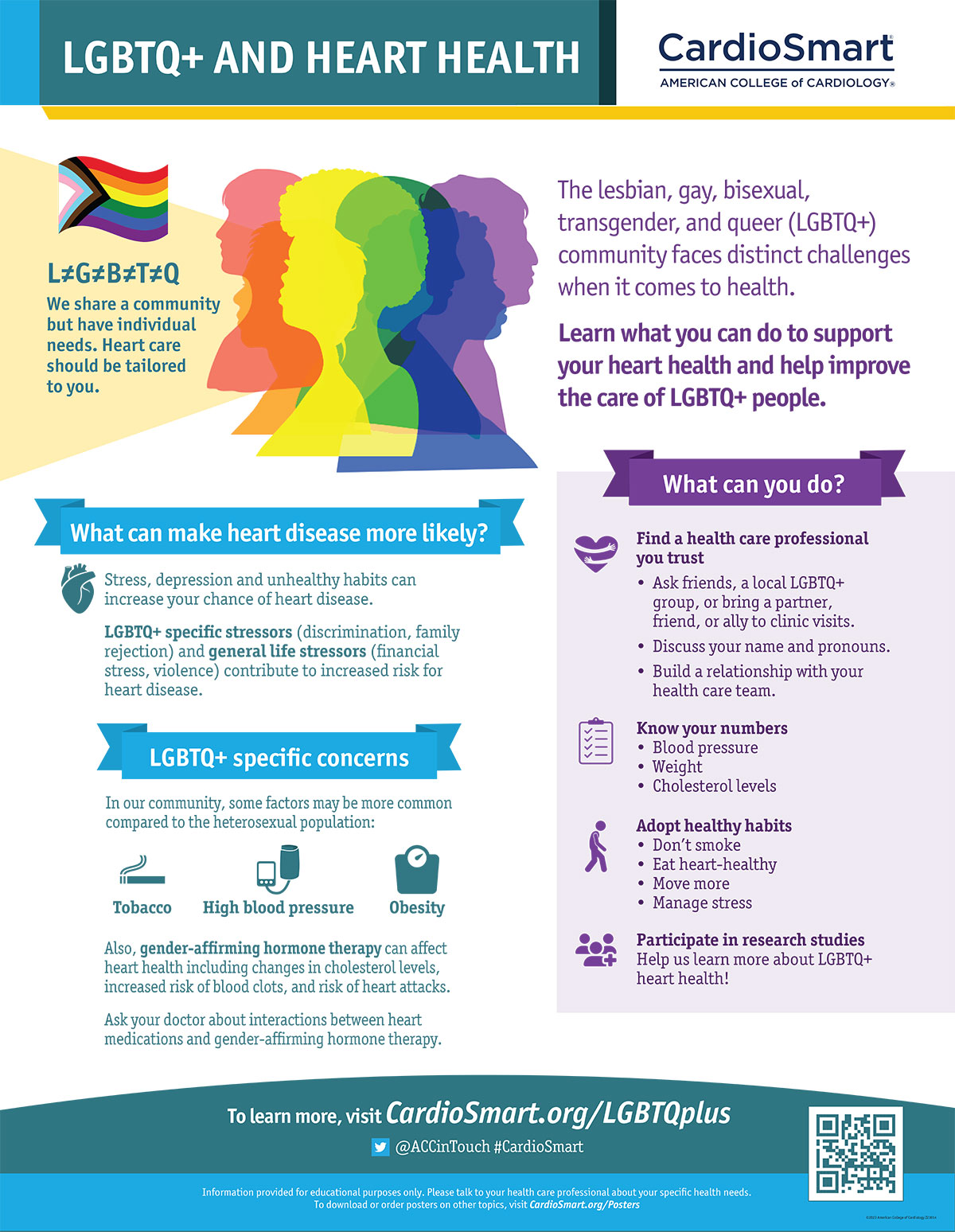 Members of the LGBTQ+ community are at higher risk of heart disease and other health challenges, making the creation of a safe and welcoming health care environment an important step in providing equitable care for all. Educating individuals in the community about their risk and supporting conversations with cardiovascular clinicians is also key in advancing their care.
CardioSmart is helping to support this education with its newest infographic, LGBTQ+ and Heart Health, and a dedicated page of resources. Visit CardioSmart.org/LGBTQplus to download the free infographic to post in your office and clinic and share with patients.
Don't miss our new Health Equity in Action section and an interview with Stephen Cook, MD, FACC, chair of ACC's LGBTQ+ Work Group, about its goals and successes so far in promoting inclusion and equity in cardiology and increasing awareness of cardiovascular issues in this patient population.
Resources For Building Inclusive Care
Learn more about the disparities in health care in the LGBTQ+ community, factors contributing to a higher risk for heart disease and what you can do as a clinician. Click here to start reading the Cardiology article.
Learn about implicit bias and mitigation strategies. Click here to read the Cardiology article.
Learn how to be an ally for the LGBTQ+ community and access a toolbox to create a foundation for providing equitable care. Click here to read the Cardiology article.
Visit ACC.org/Diversity for more resources for clinicians.
Clinical Topics: Cardiovascular Care Team, Congenital Heart Disease and Pediatric Cardiology, Prevention, Congenital Heart Disease, CHD and Pediatrics and Prevention, CHD and Pediatrics and Quality Improvement, Stress
Keywords: ACC Publications, Cardiology Magazine, Health Equity, Cultural Diversity, Social Inclusion, Mentors, Cardiologists, Transgender Persons, Sexual and Gender Minorities, Burnout, Psychological, Cardiology, Gender Identity, Cardiovascular Diseases, Organizational Policy, Heart Defects, Congenital, Hormones
< Back to Listings