A Global Pandemic: When the Learner, Provider and Patient Became One
Like a kid on the first day of school, I arose from bed at around 4:45 a.m. on Monday, March 2, 2020 with butterflies in my stomach. The clerkship year had at long last arrived. I donned my surgical scrubs and brushed my teeth as the moon stood high and the crickets chirped outside my window. The world was quiet. Then came the cold sweat down my neck and my face felt hot. At that moment, I knew there was an infection blooming inside my lungs.
I am a medical student who contracted SARS-CoV-2 in the early spring of 2020, just before the mid-March surge. My symptoms included a 24-hour fever accompanied by fatigue, and a persistent, non-productive cough lasting two to three weeks. Following my diagnosis, I quarantined at home and recovered over 10 days as the pandemic erupted both nationally and globally.
What I looked forward to most once I was on the mend was getting back to my active lifestyle. Exercise is a central part of my well-being, from competing in weekend volleyball tournaments to running marathons across the country. Since my SARS-CoV-2 illness, I have been plagued by exertional chest tightness. Less than 10 minutes into a typical run, I notice a knot building below my sternum and each lungful of air feels icy cold. Puzzled, frustrated, at times angry, I walk home trying to catch my breath. This pattern has repeated itself for the past nine months despite my hopes that it would subside.
Unlike the nearly two million people worldwide who have lost their lives to SARS-CoV-2, I recovered from the virus (1). My fortune does not escape me. Nonetheless, we must recognize the burden of morbidity that the pandemic has placed on its survivors and so-called "long-haulers" who have it far worse than me. From blood clots to brain-fog, dysautonomia to debilitating arthralgias, SARS-CoV-2 has left a sea of suffering in its wake with patients and scientists alike struggling to find answers (2). To make matters worse, experts suggest we may be as ill-prepared for the psychological aftermath of the pandemic as we were for its physical toll (3).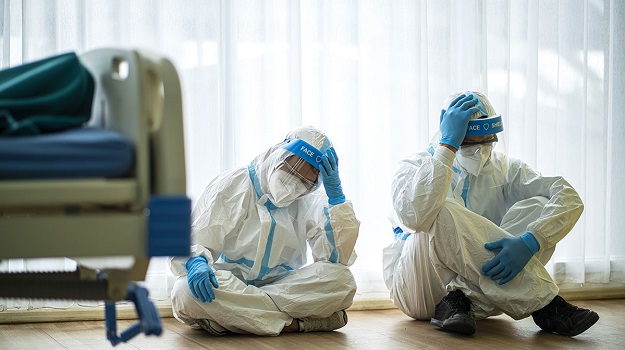 There is much we have yet to learn about SARS-CoV-2 and a bleak winter on the frontlines looms ahead. My personal experience with the virus, and the lasting effects it has left on my body, has helped me more deeply empathize with patients. It has motivated me to volunteer to administer doses of the SARS-CoV-2 vaccine in my community and has energized my research into how the virus may influence ST-segment elevation myocardial infarction outcomes. Above all, it has underscored the very real and lasting impact of the virus by exposing my own vulnerability as a caregiver.
Medical students have the opportunity to be engaged in the global SARS-CoV-2 crisis in a way that few people can. As learners, providers, and sometimes as patients ourselves, we are offered an intimate perspective into how the pandemic has disrupted peoples' lives and livelihoods. I hope we meet these challenges with solutions that are motivated and informed by our personal experiences, for the betterment of not only ourselves but also the communities we serve.  
This article was authored by Christian Faaborg-Andersen, BS, medical student at Emory University School of Medicine, Class of 2022.
References
COVID-19 Map. Johns Hopkins Coronavirus Resource Center. Accessed January 12, 2021. https://coronavirus.jhu.edu/map.html
Rubin R. As Their Numbers Grow, COVID-19 "Long Haulers" Stump Experts. JAMA. 2020;324(14):1381–1383. doi:10.1001/jama.2020.17709
Simon NM, Saxe GN, Marmar CR. Mental Health Disorders Related to COVID-19–Related Deaths. JAMA. 2020;324(15):1493–1494. doi:10.1001/jama.2020.19632