Chittur A. Sivaram, MBBS, FACC: Educating the Next Generation of Great Minds
Profile | As a cardiology fellow, Chittur A. Sivaram, MBBS, FACC, was drawn to the potential of the echocardiography field, which at that time was maturing as a new diagnostic tool. "Its solid foundation in morphology and physiology, along with its future potential in the management of cardiovascular diseases was appealing to me," he says. "Since that time we have had further advances in echocardiography, including Doppler imaging, transesophageal echocardiography and 3-D echocardiography resulting in promises well kept." Sivaram also acknowledges that his interest in photography also played a role in his interest in image formatting. "I consider echocardiography a place where art and science intersect."
He has served the College in many education efforts, including serving as chair of the Cardiology Training and Workforce Committee, and as a member of both the Fellowship Education Redesign Task Force and the Lifelong Learning Oversight Committee, among others. Sivaram was the recipient of the Gifted Educator Award during ACC.15, which he considers a "validation of my pursuits as an educator for over 30 years." For the last 20 years, he has served as the director of the Cardiology Fellowship Training Program at the University of Oklahoma Health Sciences Center in Oklahoma City, OK.
As an educator, Sivaram appreciates the importance of mentorship and points to a few individuals who have guided him throughout his career. First, his parents offered him support and encouragement throughout his education. He says that Ralph Lazaara, MD, at the University of Oklahoma has always supported him, and he admires Patrick T. O'Gara, MD, MACC, and Rick A. Nishimura, MD, MACC, for their excellence in teaching and mentoring. Sivaram is also inspired by younger colleagues, such as Jeffrey Kuvin, MD, FACC; James A. Arrighi, MD, FACC; Andrew M. Kates, MD, FACC; and Douglas E. Drachman, MD, FACC, due to their intellect and professionalism.
A fellow of the ACC since the mid-1980s, Sivaram credits Charles F. Bethea Jr., MD, FACC, for pushing him to become more involved with ACC's Oklahoma Chapter in the early 2000s, which lead to more leadership opportunities on both the state and national level. He served as the ACC Oklahoma Governor from 2005 to 2008, a role he describes as "a rich opportunity for professional growth and a window for active participation in finding solutions for problems facing our profession."
Sivaram has also worked closely with ACC's Fellows in Training (FIT) and Early Career Sections. He notes that it has "been fascinating and rewarding to see the ascent of many of the past FIT leaders to more challenging positions within the College." He applauds the gains the College has made to allow FITs, early career professionals and other members of the cardiovascular care team to have meaningful participation within the College and urges his colleagues to guide and mentor these individuals to seek out these opportunities within the ACC. "The future of the educational mission of our training institutions is bright," he says. "I am pleased that many of these gifted colleagues will refine their skills and reach their best potential though opportunities created for early career members by the forwarding-thinking philosophy of ACC leadership."
Outside of work, Sivaram enjoys reading, both fiction and non-fiction books, as well as films, theater, photography and following along with political debates.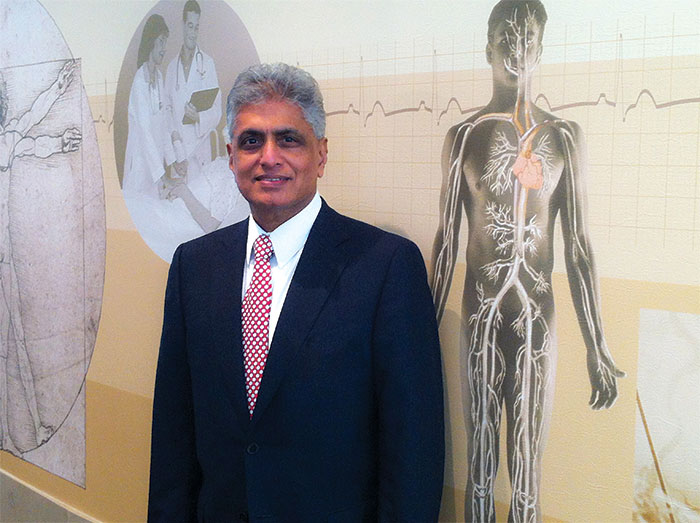 Clinical Topics: Noninvasive Imaging, Echocardiography/Ultrasound
Keywords: ACC Publications, Cardiology Magazine, Echocardiography, Echocardiography, Three-Dimensional, Echocardiography, Transesophageal, Mentors, Thiadiazines
< Back to Listings