Robert A. Guyton, MD, FACC: Bridging Disciplines and Serving the ACC
Service has been the hallmark of the career of Robert A. Guyton, MD, FACC. Recognized as a statesman who has worked to unite the disciplines of cardiology and cardiac surgery, the patient has always been his focus. "We have a common mission, and when we work together for the benefit of the patient, it removes conflicts of turf and personality," says Guyton.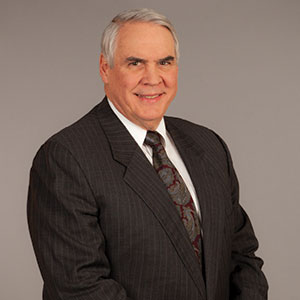 Early mentors during his medical training at Massachusetts General Hospital first set the tone for working together across disciplines, showing Guyton that it was possible to achieve more when working together. This lesson was furthered by his collaboration with Andreas R. Gruentzig, MD, FACC, both of whom arrived at Emory University in Atlanta, GA, on the same day in 1980. Together, they helped to establish the concept of the heart team working together to ensure the best patient care, much like the multidisciplinary heart teams for transcatheter valve procedures today.
Guyton's work within the ACC began early in his career and continues today. A longstanding member of the Board of Trustees, he cites his more recent work as chair of the Budget Finance and Investment Committee and as treasurer among the most rewarding, enjoying the stewardship of developing programs that advance the mission of the ACC, while cost-effectively utilizing its resources.
In recognition of his contributions, the Distinguished Service Award was bestowed on Guyton during ACC.16. "James T. Dove, MD, MACC, ignited my interest in the ACC, and he was a role model for many of us who are serving in the voluntary leadership of the ACC," says Guyton, noting that Dove devoted his life to advancing the profession and showed how the profession could serve society.
Since 1990, Guyton has been the Charles Ross Hatcher, Jr. Professor of Surgery at Emory University, where he also serves as chief of the division of cardiothoracic surgery and director of the thoracic surgery residency program. After graduating from the University of Mississippi and Harvard Medical School, Guyton completed an internship, surgical residency, and a thoracic fellowship in surgery at Massachusetts General Hospital in Boston, MA.
His proudest achievement is the 135 cardiac surgeons he has trained during his 26 years as director of the residency training program at Emory, and who now constitute about 3 – 4 percent of all the active cardiac surgeons in the U.S. "I truly enjoy helping a resident perform a procedure for the first time, and watching the resident understand how the thought process comes together to execute a successful operation, which is much more dependent on their brain than their hands," says Guyton.
During his 36 years at Emory University, Guyton has performed cardiac surgery on some 10,000 patients. "The greatest reward of our work is to transition patients who are ill and disabled to persons who are well and enabled who can enjoy and participate in their life," he shares. Although he will step away from his duties as chief of cardiothoracic surgery in 2017, he will continue to perform surgery. Noting the inspirational and invigorating nature of his volunteer work for the ACC, Guyton also will continue to serve the ACC.
"There is no better time than now to be going into cardiovascular medicine," says Guyton, adding he'd be as excited as he was in 1970 when he entered the field. Innovations that help patients are arriving almost monthly, and the capacity to work in teams with nurses, pharmacists, surgeons, critical care medicine, and anesthesiologists, among others, to deliver care that is dramatically superior to that just five, 10 and 15 years ago is incredibly exciting, he adds.
Away from work, family is his greatest joy, with four of his eight children living nearby. His family also includes nine siblings who are all physicians, inspired by their father, Arthur C. Guyton, MD, FACC, the internationally renowned author of the leading textbook on medical physiology.
Clinical Topics: Cardiac Surgery, Invasive Cardiovascular Angiography and Intervention
Keywords: Cardiology Magazine, ACC Publications, Cardiac Surgical Procedures
< Back to Listings