The Pulse of ACC
JACC Journals: Calls For Papers
JACC: Asia is inviting original research papers focusing on the current status of heart failure in Asian populations. Papers should focus on epidemiology, evidence-based clinical practice, disease diagnostics, new technologies and medications that could contribute to reducing mortality and readmission or improving quality of life. Clinical studies, epidemiology studies, genetic studies, landmark analyses, etc. will be accepted. The deadline for submissions is Sunday, April 30.
JACC: Heart Failure is seeking original papers addressing heart failure in women that will be featured in a special focus issue later this year. Topics spanning this theme will be considered, including epidemiology, diagnosis and prognosis, short- and long-term outcomes, clinical management, phenotyping, emerging therapies, comorbidities, burden of risk factors, the role of biomarkers, and other relevant issues. The editors are particularly interested in submissions related to peripartum disease, heart failure with preserved ejection fraction, equity/access, and other issues particularly relevant to women living with heart failure. The deadline for submissions is June 6.
Click here to access the Author Center on JACC.org for more information and specific instructions on the submission process.
New Research Award to Foster Innovative New Science
A new award established through a generous gift from William A. Zoghbi, MD, MACC, former ACC president, will provide a springboard for innovative new research in countries outside of the U.S. The "William A. Zoghbi International Research Award" will complement and support ACC's strategic efforts to accelerate the development and dissemination of cardiovascular education, research and on-the-ground initiatives in countries around the world.
"With the global toll of cardiovascular disease, there is a need for investigations in countries with a high burden of disease that can impact health and outcomes locally," said Zoghbi. "This award is a first step to help international cardiovascular investigators fulfill their research ambition and make a difference in their own community and beyond."
Specifically, the award will provide $25,000 for an innovative research project with the greatest potential to yield valuable findings or impact relevant current concerns in cardiovascular medicine in low- and middle-income countries. The inaugural recipient will be announced at ACC.24 in Atlanta, GA, with plans to grow the number of awards to two in subsequent years through additional fundraising efforts.
"The ACC thanks Dr. Zoghbi for this incredible gift that directly supports our Vision to create a world where science, knowledge and innovation optimize patient care and outcomes," said ACC Immediate Past President Edward T. A. Fry, MD, MACC. "This award provides a unique opportunity for the ACC to help foster and grow the pipeline of global researchers, as well as the body of evidence available to truly advance solutions to heart health worldwide."
Zoghbi, a leading expert in cardiology, echocardiography and cardiac imaging, is currently the Elkins Family Distinguished Chair in Cardiac Health at the DeBakey Heart & Vascular Center, professor of medicine, and chair of the Department of Cardiology at Houston Methodist. A longtime leader of the ACC and other global cardiovascular societies, he served as ACC president in 2012.
"Having been involved in the ACC global mission and International Chapters since their inception, I have always been sensitive to the needs of cardiovascular clinicians outside of the U.S., where research and impact may be different and much needed locally," said Zoghbi. "This award will complement our ACC international endeavors and support researchers in their country, aiming for innovation and better health outcomes."
NCD Academy Launches New Health Equity and Social Determinants of Health Course
The newest NCD Academy course addressing health equity and social determinants of health launched this month, coinciding with World Health Day and the theme "Health for All." Developed by the ACC in partnership with the NCD Alliance and the World Heart Federation (WHF) and sponsored by Viatris, the latest course adds to the growing library of NCD Academy courses designed to equip primary health care professionals with educational resources and skills to enhance their ability to prevent and treat noncommunicable diseases (NCDs).
Health equity, as described by the WHO Commission on Social Determinants of Health, is the absence of inequalities in health care that are avoidable by reasonable means. The new course aims to educate and increase awareness of health inequities and provide support on how to address them to achieve equitable care for all. Course topics led by leading experts in global health equity include an overview of social determinants of health; a closer look at the impact of structural discrimination; and strategies for tackling disparities in vulnerable communities, as well as low- and middle-income countries.
"Health equity is a critical global health issue that must be addressed if we are to truly stem the tide of NCDs," said Dipti Itchhaporia, MD, MACC, former ACC president and a past chair of the College's Health Equity Task Force. "Transforming cardiovascular care and improving heart health for all needs to start with solving for health equity. The ACC is proud to partner with Viatris, WHF and NCD Alliance to drive awareness and action around this important topic. Together we are delivering global education that inspires global action and, while there is still much work to be done, it is exciting to see how far we've come to date."
For more information about the NCD Academy, visit ACC.org/NCDAcademy. For more information on ACC's overarching global efforts, visit ACC.org/GlobalHub.
#CardiologyMag Inspiring Future CV Leaders
Proof that it's never too early to start reading Cardiology – and, more importantly, that it's never too early to begin thinking about a career in cardiology. Thank you to all our readers – of all ages – for continuing to make Cardiology YOUR member magazine.
Health Equity: Change Starts With All Of Us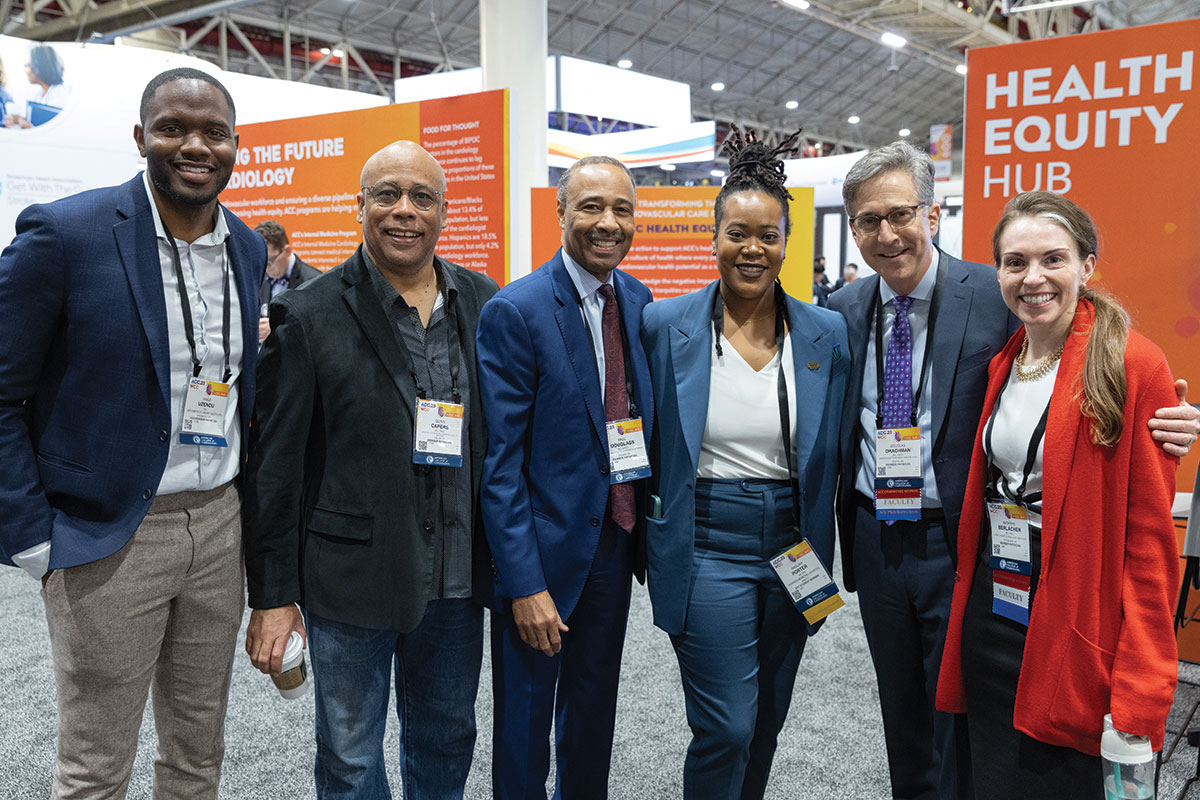 Health equity and its fundamental importance in successfully transforming cardiovascular care for all was front and center throughout ACC.23/WCC, from the standing-room-only Diversity and Inclusion Town Hall to the new Health Equity Hub, which made its debut as part of the Expo.
The Town Hall helped to kick off ACC.23/WCC on Friday evening, celebrating the year's achievements and honoring Paul L. Douglass, MD, MACC, the 2023 recipient of ACC's Pamela S. Douglas Leadership in Diversity and Inclusion Award. Additionally, a networking reception for the LGBTQ+ community and allies was also a feature of Friday's activities.
Within the halls of the Expo, the Health Equity Hub featured a lineup of thought-provoking discussions with leading experts on topics ranging from the global burden of cardiovascular disease to addressing bias in the workplace. In addition, an interactive health equity heat map allowed attendees to zero in on health equity in their own communities and a virtual reality area provided eye-opening insights into patient care experiences. Even more importantly, the Hub offered a safe place for attendees to gather and engage in discussions about ways the cardiovascular community can achieve a culture of equitable cardiovascular care and heart health for all.
The ACC thanks all its partners for their support of the Health Equity Hub and related ACC.23/WCC health equity activities. Look for next month's issue of Cardiology for highlights from the College's Health Equity Summit, taking place in Washington, DC, April 2-3. The Summit is bringing together leading experts and key stakeholders for important discussions on how to continue the momentum and drive change.
Clinical Topics: Cardiovascular Care Team, Heart Failure and Cardiomyopathies, Acute Heart Failure
Keywords: ACC Publications, Cardiology Magazine, ACC Annual Scientific Session, ACC23, Cardiovascular Diseases, Leadership, Cardiology, Awards and Prizes, Workplace, Virtual Reality, Sexual and Gender Minorities, Health Equity, Heart Failure, Social Determinants of Health, Cultural Diversity, Stroke Volume, Quality of Life, Peripartum Period, Patient Readmission, Noncommunicable Diseases, Global Health, Advisory Committees, World Health Organization, Learning, Health Personnel, Educational Status, Faculty, Cost of Illness
< Back to Listings