Cover Story | ACC.23/WCC: Uniting the Global Cardiovascular Community
Special thanks to the dynamic trio of Douglas Drachman, MD, FACC; Katie Berlacher, MD, MS, FACC; and Jane Linderbaum, ARNP, CNP, FACC, for their leadership for ACC.23/WCC.
Energizing, fun, innovative and cutting-edge were among the words used to describe ACC.23 Together With the World Congress of Cardiology (ACC.23/WCC), which brought together nearly 17,000 attendees spanning the entire global cardiovascular community for three days in New Orleans and virtually.
"My favorite part of the meeting? FUN! My face hurt at the end of the day every day from smiling so much and I started to lose my voice by day two because of all the great conversations I was having," said Vice Chair Katie Berlacher, MD, MS, FACC. "How lucky are we to have so much fun learning with colleagues from around the world, knowing that our time together not only brings joy to the field, but also better care to our patients."
From the trademark Late-Breaking Clinical Trials (LBCTs) and Featured Clinical Research to hundreds of interactive educational sessions spanning a broad spectrum of clinical pathways, ACC.23/WCC delivered a one-of-a-kind experience centered on transforming cardiovascular care for all.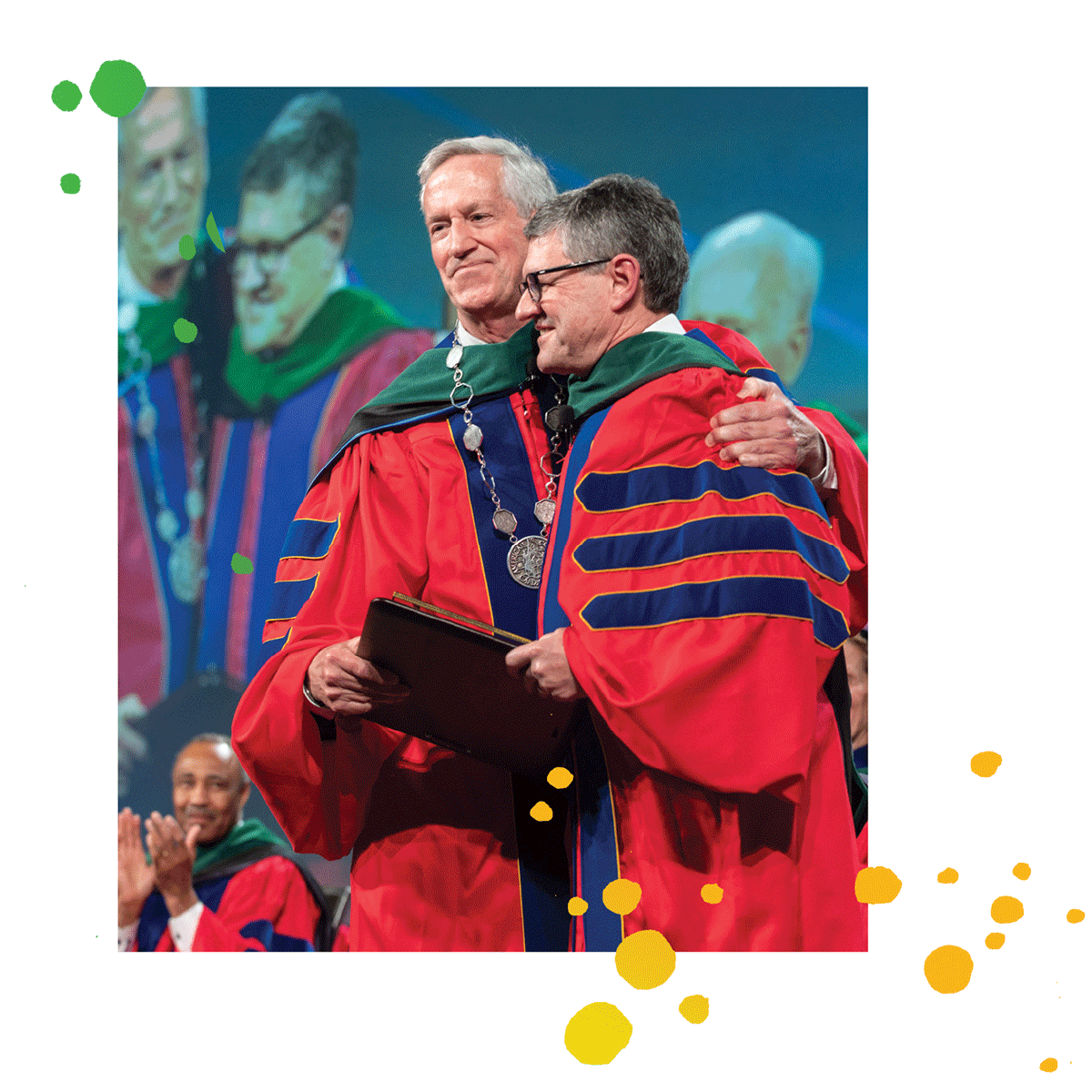 Convocation marked the transition of the ACC presidency from Edward T. A. Fry, MD, MACC, to B. Hadley Wilson, MD, FACC.
Thanks to the partnership with the World Heart Federation and a truly global faculty of more than 700 individuals the importance of advancing global solutions was especially front and center.
"The excitement was palpable and we were thrilled with the remarkable turnout," said Chair Douglas Drachman, MD, FACC. "Clearly, there is a huge demand for in-person learning, and a strong desire for cardiovascular clinicians to feel connected to our clinical and scientific community."
New educational formats like the March Matchup classroom and the revamped Personalized Skills and Simulation Center were designed this year to foster community and engagement, while the new Health Equity Hub provided a dedicated forum for understanding health equity and its fundamental importance in improving heart health around the world.
More established areas like the Heart2Heart Stage, Future Hub, the Engage Stage and the broader Lounge & Learn Pavilion, also offered opportunities for networking, sharing of best practices, the popular FIT Jeopardy and important discussions on nonclinical topics like advocacy, social media, leadership, the workforce crisis, clinician well-being, and more.
"The meeting was an overwhelming success for community and partnership," said ACC.23/WCC CV Team Lead Jane Linderbaum, MS, ARNP, FACC. "There were active and lively discussions and networking occurring in all the Member Section lounges and particularly on the Heart2Heart Stage, where interdisciplinary educational content and networking was consistently visible to attendees."
Looking ahead, plans are already underway to build on the success of ACC.23/WCC and carry through innovative and engaging live medical education, interdisciplinary team interaction, and global collaborative opportunities through to ACC.24 in Atlanta.
In the meantime, enjoy some of the best meeting highlights captured through photos, as well as an overview of some of the hottest practice-changing science. Share your own highlights from the meeting on Twitter and don't forget to tag @ACCinTouch and use #CardiologyMag and #ACC23.
The largest cohort of ACC Young Scholars to date took part in ACC.23/WCC. This next generation of cardiovascular clinicians are pictured here with ACC leaders prior to the start of the Opening Showcase session.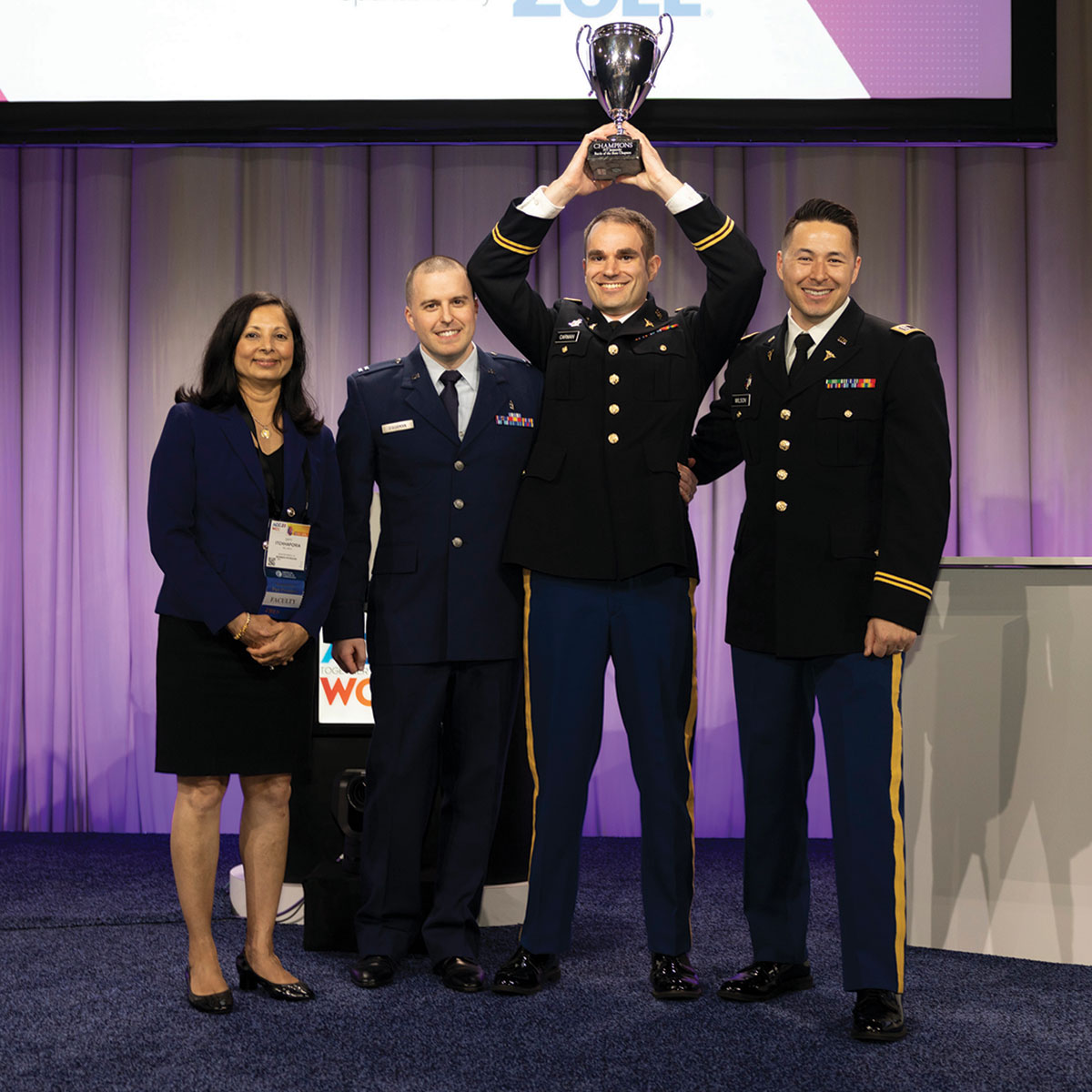 Saudi Arabia and Texas were this year's winners of FIT Jeopardy. Congratulations to all the FITs and Chapters who took part in this annual event!
The Health Equity Hub made its debut at ACC.23/WCC, offering a safe place for attendees to gather, network and learn more about health equity in their communities and around the world.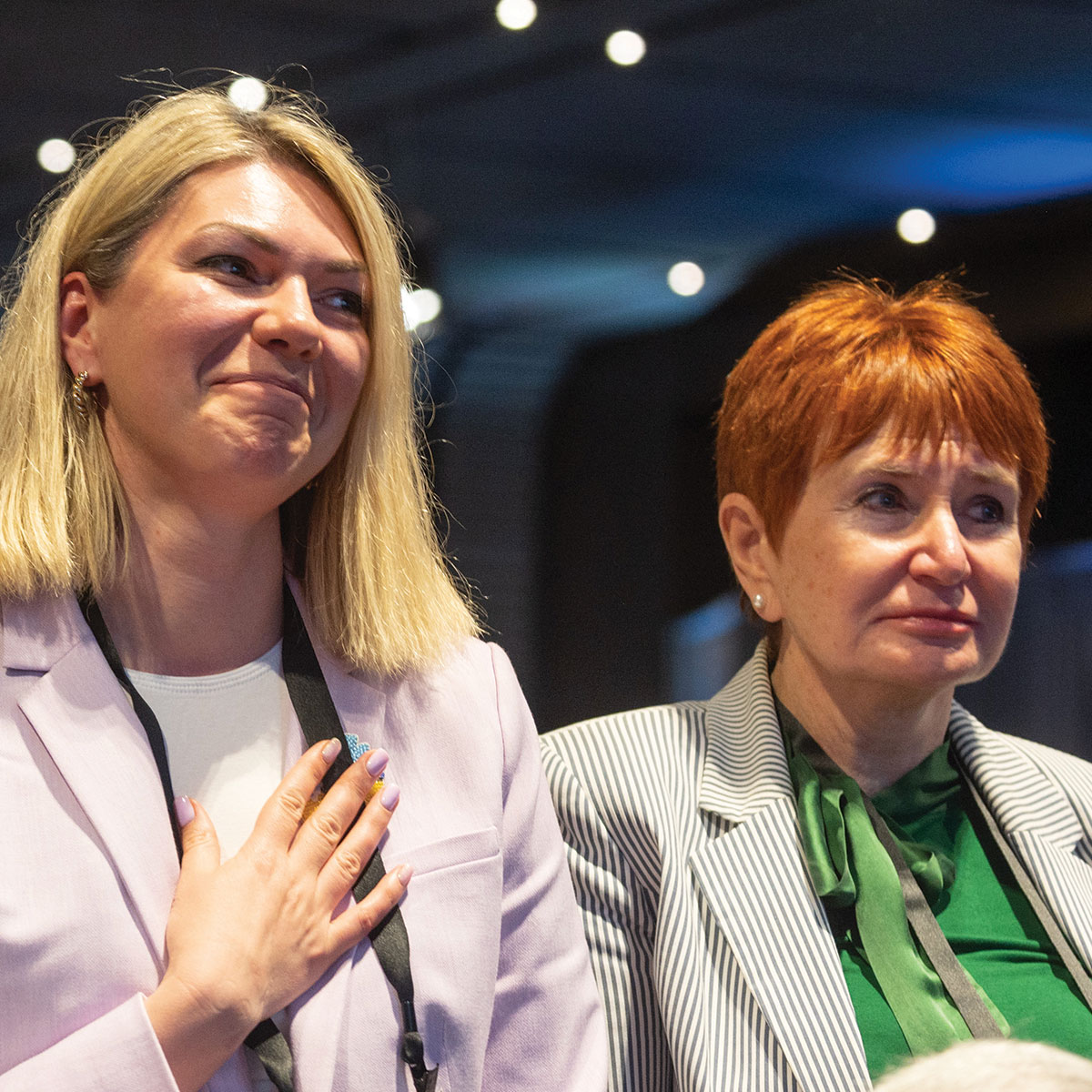 New ACC President B. Hadley Wilson, MD, FACC, went off script during his presidential address in a poignant moment recognizing the two ACC.23/WCC attendees from Ukraine.
The ACC was proud to partner with the World Heart Federation to bring ACC.23/WCC to life. Pictured here are outgoing ACC President Edward T. A. Fry, MD, MACC, and WHF President Daniel Jose Piñeiro, MD, FACC.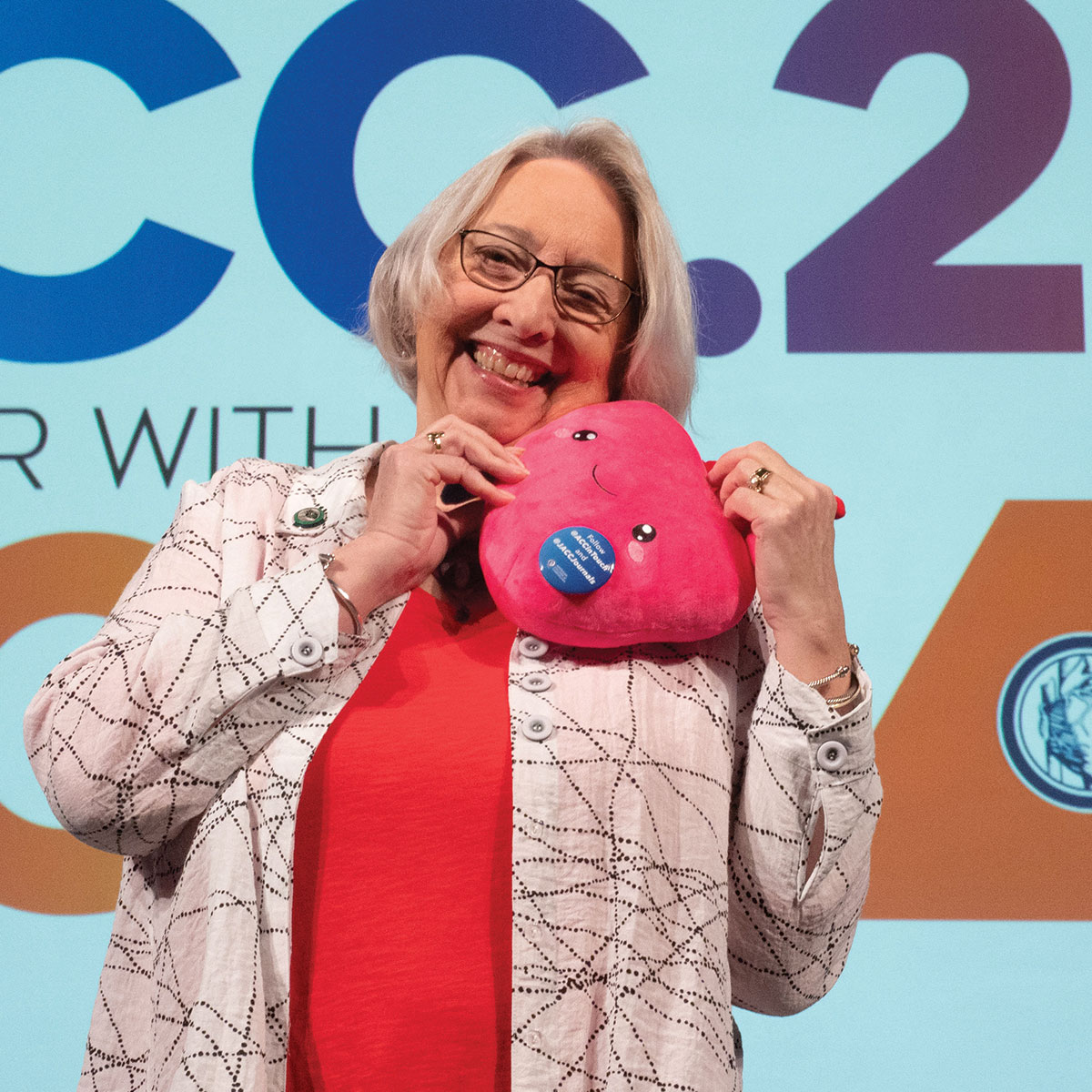 Artie (pictured here with new ACC Vice President Cathie Biga, MSN, RN, FACC) was a big hit both in New Orleans and social media, even starting a new #WheresArtie hashtag.
Cardiology Editors' Picks: Top Three Trials to Watch
CLEAR Outcomes
Lowering LDL-C has proven benefits in reducing the risk of cardiovascular events. Yet reaching the levels of LDL-C recommended by guidelines can be a challenge. Statin intolerance is one of these challenges and findings from CLEAR Outcomes — one of the hottest trials coming out of ACC.23/WCC — has shown that bempedoic acid improves long-term cardiovascular outcomes and effectively reduces LDL-C in this population.
In CLEAR Outcomes, 13,970 patients with or at high risk for atherosclerotic cardiovascular disease (ASCVD) and statin intolerance were randomized to bempedoic acid (180 mg orally) or placebo. The mean baseline LDL-C was 139 mg/dL and the mean follow-up was 40.6 months.
The primary composite outcome of major adverse cardiovascular events, including cardiovascular death, nonfatal MI, nonfatal stroke or coronary revascularization, was significantly lower with bempedoic acid vs. placebo (11.7% vs. 13.3%). Similarly, with bempedoic acid vs. placebo respectively, there was a lower incidence of a composite of cardiovascular death, nonfatal stroke or nonfatal MI (8.2% vs. 9.5%); fatal or nonfatal MI (3.7% vs. 4.8%); and coronary revascularization (6.2% vs. 7.6%). However, with bempedoic acid, there was a higher incidence of gout and cholelithiasis, and small increases in serum creatinine, uric acid and hepatic-enzyme levels.
"Statins are the cornerstone of risk reduction in patients with elevated LDL-C," said Steven E. Nissen, MD, MACC, who presented the results which were simultaneously published in NEJM. "This is the first study that directly addressed the problem of statin-intolerant patients. We achieved what we hoped we would get – a very positive result in a population of people who just could not tolerate statins."
MK-0616
In the phase 2b trial of the oral PCSK9 inhibitor, Christie M. Ballantyne, MD, FACC, et al., randomized 381 participants (median age 62, 49% women) with or at risk for ASCVD to placebo or one of four doses of MK-0616 (6 mg, 12 mg, 18 mg or 30 mg). Their mean LDL-C was 119.5 mg/dL, 38.6% had clinical ASCVD and about 60% were taking a statin at study entry, with about a quarter receiving high-intensity statin therapy.
The primary endpoint of change in LDL-C at eight weeks (when participants stopped the drug and were then followed for safety events) was significantly greater with each dose of MK-0616 (6 mg, 12 mg, 18 mg and 30 mg, respectively) vs. placebo: –41.2%, –55.7%, –59.1% and –60.9% (p<0.001 for all). The secondary endpoint of percent change in apolipoprotein B was –32.8%, –45.8%, –48.7% and 51.8% for each dose respectively vs. placebo; the percent change in non–HDL-C ranged from –35.9% to –55.8%. The proportion of patients who attained LDL-C goals ranged from 80.5% to 90.8%.
"This is a highly effective compound that was well tolerated," said Ballantyne. "MK-0616 could offer another potential option. Between this and statins and the other therapies we have, we should be able to basically treat almost everybody in terms of LDL-C."
STOP-CA
In the arena of cardio-oncology, results from STOP-CA suggest statin therapy may reduce heart dysfunction from chemotherapy containing anthracyclines. In the multicenter trial led by Tomas G. Neilan, MD, MPH, FACC, et al., 300 patients (median age 52, 47% women) with lymphoma undergoing chemotherapy with high-dose anthracyclines were randomized to atorvastatin 40 mg or placebo. The baseline left ventricular ejection fraction (LVEF) was 63%.
At 12 months, 9% and 22% of the atorvastatin and placebo groups met the primary outcome of a decline in LVEF of ≥10% to an EF <55% (p=0.002). The secondary outcome of a decline in LVEF of ≥5% to an EF <55% was met by 13% and 29% of the respective groups (p=0.001). No between-group differences were seen for adverse events.
"We believe that patients with lymphoma who are treated with anthracyclines and are at high risk of cardiac dysfunction and heart failure would benefit from statin therapy," said the co-primary investigator Marielle Scherrer-Crosbie, MD, PhD, FACC. "I think it's an impactful study that will lead to more prescription of statins in patients."
Late Breaking Clinical Trials continue to be a hallmark of the ACC's Annual Scientific Session and this year was no exception, with outcomes from some of the hottest global trials presented over the course of three days.
Live streamed from the cath lab, ACC.23/WCC attendees were "in the room" as part of Live Case sessions.
LBCTs: Five Fast Takes
Causal AI Model to Predict Risk?
A model using artificial intelligence (AI) to translate polygenic risk into clinically actionable information showed it could accurately quantify the degree to which a person must reduce their blood pressure and/or LDL-C to overcome their inherited risk of coronary artery disease. However, family history remained a very strong predictor and researchers say this should be incorporated into future models to provide an even better picture of inherited risk.
Fixed-Dose Combo Better in PAH?
Patients with class II and III pulmonary arterial hypertension (PAH) in the randomized A DUE trial had approximately double the reduction in pulmonary vascular resistance when taking macitentan and tadalafil together in a single fixed-dose combination tablet than either drug alone. A trend for a clinically relevant improvement in the 6-minute walk distance was seen with the fixed-dose tablet.
Vigorous Exercise in HCM?
Patients with hypertrophic cardiomyopathy (HCM) in the LIVE-HCM trial who exercised vigorously did not have an increased incidence of serious cardiac events during three years of follow-up compared with patients who exercised moderately or were inactive. "We know that exercise is beneficial and an important part of life for many people. Evolving how we think about the exercise practices may allow individuals with HCM to garner the longer-term benefits of exercise as well," said Rachel J. Lampert, MD, FACC.
Return to Play?
Ninety-five percent of 76 athletes with a diagnosed and treated genetic heart disease experienced no disease-triggered cardiac events, including cardiogenic fainting or seizures, ICD shocks, sudden cardiac arrest or sudden cardiac death, according to a retrospective, multicenter study presented by Katherine A. Martinez, et al. "This initial data set offers a story of hope and encouragement," said Martinez. "With shared decision-making and appropriate risk stratification by an expert, we expect anybody of any age can live and thrive despite their diagnosis."
Anticoagulation to Reduce Risk in COVID-19?
In the FREEDOM COVID trial, therapeutic-dose anticoagulation did not significantly reduce the combined risk of all-cause death, need of ICU care, systemic thromboembolism or ischemic stroke in noncritically ill patients hospitalized for COVID-19. But it lowered rates of intubation and death. The international trial randomized some 3,400 patients to prophylactic-dose enoxaparin, therapeutic-dose enoxaparin or therapeutic-dose apixaban. Major bleeding was infrequent across groups. Subgroup analyses revealed that patients with early signs of COVID-19-related lung damage were less likely to have a primary endpoint event if treated with a therapeutic-dose anticoagulant.
The Personalized Skills and Simulation Center offered plenty of opportunities for innovative, hands-on learning.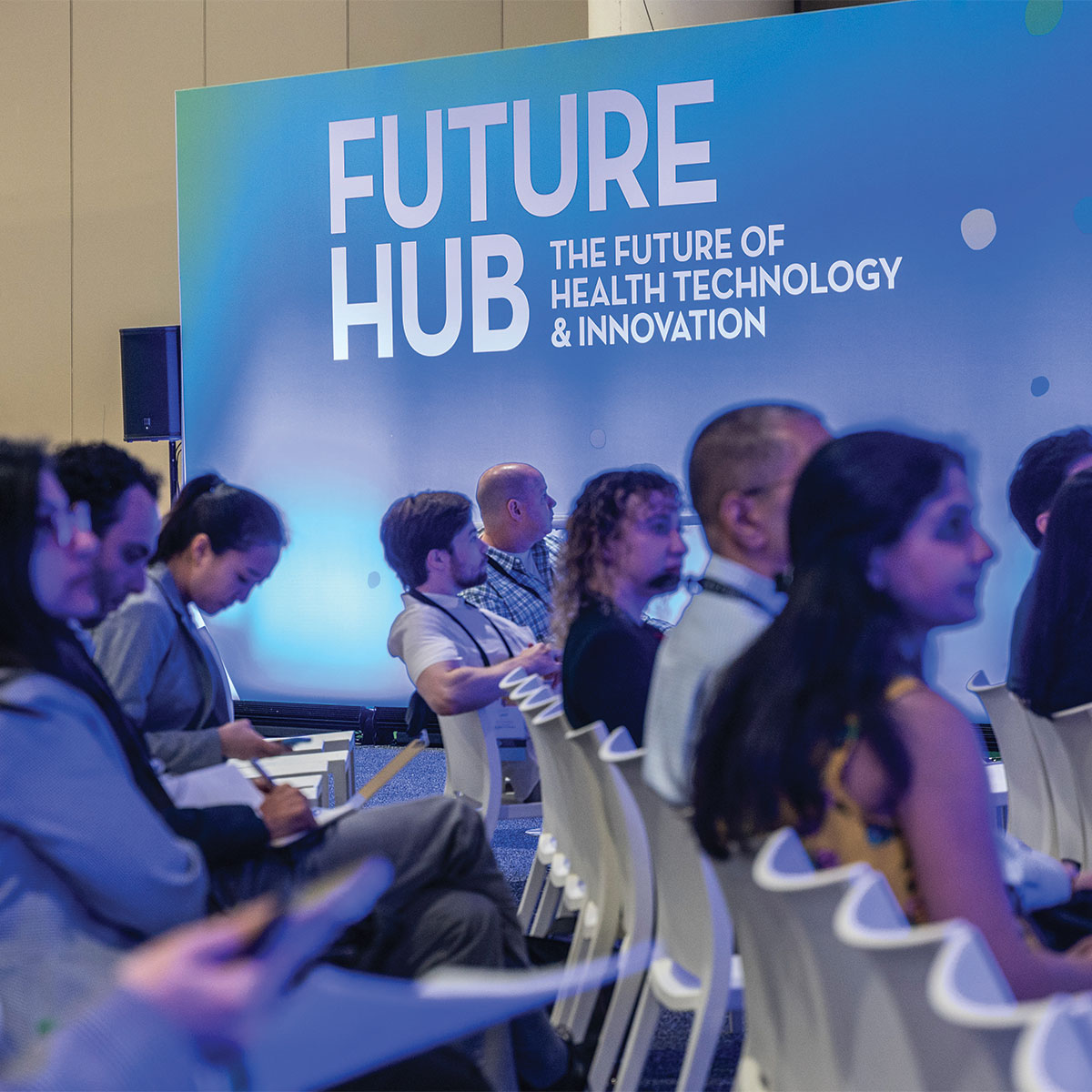 The Future Hub was home to the Innovation Pitch Challenge and other focused sessions showcasing the future of technology and health care innovation.
ACC.23/WCC Science Highlights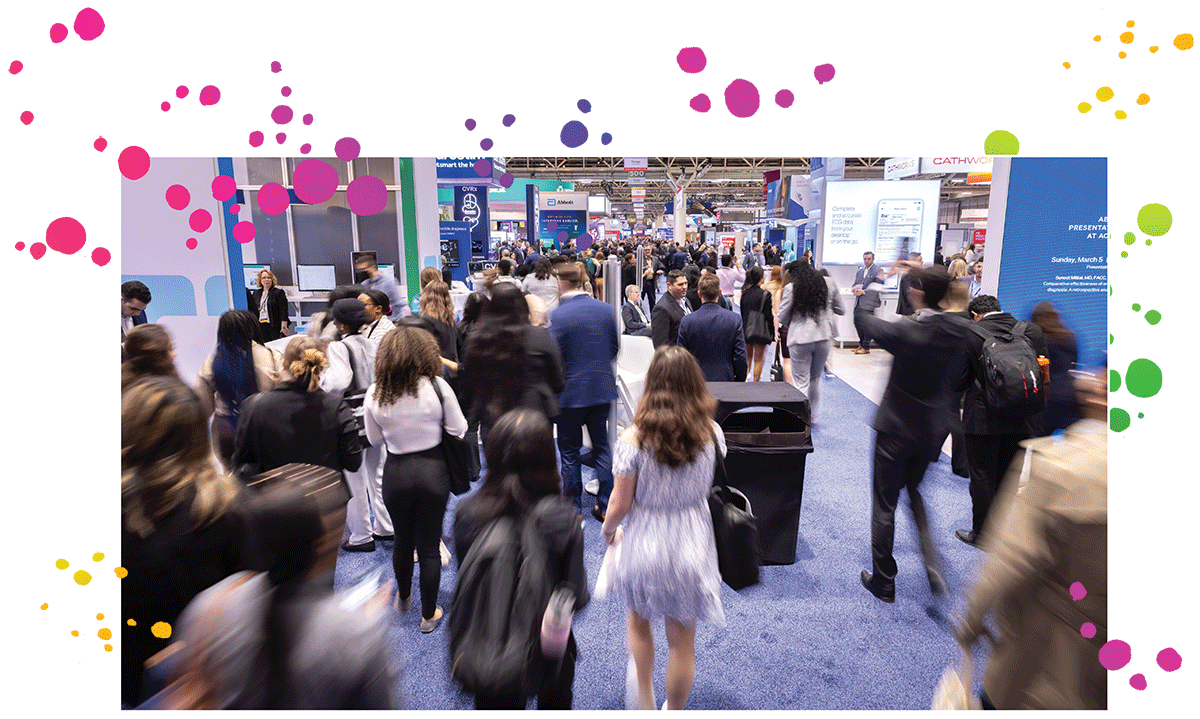 The latest innovations and technologies were on display in the ACC.23/WCC Expo, with more than 280 participating industry partners.
Let the clinical games begin! The new March Matchup venue provided a unique opportunity for interactive, fun and maybe a little competitive learning.
Virtual reality was featured in ACC's new Health Equity Hub, offering an inside look at a real patient case.
Key Takeaways: Structural Heart and Revascularization Science
Science presented during ACC.23/WCC provides new insights and guidance in the structural heart and interventional arenas, including the use of transcatheter edge-to-edge repair (TEER) in the settings of tricuspid regurgitation (TR) and mitral regurgitation (MR); immediate complete revascularization of an acute coronary syndrome (ACS); and intravascular imaging for guiding PCI. A look at longer term outcomes in both arenas come from the COAPT and EVOLUT Low Risk studies.
The international TRILUMINATE Pivotal trial of 350 patients with severe TR (mean age 75; 55% women) from 65 centers randomized to TEER or medical therapy showed that TEER was safe and effective and improved quality of life. The primary endpoint, a hierarchical composite of all-cause death, tricuspid valve surgery, hospitalization for heart failure (HF) and improvement in quality of life measured by the Kansas City Cardiomyopathy Questionnaire (KCCQ), favored the TEER group, driven by the 12.3±1.8 points improvement in the KCCQ score vs. 0.6±1.8 points in the control group (p<0.001). At 30 days, 87% vs. 4.8% of the TEER and control groups had less than moderate TR; 98.3% of TEER patients were free of major adverse events.
"Patients with [TR], when treated with [TEER] with the TriClip device, experienced significant improvements in quality of life," said Paul Sorajja, MD, FACC, lead author of the study, which was simultaneously published in NEJM. "In a patient population with a high symptom burden, this is a meaningful benefit."

Visit the ACC.23/WCC Meeting Coverage page at ACC.org/ACC2023 for all the trial summaries/updates, news stories and visual abstracts, as well as wrap-up videos and podcasts.
In the largest study to examine outcomes of transcatheter mitral valve repair outside of the clinical trial setting, Raj R. Makkar, MD, FACC, et al., analyzed STS/ACC TVT Registry data from 19,088 patients (average age 82, 49% women, median risk of death within 30 days of surgery 4.6%) who underwent TEER with the MitraClip device for moderate to severe isolated degenerative MR from Jan. 1, 2014 to June 30, 2022. Patients who had undergone surgery or a previous transcatheter procedure to repair a mitral valve were excluded, along with those with secondary MR.
The study's primary endpoint, MR success defined as moderate or better residual MR without severe stenosis, was achieved in 88.9% of patients. Optimal MR success (MR of mild or less severity without severe stenosis) was observed in 64.2% of patients.
Looking at clinical outcomes at one year in patients who had successful vs. unsuccessful procedures, respectively, mortality was 14.0% vs. 26.7%; HF readmission 8.4% vs. 16.9%; and mitral valve reintervention 2.1% vs. 13.5%. In patients with a successful procedure, one-year mortality was lower for those with mild or less residual MR vs. moderate MR (12.3% vs. 18%).
"We found that over the eight-year period that we studied, the procedural success rate increased from 81.5% in 2014 to 92.2% in 2022," said Makkar. "Optimal success – a reduction in residual mitral leakage to mild or less – was attained in 64% of patients overall, but that increased from 44.6% in 2014 to 71.7% in 2022."
The five-year data from the COAPT trial showed that TEER with the MitraClip device on top of maximally tolerated guideline-directed medical therapy (GDMT) for HF vs. GDMT alone for patients with severe secondary MR (grade 3-4+) was safe, cut the rate of hospitalizations for HF and reduced all-cause death.
The primary effectiveness endpoint was all hospitalization for HF within two years. After five years, among the 614 randomized patients (average age 72, 36% women), death or hospitalization for HF occurred in 73.6% and 91.5% of the TEER and control groups. The annualized rate of hospitalization for HF through five years was 33.1% and 57.2% for the TEER and control groups. Overall, TEER was associated with a 28% risk reduction in all-cause mortality.
"MitraClip made a profound difference for patients with [HF] and severe MR. Based on these findings, appropriate patients should be treated with MitraClip as early as possible," said Gregg W. Stone, MD, FACC, who presented the findings. However, he noted that even after successful MitraClip, nearly three in four patients died or were hospitalized, because the underlying left ventricular dysfunction is not treated. "We need to develop better therapies for advanced [HF] if the prognosis of this high-risk patient population is to be further improved."
The UK MINI MITRAL trial showed that in 330 patients (average age 67, 30% women) with severe degenerative MR treated at 10 centers in the U.K. and randomized to mitral valve repair by either sternotomy or mini-thoracotomy there was no between-group difference for the primary outcome of change in physical function and ability to return to work at 12 weeks.
"The study has also answered two key questions about the mini-thoracotomy approach – the valve repair rate and the quality and durability of valve repair performed using this approach," said Enoch Akowuah, MD. "Valve repair rates were excellent [at 96%] and similar with those obtained with sternotomy. Moreover, at one year after surgery more than 92% of patients in both groups had no or mild valve leakage."
The three-year outcomes from the EVOLUT Low Risk trial, presented by John K. Forrest, MD, FACC, found that rates of the primary outcome of death and disabling stroke were lower among patients with severe symptomatic aortic stenosis and a low surgical risk treated with transcatheter vs. surgical aortic valve replacement (7.4% TAVR vs. 10.4% SAVR; HR, 0.70; p=0.051). The difference between treatment arms remained broadly consistent over time: –1.8% at year one; –2.0% at year two; –2.9% at year three.
On the interventional front, in patients with multivessel disease presenting with a STEMI or NSTEMI ACS, immediate complete revascularization was noninferior to delayed complete revascularization for the composite primary outcome (all-cause mortality, myocardial infarction [MI], unplanned ischemia-driven revascularization or cerebrovascular events at one year) in the BIOVASC trial.
Among 1,506 patients at one year, a primary endpoint event occurred in 7.6% vs. 9.4% of patients in the immediate vs. delayed groups (HR, 0.78; p for noninferiority=0.0011). No difference was seen for all-cause death. In the delayed group vs. the immediate group, more patients had a second MI (4.5% vs. 1.9%; HR, 0.41; p=0.0045) and more unplanned ischemia-driven revascularization (6.7% vs. 4.2%).
The RENOVATE-COMPLEX-PCI trial found that PCI guided by intravascular imaging vs. angiography in 1,639 patients in South Korea with complex coronary artery disease was associated with a lower risk of the primary outcome of cardiac death, target vessel MI or target vessel revascularization.
With a median follow-up of 2.1 years, the primary endpoint was observed in 7.7% and 12.3% of the intravascular imaging and angiography groups (HR, 0.64; p=0.008). Cardiac death occurred in 1.7% and 3.8% of the groups; target vessel MI in 3.7% and 5.6%; and repeat revascularization in 6.3% and 7.1%.
"The results of our trial may lead to an increase in the use of intravascular imaging – and, in turn, an improvement in clinical outcomes – among patients with complex coronary blockages who are undergoing stenting," said Joo-Yong Hahn, MD, PhD, who presented the trial.
ACC leaders past and present, including a large number of ACC past presidents, were on hand at ACC.23/WCC participating in panels, chairing sessions and much more. These women and men continue to help lead the College into the future and are playing a critical role in helping to inspire and mentor the next generation of leaders and cardiovascular clinicians.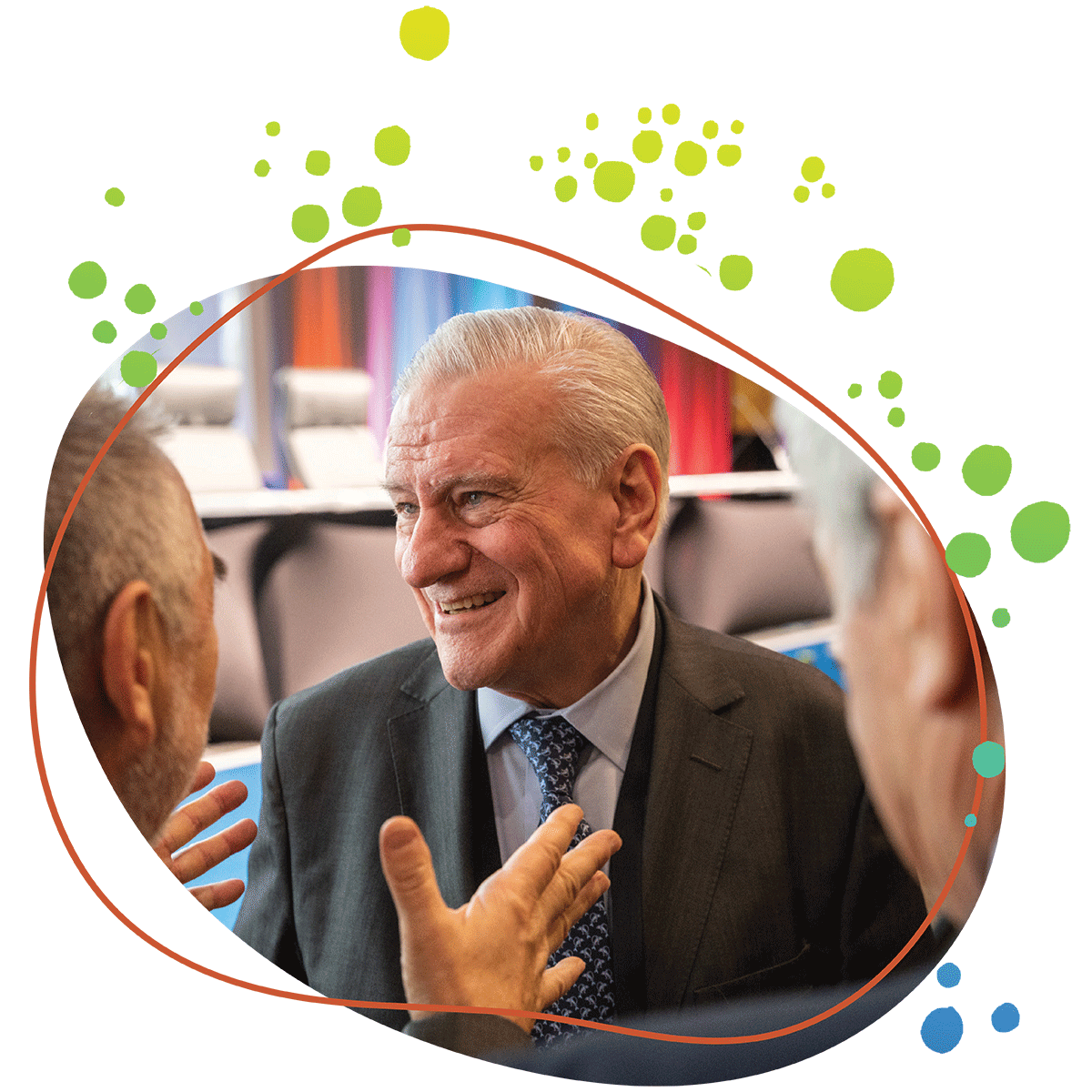 The feeling of community was woven throughout the three days of ACC.23/WCC. Just as important as the science is the time spent engaging with experts, networking with colleagues from around the world, or even just grabbing coffee with a friend.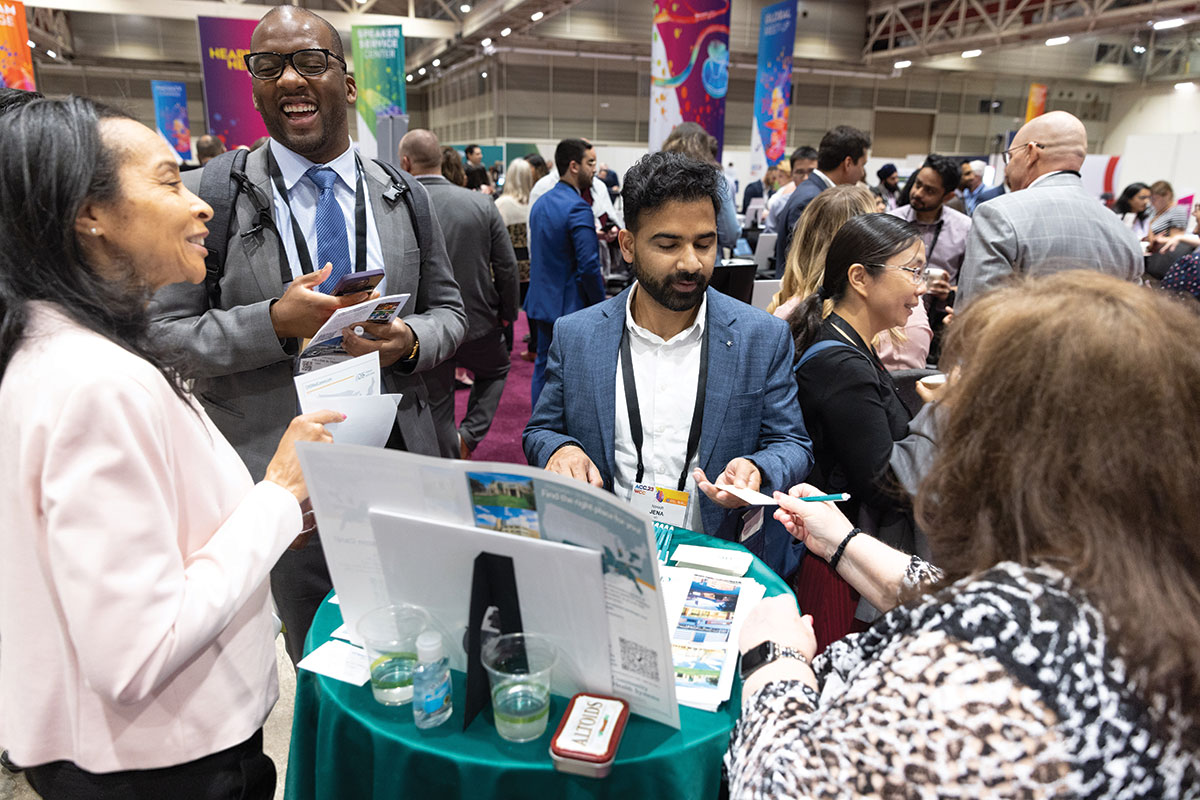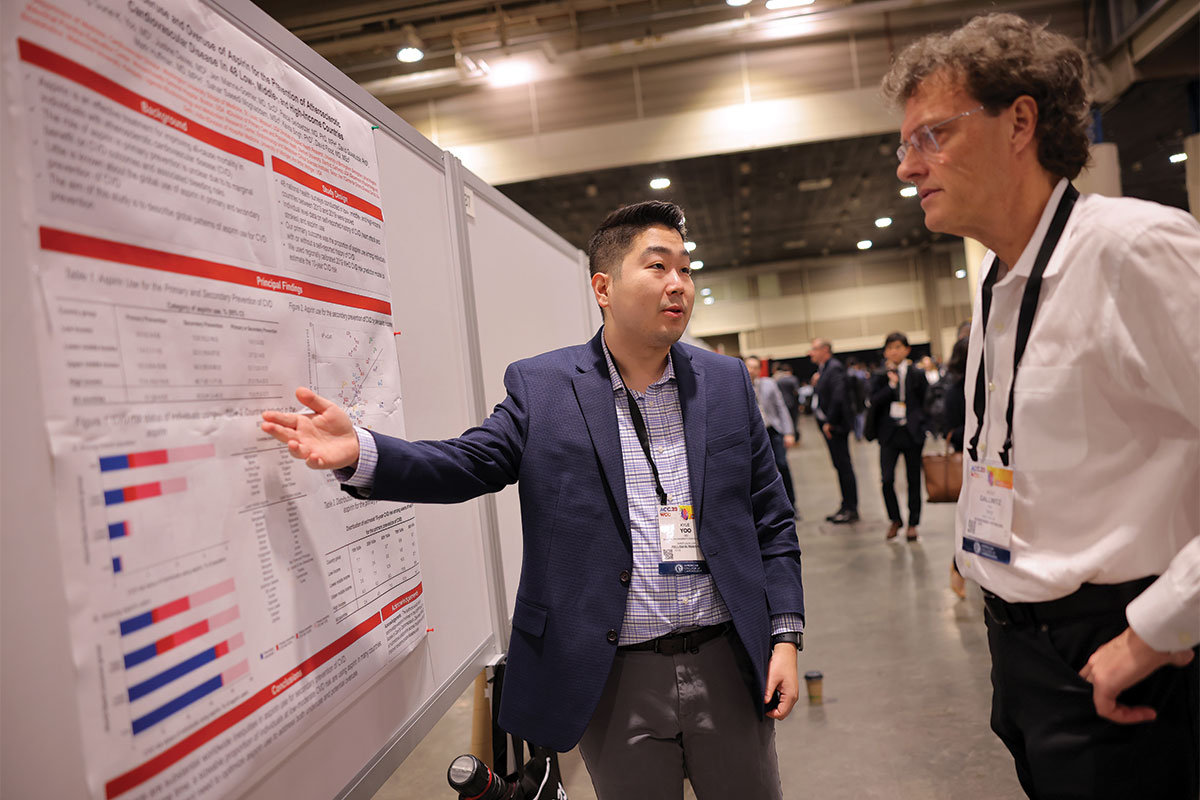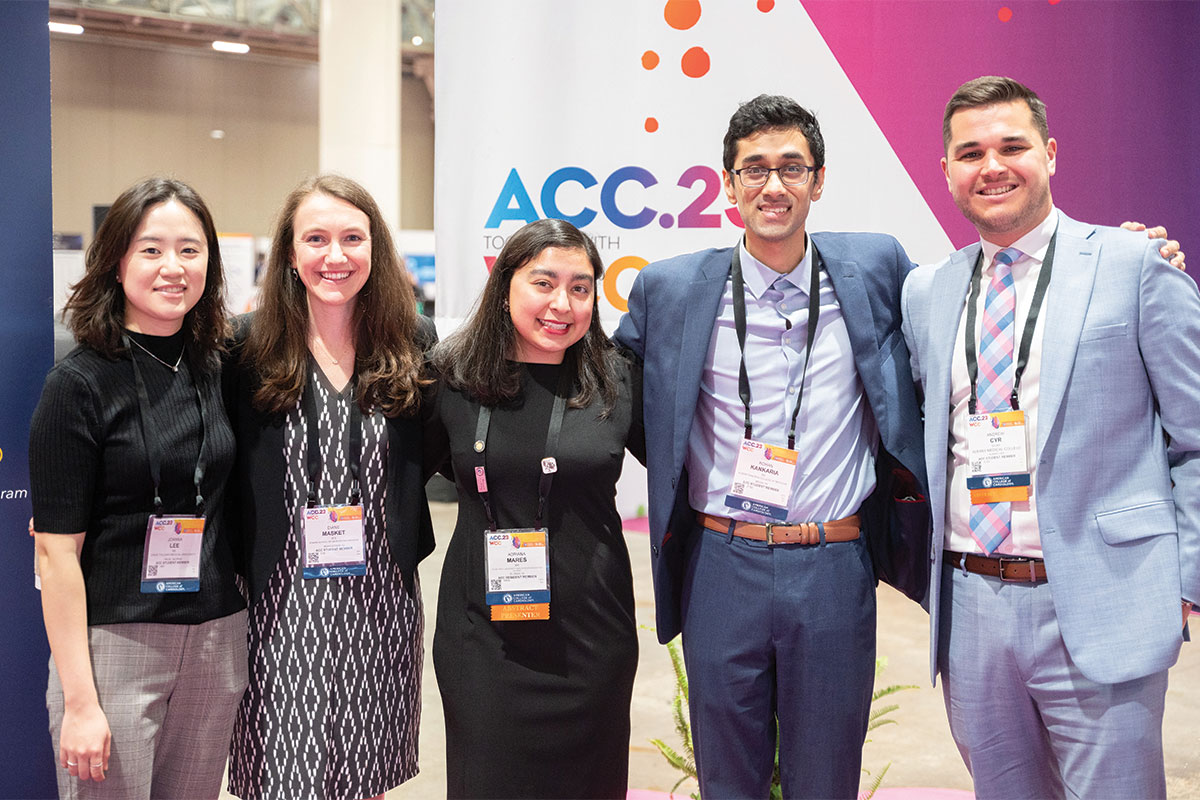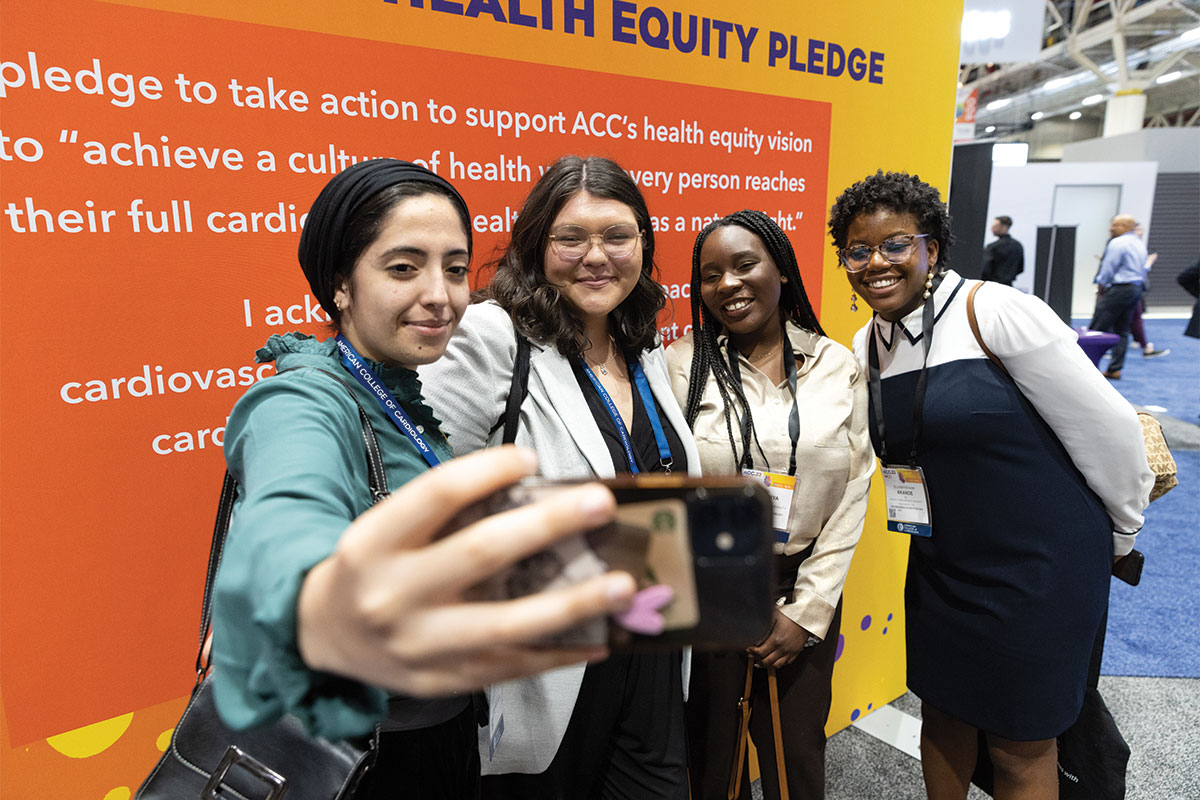 The ACC.23/WCC 72nd Convocation was a time to celebrate award winners and recognize global partners like the World Heart Federation, American Heart Association, European Society of Cardiology and so many societies united in the shared mission to improve heart health for all. Importantly, it's also a time to welcome new FACCs and AACCs to the ACC Family and mark the transition to a new ACC president.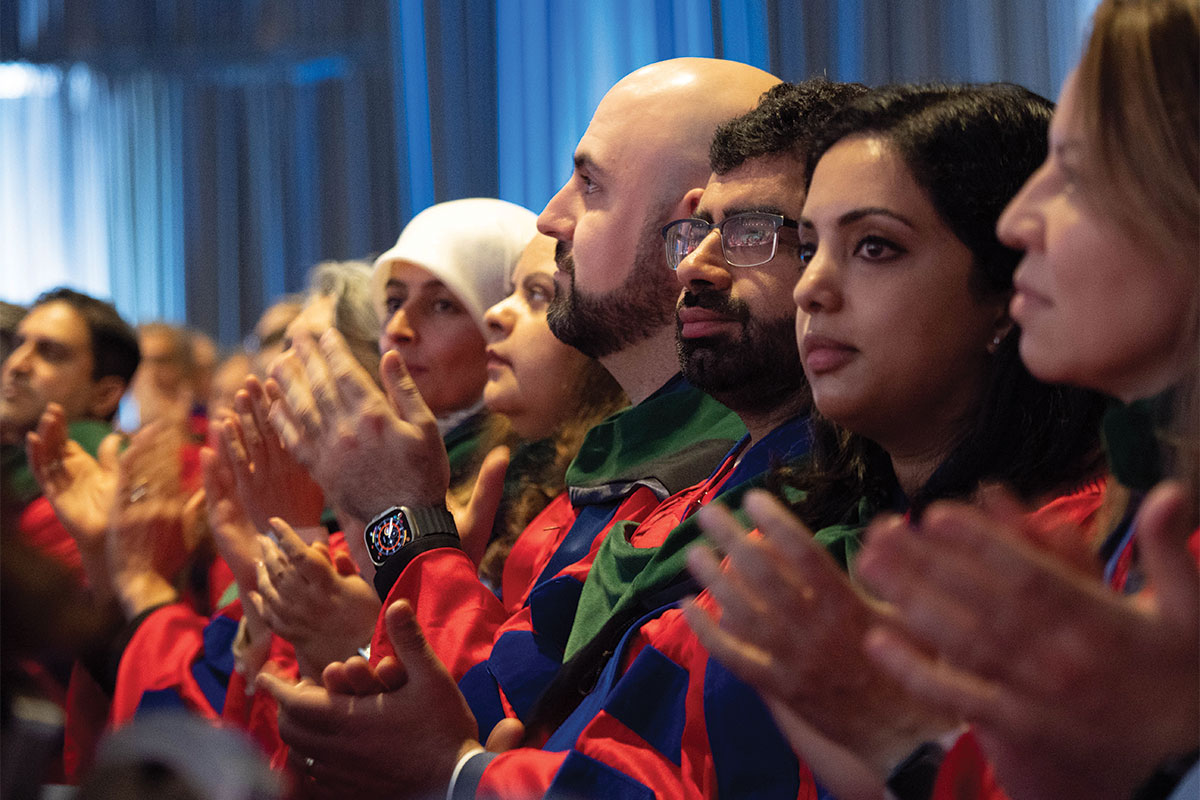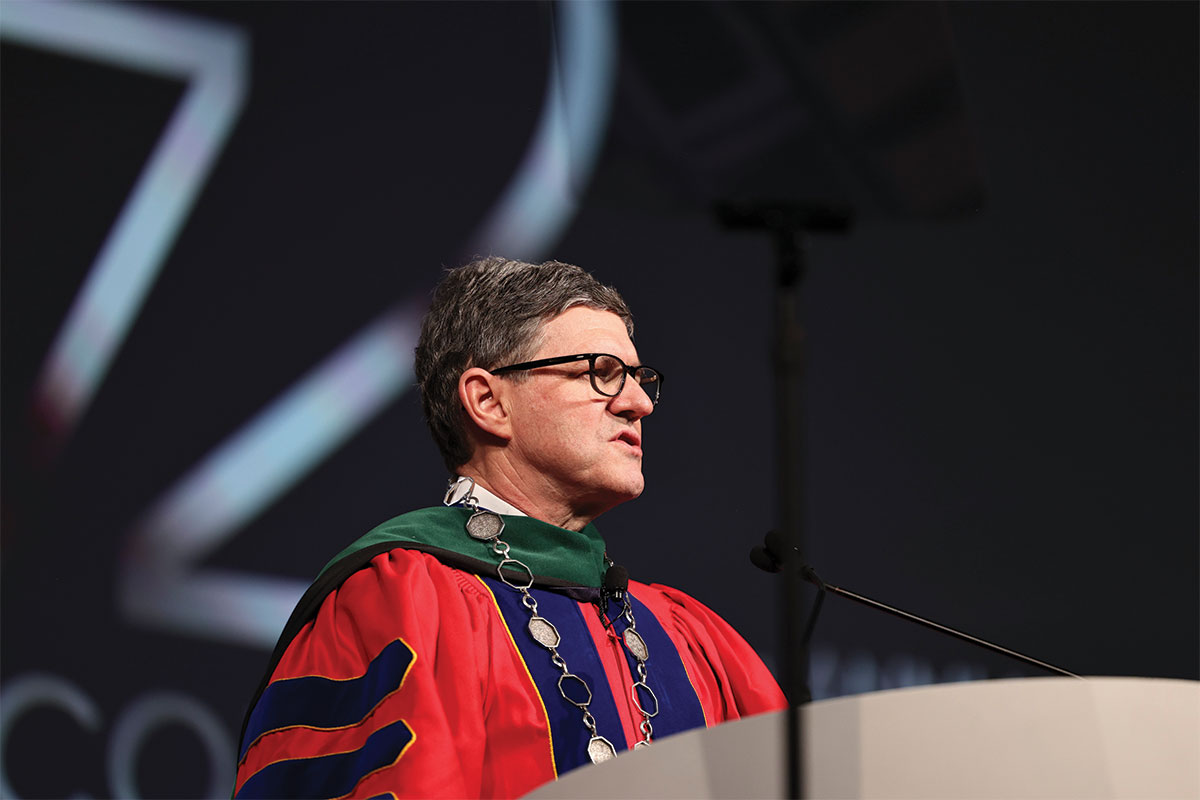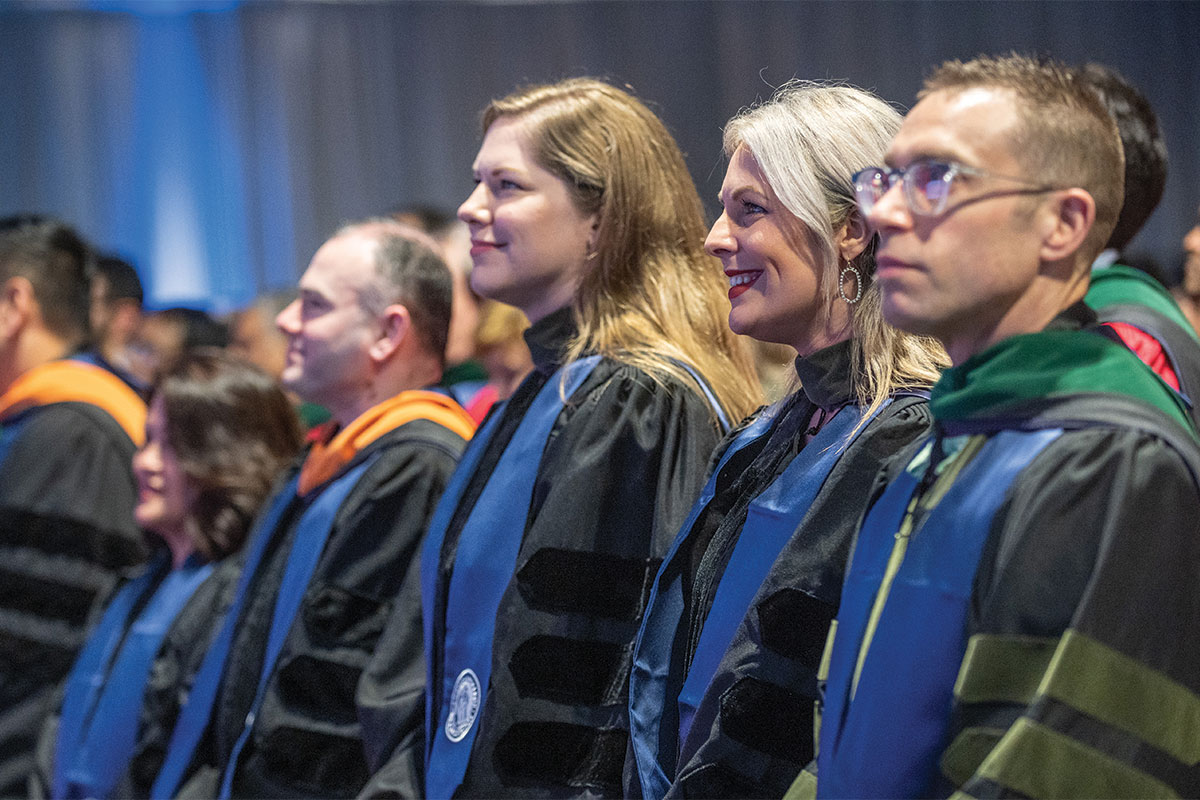 Clinical Topics: Acute Coronary Syndromes, Anticoagulation Management, Arrhythmias and Clinical EP, Cardiac Surgery, Cardiovascular Care Team, Congenital Heart Disease and Pediatric Cardiology, Diabetes and Cardiometabolic Disease, Dyslipidemia, Geriatric Cardiology, Heart Failure and Cardiomyopathies, Invasive Cardiovascular Angiography and Intervention, Noninvasive Imaging, Pericardial Disease, Prevention, Pulmonary Hypertension and Venous Thromboembolism, Sports and Exercise Cardiology, Stable Ischemic Heart Disease, Valvular Heart Disease, Vascular Medicine, Anticoagulation Management and ACS, Implantable Devices, SCD/Ventricular Arrhythmias, Atrial Fibrillation/Supraventricular Arrhythmias, Cardiac Surgery and Arrhythmias, Cardiac Surgery and CHD and Pediatrics, Cardiac Surgery and Heart Failure, Cardiac Surgery and SIHD, Cardiac Surgery and VHD, Congenital Heart Disease, CHD and Pediatrics and Arrhythmias, CHD and Pediatrics and Imaging, CHD and Pediatrics and Interventions, CHD and Pediatrics and Prevention, Acute Heart Failure, Pulmonary Hypertension, Interventions and ACS, Interventions and Imaging, Interventions and Structural Heart Disease, Interventions and Vascular Medicine, Angiography, Nuclear Imaging, Hypertension, Sleep Apnea, Sports and Exercise and Congenital Heart Disease and Pediatric Cardiology, Sports and Exercise and ECG and Stress Testing, Sports and Exercise and Imaging, Chronic Angina
Keywords: ACC Publications, Cardiology Magazine, ACC Annual Scientific Session, ACC23, Leadership, Faculty, Workforce, Cardiology, Acute Coronary Syndrome, Anticoagulants, Arrhythmias, Cardiac, Cardiac Surgical Procedures, Metabolic Syndrome, Angina, Stable, Heart Defects, Congenital, Dyslipidemias, Geriatrics, Heart Failure, Angiography, Diagnostic Imaging, Pericarditis, Secondary Prevention, Hypertension, Pulmonary, Sleep Apnea Syndromes, Sports, Exercise Test, Heart Valve Diseases, Aneurysm
< Back to Listings