ACC Innovation Challenge Recognizes Groundbreaking Devices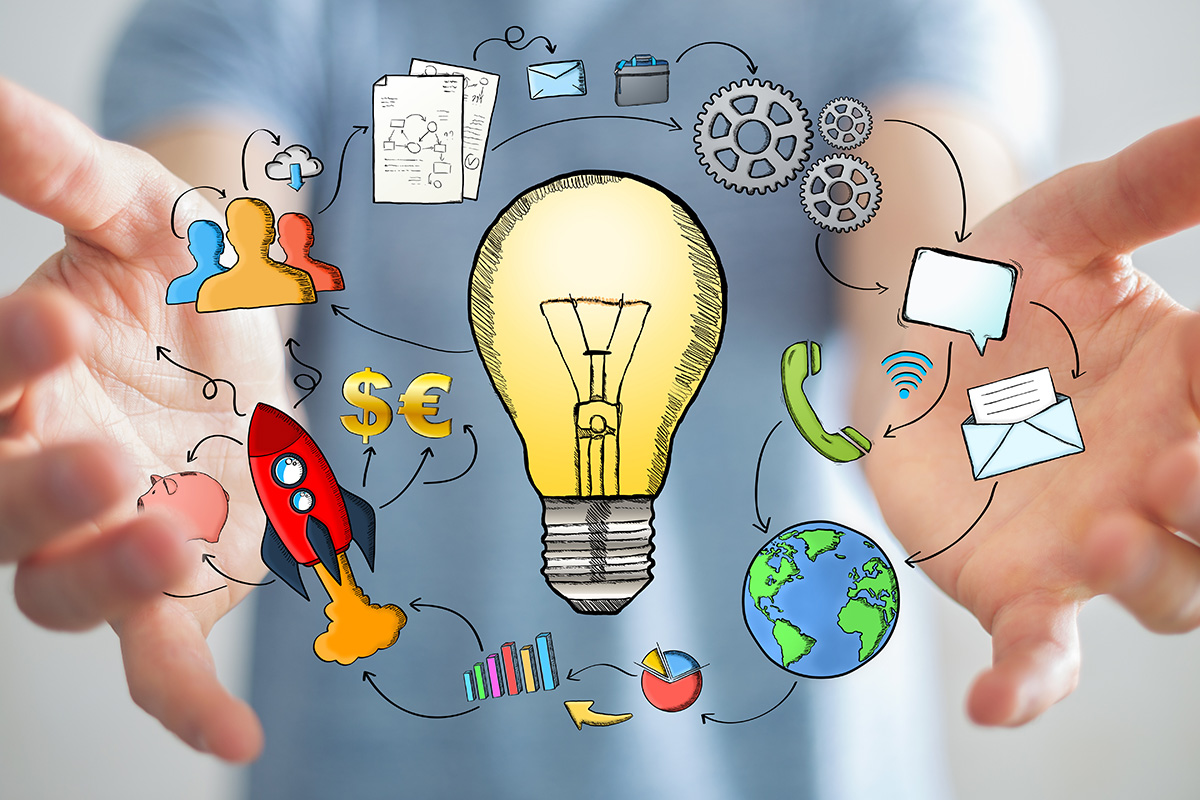 The pitches were virtual for ACC's Third Annual Innovation Challenge, fitting for devices poised to advance solutions in cardiovascular care through digital means. But they were no less competitive and energetic than past challenges held in ACC's Future Hub during the Annual Scientific Meeting.
"As always, the ACC in partnership with AngelMD delivered an amazing pitch event – this time completely virtually! We featured eight different companies in the startup space that were truly impactful," says Andrew M. Freeman, MD, FACC, co-chair of the Future Hub Task Force of ACC's Health Care Innovation Member Section.
"The program was fun, engaging and, most importantly, showed the power and the spirit of innovation."
Saranas® was the winner in the Cardiovascular Disease Prevention category for its Early Bird Bleed Monitoring System, a real time internal bleeding monitor for endovascular applications. iPill Dispenser was the winner in the Telehealth and Virtual Visits category for developing a device linked to a smartphone app that can prevent opioid abuse.
Saranas Early Bird Bleed Monitoring System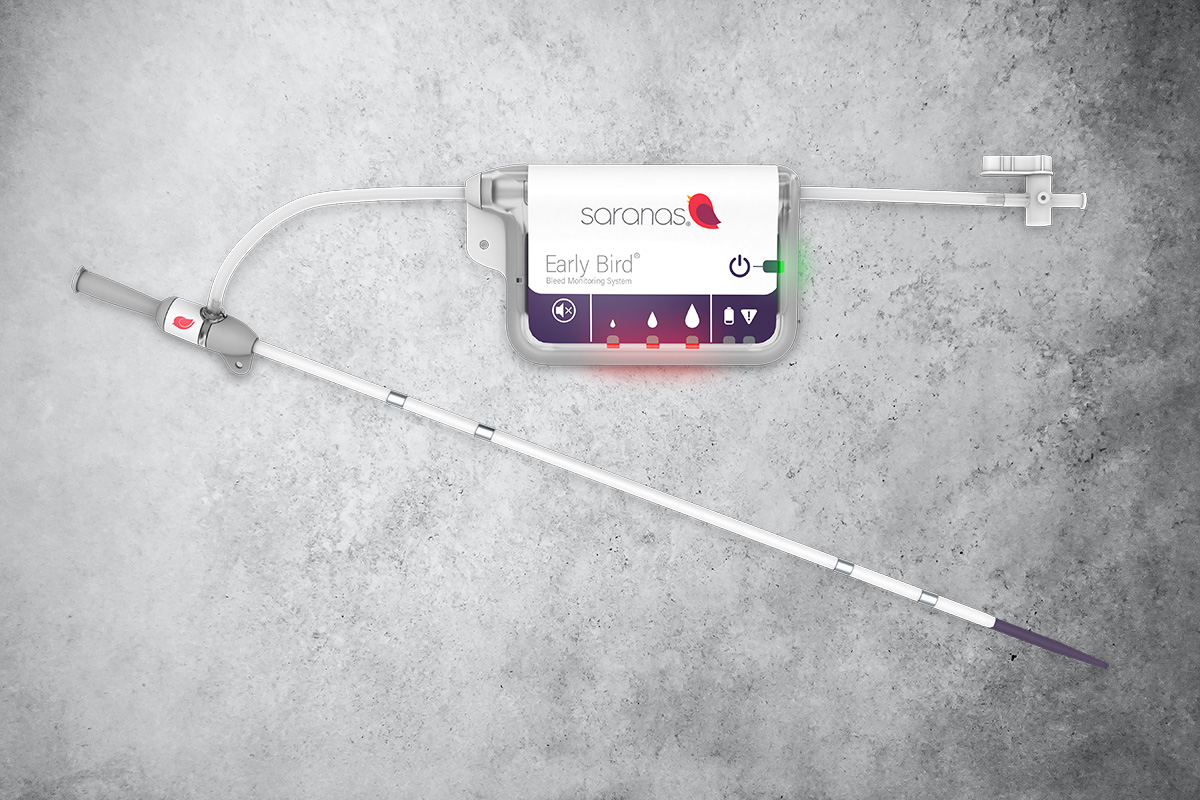 Minimally invasive endovascular procedures have greatly improved patient outcomes but come with the risk of undetected bleeding. The current standard of care is to wait until a patient presents with bleeding symptoms, such as a hematoma, pain or a drop in blood pressure, before initiating treatment.
Bleeding symptoms are correlated to patients developing complications that can lead to additional interventions, longer hospitals stays and increased mortality.
"The Early Bird® provides notice of bleeds well ahead of bleeding symptoms, allowing for the health care teams to mitigate early the complications that produce these negative clinical consequences," says James Reinstein, president and CEO of Saranas.
"Our device is specifically designed as an adjunctive tool to be deployed alongside these high-risk endovascular interventions, such as TAVR, endovascular aneurysm repair and mechanical circulatory support."
The single-use Early Bird Bleed Monitoring System, with its four electrodes, is placed in the femoral vein or artery to acquire a baseline bioimpedance signal. A user interface display outside the body receives signals from the electrodes to indicate the severity of a bleed. Visual and audio signals alert the medical team if a bleed could pose a threat.
"When the device is inserted into the vessel, the patient's bioimpedance measurement is recorded as a baseline," Reinstein says.
"When there is extravasation or bleeding, at the access site or even more distal to that site, the Early Bird has the ability to detect that bleeding by sensing the change in the electrical activity through a bioimpedance signal that notifies the user."
Bleed notifications from the device are prioritized as level 1, 2 or 3 during or after the procedure. The device has a battery life of about 12 hours, so it can be left in the femoral vein after the procedure during the monitoring period.
Our device is specifically designed as
an adjunctive tool to be deployed alongside these high-risk endovascular interventions,
such as TAVR, endovascular aneurysm repair and mechanical circulatory support.
Most clinicians leave the device in the vein for four hours after they have closed the access site, he says. The Early Bird can then be easily removed and pressure is applied for 30-60 seconds to close the venous access site.
Up to 18% of large-bore endovascular interventions can experience bleeds and can even exceed 30%, depending on the procedure, Reinstein says. The average cost to treat a bleed complication is $18,000, according to a study of more than 17,000 such procedures published in JAMA Cardiology.
"The cost burden is significant when these bleeds occur. We can recover those costs by providing an early notification that would reduce the total cost associated with these procedures," Reinstein says.
"Hospitals do not get any additional reimbursement for managing these complications. When they do occur, hospitals absorb those costs. Our value is defined by the Early Bird's ability to alleviate those costs through early mitigation."
Saranas was founded more than six years ago by Mehdi Razavi, MD, FACC, an electrophysiologist and a member of the Saranas Board of Directors. Razavi worked with engineers to develop the technology for the device, which received a U.S. Food and Drug Administration (FDA) de novo classification in March 2019 and became available commercially in late 2019.
The company is building its commercial footprint with more than 50 independent distributor reps focused on large-bore endovascular procedures and finding some traction in other procedures, such as neurovascular and electrophysiology interventions, Reinstein says.
The ACC Innovation Challenge provided a great opportunity for Saranas to advance knowledge of its Early Bird Bleed Monitoring System, he says.
"The ACC platform allowed us to present on our innovative technology within the specialty of our primary focus," Reinstein says.
"The Innovation Challenge allows us to be at the forefront of potential physician users and provides an opportunity to raise awareness and eventually access to clinicians interested in incorporating our novel clinical solution."
iPill Dispenser
The child-resistant cap for prescription bottles was mandated by the FDA in 1970 and it is credited with reducing drug overdoses by 91%. Developers of the iPill Dispenser hope to replicate that success by controlling access to opioids with a device linked to a smartphone application for improved security.
The iPill Dispenser app requires a user to provide a fingerprint and a personal code before releasing an opioid. If the dispenser is tampered with, the pills are immediately dissolved in the container. The dispenser prescription expires after 90 days and any pills not used are dissolved in an FDA-approved solution.
"At the bank ATM, you have to put in a card and a personal code. We're using the same type of thing – with a fingerprint and a personal code," says John Hsu, MD, iPill Dispenser founder and CEO.
"At the bank, you have a limit on how much money you can take out. For us, you have a limit for the whole day and you can only take pills out as prescribed. If you try to break or rob the ATM, the money is tagged with blue ink; what we do is actually dissolve the pills."
The National Institute on Drug Abuse reports that between 21-29% of patients prescribed opioids for chronic pain misuse them. With that threat in mind, the dispenser is just one of the two options iPill Dispenser is using to fight opioid abuse. The company works with Pear Therapeutics and has developed a telehealth app to help treat addiction.
"One of the biggest issues in the opioid epidemic is that everyone is focused on the pill. You have to treat the pill and treat the patient. The iPill actively controls pill dispensing and it uses cognitive repair therapy to actually treat the patient as well," Hsu says.
"We use that to decrease depression, anxiety, bedwetting and other addiction issues. It is almost like biofeedback."
iPill Dispenser also has developed a telehealth app that provides access to 1,000 therapists if a patient needs counseling, he says, adding, "If someone needs help, they have someone to talk to, which is important because those people feel alone."
Young patients are a focus because one in four opioid overdoses involve children and teens. Associated with every opioid-related death are 119 emergency room visits and 22 hospitalizations, which adds up to $1.8 million per death, Hsu says.
The iPill actively controls pill dispensing and it
uses cognitive repair therapy
to actually treat the patient as well.
In addition, several large insurance companies estimate that the annual cost of treating patients who abuse opioids is $19,333.
iPill plans to sell its dispensers for $50 each, which is a small investment to reduce the number of addicted patients and the costs to treat them, he says.
"Because we are safer, we can help decrease insurance premiums. Decreased premiums means we can get more subscribers."
With 28 years of experience as an anesthesiologist using a multimodal approach to treat pain, Hsu's approach to preventing opioid addiction evolved to take advantage of smartphone technology. He started iPill Dispenser three years ago as he realized that the great majority of Americans use smartphones.
"Because the patient is using their own cell phone, they won't lose it. We don't have to deal with software or hardware authentication because it is already on the cell phone," he says.
"You have app registration, which is like setting up a new phone, but faster. Authentication is a required step and then choosing a personal code."
In addition, setting up the iPill Dispenser can help head off the start of addiction issues. "We are trying to prevent that whole downward spiral of being addicted to opioids. Once you've started, it is very hard to get off," Hsu says.
The FDA has given the dispenser a Class 1 medical device approval and the company is seeking a similar approval for a related remote monitoring device. Patients would wear the device, which has a biosensor to monitor respiration.
"If you are not breathing well, we can send an alarm and have one of our people call you. If you are not answering your phone, the call center connects the app to stop the opioid dispensing and calls 911," Hsu says."
Winning the ACC Innovation Challenge is a step toward the industrial manufacture of the iPill Dispenser and greater recognition of its potential.
"The Innovation Challenge gives us a chance to show what we can do as physicians — not just cardiologists, not just anesthesiologists," Hsu says.
"It shows that doctors can innovate and think outside the box to improve care for our patients. If the iPill does that, we are successful as physicians for the country."
Clinical Topics: Vascular Medicine
Keywords: ACC Publications, Cardiology Magazine, Analgesics, Opioid, Drug Overdose, National Institute on Drug Abuse (U.S.), National Institute on Drug Abuse (U.S.), Chronic Pain, Traction, Nocturnal Enuresis, Femoral Vein, Aortic Aneurysm, Abdominal, Blood Pressure, Cardiovascular Diseases
< Back to Listings