Just One More | Vivien Thomas: Remembering a Pioneering Legend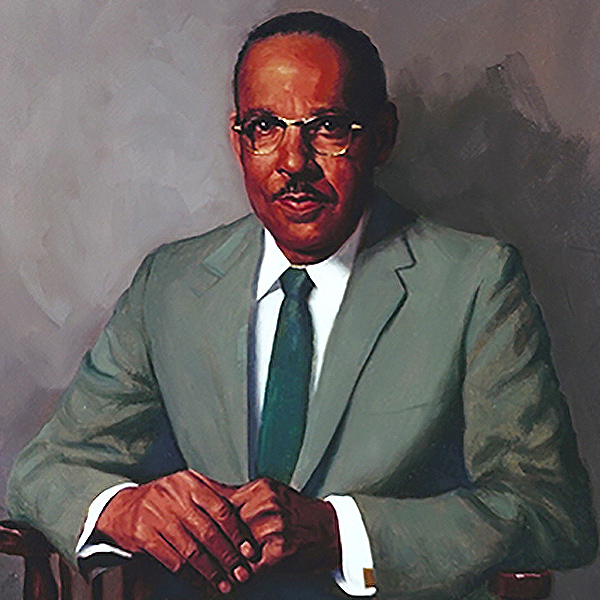 Vivien Thomas' life and legacy are rife with colors – black, white and blue. A poor Black man and grandson of an enslaved person, Thomas was classified as a janitor at Johns Hopkins University but donned a white lab coat and eventually played a crucial role in developing surgical techniques to overcome tetralogy of Fallot, a cause of blue baby syndrome.
Thomas was born in Louisiana in 1910. While he never realized his dream of going to college and medical school, losing his college savings during the Great Depression, he became a scientist and educator and the teacher of many cardiac surgeons who went on to head surgery departments across the U.S.
Thomas' natural talent and dexterity for surgery quickly became apparent when he began working in 1930 as a laboratory assistant to Alfred Blalock, MD, at Vanderbilt University. On his first day, Thomas assisted Blalock with a surgical experiment on a dog and was soon performing similar procedures on his own.
Performing the work of a postdoctoral researcher, Thomas became an essential part of Blalock's research into the causes and treatment of hemorrhagic and traumatic shock, which evolved into the study of crush syndrome.
Blalock's respect for Thomas' work and intellect led him to reject a job offer when he was not allowed to hire a Black man. Eventually, in 1941, Blalock became surgeon-in-chief at Johns Hopkins University, with Thomas as his assistant, at a time when a Black man wearing a white coat walking across a still-segregated campus was noticed.
The Blalock-Thomas-Taussig Shunt
A failed experiment to treat hypertension became the starting point for finding a treatment for cyanotic "blue" babies. When Helen Taussig, MD, a Johns Hopkins cardiologist, asked Blalock and Thomas for help in finding a treatment for babies with tetralogy of Fallot whose lack of blood oxygen led to weakness and death, they revisited the vascular surgery techniques they had used in the hypertension experiment.
Using the procedure, they joined the subclavian artery to the pulmonary artery to increase blood flow to the lungs. Thomas studied the minute heart specimens of infants at the Hopkins pathology museum for a year before he could reproduce the four-part anomaly of tetralogy of Fallot in a dog's heart.
Over two years he worked on 200 canines to demonstrate that joining the arteries was not fatal, so Blalock could duplicate the Blalock-Thomas-Taussig shunt in a human patient.
The shunt was first used in a child in November 1944, with Thomas standing on a stepstool to coach Blalock over his shoulder – a scene made famous in the movie about Thomas called Something the Lord Made and the documentary titled Partners of the Heart. The needles used during the procedure had been customized for an infant by Thomas.
The team went on to perform the procedure in hundreds of infants, with colleagues from around the world coming to watch and learn.
In 1946, Thomas developed an atrial septectomy to improve blood circulation for patients whose aorta and pulmonary artery were transposed. When Blalock inspected Thomas' completed procedure he said, "This looks like something the Lord made."
The two friends worked together until 1964, when Blalock retired shortly before his death. Despite his lack of formal education, Thomas served as supervisor of surgical laboratories at Johns Hopkins for 35 years.
Thomas was awarded an honorary doctorate by Johns Hopkins School of Medicine for his many contributions in 1976 and named an instructor in surgery.
Honoring a Legacy
The ACC is proud to celebrate Vivien Thomas and his remarkable contributions to medicine. His perseverance and tenacity to find a way to work in medicine despite the barriers led to work that has served many children around the world – regardless of the color of their skin.
Diversity and equity in the workforce and the delivery of health care are key to transforming cardiovascular care. The College is committed to building and fostering a pipeline of future leaders like Vivien Thomas who can continue to shape the future and leave their own mark on the profession.
Click here to learn more.
Celebrate Black History Month and read about more Black pioneers in medicine. Click here to start.
Clinical Topics: Cardiovascular Care Team, Congenital Heart Disease and Pediatric Cardiology, Prevention, Congenital Heart Disease, CHD and Pediatrics and Prevention, Hypertension
Keywords: ACC Publications, Cardiology Magazine, Pulmonary Artery, Subclavian Artery, Tetralogy of Fallot, Shock, Traumatic, African Americans, Laboratories, Crush Syndrome, Surgeons, Aorta, Hypertension, Cultural Diversity, Racism, Inventions
< Back to Listings