Feature | Clinician Well-Being: Strategies and Personal Stories From the Front Lines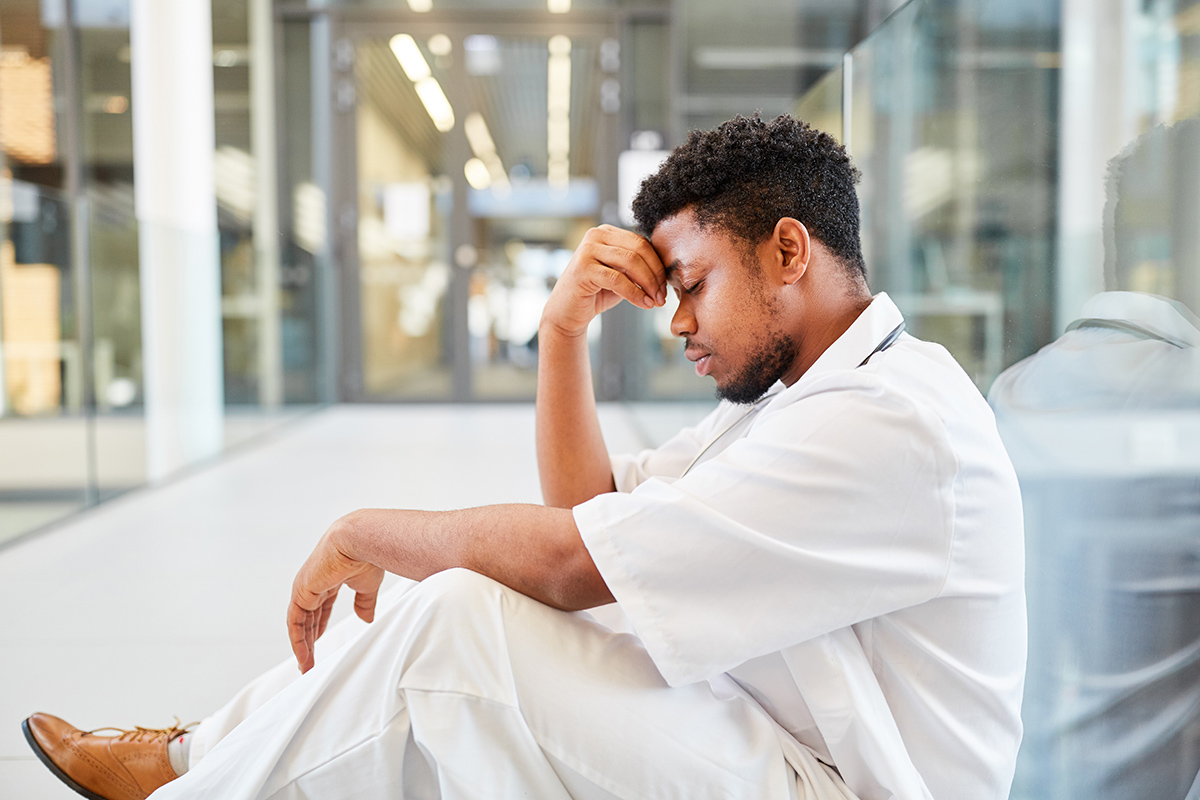 "Burnout is an occupational syndrome of depersonalization, emotional exhaustion and low personal accomplishment leading to decreased effectiveness at work," said Tait D. Shanafelt, MD, presenter of the 50th Annual Louis F. Bishop Keynote at ACC.19.
"Depersonalization is that sense that the system is working against you to provide the care that a patient needs," he said. "It's that moral dimension of a suboptimal system, the exhaustion, losing enthusiasm for your work, low personal accomplishment, losing a sense that you're making a difference."
Burnout affects 38 percent of physicians in the U.S., compared with 28 percent of the general population. In a survey of health care professionals, physicians had the highest rate of burnout symptoms (49 percent) compared with RNs (42 percent), LPNs (32 percent), and clerical assistants (36 percent).
Factors associated with burnout include younger age, single vs. married, and increasing work hours.
Among medical students, burnout starts in the second year of medical school and peaks during residency. In practicing physicians, burnout and dissatisfaction with work-life balance peak at mid-career, about 10 to 19 years in practice.
"The first 10 years in your career likely won't see you through for the full arc of your career," Shanafelt noted. "You need to take on new challenges, whether it's learning a new skill, moving into leadership, or a different teaching role."
Tait D. Shanafelt, MD, presenter of the 50th Annual Louis F. Bishop Keynote at ACC.19.
The consequences of burnout are apparent in clinicians' personal and professional lives, putting them at risk for broken relationships, alcohol and substance abuse, depression, and suicide. The risk of death by suicide is 50 percent higher for male physicians relative to white-collar male professionals.
"For our women colleagues, the risk of death by suicide is 200 to 300 percent the risk of death by suicide relative to women professionals in other fields," Shanafelt said.
Professional consequences of burnout include reduced productivity, reduced quality of care and patient satisfaction, and high turnover rate. Among Stanford School of Medicine faculty who were burned out in 2013, the turnover rate was double that among non-burned out faculty.
"Half the workday is now spent on desktop medicine and even in the exam room, a third of our time is spent doing this. And what's happening here is more than just clerical burden. The fundamental human-human interaction at the heart of our work has been altered by the introduction of the EHR. So, this is not only about a clerical burden story," said Shanafelt.
Increased productivity demands take a large toll, with the EHR and other clerical work taking two hours for every hour of clinical work. Physicians also spend one to two hours on clerical work during personal time each night. Other contributors to burnout include decreased control over the practice environment, increased regulatory issues, and decreased time with patients.
Clinicians may find it difficult to integrate their professional and personal lives and often feel isolated.
"The fabric of our profession has been frayed. This has always been demanding, emotional work and one of the things that saw us through were the people sitting to our left and right. As we interact with each other less due to these many forces and we become more isolated it increases risk," Shanafelt said.
Shanafelt emphasized that burnout is a symptom of the work environment, not weak workers. Even so, clinicians can take steps to optimize meaning in work and attend to self-care activities.
"Think about things you value personally and professionally," he said. "I can almost guarantee you have incompatible personal and professional goals."
Clinicians can begin to balance their personal and professional lives by examining their values to identify what matters most. They can optimize meaning at work by choosing the type of practice that best fits their values and goals for work-life integration.
Personal wellness activities are important, including nurturing relationships, partaking in religious or spiritual practice, making time for personal interests, and attending to self-care such as exercise, sleep and regular medical care.
Organizational Strategies
"Based on overwhelming evidence it's 80 percent the system and a small bit that is ours. There is an opportunity to identify what you have a passion for and reshape your career a bit to focus on that, to think about work-life integration in a different way," Shanafelt said.
Although self-care activities are important, a focus on organizational strategies to reduce burnout and promote engagement is critical.
"There has to be organizational commitment to this and that has to come from leadership. The organization has to take care of the organizational components to burnout, and then create the resources for individuals to use at their level," said panelist Joseph G. Cacchione, MD, FACC.
Stanford Medicine and the Mayo Clinic are two organizations that have done just that, developing programs to address burnout.
The Stanford WellMD Model focuses on strategies to promote cultural wellness, efficiency of practice and personal resilience to reduce burnout and give physicians tools to achieve professional fulfillment.
The Mayo Clinic has adopted similar strategies:
Acknowledge and assess the problem
Harness the power of leadership
Targeted interventions to improve efficiency
Cultivate community at work
Rewards and incentives
Value alignment and culture
Promote flexibility and work-life integration
Resources to promote resilience and self-care
Organizational science
Such strategies have been shown to work – for example, collaborative action in which physicians and leaders worked together to identify and resolve issues in individual hospital units empowered physicians to make changes and decreased burnout by 11 percent.
A systematic review of 37 studies found that interventions to reduce burnout are effective.
These strategies are effective "not because the interventions always work but because the process works. Leadership is listening, they care, they are letting us pick the target, they are empowering us to try to make a change," Shanafelt said.
Personal Stories: Mindfulness and Self-Understanding
ACC.19 Intensive focusing on clinician wellness.
In an ACC.19 Intensive focusing on clinician wellness, Jacob Mirsky, MD, and Anand Chockalingam, MBBS, FACC, discussed the importance of stress management through mind-body therapy incorporating relaxation, diet, exercise, yoga, meditation and other stress reducing activities.
The Stress Management and Resiliency Training (SMART) program, related Mirsky, elicits the relaxation response, which returns stress response physiologic changes back to normal.
"Yoga is the ultimate mind-body connector because it has both mental health and physical health benefits. I've used it for both over my lifetime and my career," shared Reena Pande, MD, during the session. Michael Landzberg, MD, FACC, said, "Personally, when I am on the consult service…I stop into the hospital chapel (as a quiet space without interruption) every time I pass one and I do a short meditation for a minute or two."
The self-awareness-based Cardiac Wellness Clinics led by Chockalingam at the Columbia Missouri VA system focus on stress control and heartful living using activities that promote self-understanding, relaxation and mindfulness.
"Family is important, job is important. But please find a hobby, preferably physical, which you are passionate about," Chockalingam said, referring to activities that bring about the "flow experience" – optimal engagement with a task, free from self-consciousness, an intrinsically enjoyable state.
Stepping back and taking time for self-understanding helped Suzanne Feigofsky, MD, FACC, and Claire S. Duvernoy, MD, FACC, chair of ACC's Women in Cardiology Leadership Council, to make changes that led to professional and personal fulfillment.
"I crashed and burned eight years ago. It was after the birth of my daughter," related Feigofsky. "I didn't know who I was anymore. I felt I was struggling as a mother, I was struggling as a cardiologist and I lost my identity. I felt I had no voice in my group. I felt that what I was doing for my patients was without value. And I felt completely broken," she said.
After seeking therapy, Feigofsky realized that she was burned out. "It took approximately a year before I made changes that were effective. Now I'm happy to say that I have a new job. I have found myself again. I have purpose and I love my profession," she said.
"Last summer I took three months off work and left Ann Arbor to spend some time by myself at our cottage up north so I could finally find time to breathe again. I also was able to spend time with my father in his last couple weeks of life and be with him when he died from progressive dementia," said Duvernoy. "I am so glad I was able to take that time off, that I had the support of my division chief and of the VA leadership who helped me figure out a plan to take that time off."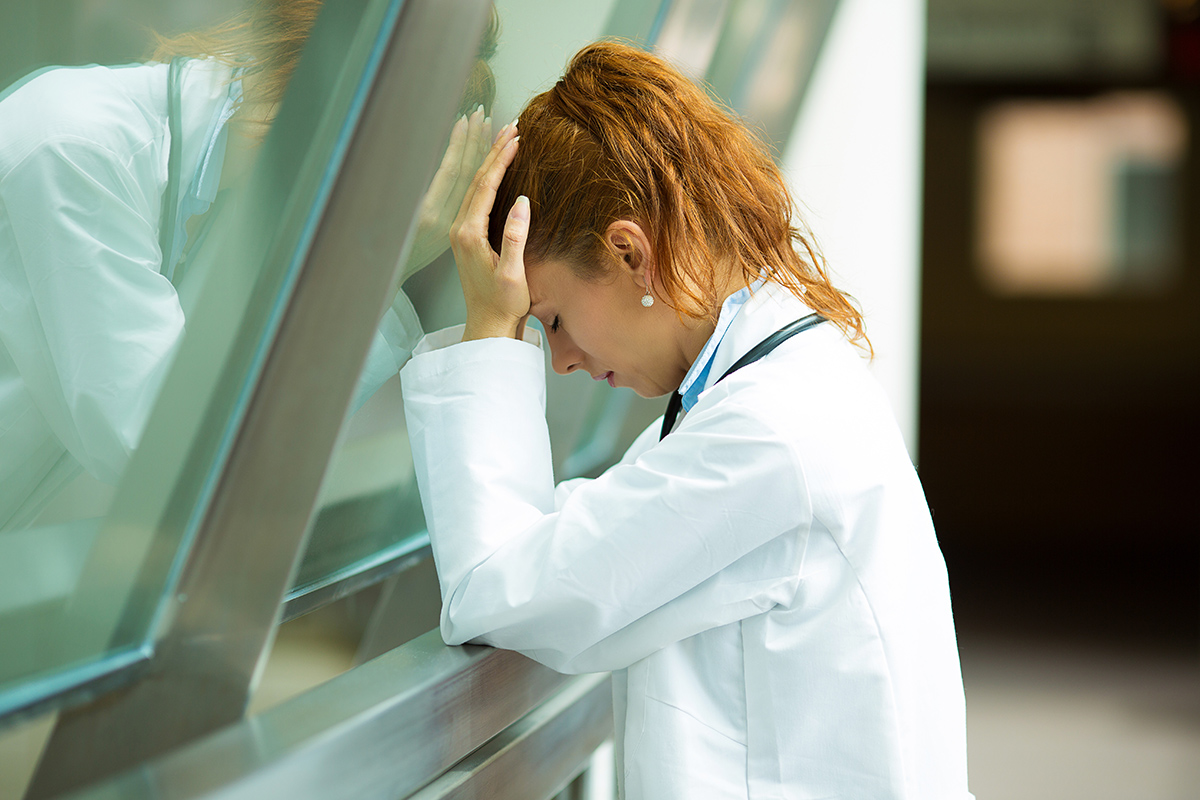 Duvernoy shared that her children were at a precarious phase, both teenagers dealing with adolescent issues, and the full weight of the family issues were on her shoulders because her husband had been on sabbatical for six months.
"I felt like if I didn't take time off I just couldn't breathe. I'm very glad I took the time. I returned to work feeling refreshed." Duvernoy had felt guilty about letting down her colleagues but taking the time off allowed her to step away and "not take everything so personally...it's okay for me not to take it all on my shoulders. I think that was probably the biggest lesson being away taught me," she said.
Digital Solutions
Digital health solutions such as apps and wearables based on science and validated by research promote physical activity and emotional resilience, according to Kapil Parakh, MD, MPH, PhD, FACC, medical lead at Google Fit, and chair of ACC's Innovation Advisory Group.
He recommended the following digital solutions:
Smartwatch: promotes physical activity
Johnson & Johnson 7-minute workout: based on exercise physiology, addresses the issue of "no gym and no time"
Sworkit: Range of customizable workouts, including strength, cardio, yoga, stretching
Sleepio and CBT-I Coach: cognitive behavior therapy for insomnia
Headspace and Calm: guided meditation and mindfulness
Happify: activities to increase emotional resilience
Talk Space: connect with a therapist via text, audio, and video
"These are some opportunities to promote wellness. It's important to normalize a focus on wellness in our conversations and in the environment we set up at work. We can provide education on these options and many others, and make it easy," Parakh said.
Issues Faced by Women Cardiologists
Florence Rothenberg, MD, FACC
Women are questioned and second-guessed in ways that men are not on the job. Florence Rothenberg, MD, FACC, shared during the Intensive session that during her fellowship, she'd experienced this and seen it happen frequently.
One example she shared is the difference in response when a fellow who is male vs. female defers a consult to the next day for a patient who is currently stable. The advice of the male fellow is accepted, but for the female fellow her expertise and professional assessment are questioned.
"Her ability to work in a team is questioned and frequently her superiors are called about this," said Rothenberg. "Now I see it among my female fellows. It is incredibly damaging, traumatizing, and your own personal worth is questioned. It takes years to recover from that kind of thing."
Rothenberg encouraged her colleagues to take the Harvard Implicit Bias Test for gender. "You will learn a lot and be better people for that," she said.
Emily Lau, MD
Microaggressions happen every day at work for women, added Emily Lau, MD. She noted that everyone is dedicated to advancing the care of our patients and to advancing our own learning.
"Yet, so often there are little things throughout the day, like being questioned about your competency," she said, noting that although it happens more for women she's witnessed it for men too.
Lau added that she's had personal experiences like the one highlighted by Rothenberg and that the cumulative effect of these microaggressions contribute to burnout and unhappiness.
"We all went into cardiology because we're excited about taking care of patients, we're excited about cardiovascular physiology. It's really such a shame that we're in this position."
ACC Advocacy and Wellness
Thad F. Waites, MD, MACC
Timothy Attebery, DSc, MBA, FACHE
The ACC Health Affairs Committee, chaired by Thad F. Waites, MD, MACC, works closely with ACC Advocacy staff to develop principles to guide the College's evaluation of current and future policies and determine the best course forward with respect to reducing administrative burden, patient access to prescription drugs, Medicaid, and digital health records.
ACC and MedAxiom partnered to develop solutions to reduce burnout, including:
Physician leadership programs
Governance and cardiovascular service line co-management models
Workforce planning
Team-based care models
Community and networking
ACC is committed to providing more resources, said Timothy Attebery, DSc, MBA, FACHE.
"We're listening to you as individual physicians and the organizations we're talking to about the things that work, and how we can develop solutions. Wherever we can we will either buy, build, or partner with those solutions. There are operational and organizational issues we can adjust and improve that will result in physicians' well-being improvement," he said.
"We need to assert ourselves. Assert the right of physician leadership in your organization, don't back off, participate. See the change, be the change, lead the change."
Keywords: ACC Publications, Cardiology Magazine, Female, Schools, Medical, Students, Medical, Depersonalization, Depression, Internship and Residency, Patient Satisfaction, Leadership, Self Care, Burnout, Professional, Work-Life Balance, Physicians, Workplace, Achievement, Faculty, Medical, Morals, Substance-Related Disorders, Bullying
< Back to Listings