Quick Reads Feature | The Pulse of ACC: Type 2 MI Roundtable; PAD Focus of Congressional Briefing; More
Type 2 MI Roundtable; PAD Focus of Congressional Briefing; More.
ACC Names Next Annual Scientific Session Vice Chair
Douglas Drachman, MD, FACC, has been selected as the next vice chair of ACC's Annual Scientific Session. Drachman will serve as vice chair for ACC.21 and ACC.22 and transition to chair for ACC.23 and ACC.24.
Drachman is the Corrigan Minehan Heart Center Director of Education and the Teresa G. and Ferdinand F. Martignetti Endowed Chair for Cardiovascular Medicine at the Massachusetts General Hospital in Boston.
His career has focused on education and advancing clinical care. He has been a member of the ACC Annual Scientific Session Program Committee since 2013 and has served on several education-focused ACC committees, including as chair of the Faculty Development Work Group and the Curriculum Design Committee and as a member of the Lifelong Learning Oversight Committee.
Richard J. Kovacs, MD, FACC
In 2011, he participated in ACC's Emerging Faculty Program, which promotes skills development for emerging faculty who are committed to contributing to ACC's education mission. At the completion of the program he was awarded the W. Proctor Harvey Teaching Award for his dedication and skill in teaching.
"Dr. Drachman has embodied ACC's core value of promoting a culture of continuous improvement and lifelong learning," says ACC President Richard J. Kovacs, MD, FACC. "His skill and dedication to teaching and education are essential to leading ACC's Annual Scientific Session and ensuring we continue to host the premier cardiovascular conference in the world."
As a reminder, ACC.20 Together With World Congress of Cardiology will take place March 28-30, 2020, in Chicago. Advance registration is now open. Late-Breaking Clinical Trial submissions will be accepted through Dec. 17.
Congressional Briefing Focuses on PAD
A recent Capitol Hill briefing sponsored by ACC, WomenHeart and the American Heart Association, in collaboration with the Congressional Peripheral Arterial Disease (PAD) Caucus, brought together patients, providers and policy experts to discuss treatment disparities, clinical research, and awareness and policy needs to reduce PAD-related mortality and better the state of cardiovascular health nationwide.
The "Peripheral Artery Disease: What It Is and Why It Matters" briefing focused heavily on the importance of raising awareness about the disease, which impacts one in eight adults over the age of 60. Speaking on behalf of the ACC, Aaron Kithcart, MD, PhD, highlighted the need to address disparities in care across patient populations.
Both he and Lee Kirksey, MD, MBA, speaking on behalf of the Association of Black Cardiologists, highlighted the fact that African-Americans are up to four times more likely to undergo unnecessary amputations, and are much less likely to receive revascularization or wound care. "Recognizing these ethical, cultural and socioeconomic disparities early is important to improving the process," said Kirksey.
Policy solutions were also discussed, with particular focus on supporting a transition towards value-based care and the need for appropriate testing reimbursement, as well as increasing education in both patient and clinical communities. Stressing the need to transform increased awareness and recognition into actionable policy initiatives, Kithcart urged the creation of "appropriate" coding and reimbursement guidelines.
"An ankle-brachial index is a perfect example of this," he said. "Even if it's a fairly accessible screening test, we need to make sure it's reimbursed accordingly. We also need to think about rehabilitation exercises, which until recently, were not paid for by many insurance providers."
Follow ACC on Instagram!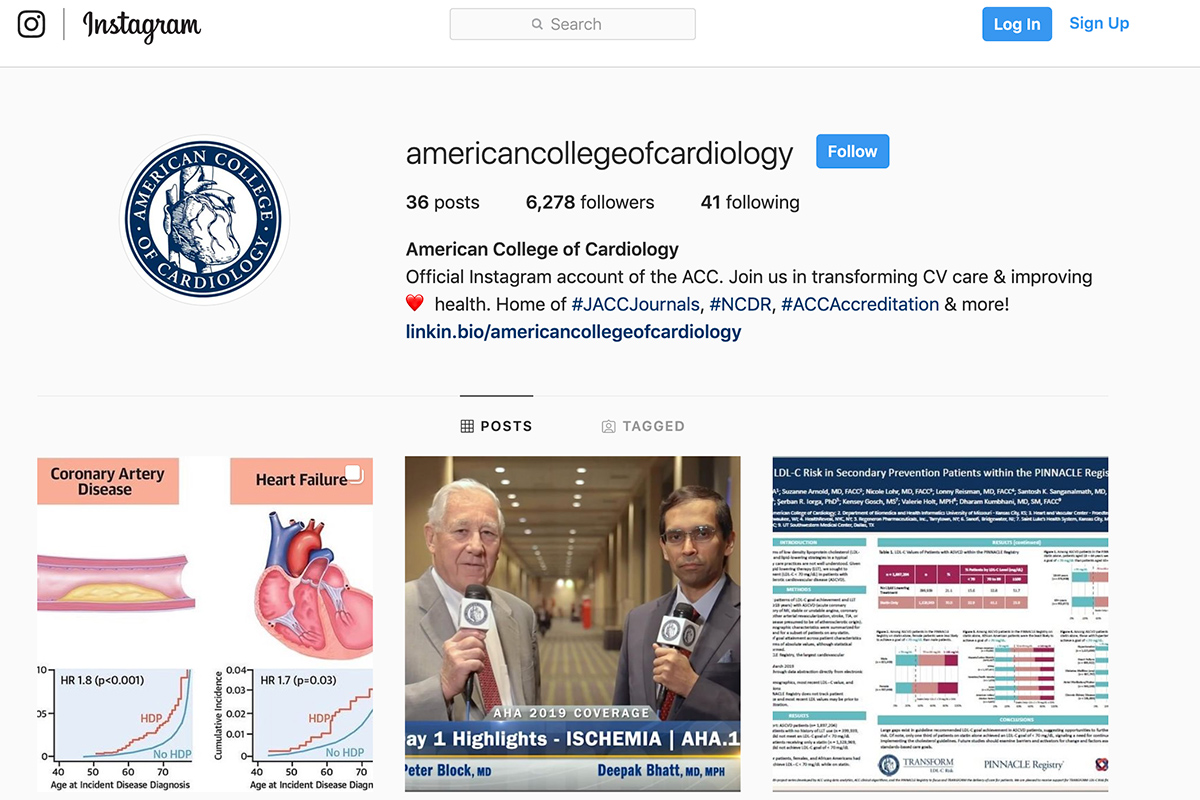 Get the latest clinical news from the College and JACC Journals – now on Instagram! The College's new Instagram account features clinical content, including Central Illustrations and case reports from JACC; clinical tools and news; as well as coverage from some of the College's biggest meetings (Annual Scientific Session and more).
The ACC's social media accounts connect ACC members and those interested in cardiovascular news through popular social networking channels. In addition to Instagram, the ACC has robust communities on Facebook, Twitter, LinkedIn and YouTube. In addition to the ACC's main channels, the College also has a channel dedicated to advocacy and quality-related news (@Cardiology), and a channel dedicated to patient-centered cardiovascular news (@CardioSmart).
Leveraging Social Media to Prevent Heart Disease
Facebook has announced a new Preventive Health Tool aimed at connecting people with check-up reminders and publicly available health resources provided by the Centers for Disease Control and Prevention, ACC, American Heart Association and the American Cancer Society.
The tool will initially focus on heart disease and cancer, as well as the flu. Users can find out which check-ups, such as cholesterol tests or mammograms, are recommended by leading health organizations based on the age and sex they provide when registering for the tool.
Additionally, users can mark when tests are completed, set reminders to schedule future tests, and learn more about each check-up and find affordable places to receive care. For example, people can use the tool to find convenient locations offering flu shots, such as grocery stores, pharmacies and urgent care clinics.
Users must opt-in to use the Preventive Health Tool, which is separate from the main Facebook platform, by searching for Preventive Health in the Facebook mobile app. Data collected in the tool are not visible to advertisers.
"Heart disease is the No. 1 killer of men and women around the world and in many cases is 100 percent preventable. By incorporating prevention reminders into platforms people are accessing every day, we're giving people the tools they need to be proactive about their heart health," says ACC President Richard J. Kovacs, MD, FACC.
Type 2 MI Focus of Heart House Roundtable
ACC's first-ever Heart House Roundtable focusing on Type 2 myocardial infarction (MI) was held on Nov. 4, and led by co-chairs Dharam J. Kumbhani, MD, SM, FACC, and Gregory J. Dehmer, MD, MACC. A multistakeholder group with a diverse collection of expertise engaged in a robust discussion to find pragmatic solutions to improve the management of Type 2 MI, which includes patients with evidence of acute myocardial ischemia without coronary atherothrombotic plaque disruption and is associated with adverse short- and long-term prognoses.
Type 2 MI is still an early concept for most physicians. During the full-day event, topics included the continued discordance between the many types of MI and the dangerous implications of misclassification in terms of proper treatment, as well as for overall quality performance for health care institutions caring for this patient population. Challenges exist with gaps in care and gaps in education for clinicians and medical coders – all of which is made more challenging by current gaps in good data.
The insights and ideas from the Roundtable will be used to help inform potential strategies, including resources and tools, to help the clinical community – and ultimately patients – by supporting more effective Type 2 MI management.
Get CardioSmart About the Flu
Educating cardiovascular patients about the important role the flu vaccine can play in protecting their heart just got easier with new educational materials from CardioSmart. Tools include a new flu infographic for sharing on office walls and/or via social media and online, as well as a fact sheet debunking the following five common flu myths:
Myth 1: The flu vaccine can give me the flu.
Myth 2: The flu vaccine has too many side effects.
Myth 3: You don't really need to get a flu shot each year.
Myth 4: It's too late to get vaccinated once the flu season starts.
Myth 5: The flu shot doesn't really work. I still got sick after getting it.
Tips on where to get a vaccine, how the vaccine works, what to ask health care providers are also available at CardioSmart.org/Flu.
Calling All Future Leaders
Applications are now being accepted for the ACC Leadership Academy Cohort IV, which will launch at ACC.20 Together With the World Congress of Cardiology in Chicago. Completed applications, which include an online application portion as well as a statement of support from an ACC member leader, are due by Monday, Dec. 2.
Leadership Academy is a two-year leadership development program that serves to further develop ACC early career members. The robust programming addresses various leadership-specific competencies, in order to ensure each appointee is highly qualified to lead the cardiovascular profession, while also fulfilling the ACC's current and future leadership needs.
Designed with member needs and an evolving health care system in mind, the program provides a broad understanding of leadership styles and skills. Additionally, the curriculum addresses varied perspectives on critical leadership challenges; while also providing an awareness of concepts and techniques relevant to leading effectively within their respective institution and within the ACC.
Ensuring organizational growth and sustainability is one of the College's four main Strategic Goals, under which fostering a pipeline of diverse leaders who can carry the ACC and the profession into the future is critical to success. As ACC leaders, please encourage ACC members meeting the following qualifications to apply:
Keywords: ACC Publications, Cardiology Magazine
< Back to Listings