For the FITs | Thriving As a Parent in Cardiology Training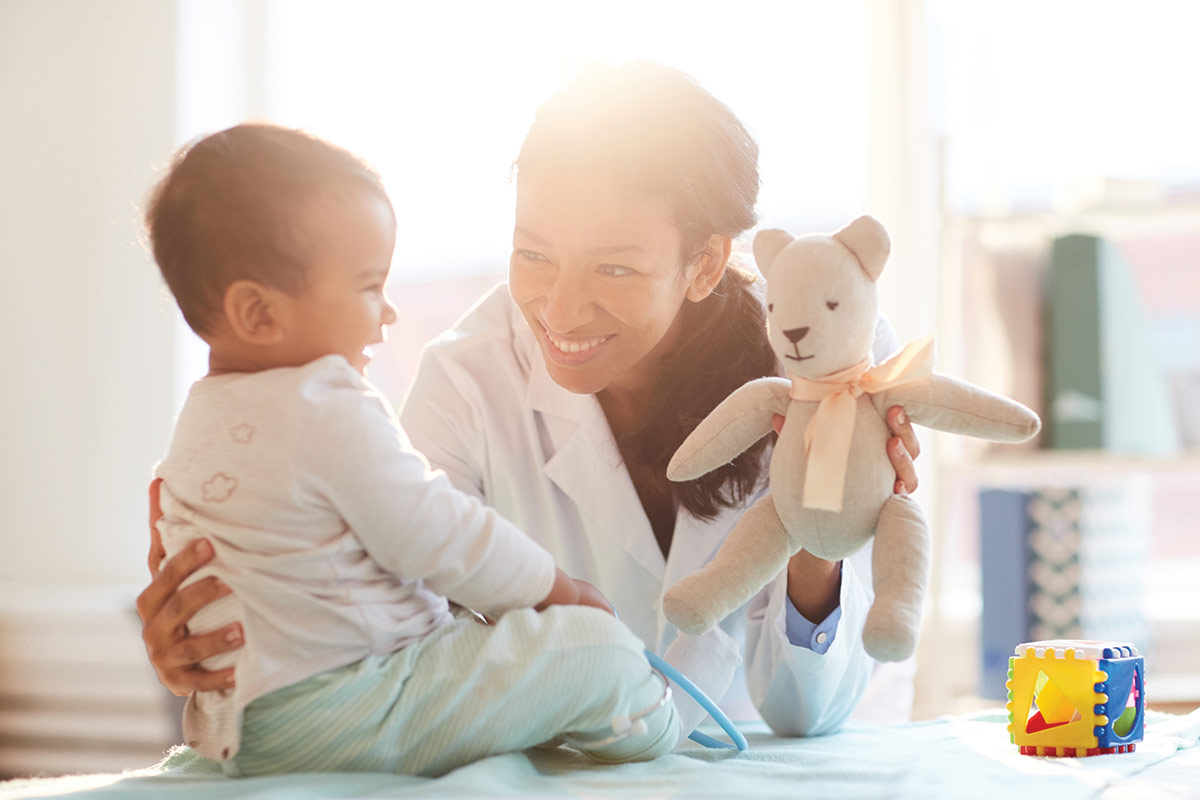 We won't sugar coat it – parenting during cardiology training is hard. There is, in fact, empiric evidence to support this claim. Nearly two-thirds of fellows in training (FITs) report having children during training.1,2 A survey of cardiology fellows found that a majority reported altering their training schedules, and 41% of trainees with children reported difficulty completing research tasks. Additionally, most fellows reported a stigma attached to parenthood during fellowship and felt like a burden to coworkers.2
Women continue to be a minority in cardiology – this is likely in part because pregnancy and motherhood present unique challenges for women in cardiology and particularly for women FITs, including concerns regarding radiation exposure on clinical rotations (e.g., in the cardiac catheterization lab or nuclear cardiology) and appropriate accommodations for breastfeeding mothers. New mothers in cardiology fellowship are more likely to alter their training schedule than new fathers.2 Even more troubling, many women experience workplace discrimination related to pregnancy and motherhood.3
Stressors of parenting during cardiology training have been further compounded by a global pandemic which has complicated childcare and schooling. Despite these challenges, we can attest that if parenthood is part of your life plan, the struggle is unequivocally worthwhile – being a parent is a life-altering, joyful journey.
Fellowship is a foundational period of life – both developing your field of practice and niche as well as your personal life and family. We offer the following tips for fellows to thrive as parents during cardiology training and conclude with steps that national organizational bodies, individual institutions and fellowship programs can take to support fellows navigating parenthood.
Tips for Parenting During Fellowship
The following are pearls of wisdom we've learned through blood, sweat, tears and dirty diapers.
Prioritize your time. You will need to make difficult choices about what pursuits outside of your core clinical responsibilities are worth undertaking. Parenting during training forces you to take an honest account of what aspects of your career in cardiology most interest you – direct your attention to these areas. Make sure to make time for the "golden hours" (early morning hours, evenings from bath to bedtime) with your children – focus 100% on them during these times. Nonurgent tasks can be triaged to after bedtime. Post-bedtime nights are your most productive hours of the day. Learn strategies to maximize efficiency without sacrificing the quality of your work. Colleagues and mentors who themselves have been parents during training can be an excellent resource. Find mentors who value family time to help guide you in finding work-life balance/harmony.
Communication is key. Communicate with your chief fellow and program director ahead of time to propose schedule changes prior to parental leave, which will facilitate working with other fellows to change call schedules and arrange other clinical responsibilities. Communicate with your partner. Sharing calendars can help mitigate confusion/stress regarding logistics of co-parenting. Be honest with your co-fellows and attendings when you need to spend time with your kids (i.e., when you need to stay home with them when they're sick) – they'll understand.
Childcare is expensive, be creative. If you're lucky enough to have family close by, take advantage when you can. Nanny shares can help decrease the financial burden of childcare. Trade off babysitting duties with friends or neighbors who also have young children. COVID-exposure quarantine weeks at home from daycare are tough for everyone – each day is a juggling act and often you can't get extra help. Be prepared to be flexible. Everyone's family situation is unique. Your childcare needs will change over time, may not be what you expected, and that's okay – babies bounce (i.e., they'll be fine).
Make the most of parental leave. A recent survey of women in cardiology found that approximately 60% of respondents continued to actively manage patients or nonpatient care-related work while on parental leave.3 When on parental leave, try your best to truly disconnect and focus on your family. It can be hard to neglect the pressures of ongoing patient care issues, research deadlines or administrative duties, but this is a sacred time to get to know the precious new addition to your family that you will never get back. Be present in the moment.
Make time for important relationships. If co-parenting, remember to make time for your relationship with your partner. It can be easy to neglect your relationship with your significant other as it is convenient to fall back on the mantra "she/he/they will understand." Make a conscious effort to plan date nights. The same goes for family and friends – those who also have young children can serve as an invaluable support system to share stories of parenting trials and tribulations or coordinate play dates.
Remember to practice self-care. Realistically, as a new parent you're going to have to give up a number of your hobbies/extracurriculars. But try to hold on to at least one nonwork-related activity that brings you joy. Whether it's going for a run, heading to the gym, yoga, cooking/baking, cheering on your team, or even keeping up with your favorite shows, make time for yourself. You deserve it.
Give yourself grace. Some days you'll get home late and spend less time with your kids than you want. They will still see your love for them as well as your hard work ethic. Be patient with yourself when you go back to work with kids: sleep deprivation doesn't get easier. After having kids, it's easy to feel like you're missing out on academic conferences, etc. Don't feel like you're falling behind – you'll get to the next conference and finish the next manuscript. You'll realize that you only have young children for a short time – and despite the intensity, the smallest moments watching them grow and learn are wonderful.
Programmatic Steps to Support Parents During Cardiology Training
Click here to read about a recent study published in JACC that examined the experiences and policies specific to pregnancy and maternity leave in women cardiologists and to access the paper.
While we were fortunate to train at institutions with a culture of support for clinical trainees navigating parenthood, this is not necessarily the norm. Trainees and program directors across the country find parental leave policies to be lacking in transparency, inconsistent and many times inadequate.4 A majority of trainee mothers feel pressure to truncate their maternity leave due to pressures of time constraints of training. Additionally, breastfeeding mothers report experiencing barriers to breastfeeding, including time constraints/pressures and inadequate pumping space.1 Alarmingly, 50% of trainee mothers reported breastfeeding for less than six months, a significantly lower rate than nontrainee mothers.2 Finally, 57% of female cardiologists experience occupational radiation exposure during pregnancy.5
Thankfully, there is a growing awareness of the need for clinical training programs, and specifically cardiology fellowship programs, to address the challenges that parents face during training. The Accreditation Council for Graduate Medical Education (ACGME) recently announced that beginning on July 1, 2022, all ACGME-accredited programs will be required to offer six weeks of paid leave to all trainees for medical, parental and/or caregiver leave,6 a move we wholeheartedly endorse. While this is an important first step, we feel there are several additional strategies that administrative bodies, institutions and fellowship programs can adopt to support parents during cardiology fellowship training.
Institute clear, adequate and fair parental leave policies. In addition to at least six weeks paid parental leave as required by ACGME, ensure at least 12 weeks (not including vacations) for maternity leave (irrespective of method of delivery) consistent with the requirements of the Family Medical Leave Act (allow this to kick in at Day 1 of training rather than after 12 months). Include standard parental leave for co-parents, with flexibility in deciding when to take time off. Don't require pregnant fellows to complete extra rotations ("front loading") to make up for time during maternity leave. Eliminate quotas for procedures or time-based education in favor of competency-based education and assessments to ensure parents complete training on time. Rather than forcing parents to "make up" rotations or feel pressure to cut parental leave short, programs should use creative solutions such as rescheduling rotations for the 3rd year of fellowship (which often allows for more flexibility/elective time). To cover for fellows during missed time, creative solutions such as the ongoing pilot program at Beth Israel Deaconess Medical Center to provide financial incentives for fellows covering colleagues on parental leave should be adopted.7
Allow flexibility in training to accommodate parents in fellowship. During pregnancy, rearrange the schedule for rotations with radiation exposure, based on the fellow's comfort – it should be acceptable for a pregnant fellow to avoid all lab rotations with any radiation exposure. Provide some flexibility in scheduling to facilitate days when a child is sick or on COVID quarantine and develop solutions to work from home (e.g., read echocardiograms). Remote work has emerged as an effective vehicle during the pandemic, and programs should continue a remote option for fellow education and evening meetings to facilitate attendance (as well as minimize meetings held from 4 to 8 p.m.).
Provide adequate support for breastfeeding mothers. The University of Pennsylvania's Division of Cardiovascular Medicine recently developed a set of guidelines for supporting lactating mothers.8 We enthusiastically support the steps proposed in these guidelines, including ensuring clean and available dedicated space for pumping (complete with refrigeration capabilities and a telephone/computer workstation to multitask) and promoting a supportive culture for lactating mothers, emphasizing dedicated time for pumping during inpatient rotations, clinic (block off an appointment slot), or lab-based rotations (between cases) to minimize disruption to care as much as possible.
Address childcare challenges. Childcare is costly (often prohibitively so) for trainees. Programs should facilitate access to childcare resources or endorse stipends to help support childcare costs to ease this burden. Additionally, programs should be mindful of childcare challenges – for example, programs should invite significant others and children to attend official events (such as graduation) to facilitate attendance.
This article was authored by Katherine Clark, MD, advanced heart failure and transplant cardiology fellow at Yale University in New Haven, CT, and Ramsey Wehbe, MD, MS, an advanced heart failure and transplant cardiology fellow at Northwestern University in Chicago, IL. Clark and husband, Brian, have two children, Katelynn, almost 3 years old, and David, 4 months. Given the outstanding support she's received while balancing starting a family and building her career in academic cardiology, she's thrilled to be staying on as faculty as an assistant professor in the Advanced Heart Failure and Transplant program at Yale. Reach out to her @KatAAClark. Wehbe is a proud father to two-and-half-year-old Christian and one-year-old Elle. He is incredibly grateful to his wife and parenting partner, Landon, quite literally a superhero, miraculously balancing her roles as loving mother, successful businesswoman and supportive spouse with grace and poise. Wehbe will be an assistant professor of cardiology at the Medical University of South Carolina in Charleston starting in July, and he is excited for this next chapter with his family in the "Low Country." Reach out to him @ramseywehbemd.
Clinical Topics: Cardiovascular Care Team, Congenital Heart Disease and Pediatric Cardiology, Diabetes and Cardiometabolic Disease, Heart Failure and Cardiomyopathies, Prevention, CHD and Pediatrics and Prevention, CHD and Pediatrics and Quality Improvement, Acute Heart Failure, Exercise, Stress, Sleep Apnea
Keywords: ACC Publications, Cardiology Magazine, Accreditation, Breast Feeding, Cardiologists, Cardiology, Caregivers, Chicago, Child Care, Child, Preschool, Communication, Competency-Based Education, Computers, Cooking, Education, Medical, Graduate, Exercise, Faculty, Fathers, Fellowships and Scholarships, Female, Financial Stress, Friends, Heart Failure, Hobbies, Inpatients, Lactation, Love, Mentors, Mothers, Motivation, Pandemics, Parental Leave, Parenting, Patient Care, Pilot Projects, Policy, Pregnancy, Quarantine, Radiation Exposure, Refrigeration, Return to Work, Self Care, Sleep Deprivation, Spouses, Surveys and Questionnaires, Sweat, Telephone, Teleworking, Tomography Scanners, X-Ray Computed, Universities, Work-Life Balance, Work-Life Balance, Workplace, Yoga
< Back to Listings