Journal Wrap
The hottest research from various peer-reviewed journals – handpicked weekly by the ACC.org Editorial Board led by Kim A. Eagle, MD, MACC.
Key Points to Remember: Considerations For TAVI or SAVR in Patients With AS
The following are key points to remember from a state-of-the-art review published in the European Heart Journal from Windecker, Okuno, et al., looking at which patients with aortic stenosis (AS) should be referred to surgery vs. TAVR.
ACC Survey of CV Workforce Highlights Need For Increased Training in Cardio‐Obstetrics
A recent ACC survey underscores the need for developing new standards for training and educating the cardiovascular workforce in cardio-obstetrics. The survey findings were published in the Journal of the American Heart Association.
Send in the Drones?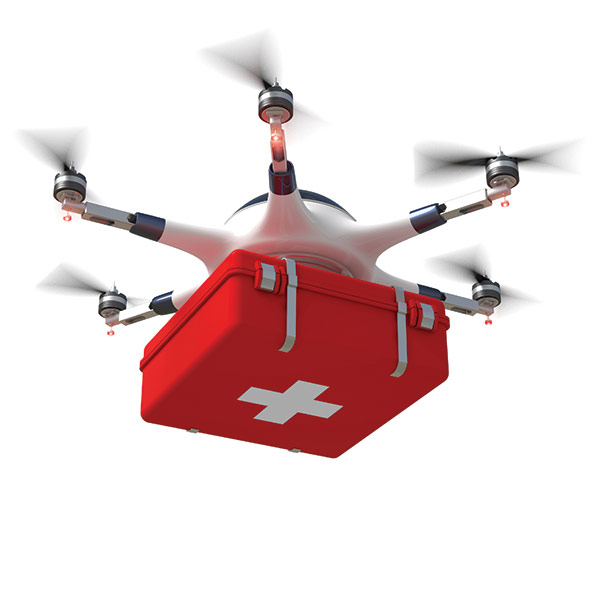 A small pilot study in Sweden found that drones were able to successfully and accurately deliver automated external defibrillators (AEDs) to individuals experiencing out-of-hospital cardiac arrest (OHCA) – often prior to the arrival of an ambulance.
The study, conducted by Sofia Schierbeck, Jacob Hollenberg, MD, Anette Nord, PhD, et al., and published in the European Heart Journal, involved placement of three AED-equipped drones within parts of Sweden covering roughly 80,000 inhabitants. Dispatch centers were able to send an automated alert to a drone pilot, triggering a process that included pre-flight checks, route-planning, telephone permission from air-traffic control, an autonomous drone flight to the coordinates of the suspected OHCA, and pilot-initiated AED delivery.
Over the course of four months, not including an initial four-month testing period with simulations, 53 alerts of suspected OHCA occurred and drones were dispatched in response to 14 of them. Alerts that occurred outside the designated administrative area and the hours of 08:00 and 22:00, as well as those involving conditions such as darkness, any rain, wind ≥8 m/s, buildings higher than five stories (20 m), and no-fly zones were excluded. The primary outcome measure was the proportion of successful and accurate AED deliveries once the drone took off. Secondary outcome measures were the proportion of cases in which the drone arrived prior to the ambulance and the time difference between drone and ambulance arrivals.
Overall results found an AED-equipped drone took off in 12 (86%) alerts, with a median distance to location of 3.1 km (interquartile range [IQR], 2.8-3.4 km). Researchers also found AED delivery was feasible within 9 m (IQR, 7.5-10.5 m) from the location and successful in 11 of 12 flights (92%). In 64% of cases (7 of 11), the drone arrived before the ambulance, with a difference in arrival time of 01:52. In all 11 drone arrivals, an overall time benefit of 00:49 was observed.
While it remains to be seen whether early and reliable AED delivery by drone can be translated into improved survival of OHCA either in urban or more rural regions, the authors note this is one of the first studies to fully integrate AED-equipped drones as a part of the medical system and dispatch them in parallel with the ambulance to real-life cases of OHCA. "Although none of the drone-delivered AEDs were attached to a patient in this early pilot study, we present a novel method that in the future could decrease time to defibrillation and thereby potentially increase survival," they write.
"This interesting pilot study (pun intended) showed that, in certain highly controlled circumstances, it is feasible to deliver an AED by drone, and outlines the methodology for doing this," writes David S. Bach, MD, FACC, in an ACC.org Journal Scan. "The study did not address the time to implement the AED (which might be longer for bystanders than for trained paramedics) or any clinical outcomes. It remains to be seen whether early and reliable AED delivery by drone can be translated into improved survival of OHCA either in urban or more rural regions.
Clinical Topics: Acute Coronary Syndromes, Arrhythmias and Clinical EP, Cardiac Surgery, Cardiovascular Care Team, Congenital Heart Disease and Pediatric Cardiology, Invasive Cardiovascular Angiography and Intervention, Valvular Heart Disease, Implantable Devices, SCD/Ventricular Arrhythmias, Aortic Surgery, Cardiac Surgery and Arrhythmias, Cardiac Surgery and CHD and Pediatrics, Cardiac Surgery and VHD, Congenital Heart Disease, CHD and Pediatrics and Arrhythmias, CHD and Pediatrics and Interventions, CHD and Pediatrics and Quality Improvement, Interventions and ACS, Interventions and Structural Heart Disease
Keywords: ACC Publications, Cardiology Magazine, Acute Coronary Syndrome, Allied Health Personnel, Ambulances, Aortic Valve, Aortic Valve Stenosis, Attitude, Bicuspid Aortic Valve Disease, Bioprosthesis, Calcium, Cardiologists, Cardiology, Cardiovascular Diseases, Constriction, Pathologic, Counseling, Darkness, Defibrillators, Female, Heart Valve Diseases, Lactation, Life Expectancy, Obstetrics, Outcome Assessment, Health Care, Out-of-Hospital Cardiac Arrest, Pilot Projects, Pregnancy, Prevalence, Surveys and Questionnaires, Sweden, Telephone, Transcatheter Aortic Valve Replacement, Workforce
< Back to Listings