Feature | It Runs in the Family
When Katherine A. Martinez presented the results of a Late-Breaking Clinical Trial looking at the cardiac risk in elite athletes with a genetic heart disease at ACC.23/WCC, there was a special co-author in the audience – her father, Matthew W. Martinez, MD, FACC, well-known sports cardiologist and chair of ACC's Sports and Exercise Cardiology Member Section.
Now about to graduate from Loyola University of Maryland and applying for medical school, Ms. Martinez's work on this research came about through a key question she often asked her father – why isn't there data to decide whether an athlete can play – and a key connection she made – recognizing it'd be possible to get the data by combining the athletes seen by her father and those seen by Michael J. Ackerman, MD, PhD, a genetic cardiologist. Ms. Martinez has worked as an intern in Ackerman's lab at Mayo Clinic in Rochester, MN, for two summers and plans to complete this current research project over the next year, for which Ackerman is the principal investigator.
Dr. Martinez is the sports cardiologist for Major League Soccer, the National Basketball Players Association and the New York Jets. He has a sports cardiology practice at Atlantic Health System/Morristown Medical Center in New Jersey. "I knew what hypertrophic cardiomyopathy (HCM) was as an eighth grader," shares Ms. Martinez, but her interest was cemented when she was introduced to the genetic side through her work in Ackerman's lab.
During her first summer at the lab, she was part of basic science and clinical research related to the Long QT Syndrome, the focus of Ackerman's work. Then this research project combining the patients with genetic heart disease started during her second summer internship. "Now we have the evidence we needed to make an impact and to have better informed shared decision-making conversations with our patients," says Dr. Martinez.
Not only do genetic heart diseases run in the family, so does working at Mayo for the Martinez family. Dr. Martinez went there for medical school and completed his residency and fellowship there, just a few years behind Ackerman. "I have photos of my kids when they were young running through the tunnels underneath Mayo and sitting on the statue of the founding Mayo brothers out front," says Dr. Martinez.
Click here to read about the research presented by Ms. Martinez at ACC.23/WCC, which showed that 95% of athletes with a diagnosed and treated genetic heart disease experienced no disease-triggered cardiac events, including cardiogenic fainting or seizures, ICD shocks, sudden cardiac arrest or sudden cardiac death. "This initial data set offers a story of hope and encouragement," she says. "With shared decision-making and appropriate risk stratification by an expert, we expect anybody of any age can live and thrive despite their diagnosis."
Visit ACC.org/ACCAnywhere to access ACC.23/WCC sessions and more.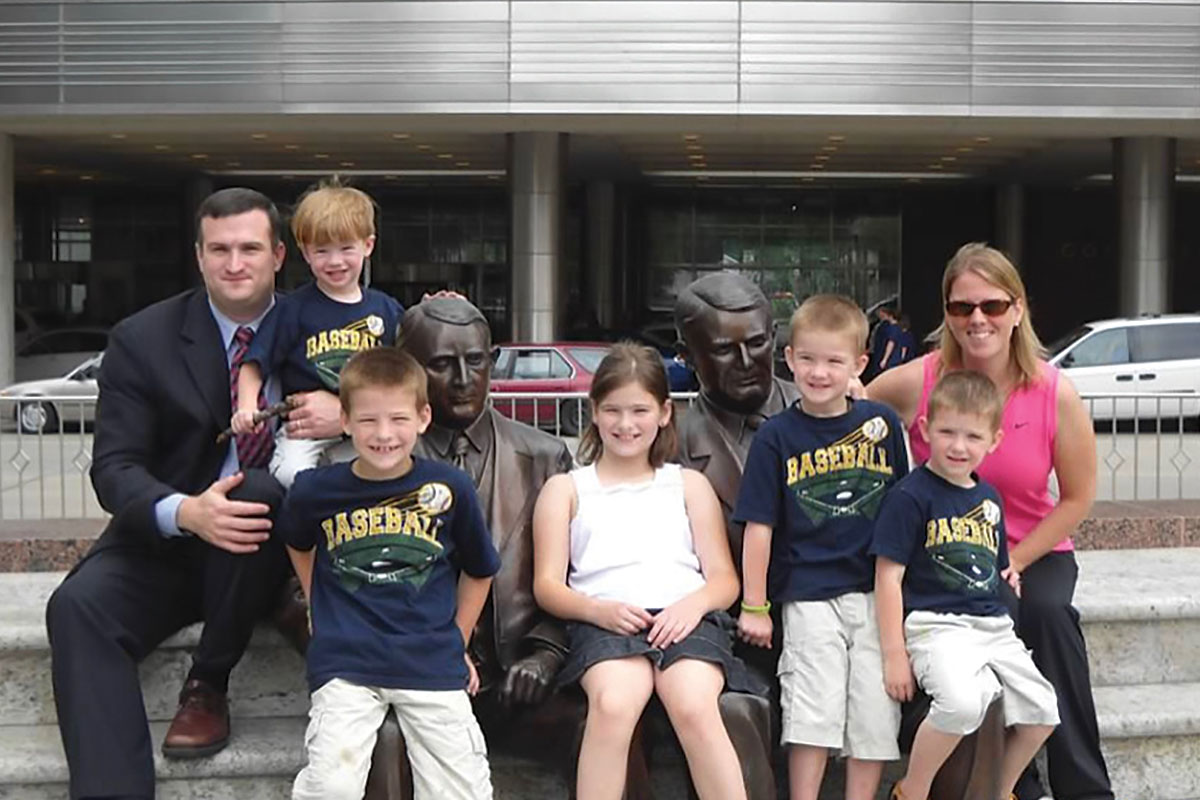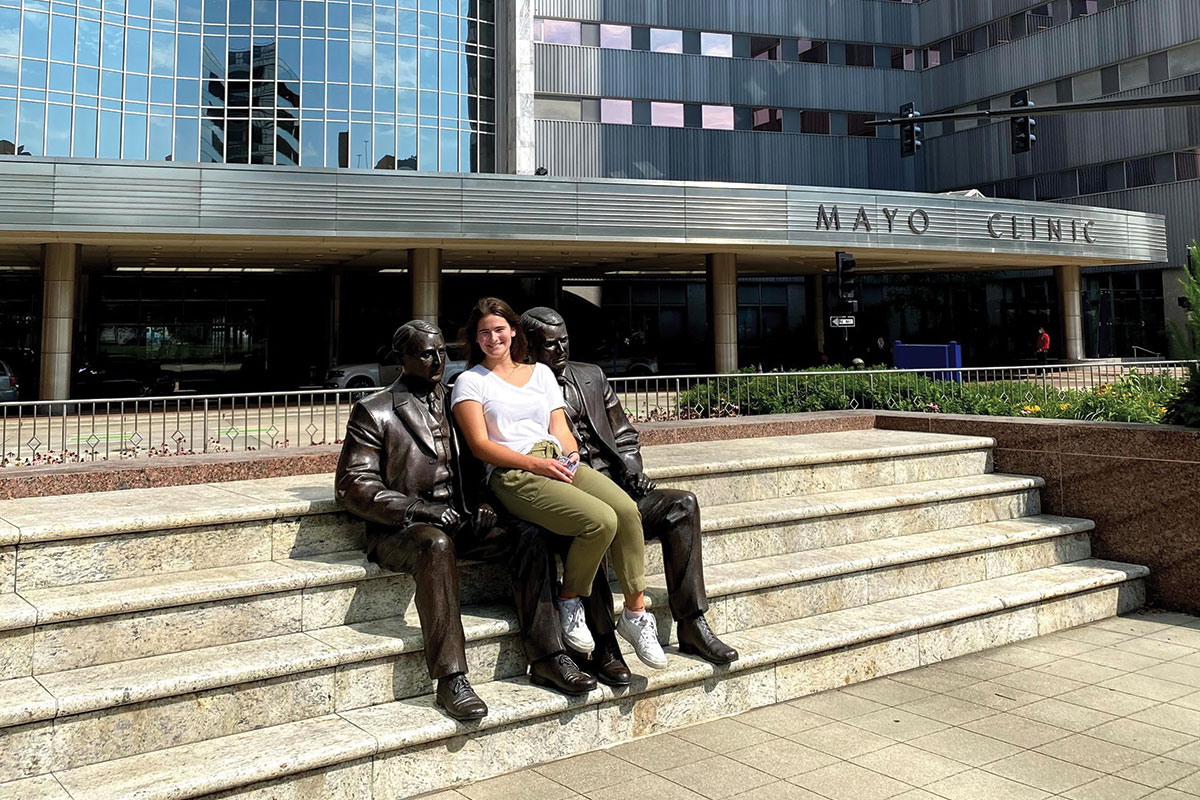 The Martinez Family at Mayo Clinic.
Ms. Martinez with Dr. Brugada.
Most nights during his residency and fellowship, the family had dinner together at Mayo, so the kids had a sense of normalcy and didn't miss too many days without seeing him. "My father is a prime example of what it's like to have a very successful career and a very good relationship with his wife and all five of his kids," says Ms. Martinez, showing that it will be possible for her to do this too.
"There are a lot of challenges in medicine," acknowledges Dr. Martinez. "But if we can help younger people see and feel the excitement and the passion and help get them hooked on this being the way that they can help people, we can continue to build the pipeline."
Representation matters too, he notes, and he arranged for his daughter to work with Garima Sharma, MD, FACC, governor of ACC's Maryland Chapter, so she could see that while there are challenges, just like with everything else, it's possible to find a way for a career in cardiology to be fruitful.
Ms. Martinez is looking to pursue a PhD in addition to her medical degree and work in genetic research, perhaps in cardiology, "because it's possible to affect an entire family and that's exciting." When asked if the Martinez family is poised to become another research dynasty in genetic heart diseases like the Brugadas, Ms. Martinez laughs and says that "would be amazing." And shared that she spent a day with Georgia Sarquella Brugada, a pediatric cardiologist and head of the arrythmias unit at SJD Barcelona Children's Hospital, and niece of Josep, Pedro and Ramon Brugada. Arranged through her connection with Ackerman, Ms. Martinez was able to watch an open-heart surgery of a pediatric patient who had an aorta replacement during her time with Dr. Brugada.
Set to become a physician-scientist, how did Ms. Martinez prepare for her presentation from the big stage at ACC.23/WCC? "My father taught me by example," she says. During the early days of the COVID pandemic, she listened in when he was giving interviews, presentations and lectures over Zoom. "And over the course of that year, she was able to see us move from sports being shut down to us being able to make data-driven decisions, using data collected from professional as well as NCAA athletes and then implement that for making return-to-play decisions."
"I'm thrilled that Kate is finding her way into this field through the basic science which excites her, and that this milestone of presenting her research at ACC.23/WCC will continue to fuel that passion," says Dr. Martinez.
Clinical Topics: Arrhythmias and Clinical EP, Cardiovascular Care Team, Congenital Heart Disease and Pediatric Cardiology, Diabetes and Cardiometabolic Disease, Prevention, Sports and Exercise Cardiology, Implantable Devices, Genetic Arrhythmic Conditions, SCD/Ventricular Arrhythmias, Atrial Fibrillation/Supraventricular Arrhythmias, Congenital Heart Disease, CHD and Pediatrics and Arrhythmias, CHD and Pediatrics and Prevention, Exercise, Sports and Exercise and Congenital Heart Disease and Pediatric Cardiology
Keywords: ACC Publications, Cardiology Magazine, ACC Annual Scientific Session, ACC23, Internship and Residency, Fellowships and Scholarships, Cardiologists, Nuclear Family, Spouses, Siblings, Pandemics, Return to Sport, Athletes, Long QT Syndrome, Heart Diseases, Arrhythmias, Cardiac, Cardiology, Running, Aorta, Sports
< Back to Listings