Feature | Navy Shipboard Medicine: Helping Humanity and Preparing For Future Wars
Hospital ship USNS Mercy (T-AH 19) sits anchored off the coast of Legazpi, Philippines, with Mount Mayon in the distance during its second stop of Pacific Partnership 2016. (U.S. Navy photo by Mass Communication Specialist 1st Class Elizabeth Merriam/Released)
The U.S. Navy has announced plans for a new class of expeditionary medical ship designed to be faster and nimbler than the two large hospital ships currently in the fleet. The addition to the fleet will be better suited for the close-quarters, intense combat situations the military expects to face in the coming years.
On May 12, Secretary of the Navy Carlos Del Toro officially named the new ship the USNS Bethesda, after the Navy's military base in Maryland, which houses the Walter Reed National Military Medical Center.
"This first-in-class ship will be state-of-the-art and the Navy's first medical ship in 35 years," said Del Toro. "This ship, designed with more expeditious and direct access to diagnostic, specialty and hospital care, will allow for increased capabilities and health care. Just as the hospital at [Naval Support Activity] Bethesda has served as a beacon of hope to those who entered its doorways, USNS Bethesda (EMS 1) will serve as a beacon to those in need around the world."
This month, in the first of a two-part series, Cardiology speaks with three Navy cardiologists to understand more about the Navy's current provision of shipboard medicine as well as its new approach to providing intra-theater medical care. The next article will look at the Navy's cardiology community and their role in Navy Medicine, particularly in ensuring servicemember combat readiness from a cardiology perspective.
Comfort and Mercy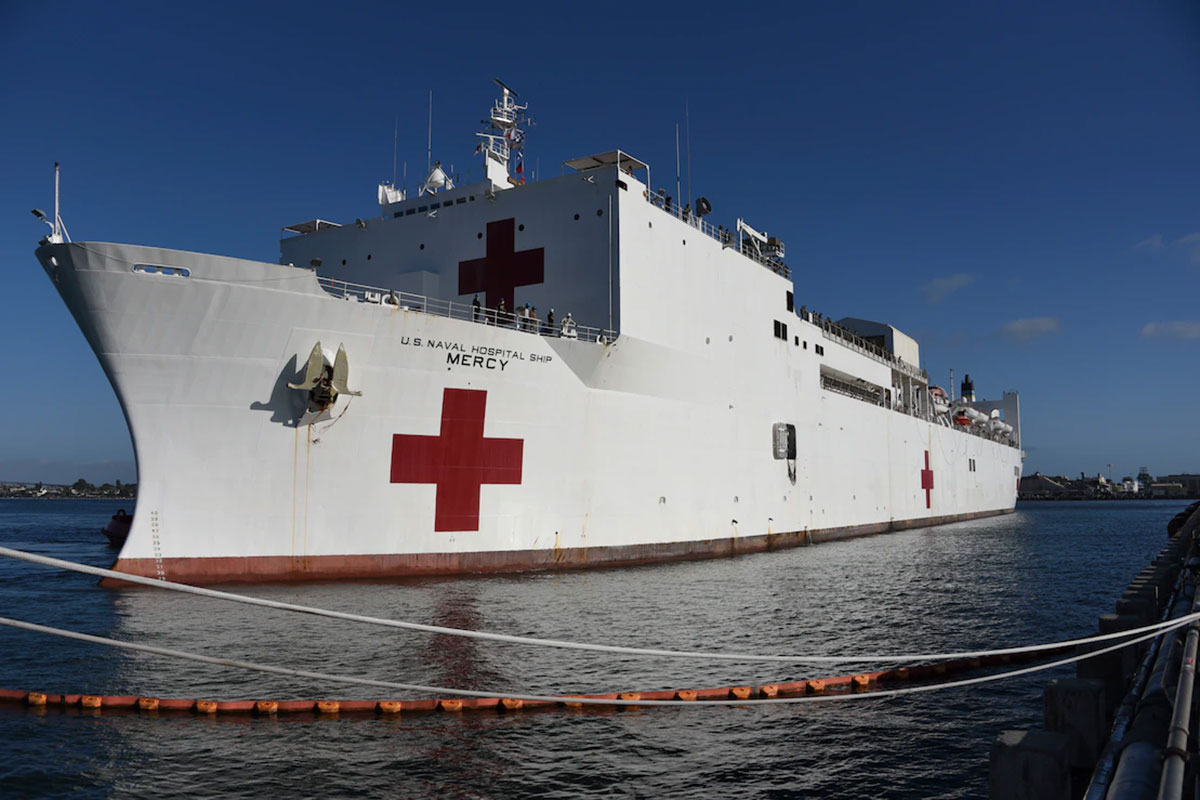 The U.S. Navy currently has two dedicated hospital ships: the USNS Mercy and the USNS Comfort. Both are kept in a constant state of high readiness to deploy and provide on-site emergency care for American combatant forces. When not needed for combat operations, they are used in support of disaster relief and humanitarian operations worldwide. The Comfort is layberthed in Norfolk, VA, and the Mercy in San Diego, CA.
Each ship houses 12 fully-equipped ORs, a 1,000-bed hospital facility, including 88 ICU beds and 11 isolation ward beds, radiological services, a 5,000-unit blood bank, a full medical laboratory, pharmacy and optometry labs, and two oxygen-producing plants.
"These ships tend to deploy every year or two for a three- or four-month period. The actual deployment might only be a few months, but the crews must be trained up and all systems on the ship must be readied so we can be confident that everything will work when the ship goes out. Then after they come back from the deployment, they may have several months of processing and repairs before they can go again. It's not like taking your car out of the garage every day," says Captain Dylan Wessman, MD, FACC, in an interview.
Wessman is the specialty leader in cardiology for the Navy Medical Corps and a staff cardiologist at Naval Medical Center San Diego. He has deployed three times aboard the Mercy, most recently in 2022 when the ship visited Vietnam, Palau, the Philippines, and Solomon Islands, partnering to bring medical assistance and training along with other nations including Australia, Chile, Japan, the Republic of Korea, and the UK.
The hospital ships are operated by Military Sealift Command (MSC), the organization tasked with providing ocean transportation for all branches of the U.S. military. MSC vessels are unarmed and primarily staffed by civilian mariners. Their fleet includes the two dedicated hospital ships and more than 120 other ships, including cargo ships for the deployment of military assets, such as weaponry, vehicles and military personnel.
Civilian-manned ships of the MSC are referred to as "United States Naval Ships" or USNS, while commissioned vessels are prefixed "United States Ship" or USS.
The Comfort and Mercy get the bulk of publicity for their global health efforts, but they represent only a small part of the Navy's shipboard medical resources. Aircraft carriers and amphibious assault ships both have extensive medical facilities.
Los Angeles, CA. 04/29/2020. Cmdr. Andrew Kaplan, a cardiac electrophysiologist from Phoenix, AZ, sutures a patient aboard the hospital ship USNS Mercy (T-AH 19). U.S. Navy photo by Mass Communication Specialist 3rd Class Jake Greenberg.
The USS Gerald R. Ford, for example, has an on-board hospital that includes an OR, a three-bed ICU, a two-bed emergency room and a 41-bed hospital ward. The Nimitz-class aircraft carriers have even larger hospital facilities and can function as the hospital ship for an entire carrier strike group.
"We have similar capabilities [to the hospital ships] on many of our other ships," says Captain (retired) M. Alaric Franzos, MD, MPH, FACC, who deployed during his active-duty days onboard the USS Bonhomme Richard, a Wasp-class amphibious assault ship that had the ability to act as a light aircraft carrier when needed. The ship was decommissioned after a July 2020 fire broke out on a lower deck while undergoing maintenance at Naval Base San Diego.
"We think of our hospital ships as being the ships that care for wounded servicemembers. But, in battle, other non-hospital ships are far forward in the fight and are designated as casualty receiving ships. These ships do emergency stabilization surgery and then send wounded servicemembers off to a hospital ship or to a fixed facility on land to get further treatment, before they are sent to a tertiary facility for their final treatment," says Franzos, a former Navy pilot turned cardiologist. Recently retired after 30 years of active duty, he is now an associate professor at the Uniformed Services University School of Medicine in Bethesda.
Like other ships in its class, the Bonhomme Richard had six operating rooms and about 60 inpatient beds and the ability, once it disembarked the Marines on board, to expand its medical complement to 600 beds.
"We had medical officers that included family medicine, flight surgeons, and regular surgeons able to address issues that come up while we're underway, as well as dentists and certified nurse anesthetists. These ships are very sophisticated floating hospitals as well as warfare ships," Franzos adds.
Steaming to Assist
Los Angeles, CA. 04/29/2020. Cmdr. Travis Harrell (right), a cardiologist from San Diego, enters patient information into a pacemaker programming system aboard the hospital ship USNS Mercy (T-AH 19). U.S. Navy photo by Mass Communication Specialist 3rd Class Jake Greenberg.
When called upon in an emergency, both hospital ships are able to respond quickly. The Comfort and Mercy deployed in April 2020 – the Comfort to New York City and the Mercy to Los Angeles – to assist in the nation's response to the COVID pandemic. They functioned as referral hospitals for COVID and non-COVID patients to relieve shore-based health care facilities. The Comfort also provided showers, meals and beds to relief workers following the Sept. 11, 2001, terrorist attacks in New York City.
Cardiology spoke to Commander Travis Harrell, MD, FACC, currently the program director for the Cardiology Fellowship Program at Walter Reed National Military Medical Center about his time aboard the Mercy when it was anchored in the Los Angeles.
"One of our reservist cardiologists who happened to be an EP in the civilian sector was onboard. We had a patient from LA who we took from one of the civilian hospitals whose device generator was at the end of its life. We were able to replace it on the ship as part of our efforts to help with the rush of patients needing care during the pandemic," says Harrell.
Over a three-week period in April 2020, the Comfort's 1,200+ crew treated 182 patients (70% with COVID), conducted 116 surgeries (including six OR cases), 19 interventional radiology procedures, 72 CT scans, and 452 X-rays.
Both ships were deployed for more than eight months in 1990-1991 during Operation Desert Shield/Storm and the Comfort again for 157 days during Operation Iraqi Freedom (2003).
The Comfort's regular humanitarian missions are called "Continuing Promise." Continuing Promise 2022 saw the ship visiting Guatemala, Honduras, Columbia, the Dominican Republic, and Haiti over a two-month period.
The Comfort crew saw more than 13,000 patients, conducted 297 surgeries, filled 35,074 prescriptions, performed 209 X-rays and 78 ultrasounds, and delivered 55 pallets of medical supplies. In Puerto Barrios, Guatemala, they provided pediatric cardiology services, which are not available in the area. The crew also participated in more than 25 subject matter expert exchanges and conducted five humanitarian assistance and disaster relief workshops.
Most of the work cardiologists do during these missions revolves around education and diagnosis. The ships tend to visit more remote areas, some of which lack basic diagnostic equipment like EKGs and echo machines, notes Wessman. Interventional options are limited.
"You can't bring patients aboard and do major surgeries where patients might have to stay aboard for days or weeks on end. So we're very selective in which surgeries we perform. We are able to diagnose various cardiac conditions and try to do as much teaching as we can of local health care workers," says Wessman.
Now in its 18th year, Pacific Partnership is the Mercy's regular global health engagement mission to the Indo-Pacific. During one Pacific Partnership deployment, Commander Harrell was part of a team that conducted three test runs and then scanned a sailor complaining of chest pain to test the feasibility of doing cardiac CT scanning on the ship.
"The CT scanner has a circular gantry that weighs more than 1,000 kilograms and rotates so quickly we measure it in milliseconds. It's really designed to be used on stable ground and not on a ship that is moving around," explains Harrell. "We found that for the CT scanner to be safely turned on and to obtain a motion-free image, the ship had to be listing no more than 7 degrees and there couldn't be too much movement on the ship. But we did show feasibility under those conditions."
During a different mission, Harrell was asked to do a pre-operative evaluation on a young woman scheduled to undergo a hernia operation. Despite working in a noisy gym on land, the surgeon thought he heard a murmur.
"I was expecting that as a younger woman that she probably was just anemic, but her hemoglobin was fine. So I started thinking she might have some congenital heart disease. I brought her over to the ship and did an echo and found that she had a very large atrial septal defect with dilation of her right heart," he relates.
"This was in Costa Rica, which has a very good health care system. I was able to talk to the liaison from the local hospital who had her transferred to a regional center for further evaluation by a cardiologist and a surgeon."
A New Ship For a New Type of Warfare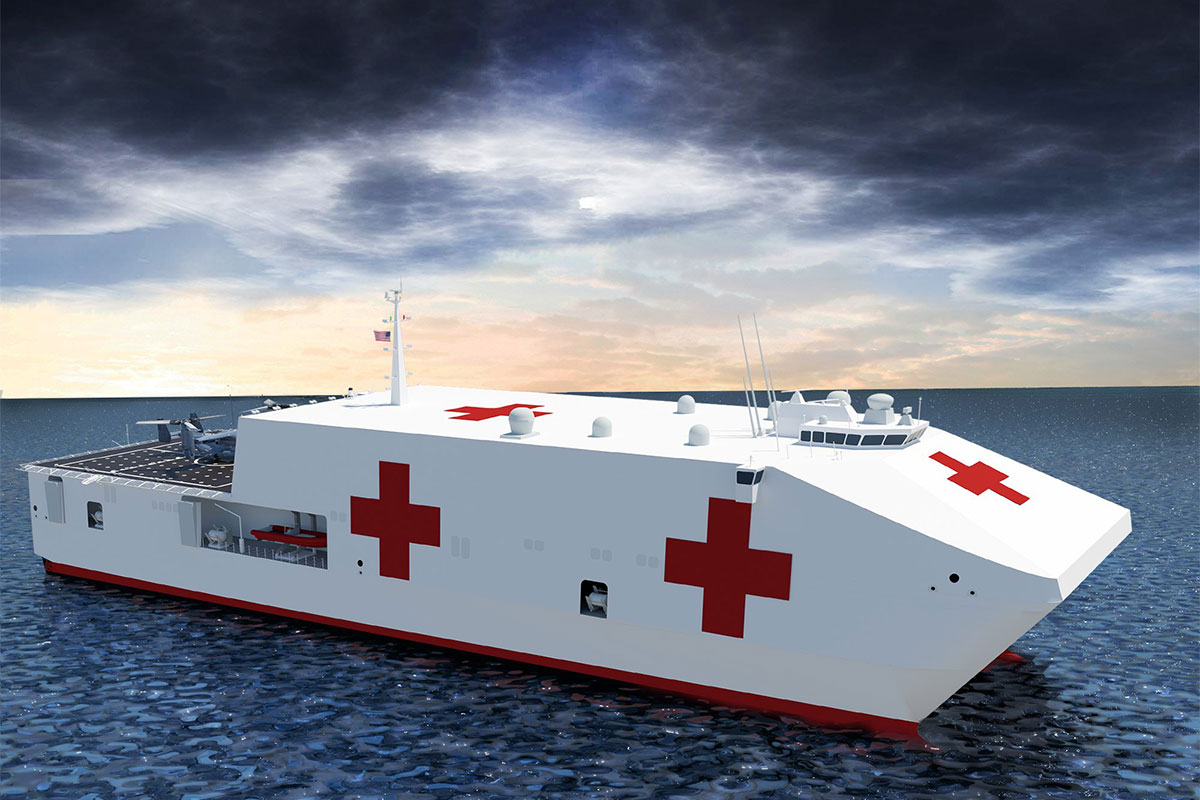 Credit: Austal USA
The USNS Bethesda will be smaller than the Mercy and Comfort (361 feet vs. 894 feet) and more maneuverable, with a draft of only 15 feet to allow direct access to what the Navy calls "shallow, austere ports."
It will be faster too, traveling at up to 30 knots with the ability to maintain speeds in excess of 18 knots for more than 5,000 nautical miles.
It's a part of the military's current effort to prepare for a future where joint forces will be more responsive, deployable, agile, versatile and lethal.
"What we understand is that unlike our counterinsurgency operations in Afghanistan, where Allied forces controlled the air, we're likely to have contested air and sea environments," says Franzos. "Thus timely medical evacuation cannot be assured and we'll need to keep people stabilized medically for longer periods in far forward locations."
THANK YOU
The ACC is proud to support its many members who are part of, or have been part of, the armed forces. Thank you for your service. Click here to join ACC's Federal Cardiology Member Section.
The change in strategy is clear in the FY23 Campaign Order for Navy Medicine: "Prepare and posture Navy Medicine for sustained medical support in high intensity combat operations in a future peer warfighting scenario. Deliver manned, trained, equipped, maintained, and sustained and certified medical units to provide enduring support to the Fleet, Marine Corps, and Joint Forces in high end competition, crisis, and combat."
Despite its smaller size, the Bethesda will provide a full range of medical capabilities, including triage/critical care, three ORs, medical laboratory, radiological capability, blood bank, dental, mental health, OB/GYN, and primary care. According to the Navy's Fiscal Year 2023 budget, the ship will be delivered by December 2026 and put into service by February 2028.
This article was authored by Debra L. Beck, MSc.
Keywords: ACC Publications, Cardiology Magazine, Disasters, Cardiologists, Cardiovascular Diseases
< Back to Listings